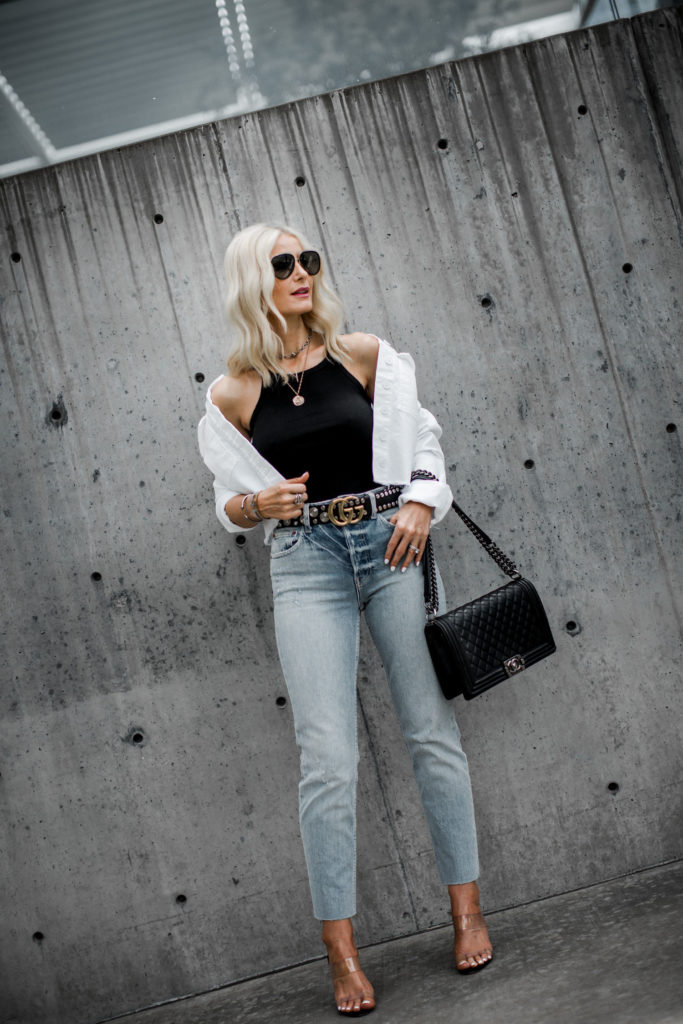 Happy Friday ladies!  A white denim jacket is something I could definitely not live without during the spring and summer especially!  I think a white jacket is such a chic and modern way to make any ensemble look more summery.  People ask me all the time: "how do you wear jackets in the summertime, isn't it too hot out?"  Here is my answer:  Yes, I still wear jackets a ton even in the summer because indoors, especially here in Dallas, including malls, restaurants, and movie theatres they all over-use their AC units, I swear it's like 60 degrees inside all of these places so I definitely NEED to wear a jacket this time of year!  Does anyone else literally freeze in the grocery store, lol!?  That being said, adding this uber chic cropped white denim jacket would be the perfect addition to make any summer wardrobe complete!
SHOP MY LOOK:

OTHER CHIC WHITE DENIM JACKETS:

HOW TO WEAR A WHITE DENIM JACKET:
There are tons of ways to wear a white denim jacket, obviously, my favorite way as you probably know if you've been following my blog for a while now is to style it with jeans!  A cropped denim jacket worn with high-waisted jeans is the perfect formula for looking taller and slimmer which is always a plus!  I also adore a white denim jacket worn over a slimming black midi dress or long maxi dress for a dressier ensemble.  You could also pair this uber chic white jean jacket with these amazing denim cut-offs, a simple white tee, and some chic sneakers for the perfect casual weekend look!  The possibilities are endless proving the versatility and wearability of this chic white denim jacket!
OUTFIT DETAILS:
This white denim jacket is by Sam Edelman, yes he makes clothes too, not just shoes.  I love that it's slightly cropped because it makes me look taller so if your petite (5'4 or under) this jacket will make you look taller and slimmer!  If you happen to be taller than 5'4 this jacket will certainly look fabulous on you too as the model proves!  I love the raw edge hem giving this classic white jean jacket the perfect edgy touch!  I've owned this jacket for about 2 months now and I've already worn it over a dozen times proving it's cost per wear!  I highly recommend adding this uber chic white denim jacket to your summer jacket collection, trust me, you're future self will thank you!
My jeans are a new favorite of mine by a brand that Nordstrom just started carrying called Trave Denim.  They're made of that highly coveted vintage-inspired denim so they hold their shape very well and don't stretch out at all which is something I always look for in a good pair of jeans.  I love the light wash because these jeans pair well with all of my spring and summer looks but can definitely be worn all year round.  They're high-waisted with a flattering ankle length which is the perfect formula for making you look taller and slimmer and honestly who doesn't want that?!  These cool-girl jeans would be a great addition to any wardrobe especially if you wear jeans as much as I do!
STYLE TIP:  These jeans were too long for me so I took them to my tailor and had her cut them off right above my ankle bone which is the most flattering length to wear your jeans by the way.   This is one of the 5 tips I gave in a recent blog post titled: 5 WAYS TO LOOK SLIMMER IN YOUR CLOTHES
My black and clear heels are by Schutz and these are one of the most comfortable heels I have in my closet!  They're so good I had to get them in the nude version as well.  Translucent heels are such a huge trend this season and I'll have to admit I'm a huge fan because clear heels actually elongate your legs since they just blend into to your skin.  I wear these heels a ton with jeans, skirts, and even shorts because they're so comfortable and have such an amazing leg elongating effect!  If I were you I would grab these uber chic heels in both colors, trust me, they will take you many places in style AND comfort!
My sunglasses are by Gucci and I love the aviator shape which is flattering on most face shapes by the way.  These aren't too big either which is good for me because I have such a small face so most sunglasses look ridiculously big on me, lol!   I did find some great dupes too that are a fraction of the price and look almost identical to these fabulous Gucci sunnies!
I'm sure you've seen me wearing a Gucci belt on my blog before because I do wear them a ton proving their versatility and wearability!  I just mentioned this Gucci belt one of my most recent YouTube videos and blog posts titled: 5 INVESTMENT PIECES EVERY WOMAN SHOULD OWN and it obviously made the cut!  A designer belt of any kind is guaranteed to bring any look to the next level.  Remember, you don't have to pay full price for a designer belt, there are tons on The Real Real and plenty of dupes on Amazon.  However, if you do decide to get a Gucci belt and pay full price like I did it's totally worth it as long as you wear it a ton!  I literally wear my Gucci belts all the time making them all well worth the investment when I consider the cost per wear.  I wear a size 75 or 80 in Gucci belts and hopefully, this will help you decide which size to get.

3 THINGS YOU NEED TO KNOW ABOUT LTK DAY:
1.) LTK DAY is happening this Sunday the 23rd.  LTK is otherwise known as LiketoKnow.It and it's an app that allows you to shop all of your favorite influencers looks in one place.  If you don't already have the LTK APP you can download it here.  Make sure to follow me @soheatherblog in the app so you can shop all of my daily looks in one easy place.
2.) This big LTK SALE is happing ONE DAY ONLY and it's this Sunday!  You will have access to exclusive sales and promo codes from certain retailers.
3.)  Any LTK post tagged with a participating retailer's product will be called out via a red 'LTKDay' tag. The brand's individual products linked will also be marked with a red tag. As you tap on products for more detail, a pop-up will appear, presenting the unique LTK Day offer (IE: LTK Day Sale — Take 15% off!), along with the option to copy the promo code to your phone's clipboard. You can then paste the promo code in the appropriate box during checkout on the retailer's site when submitting your order.  It's that EASY!
LTK Day Brand Offers + Exclusions
Abercrombie & Fitch – 25% off, excludes fragrance and Abercrombie kids merchandise
Anthropologie – 15% off, exclusions: sale items, BHLDN, Terrain, FP Movement, Mara Hoffman, Spanx, Rachel Comey, Birkenstock, Sirciam, NICHA, Stasher Bag, Curated by Anthropologie, previous purchases, and/or the purchase of gift cards.
Colleen Rothschild – 25% off, excludes eGift cards.
Express – 25% off $125+, 

Not valid on Featured Brands, NBA or MLB merchandise, Insta Sale items, Edition Collection, clearance or previous purchases.

Kendra Scott – 20% off, excludes fine jewelry.
Outdoor Voices – 20% off, excludes gift cards, 3rd party merchandise, kits, or other already-discounted merchandise. One time per customer.
Serena + Lily – 15% off, excludes art, sale, gift cards, and bike
Sole Society – 15% off $80+, excludes sale
The Styled Collection – 30% off, sitewide!
Urban Outfitters  – 20% off $100+, excludes gift cards
Victoria Emerson – 40% off, sitewide!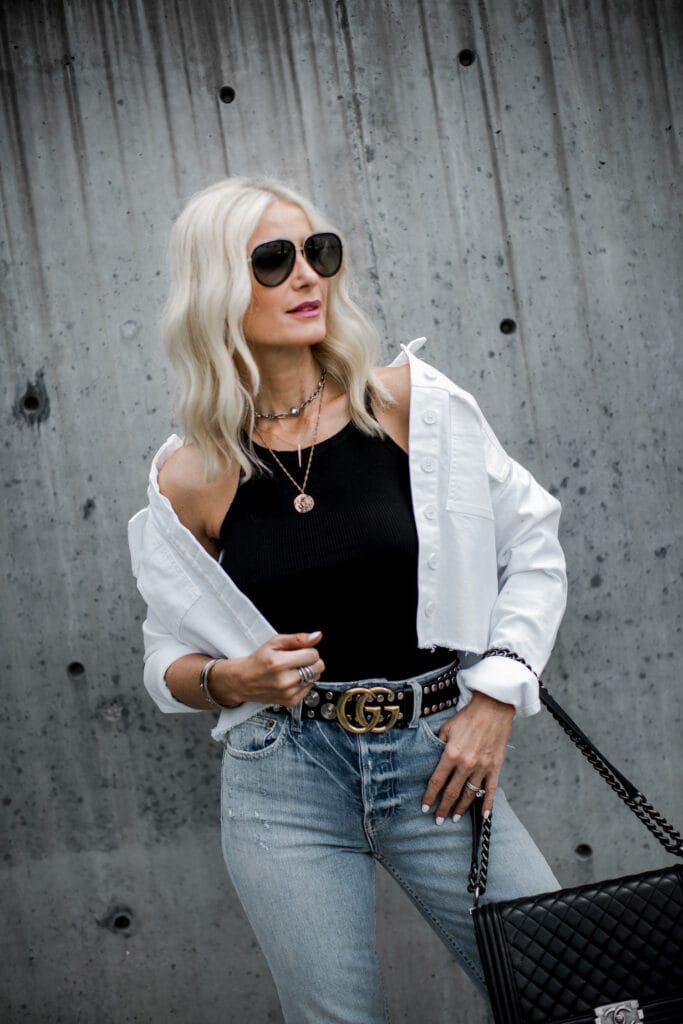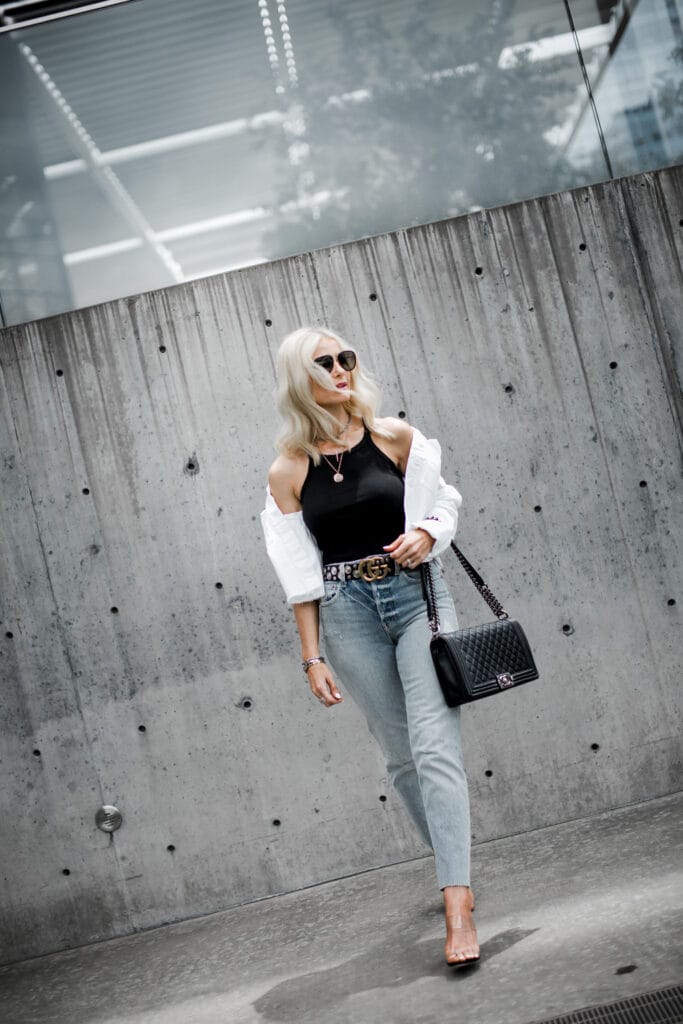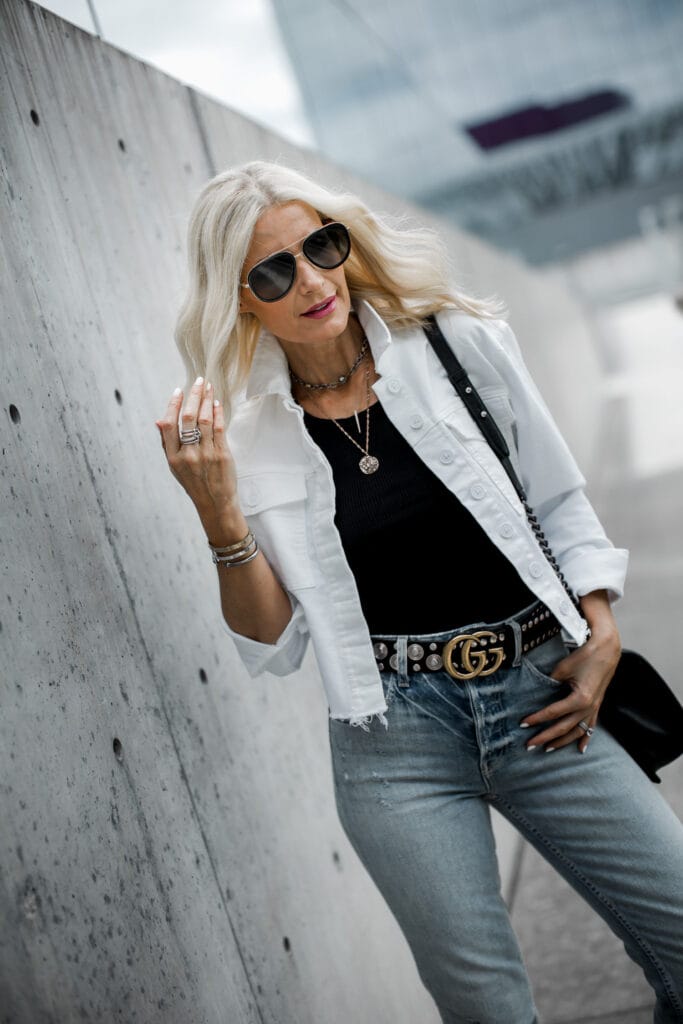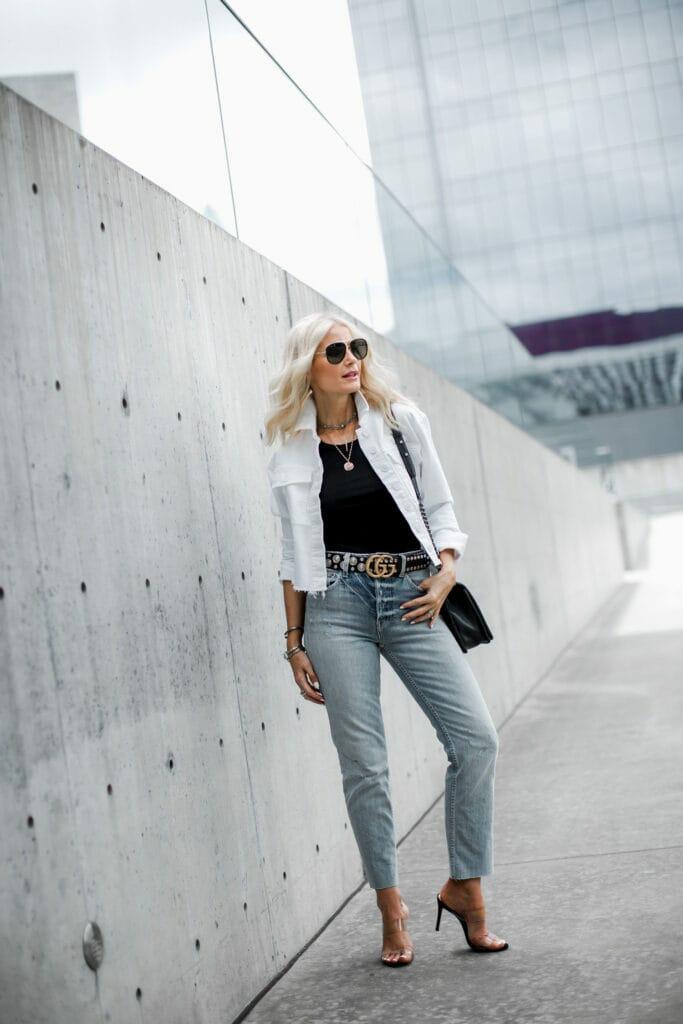 WHITE DENIM JACKET WEARING A SIZE XS // TRAVE DENIM WEARING A SIZE 25 // RE/DONE TANK WEARING A SIZE S // SCHUTZ HEELS // GUCCI BELT WEARING A SIZE 75 // CHANEL BOY BAG SIMILAR // GUCCI SUNGLASSES FOR LESS HERE
FEEL FREE TO SUBSCRIBE TO MY NEW YOUTUBE CHANNEL FOR STYLE, BEAUTY, AND FITNESS TIPS TO HELP WOMEN LOOK AND FEEL CONFIDENT
CHECK OUT MY INSTAGRAM SHOP TO SHOP ALL OF MY INSTAGRAM LOOKS
YOU CAN ALSO DOWNLOAD THE LIKETOKNOW.IT APP AND FOLLOW ME ON IT BY CLICKING HERE.
STAY IN THE KNOW:  Don't forget to sign up for my exclusive News Letter for AMAZING STYLE TIPS, SALE ALERTS, AND MUCH MORE!
Thank you so much for stopping by today, I truly appreciate all of you!
XOXO, Heather
Share the post "SUMMER ESSENTIAL: THE WHITE JEAN JACKET + EVERYTHING YOU NEED TO KNOW ABOUT LTK DAY"