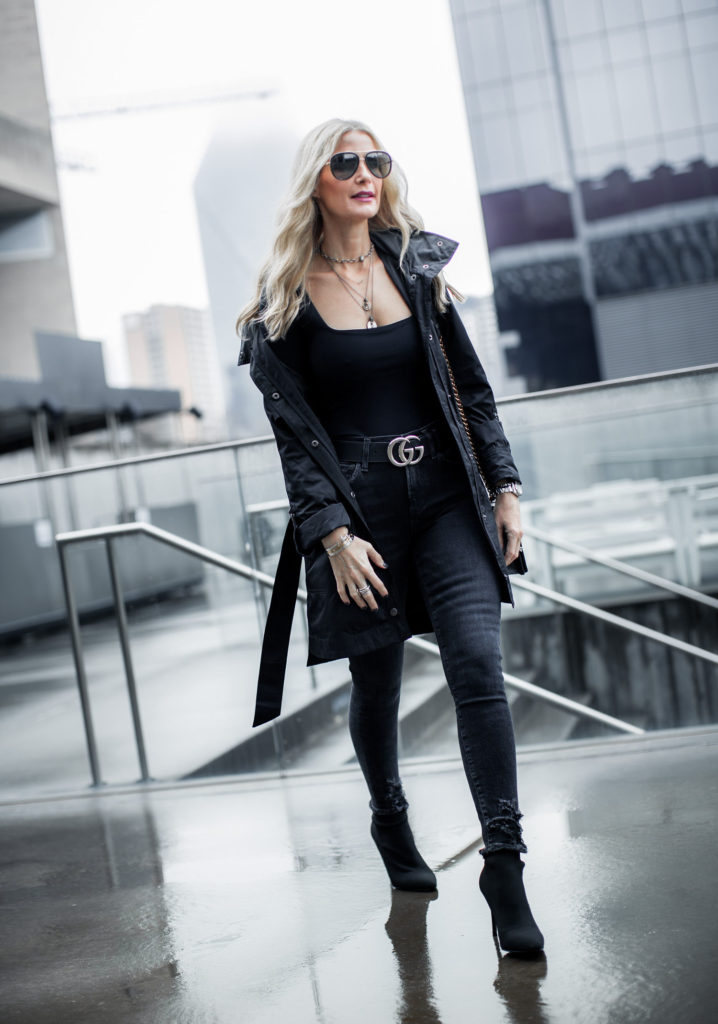 Happy Wednesday ladies!  I know we all want to look slimmer and you don't necessarily have to actually lose a few pounds to do it.  If you dress right, you can actually end up appearing at least 10 pounds slimmer, you're welcome!  Below I'm sharing 5 tips so help you look slimmer in your clothes and even a bit younger too if you play your cards right and follow the 5 simple steps below.  And yes, it was raining this day which is why my hair looks so bad, lol!
SHOP MY LOOK: TRENCH IS 50% OFF MAKING IT UNDER $100

5 WAYS TO LOOK SLIMMER IN YOUR CLOTHES:
1.) WEAR ALL BLACK:
One of the first fashion quotes I remember reading years ago was this: "The first lesson in fashion, wear all black."  I couldn't agree more, an all-black ensemble is not only slimming but it exudes sophistication and confidence like no other color palette so why not rely on it from time to time?!  In fact, when I can't figure out what to wear, yes, even I have these days from time to time, I always go to an all-black look and it does the trick every time.
2.) PICK SOLID OVER PRINTS:
Prints are busy and can tend to make you look bigger than you really are.  Opt for solid color palettes that are both slimming and complimentary to your skin tone.  Being blonde with blue eyes I tend to look better in pastel colors like baby pinks and teal blues.  I recently did a full blog post diving deeply into this topic titled: 8 WAYS TO DRESS MORE CONFIDENT so if you're not sure what colors you should wear check out this post.
3.) DON'T GIVE UP ON HEELS:
Heels will not only make you taller literally and thank goodness for that, but they also have a tendency to elongate your legs which will not only make you look taller but slimmer too.  If 5-inch heels aren't in your wheelhouse anymore, no worries, even 3-inch heels or wedges have a slimming effect.  So the next time your not sure which shoe you should wear, the flats or the heels, my suggestion will always be go with the heels!
4.) FIND A FABULOUS TAILOR:
I get 90% of my clothes altered because fit is extremely important and even a few inches here there on a jacket or jeans will make the biggest difference!  I recommend hemming all of your jeans just above your ankle bone, this is the most flattering length for all body types.
5.) FIND WAYS TO  HIDE YOUR FLAWS:
Whether that's short legs (me) or a bigger mid-section or maybe you just want to look slimmer, find out what your challenge areas and dress accordingly.  Since my legs are fairly short I always wear high-waisted, ankle length jeans or pants, always.  The reason, it makes my legs look longer, it's that simple.
OUTFIT DETAILS:
My chic mid-length trench which is ON SALE by the way, is made of lightweight, wrinkle-free material so it would be an amazing jacket to have that would transition you so well into spring.  Not to mention, that a lightweight trench is a definite wardrobe essential and a timeless piece you'll have in your closet for many seasons to come!
My black faded jeans are by Agolde which is my favorite denim designer of the moment.  They make amazing denim and a slightly lower price point than most denim designers.  I love the black wash which is more slimming than blue denim by the way and the distressing on the bottom of these jeans makes them anything but ordinary!  I love wearing these fab jeans with heels, sneakers, or booties, the possibilities are endless because these high-waisted slimming jeans are so versatile!  They run true to size, I'm wearing a 25.
My sleek and slimming black bodysuit is from Free People and I love this basic piece so much that I got it in white too!  I adore the 3 quarter length sleeves and the square neckline is super sexy and flattering allowing you to show off your favorite necklace of the moment – mine being the 'SO HEATHER' necklace I designed for Harper Hallam.  This bodysuit runs true to size, I'm wearing an XS.
Finally, my under $100 sock booties, yes UNDER $100, are by Steve Madden and I'm obsessed with them!
 I have some similar ones by Stuart Weitzman which I paid a ton more for and I love these better.  The heel height is only 3.5 inches so they're comfortable yet look very stylish and I love the pointy toe because they make your legs look longer and who doesn't want that?!  Wear these sleek sock booties tucked under your skinny jeans or straight leg jeans for a look that's sure to scream CHIC!
My Gucci belt I wear a ton as I'm sure you know if you've been reading my blog for a while now or if you follow me on Instagram.  I wear it so much because I feel like it really completes any and every look.  I recently found out about these amazing Gucci belt dupes on Amazon so if this belt isn't in your budget no worries, grab one of these dupes and I'm sure you'll wear it a ton just like I do!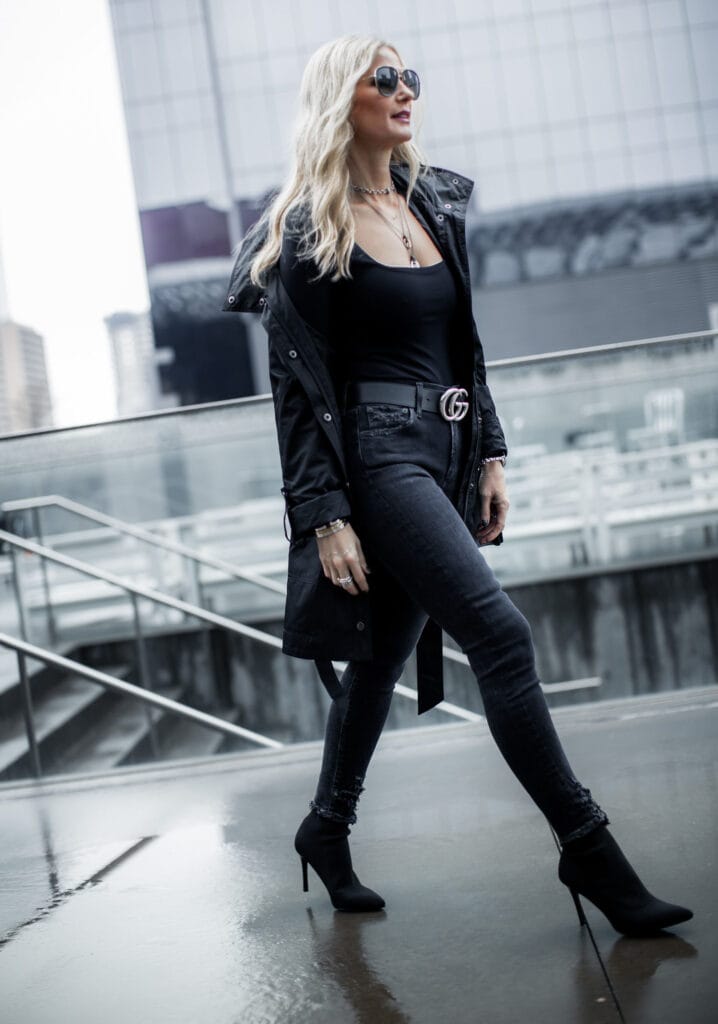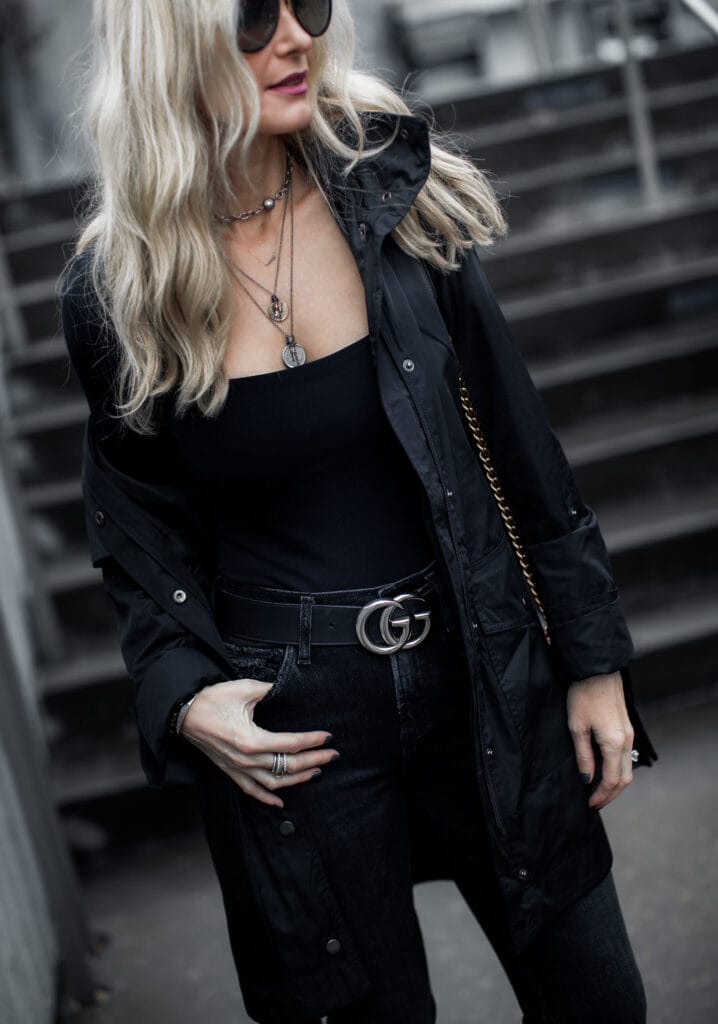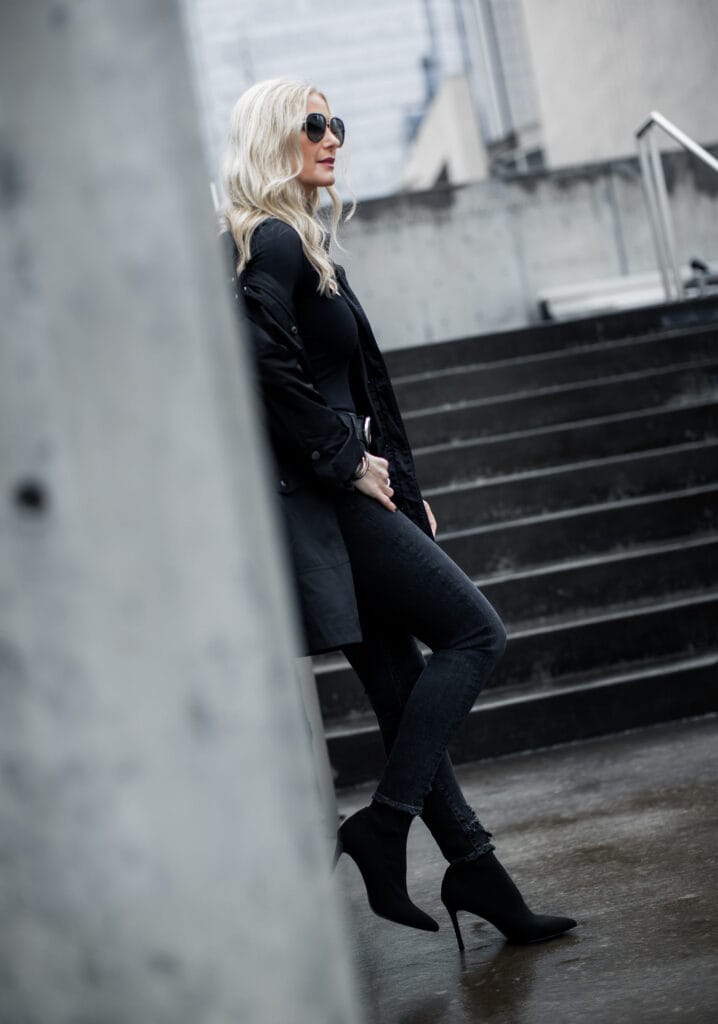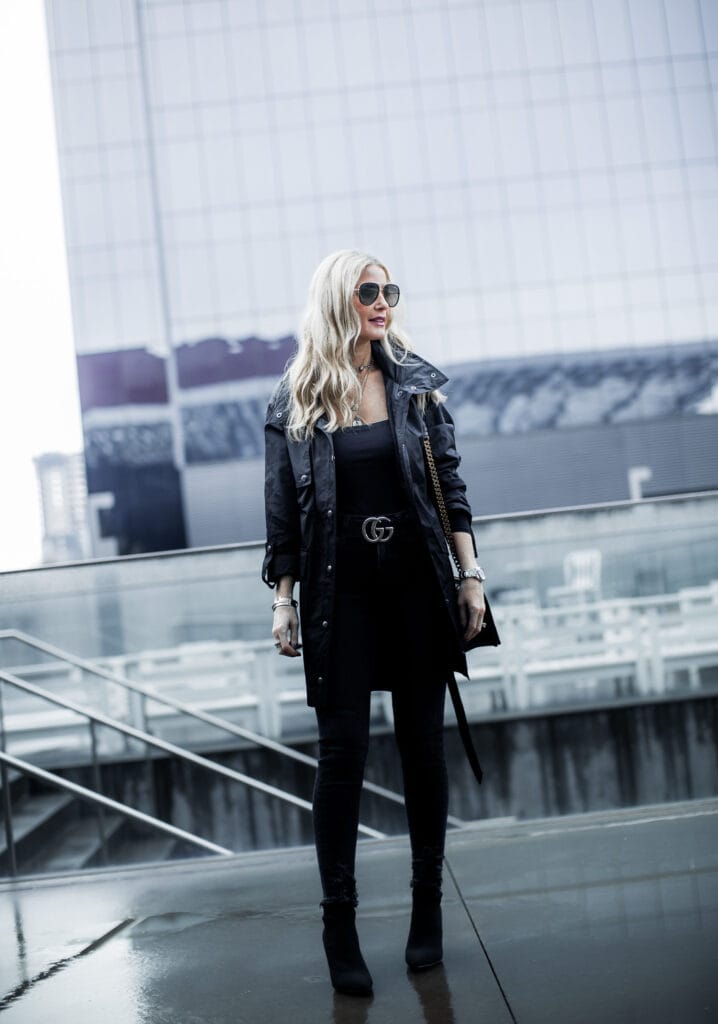 BLACK TRENCH COAT WEARING XS // AGOLDE JEANS WEARING A SIZE 25  // FREE PEOPLE BODYSUIT WEARING AN XS // GUCCI BELT GREAT DUPE HERE WEARING A SIZE 75 // STEVE MADDEN SOCK BOOTIES
Please feel free to email me at [email protected] if you have any questions!  I'm always happy to help with styling or picking out a specific outfit for an event!   Have a fabulous day!!
CHECK OUT MY INSTAGRAM SHOP HERE TO SHOP ALL OF MY INSTAGRAM LOOKS
YOU CAN ALSO DOWNLOAD THE LIKETOKNOW.IT APP AND FOLLOW ME ON IT BY CLICKING HERE.
STAY IN THE KNOW:  Don't forget to sign up for my exclusive News Letter for AMAZING STYLE TIPS, SALE ALERTS, AND MUCH MORE!
Thank you so much for stopping by today, I truly appreciate all of you!
XOXO, Heather