It's that time again, our CHIC AT EVERY AGE series featuring this AMAZING WINTER BOX OF STYLE by RACHEL ZOE, a $400 value for only $74.99 with code CHIC25
Natalie Keinan of THE FASHION HOUR  // Samantha Stewart of  STYLE OF SAM // Cathy Williamson of  THE MIDDLE PAGE
 SHOP MY LOOK:

We're all so excited to be partnering with Rachel Zoe again featuring her amazing spring  'Box of Style'.  This is a box of uber chic items hand selected by Rachel Zoe and delivered right to your front door at the beginning of each season. This spring there are 5 covetable items that would retail collectively for over $400! However, if you purchase this amazingly fabulous 'Box of Style' you get all 5 items for just $74.99 with code CHIC25. 
CLICK HERE TO PURCHASE RACHEL ZOE'S SPRING BOX OF STYLE FOR ONLY $74.99 WITH CODE CHIC25
5 COVETABLE ITEMS YOU'LL LIVE IN ALL SEASON LONG FROM RACHEL ZOE'S SPRING BOX OF STYLE ($400 VALUE FOR ONLY $74.99 WITH CODE CHIC25):
1.) CHAN LUU SILK SCARF:
These gorgeous silk scarves were exclusively made for the Box of Style and retail for over $125.  I love that you can choose from a leopard print or a floral print, my personal favorite is the leopard print!  This silk scarf is incredibly versatile because it can be tied various ways as you can see from our post.  This stunning scarf is sure to take all of your spring looks to the next level of chic!  I'll be wearing mine this season with jackets, simple tee's and even dresses, it adds that extra bit of interest to any look!
2.) EDIBLE BEAUTY GOLD RUSH EYE BALM:
I wear eye cream every single night and have tried tons of eye creams.  This particular eye cream is amazing and really works!  I've been using it for almost 2 weeks now and I can seriously see less fine lines and puffiness.  I use it during the day as well under my makeup and my concealer goes on so smoothly over it which is always a plus.  I love that this eye balm is made by a nutritionist and with only natural ingredients, they even claim it's safe enough to eat!
3.) MICHELLE CAMPBELL GOLD TALON BRACELET SET:
I'm a huge fan of dainty jewelry that can be layered.  These gorgeous 14K gold plated bracelets which retail for over $215, by the way, are just that – dainty and perfect for layering and they also look uber chic worn with other gold or silver bracelets.  I'll be wearing these stunning bracelets all year long, they're the perfect accessory sure to bring all of your looks up a notch!
4.) TRIBE ALIVE LEATHER CLUTCH:
I love the cause behind the company Tribe Alive which makes these high-quality genuine leather clutches.  They employ at-risk women and try and get them out of poverty.  What an amazing cause!  This black clutch is the perfect size for night time, you can fit your phone, lipstick and credit card in it easily and honestly what else does a girl need?!  You can also tie the scarf onto the clutch like Natalie is carrying it in this post and wear it as a shoulder bag which I love too!
5.) SKIN ROSE QUARTZ HEART GUA SHA:
Any tool that I can use to look younger I'm all in, who's with me?  I've been using this amazing face tool with the serum from the Spring Box of Style and I've seen amazing results.  My skin feels and looks smoother and feels less puffy too which I love.  If you're not sure how to use this tool it comes with instructions so don't worry!  It even helps reduce stress, anxiety, and tension which I definitely need!
IF YOU SIGN UP FOR THE YEAR LONG SUBSCRIPTION YOU GET THE AMAZON ECHO LOOK:
The Amazon Echo Look is a hands-free camera that allows you to take photos of your outfit and even 6-second videos. You can even ask it which outfit it likes better with the special style check feature!  It automatically arranges your wardrobe by weather, season, and occasion, how cool is that?!  You can also share some of your favorite looks with friends, I've seriously had the best time using this product and wonder how I ever lived without it!
All 5 of these INCREDIBLY CHIC AND HIGHLY COVETABLE products which retail for over $400 you will get for only $74.99 with code CHIC25.  I highly recommend treating yourself to this spring 'BOX OF STYLE'. Trust me, you'll be living in all of these chic spring items all season long, I know I will!
A special thank you to Rachel Zoe's Box of Style for sponsoring this post.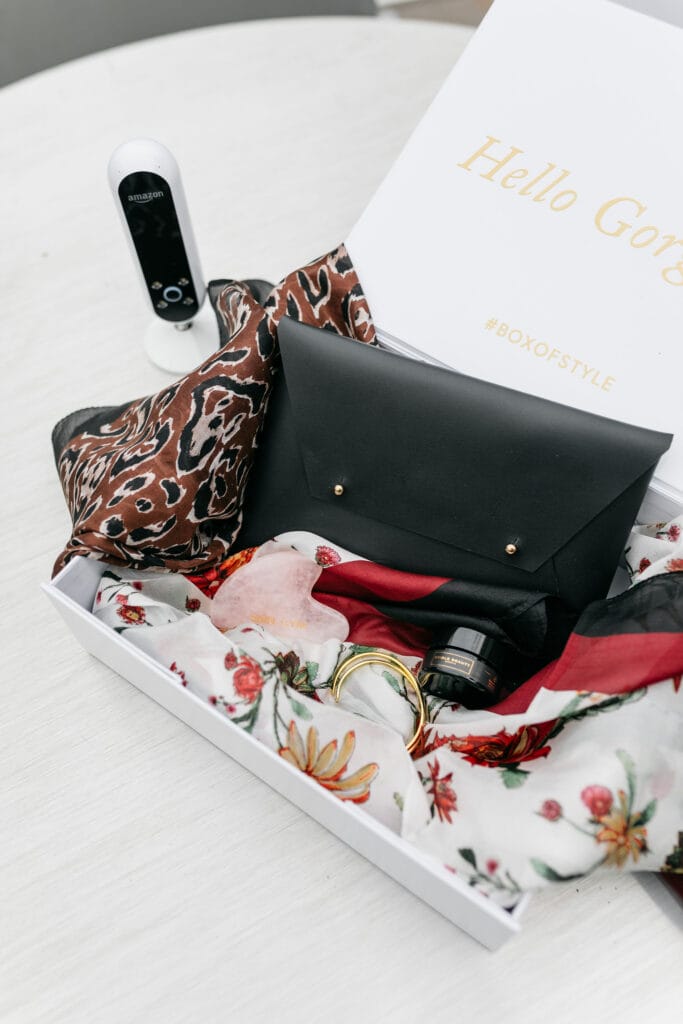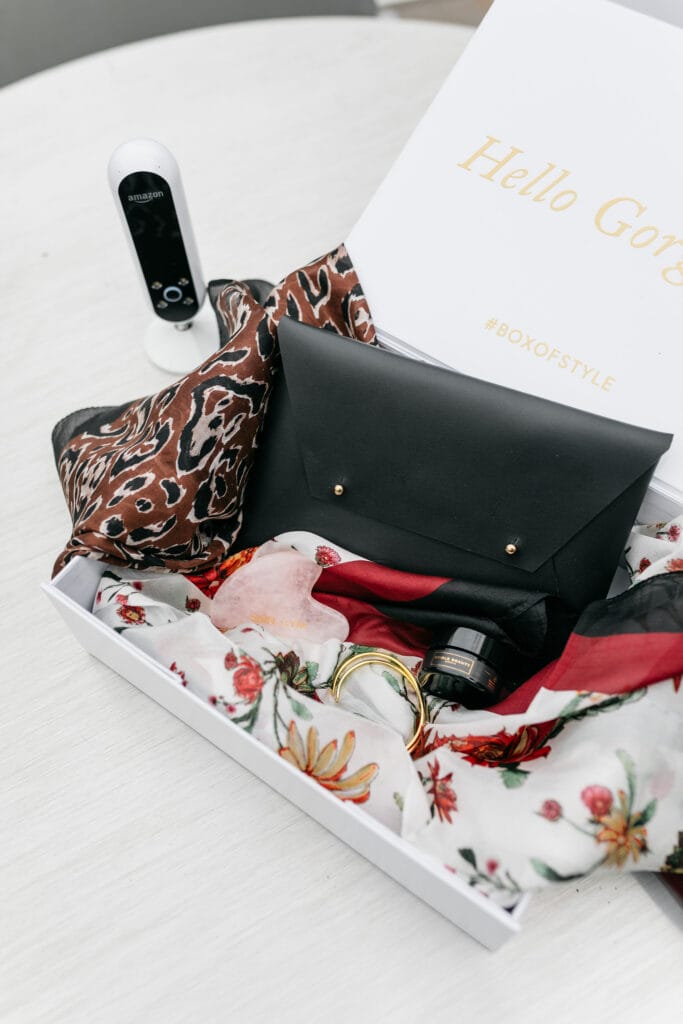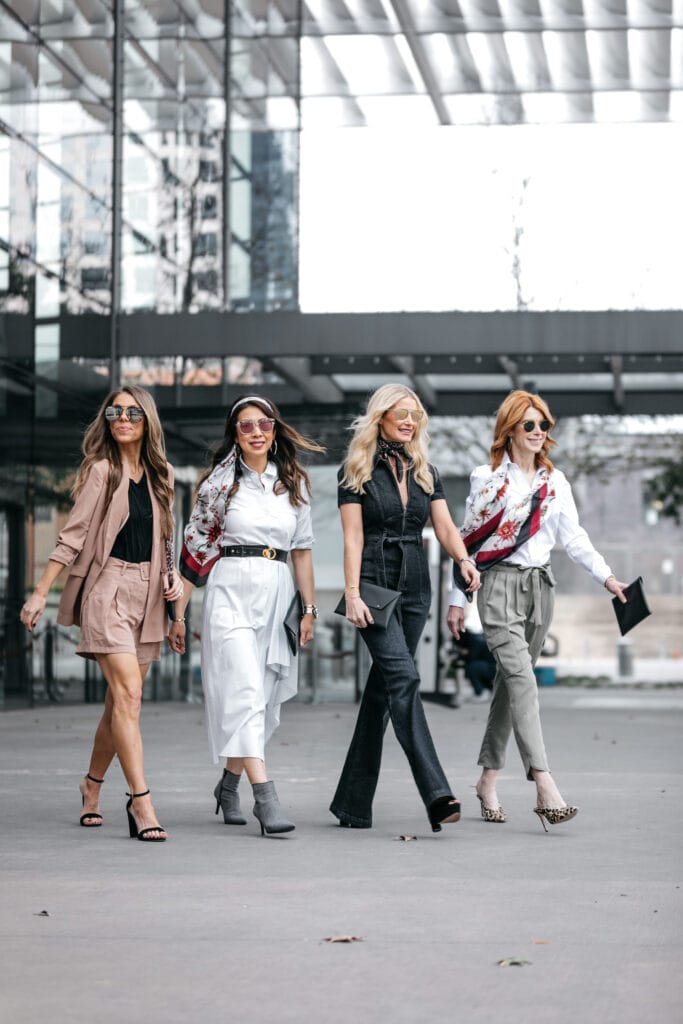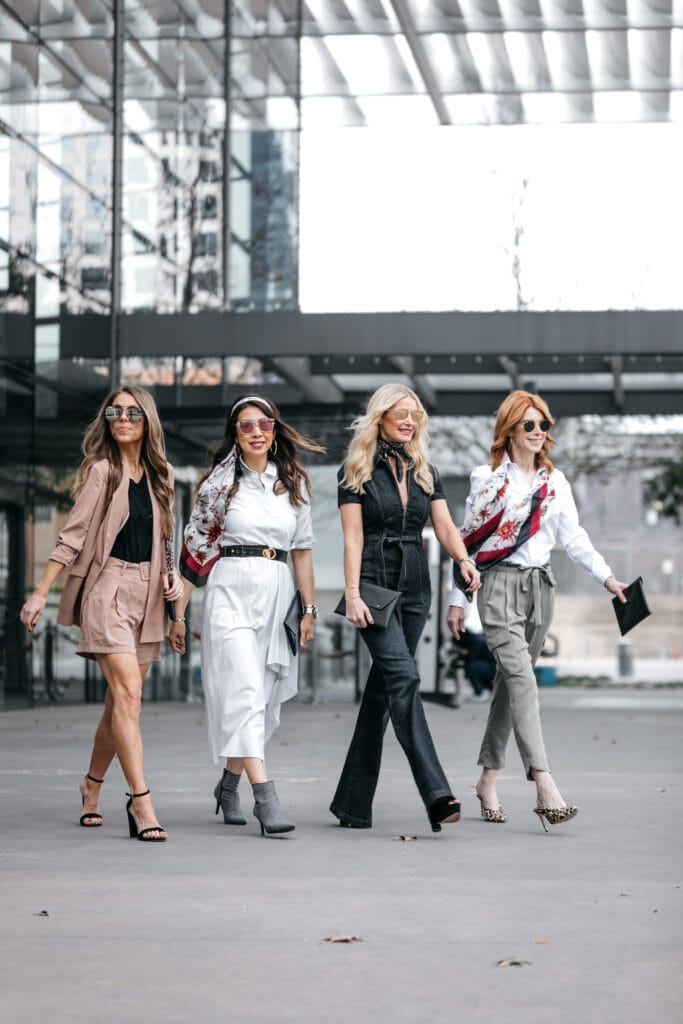 ALICE AND OLIVIA BLACK DENIM JUMPSUIT WEARING A SIZE 25 // PLATFORM HEELS OLD SIMILAR // BOX OF STYLE (GET $25 OFF WITH CODE CHIC25)
Please feel free to email me at [email protected] if you have any questions!  I'm always happy to help with styling or picking out a specific outfit for an event!   Have a fabulous day!!
CHECK OUT MY INSTAGRAM SHOP HERE TO SHOP ALL OF MY INSTAGRAM LOOKS
YOU CAN ALSO DOWNLOAD THE LIKETOKNOW.IT APP AND FOLLOW ME ON IT BY CLICKING HERE.
STAY IN THE KNOW:  Don't forget to sign up for my exclusive News Letter –  Sign up by clicking here.
Thank you so much for stopping by today, I truly appreciate all of you!  XOXO, Heather
Share the post "CHIC AT EVERY AGE FEATURING RACHEL ZOE'S SPRING BOX OF STYLE ($400 VALUE FOR UNDER $100)"