Good Morning ladies!
  I'm definitely NOT an expert in many areas such as anything technical, politics, and history, I could go on trust me, but you get the point!  There are a few things, however, that I am an expert in and denim is one of them.  There are a few reasons why.  First, my love for denim started out when I just a little girl around age 3. Instead of most little girls who loved to wear frilly dresses I wanted to wear jeans.  My Mom tells this story about me that I had this one pair of jeans that I literally wore every day and kept wearing even after I outgrew them.  My parents actually told me that the squirrels took them so I would stop wearing them, lol!  Second, I wear jeans every day, literally.
I wear them casual with sneakers on the weekends. Also, I wear them during the week semi-dressy for work and meetings. In addition, I wear them dressy to church or luncheons so needless to say I actually NEED a wide variety of denim in my wardrobe. The reason I wear jeans so much is simple:  I feel like myself and most confident when I'm wearing jeans.  I guess you could call me a denim addict, I have more than I would like to admit!  Anyone else a denim lover through and through?  If your answer is yes, or even if you just love to wear jeans from time to time scroll down to see my top 3 denim picks and find out why I love each one.
SHOP MY LOOK: (METALLIC MOTO JACKET IS ONLY $109)

TOP 3 BEST JEANS:

I adore these jeans by Agolde (one of my favorite denim designers) because they're very fashion forward and not your typical skinny jean.  Take note ladies, this style of denim is going to be HUGE in 2019!  The high-waisted, straight leg, rigid denim is definitely what all the celebs and mega influencers are currently wearing.  When I say rigid what I mean is that these jeans are made of stiffer denim so they don't have a whole lot of stretch in them.  This is good because it means they hold their shape really well. These jeans are mega high-waisted which means they make your legs look crazy long, always a plus!
I'm a huge fan of the raw edge hem and ankle length because they allow you to show off your favorite heel of the moment.  The light wash is very versatile and will go perfectly with any spring or summer look, but these jeans also look amazing with darker colors too such as black and navy.  What I know for sure is that when I put these babies on I feel like these jeans were made for me.  Try a pair for yourself and you'll see what I'm talking about.  These jeans run true to size, I'm wearing a size 25.  If you're between sizes I suggest sizing up one size since they are made of rigid less stretchy denim.
Ok, I just did a post on Instagram about these amazing jeans (they're by 3×1 and available at Shopbop), they're one of my faves by a long shot! They're a high-rise with a straight leg which is the hottest style in 2019 by the way!  I love the raw edge hem and the faded black wash is so versatile meaning you'll want to wear these jeans with everything because they go with so much!  I've already worn them more than I would like to admit in the last few weeks because they're that good!  Trust me, if you only add one pair of denim to your closet this year let it be these!  I went down one size in these jeans, I'm wearing a size 24.
YOU CAN VIEW ANOTHER POST I DID IN THESE EXACT JEANS TITLED: 2 MAJOR WINTER COAT STYLES EVERY GIRL SHOULD OWN & 7 WAYS TO DRESS MORE CONFIDENT 
SCROLL ALL THE WAY DOWN TO SEE HOW I STYLED THESE JEANS  BY 3X1.  
These jeans are called 'The Natasha" and they're by J Brand, one of my favorite denim designers.  These are the hands down the most slimming jeans in my closet, and I have a ton of denim to compare them to!  There are 2 reasons they're so slimming and flattering.  First, they are super high-waisted so the make your legs appear longer and thinner because the waistband sits up so high which draws the eye up.  I'm such a huge fan of high-waisted denim. Honestly, I literally haven't bought a pair of jeans that weren't high-waisted in the last 2 years, no lie!  If you've never tried a pair of high rise jeans I highly recommend it, trust me, you'll be glad you did!
The second reason these jeans are so slimming is because of the ankle length meaning they hit your leg right above your ankle bone as do the two pairs of jeans above.  The ankle is the one part of the women's body that is usually slim no matter what your age or size which is why ankle length jeans work so well on almost any body type.  I always have ALL of my jeans tailored and cut to this length because it is so flattering.  However, these jeans come in this super flattering length so I didn't even have to have them hemmed which is always a plus.  For those of you wondering, I'm 5'4.
SCROLL ALL THE WAY DOWN TO SEE HOW I STYLED THESE JEANS BY J BRAND.
CHECK OUT ANOTHER BLOG POST I DID IN THESE JEANS TITLED: 3 REASONS THIS LOOK WILL MAKE YOU LOOK 10 POUNDS THINNER
Please feel free to email me at [email protected] if you have any questions!  I'm always happy to help with styling or picking out a specific outfit for an event!   Have a fabulous day!!
CHECK OUT MY INSTAGRAM SHOP HERE TO SHOP ALL OF MY INSTAGRAM LOOKS
YOU CAN ALSO DOWNLOAD THE LIKETOKNOW.IT APP AND FOLLOW ME ON IT BY CLICKING HERE.
STAY IN THE KNOW:  Don't forget to sign up for my exclusive News Letter for AMAZING STYLE TIPS, SALE ALERTS, AND MUCH MORE!
Thank you so much for stopping by today, I truly appreciate all of you!
XOXO, Heather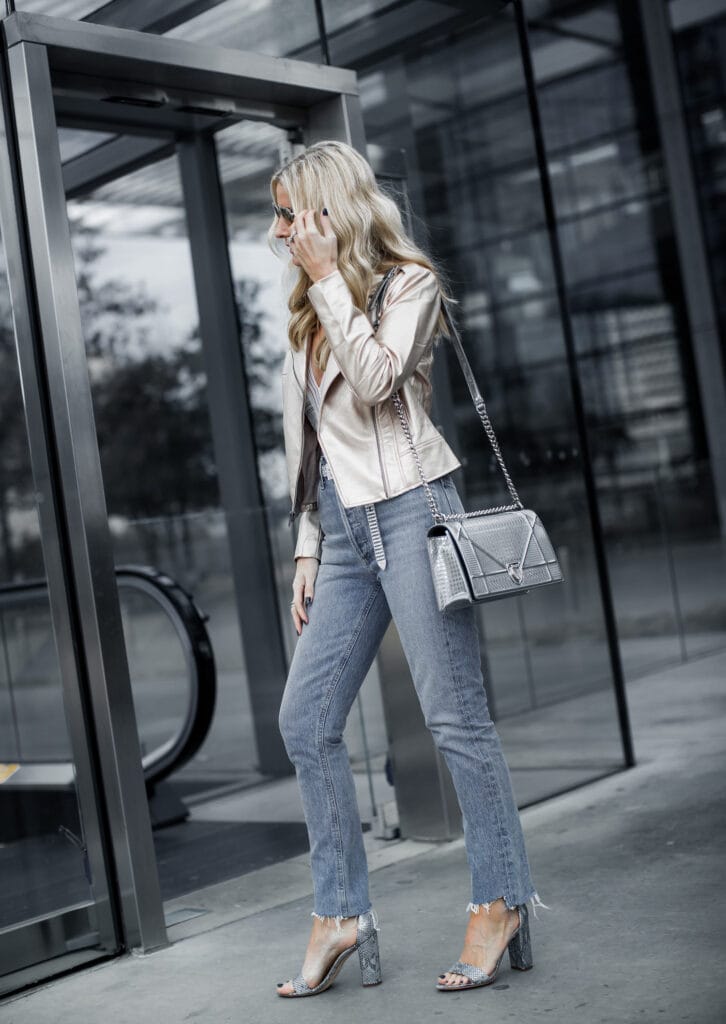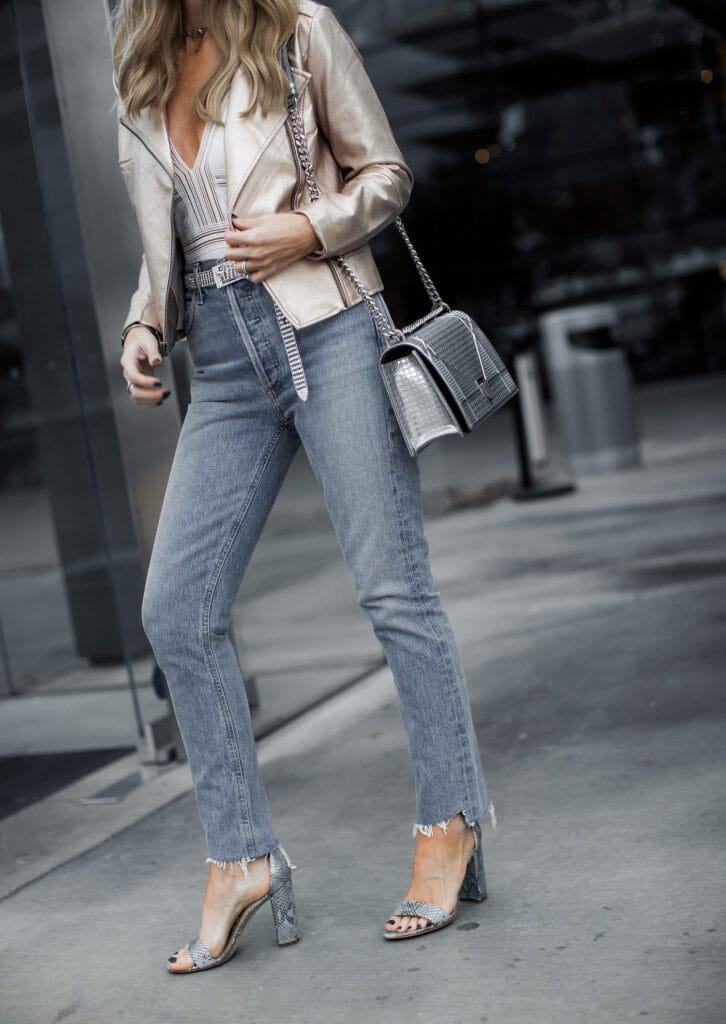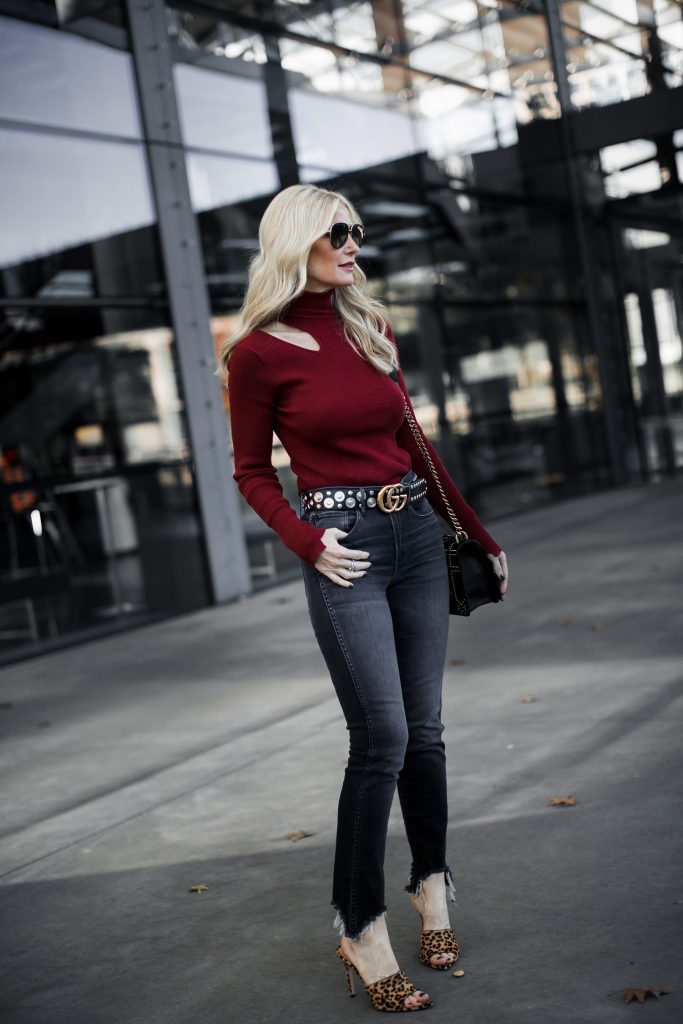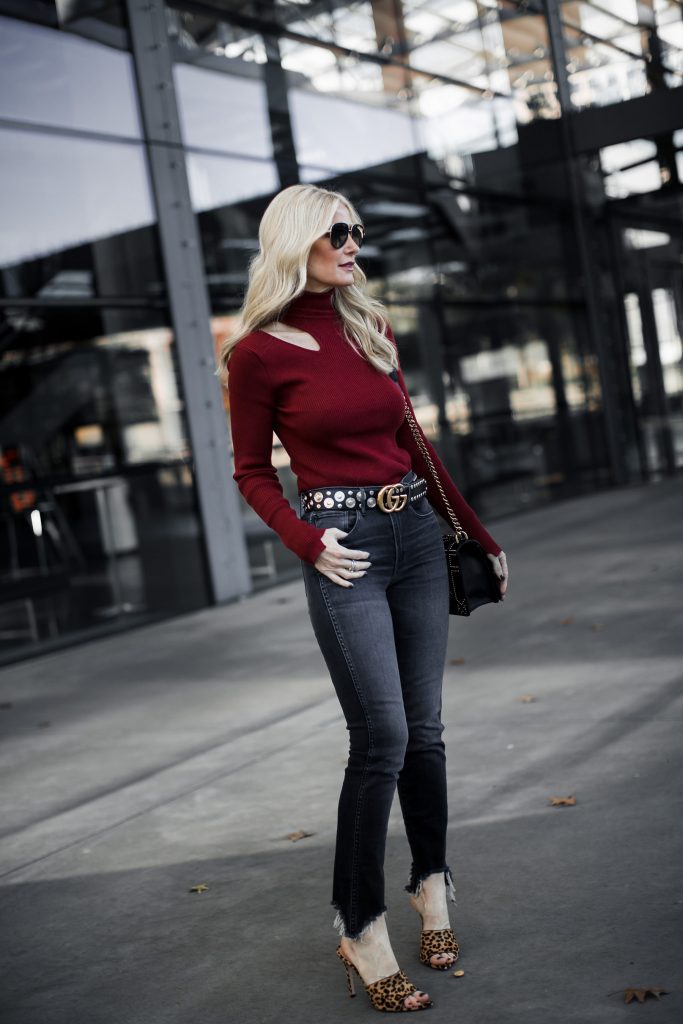 SHOP THIS LOOK: 

SHOP THIS LOOK: 

METALLIC MOTO JACKET WEARING AN XS // AGOLDE JEANS WEARING A SIZE 25 // LACE BODYSUIT SIMILAR // SILVER BELT // SAM EDELMAN SNAKE PRINT HEELS // DIOR HANDBAG SIMILAR