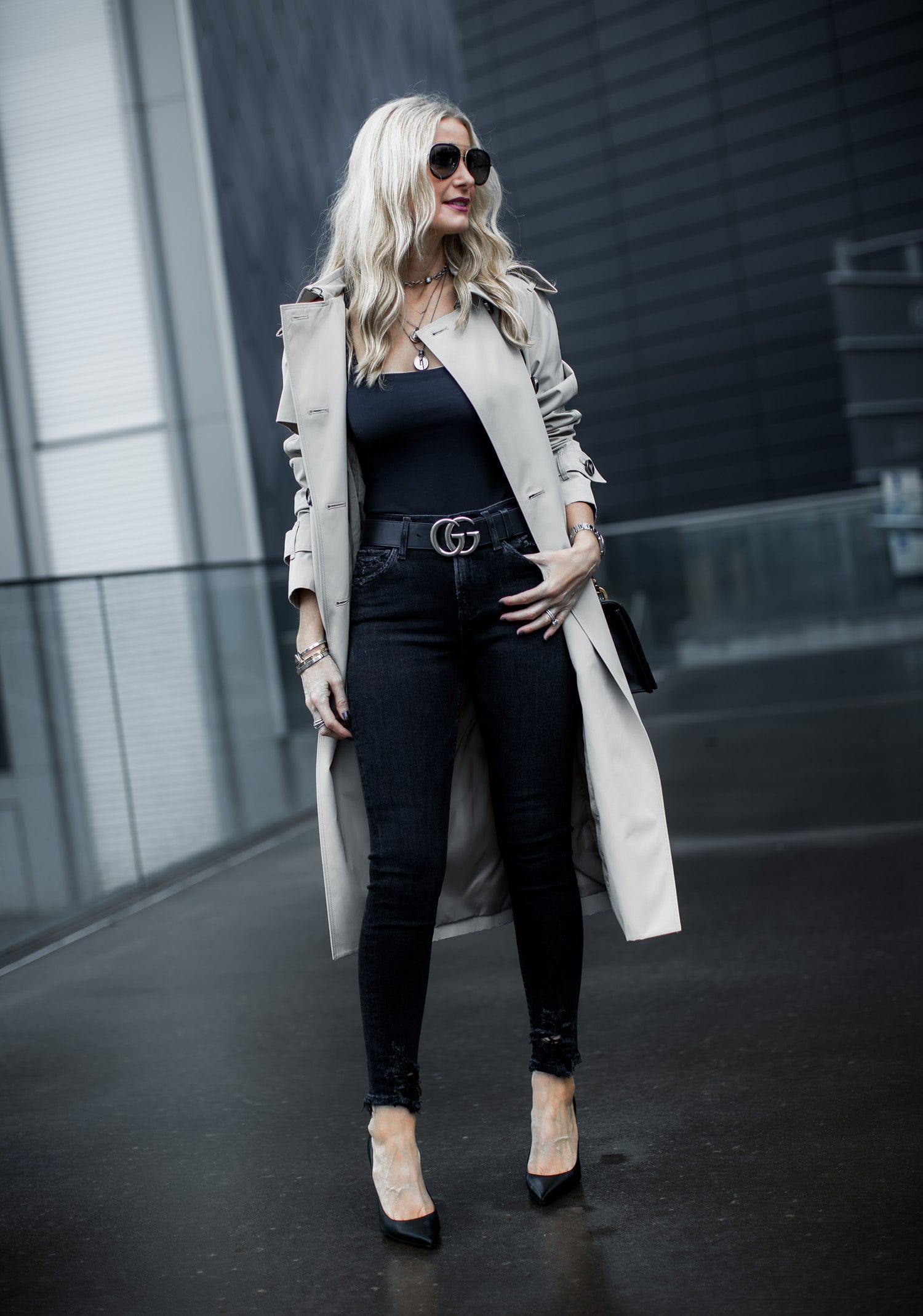 Good morning beautiful ladies!
A great wardrobe is built on really good basic pieces.  I couldn't get dressed in the mornings if I didn't have a good foundation of these 10 fundamental basics listed below. Also, I wear the following 10 items a ton and literally couldn't make it without them.  I pair my basics with one or two trendy pieces to create my daily looks.  Having the 10 basic wardrobe staples below will make getting dressed so much easier for you and hopefully, you'll never have that dreaded feeling of "I have nothing to wear" again!
SHOP MY LOOK:

WARDROBE BASICS CHECKLIST:
1.) THE TRENCHCOAT:
A chic trench coat is a classic piece that every woman should own, period.  It looks amazing paired with anything from skinny jeans to a fitted sheath dress or even over a simple white tee and ripped jeans.  Just remember this when styling a long trench coat, keep everything else fitted underneath so you don't end up being swallowed by the coat.  This particular trench coat is from Nordstrom and is by London Fog, it's wrinkle free and I love the neutral beige color not only because neutrals is a huge trend this season, but wearing neutrals will never go out of style!  This trench coat runs true to size, I'm wearing a size XS.
2.) BLACK JEANS:
I wear my black jeans more than my blue jeans, especially in the fall and winter time.  They're dressier than blue jeans as long as they don't have rips in them so they can be worn to dressier occasions such as the office, church, or even on to a luncheon as long as you style them the correct way.  The black skinny jeans I'm wearing are by Agolde, which is one of my all time favorite denim designers.  AGOLDE makes affordable designer denim that fits amazing!  The jeans I'm wearing in this post are high-waisted so they make your legs look long and I love the minimal distressing making them have that perfect cool-girl vibe without looking too overdone.  They run true to size, I'm wearing a size 25.
CHECK OUT ANOTHER POST I DID IN THESE EXACT JEANS TITLED: 5 WAYS TO LOOK THINNER IN YOUR CLOTHES
3.) BLACK BODYSUIT:
I wear my black bodysuit under all of my jackets literally all of the time.  It looks polished and put-together and you never have to worry about it bunching up or coming un-tucked not to mention a black bodysuit is ultra slimming!  I love this one I'm wearing by Free People because of the square neckline and the 3 quarter length sleeves.  Trust me, you'll want to wear this flattering bodysuit under all of your favorite jackets!
4.) BLACK PUMPS:
I just love how a classic black pump can really dress up any look!  I love them paired with jeans of course, but they also very chic and sophisticated paired with a midi dress or skirt. Honestly, I wear mine all the time to church, on date night or to business meetings and I always feel very confident when I do!
5.) BLACK BELT:
A versatile black belt is the perfect finishing accessory that really completes any look.  I never feel fully dressed until I put a belt on.  I've literally worn this Gucci belt over 100 times because it's that versatile and really takes all of my looks to the next level.  It doesn't have to be a Gucci belt, any black belt that has a simple silver or gold buckle will do the trick.  I've listed a few of my favorites below.

6.) WHITE TEE:
I wear white tees all the time by themselves with jeans in the spring and summer time and under jackets all year long. Typically, I buy a new white tee every year because as much as I wear mine it tends to get a little worn after about a year.  I love the Madewell tee's from Nordstrom, the material is super soft and the price point can't be beat!  I adore the v-neck style over the crew neck because the v-neckline makes me look taller and allows me to show off my favorite necklace of the moment.  A crew neck is also a great basic style that can be worn under almost any jacket style!

7.) BLUE JEANS:
A good pair of blue jeans that fit you really well is definitely key!  In the spring and summer months, I typically wear light blue denim and in the fall and winter months a darker blue shade.  So now I would recommend grabbing a pair of lighter wash denim jeans.  This lighter shade of blue denim is sure to go perfectly with all of your spring and summer ensembles!

CHECK OUT ANOTHER POST I DID IN MY FAVORITE BLUE JEANS TITLED: I OWN OVER 50 PAIRS OF JEANS AND THESE ARE MY 3 FAVORITE'S
8.) BLACK LEATHER JACKET:
This should really be number one on the list!  If I had to pick one style of jacket that can really change your life it would be this one!  I'm sure you've heard this quote before: "I THOUGHT THAT MY LIFE WOULD SUDDENLY IMPROVE IF I GOT A LEATHER JACKET AND I WAS LITERALLY 100% TOTALLY RIGHT" . I couldn't agree more, a black leather jacket is a fundamental piece in any wardrobe because it can be styled so many ways.  Of course, it looks amazing with a simple white tee, some killer jeans, and heels, but it also pairs well with dresses and skirts.  The possibilities are endless proving the versatility of the black leather jacket.  I've listed a few of my favorite's below at all price points, happy shopping!

9.) FITTED BLAZER:
I wear blazers a ton too, casual with jeans and sneakers for a laid back look and dressy with black jeans and heels for a chic and polished look that will never go out of style.  The key is to find a blazer that really fits you well.  I've handpicked my favorite's below and all have an impeccable fit.

CHECK OUT ANOTHER POST I DID IN AN UNDER $100 BLAZER TITLED: BEST BALMAIN BLAZER DUPE
10.) BLACK DRESS:
It's always good to have a really well fitting sexy black dress on hand for any last minute cocktail parties or fancy dinners that may come up unexpectedly.  Throw on your leather jacket from above over your LBD to add some edge to your look or pair it with a blazer if it needs to look more professional.  Either way, a little black dress is a key essential in any good wardrobe.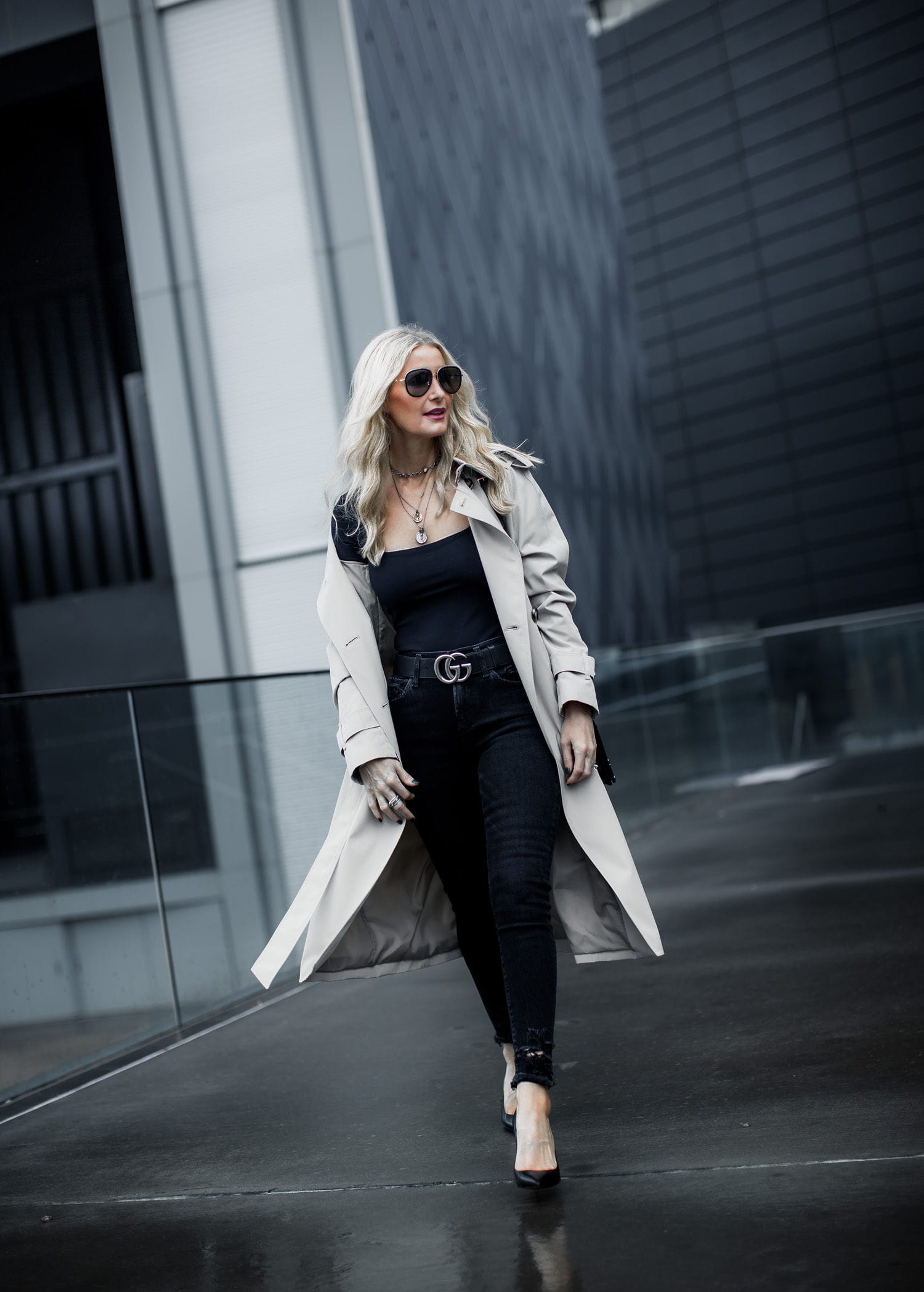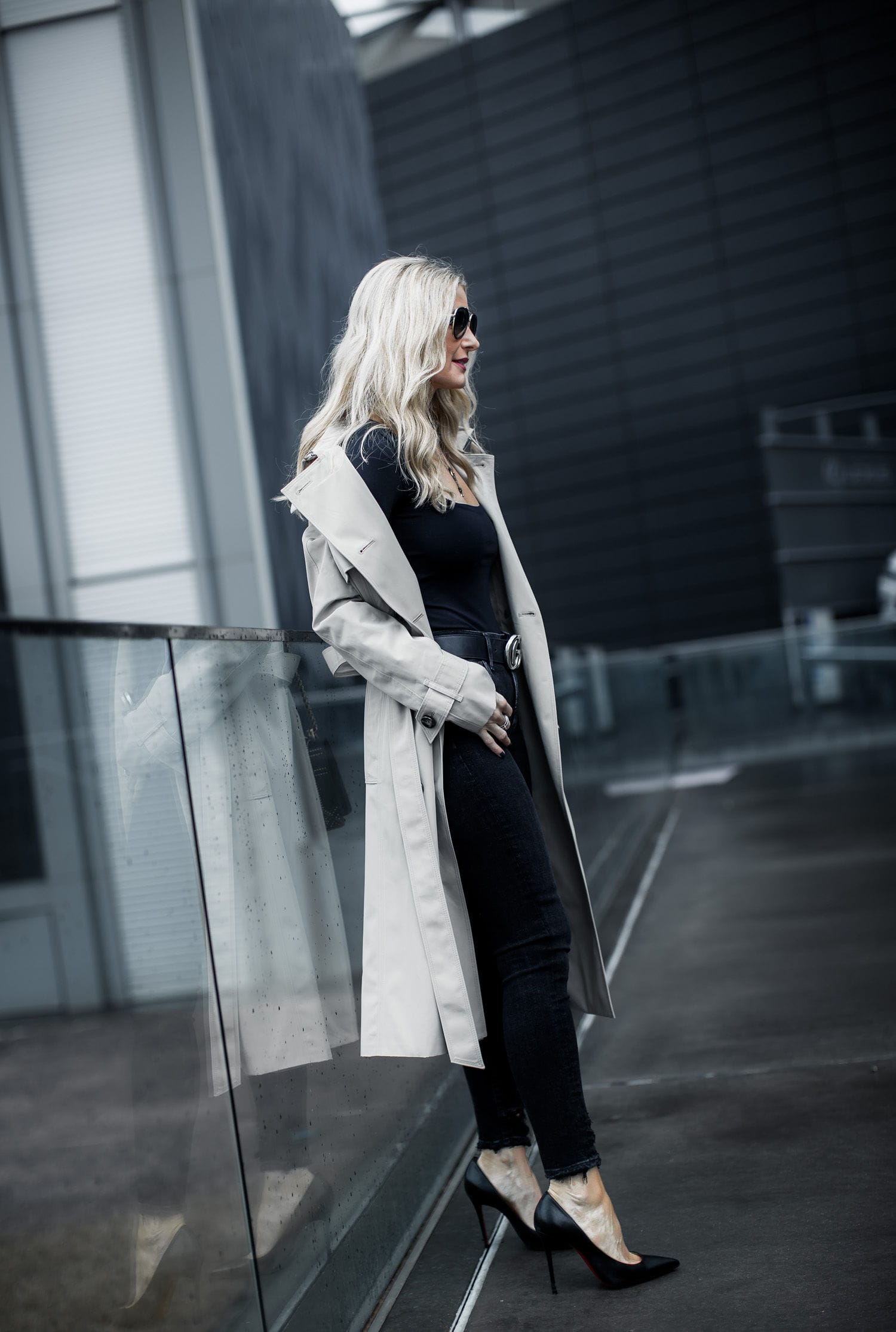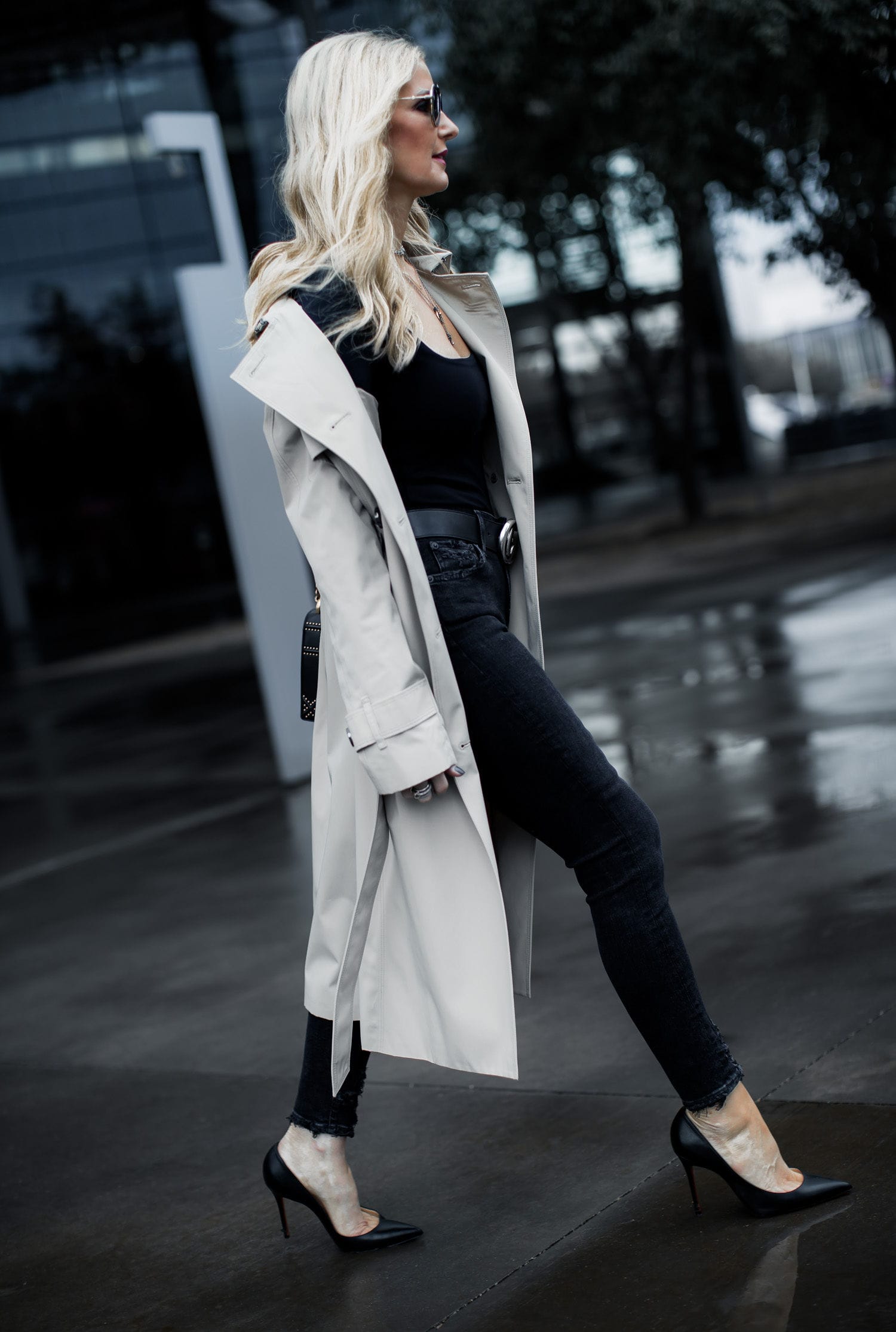 TAN TRENCH COAT WEARING A SIZE XS // AGOLDE JEANS WEARING A SIZE 25 // FREE PEOPLE BLACK BODYSUIT WEARING A SIZE XS // GUCCI BELT DUPE HERE WEARING A SIZE 75 // BLACK PUMPS SIMILAR // SO HEATHER NECKLACE (GET 10% OFF WITH CODE SOHEATHER10
Please feel free to email me at [email protected] if you have any questions!  I'm always happy to help with styling or picking out a specific outfit for an event!   Have a fabulous day!!
CHECK OUT MY INSTAGRAM SHOP HERE TO SHOP ALL OF MY INSTAGRAM LOOKS
YOU CAN ALSO DOWN LOAD THE LIKETOKNOW.IT APP AND FOLLOW ME ON IT BY CLICKING HERE.
STAY IN THE KNOW:  Don't forget to sign up for my exclusive News Letter –  Sign up by clicking here.
Thank you so much for stopping by today. I truly appreciate all of you!  XOXO, Heather