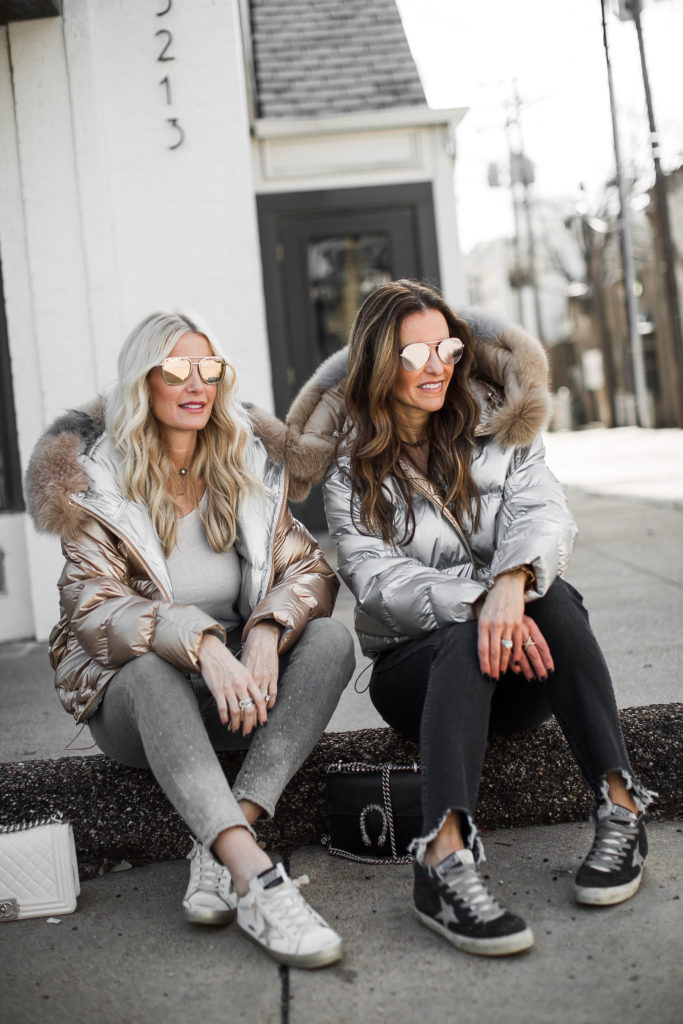 Another 'Streed Edit' is here with my good friend and fellow Dallas Fashion Blogger, Tiffany Davros, of Street Style Squad.  Today, we're featuring these amazingly fabulous puffers by Harper Hallam.  
SHOP MY LOOK:

HARPER HALLAM REVERSIBLE PUFFER JACKET on MAJOR SALE AVAILABLE HERE: GET 10% OFF WITH CODE SOHEATHER10
Harper Hallam is one of my all-time favorite jewelry designers as you may know if you've been reading my blog for a while.  I recently designed a chic coin necklace for them called the 'SO HEATHER' necklace.  Well, they not only make incredibly chic jewelry but they've started designing the coolest outerwear EVER and to say I'm obsessed would be an understatement!
REVERSIBLE PUFFER JACKET WITH FUR HOOD:
The puffer that Tiffany and I are both wearing is actually the same jacket although you wouldn't know it because they're reversible so this uber chic puffer is really 2 jackets in one.  One side is silver and one side is gold, I tend to wear mine of the gold side most of the time, although I love the silver side too!  I adore the gorgeous fox fur lined hood making this jacket anything but ordinary and a definite statement maker sure to turn a few heads.
In fact, every time I wear this jacket I get tons of compliments on it and always get asked: "Where did you get that cute jacket?"  Well, you can order this uber chic jacket on the Harper Hallam website.  I've only had this jacket for a short time and have already worn it at least 10 times making this jacket well worth the investment when I consider the cost per wear.  I highly recommend adding this incredibly chic puffer to your winter coat collection, trust me, it will take you many places in style and comfort!  I sized up one size and got the size small.
CHECK OUT ANOTHER POST I DID WEARING A CHIC VELVET PUFFER COAT TITLED: SHOP 10 OF THE CHICEST PUFFERS STARTING AT $84
CITIZENS OF HUMANITY JEANS:
I've said it before and I'll say it again, gray jeans are one of the most versatile shades of denim.  I'm going to even go as far to say they're more versatile than a pair of blue denim jeans!  I was on the hunt for some not so basic light gray jeans so I could wear them into spring and summer.  When I stumbled upon these uber chic jeans by Citizens of Humanity I was immediately impressed.  They're high-waisted with an ankle length, the perfect formula for longer looking legs and being only 5'4 I'll wear anything to look taller!  I love the super cool bleached distressing on these jeans making them the ultimate cool-girl jean that will take you beautifully into spring!  They run true to size, I'm wearing a 25.
YOU CAN VIEW ANOTHER POST I DID IN THESE EXACT JEANS TITLED: I SHOP FOR A LIVING AND THESE ARE THE 8 CHICEST ITEMS I'VE SEEN ALL MONTH
GOLDEN GOOSE SNEAKERS:
We decided to style our puffer jackets with our go-to Golden Goose sneakers because these are what I literally live in on the weekends and during the week if I have a ton of errands to do.  I travel in these comfortable sneakers too because I can walk miles in them and my feet never hurt!  I've had these cool-girl sneakers for over 2 years now and I've worn them over 100 times so I know they were well worth the investment when I consider the cost per wear.  If you've been on the fence about grabbing a pair of these super chic sneakers, I highly recommend it getting a neutral color like the ones I'm wearing so they will go with everything!
UNDER $100 METALLIC GOLD OR SILVER  SNEAKERS:
I realize not everyone wants to splurge on a pair of Golden Goose so I found these uber chic metallic gold sneakers that come in silver too that I adore.  I love this neutral gold or silver shade because they will go with all of the hot spring shades like pastels and corals.  These beauties are under $100 making them quite a steal for such a fabulous spring sneaker!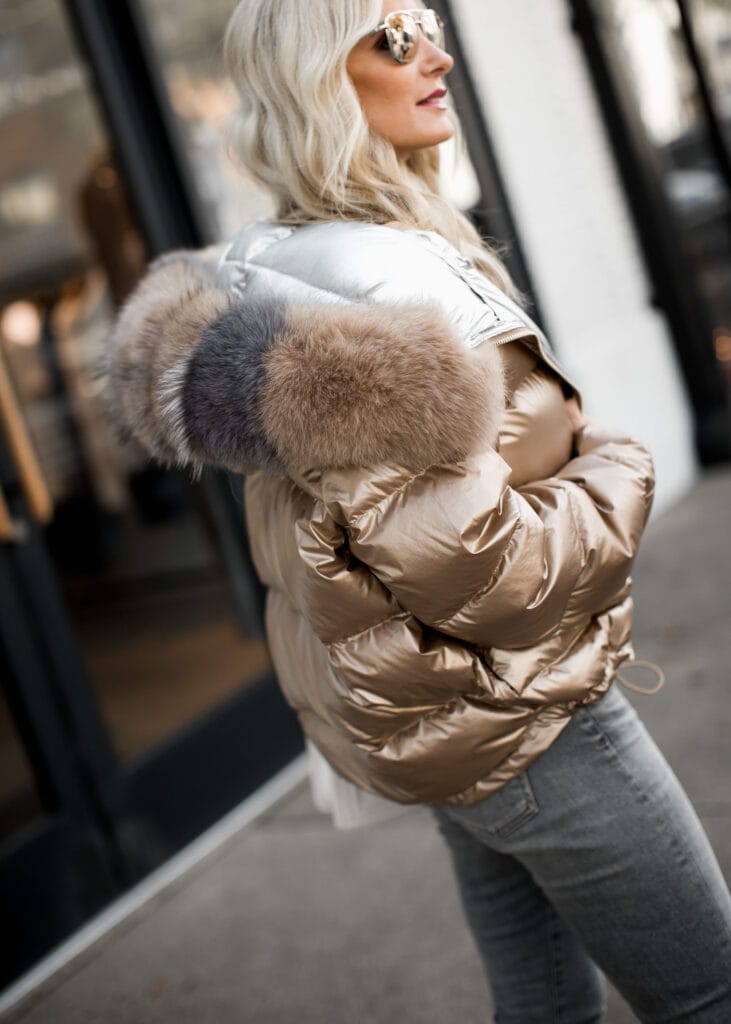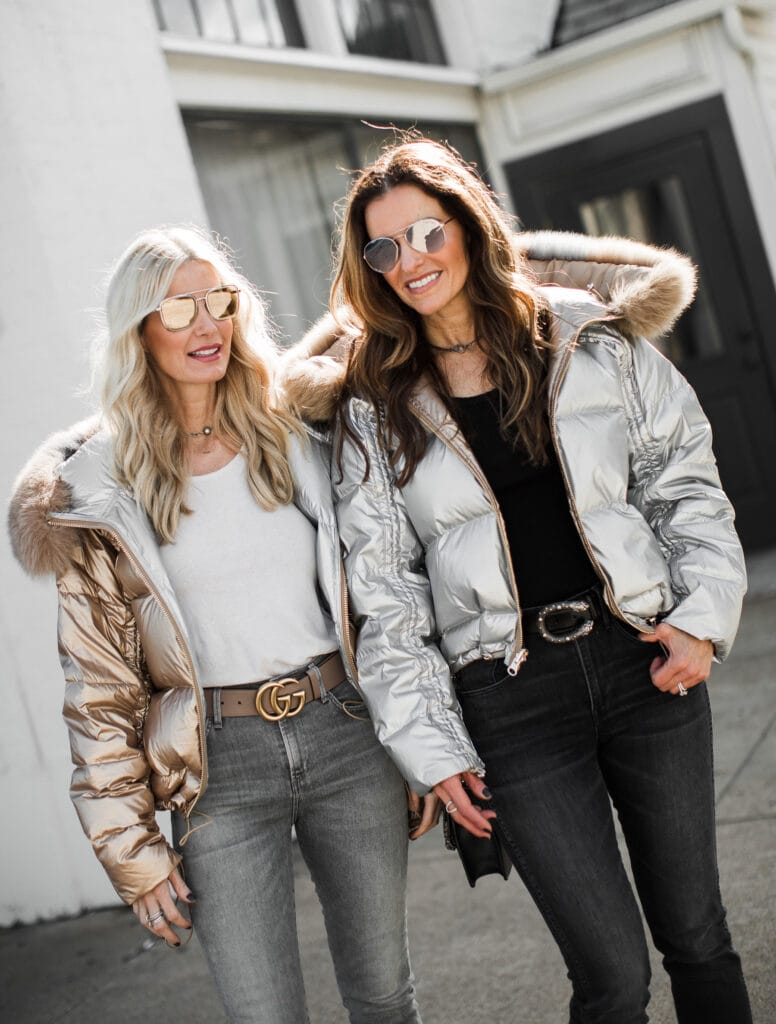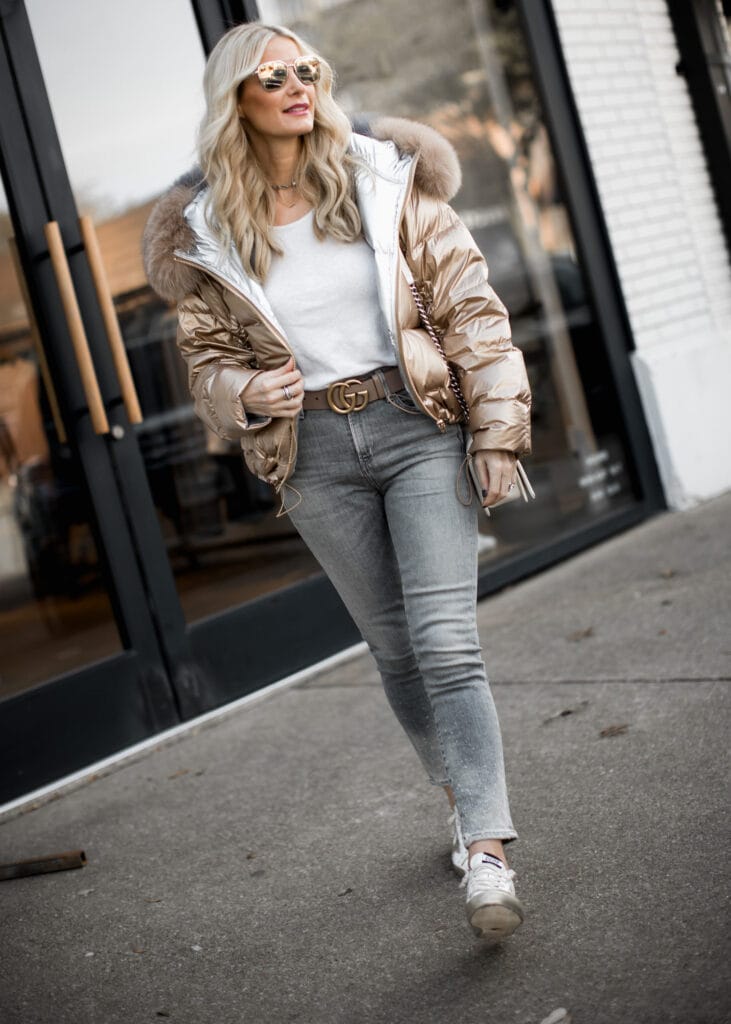 HARPER HALLAM PUFFER JACKET WEARING A SIZE S // FRANK & EILEEN TANK // CITIZENS OF HUMANITY JEANS WEARING A SIZE 25 // GOLDEN GOOSE SNEAKERS SIMILAR HERE AND FOR LESS HERE // GUCCI BELT WEARING A SIZE 75 // WHITE CHANEL BOY BAG FOR LESS HERE
Please feel free to email me at [email protected] if you have any questions!  I'm always happy to help with styling or picking out a specific outfit for an event!   Have a fabulous day!!
CHECK OUT MY INSTAGRAM SHOP HERE TO SHOP ALL OF MY INSTAGRAM LOOKS
YOU CAN ALSO DOWN LOAD THE LIKETOKNOW.IT APP AND FOLLOW ME ON IT BY CLICKING HERE.
STAY IN THE KNOW:  Don't forget to sign up for my exclusive News Letter –  Sign up by clicking here.
Thank you so much for stopping by today. I truly appreciate all of you!  XOXO, Heather
Share the post "THE STREET EDIT FEATURING CHIC METALLIC REVERSIBLE PUFFERS + MUST-HAVE METALLIC SNEAKERS LESS THAN $100"