Happy Wednesday ladies!  I just got back from for Cabo and I know spring break is coming up soon, I'm sure many of you are going to the beach so I thought it was the perfect time to share a BEACH VACATION PACKING CHECKLIST.  Below I've listed all the items I brought with me to Cabo including everything from swimwear, cover-ups, sandals, day time dresses as well as night time dresses and everything in between.  All of the chic pieces below are sure to make your vacation more comfortable and of course more stylish!  Make sure to check out items 1-10 and feel free to shop a few along the way if anything stands out to you.
SHOP MY LOOK (SOME ITEMS ARE SIMILAR) :

WHAT I BROUGHT TO CABO:

BEACH VACATION PACKING CHECKLIST:
1.) SWIMSUIT:
Depending on your body type will dictate what style of swimsuit you need.  I did a full blog post titled: CHIC AGE APPROPRIATE SWIMWEAR if you need some more ideas.  For my body type, I love to wear a 2 piece and I always make sure my bottoms have ties on the side because this will give the illusion of smaller hips and thighs.  Shop my favorite tie bottom bikinis below.

2.) CHIC COVER-UP:
I realize some of us aren't comfortable in a swimsuit with no cover-up over it so it's imperative that you bring a really chic and fabulous cover-up with you on all of your beach vacays.  Below I've hand-picked the prettiest and chicest swimsuit cover-ups sure to take all of your pool-side looks to the next level!

3.) FUN STRAW HAT:
Not only will a fabulous hat make you look amazing pool or beachside it will keep the sun off of your pretty face and cover-up that beach crazy hair.  Seriously, my hair gets insanely frizzy at the beach so I basically live in my hats during my beach get-aways!

4.) CASUAL DRESS FOR DAY:
I live in comfortable yet cute mini or maxi dresses during my beach trips.  For the days you may not be spending at the pool or beach a fun casual dress is a definite must-have.

4.) DRESSY DRESS OR JUMPSUIT FOR NIGHT:
Depending on where you're going you may need a dressy dress or jumpsuit for night time.  During this trip to Cabo I need 3 dressy looks so below I've listed the dresses and jumpsuits I'll be wearing at night – all perfect for an uber glam beach night-time look!

5.) POOL-SIDE SANDALS:
I'm obsessed with these gorgeous snake print jeweled sandals by Sam Edelman.  They will look amazing pool-side with a cover-up and fun straw hat, but will also look fabulous paired with a maxi dress or denim cut-offs and a beachy top!

6.)  BRONZING LOTION:
My all time favorite bronzing lotion that I put all over my body after I slather on sunscreen of course is Charlotte Tilbury's Super Model Body Shimmer Glow, in fact, if I had to pick my one and only favorite beauty product it would be this!  Charlotte uses this body glow lotion on all of the Victoria Secret super models before their photo shoots because it gives your body the prettiest bronzing glow with out any streaking!  I seriously could not live without this glowing lotion which makes you look like you have the perfect tanned body!!  I also linked this amazing tanning serum that I mix with my body lotion and my face lotion which gives you a very natural and pretty looking tan.

7.) STRAW BAG:
I love bringing a chic straw bag t0 carry during the day to the pool or the beach, but one that's also cute enough and small enough to carry at night with my casual looks.  This circle straw and leather bag is perfect for both day and night and I love the black leather accents.

8.) WEDGES:
I love the wedges I'm wearing in the post, they're super tall so they make your legs look long and slim and who doesn't want that?!  They look amazing paired with dresses, denim skirts, and even jeans making these a definite vacation essential! If these are too tall for you no worries, I've handpicked some others I love with a lower wedge making them more wearable and comfortable.  Pair any of these chic wedges with denim shorts, a denim skirt, or a mini or maxi dress for the perfect beach side ensemble.

9.) CUT-OFFS OR DENIM SKIRT:
I love to wear denim cut-offs or a denim skirt over my swim suit during the day or with a cute sexy top and wedges for a casual night out.  The cut-offs I'm linking below are by Agolde and are seriously the best fitting cut-offs I own.  They're high-waisted and not too tight which is something I always look for in a good pair of denim shorts.  I took my regular size which is a 25 in these chic cut-offs.

10.) CUTE TOPS:
A cute top and a denim skirt or shorts and some fun wedges is a perfect beach look for day or night so I always make sure I bring plenty to choose from when ever I go to beach.

11.) CHARLOTTE TILBURY CORAL LIPSTICK IN COACHELLA CORAL:
The 2019 pantone color of the year is coral!  I personally love wearing coral in the spring and summer. It's such a gorgeous color that looks fabulous on almost any skin tone.  I always wear a coral lip when I'm pool side or at the beach, I think it looks beautiful and always compliments a tan.  My favorite coral lipstick that I've been wearing for years is called Coachella Coral and it's by Charlotte Tilbury, I never go on vacation without it, it's that good!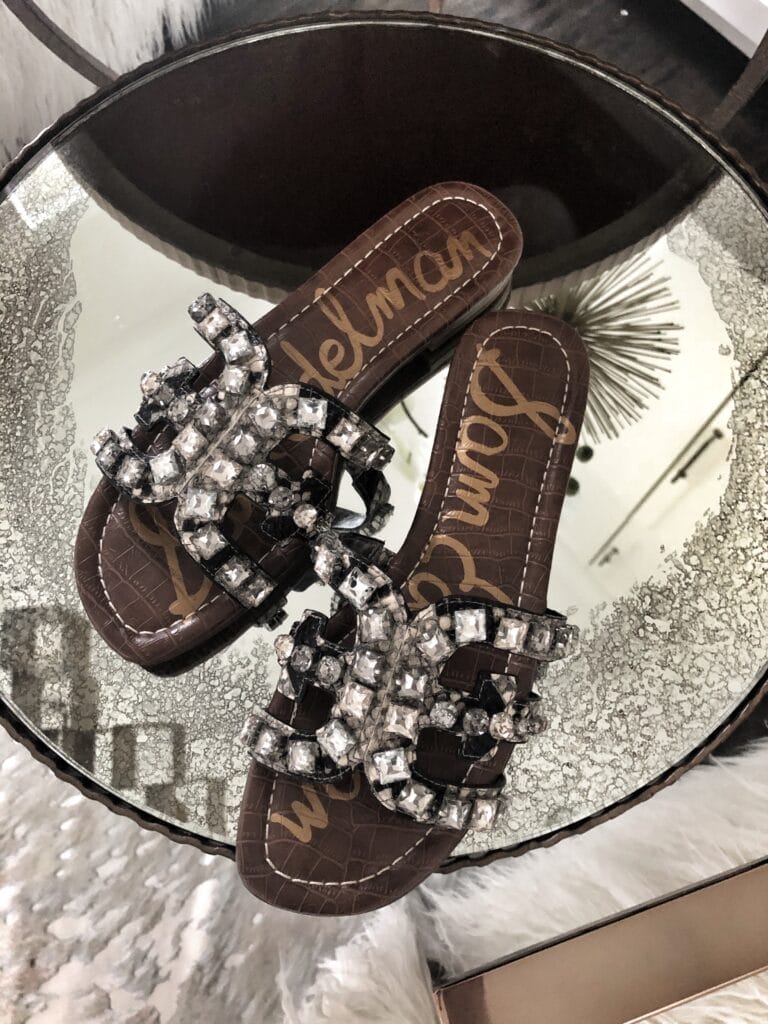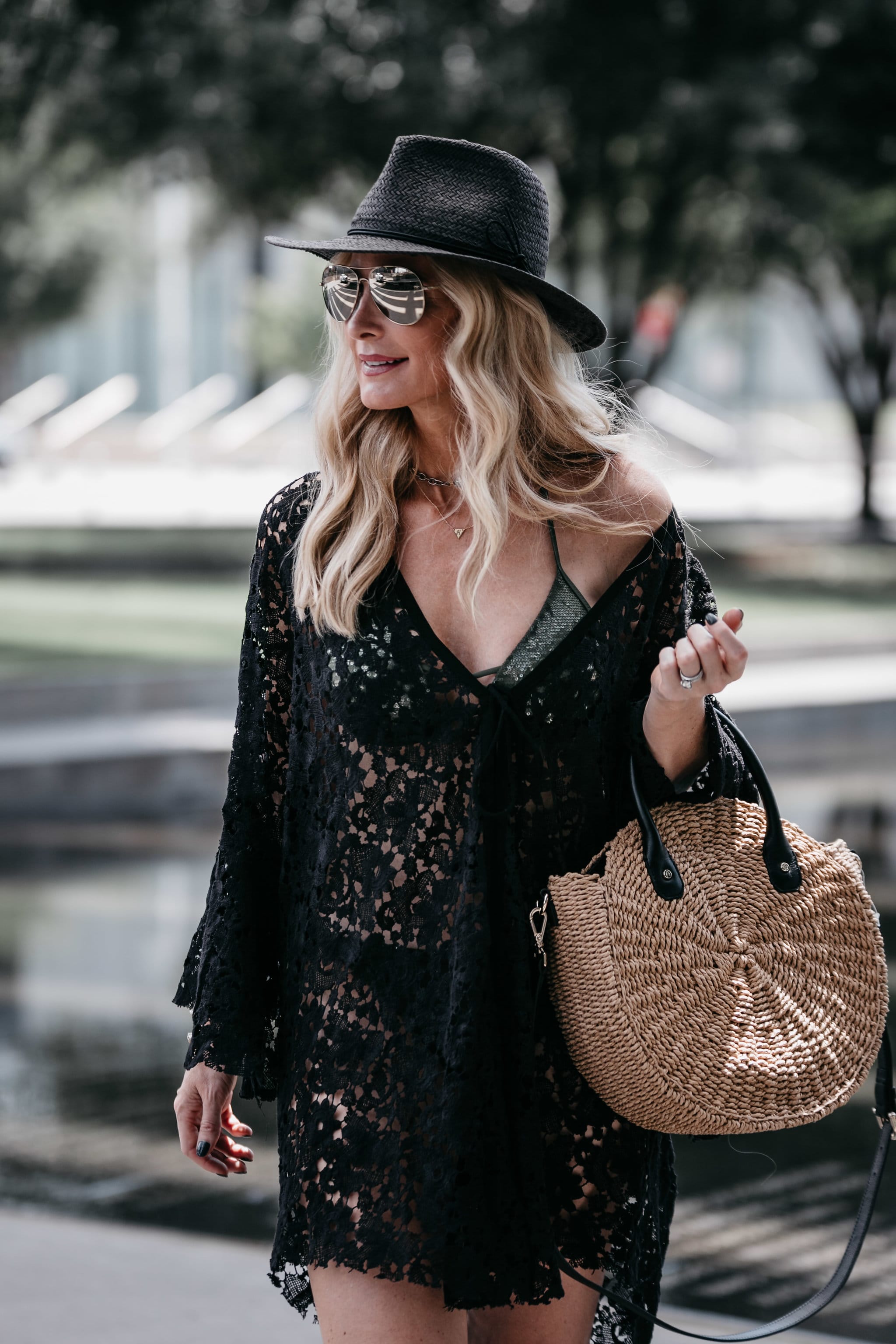 BEACH COVER-UP SIMILAR  // BEACH BAG SIMILAR // BLACK WEDGES // BLACK STRAW HAT SIMILAR
Please feel free to email me at [email protected] if you have any questions!  I'm always happy to help with styling or picking out a specific outfit for an event!   Have a fabulous day!!
CHECK OUT MY INSTAGRAM SHOP HERE TO SHOP ALL OF MY INSTAGRAM LOOKS
YOU CAN ALSO DOWNLOAD THE LIKETOKNOW.IT APP AND FOLLOW ME ON IT BY CLICKING HERE.
STAY IN THE KNOW:  Don't forget to sign up for my exclusive News Letter for AMAZING STYLE TIPS, SALE ALERTS, AND MUCH MORE!
Thank you so much for stopping by today, I truly appreciate all of you!
XOXO, Heather