SHOP 10 OF CHICEST PUFFER'S STARTING AT $84 + THE BEST $28 I EVER SPENT ON AMAZON
Happy Wednesday beauties!
Since it's been in the 30's the last few days in Dallas I thought it was the perfect time to feature some amazing puffer jackets, not just for the slopes anymore!  A puffer jacket is a definite winter wardrobe essential and they're trending hard right now as they've been seen on tons of celebs and mega influencers.  I'll have to say I'm a huge fan of the puffer jacket because they do a great job of keeping you warm and if you play your cards right you can look super chic while sporting one too!  I'm here to help you with that, today I'm showcasing 2 puffer looks both on the dressier side which can easily go super casual by pairing them with a chic sneaker or winter snow boot instead of my heeled booties.
SHOP LOOK 1:

SHOP LOOK 2:

SHOP THE CHICEST PUFFERS FOR EVERY BUDGET:

Scroll all the way down to check out how I've styled 2 of my favorite puffer's one being ON SALE for only $84!
HOW TO DRESS UP A PUFFER JACKET:
1.) OPT FOR A HEELED BOOT:
The easiest way to dress up your puffer jacket is to pair it with a pair of sleek ankle booties with a heel.  I know that the stiletto heel isn't for everyone. So below I've linked several booties at all price points that would pair well with both of these puffer jackets.
SALE ALERT:  Stuart Weitzman is offering 60% off so many amazing boot styles!  I got these gorgeous gray ones, you can see what I styled them with by heading over to this INSTAGRAM POST.  I also got these super cool black sock booties which come in several colors and are super comfortable!  The gray ones I mentioned above are also very wearable and comfortable as they have the same 3 inch heel as the black sock booties.

2.) WEAR A BELT:
I feel like any look isn't really complete without a belt of some kind.  Don't get me wrong, I'm not saying you have to wear a belt everytime you get dressed because let's face it, there are days when we just want to get up and put on our yoga clothes and that's ok, I even stay in my yoga clothes all day at least once a week, lol!  What I'm saying is that if you want a sure fire way to dress up a look, wear a belt, it will work every time, trust me!  I love my Gucci belt, I definitely got my monies worth when I consider the cost per wear, but if a Gucci belt isn't in your budget I found tons of chic ones on the Shopbop website.
3.) ADD AN ACCESSORY:
A chic necklace of some sort will always dress up any look perfectly.  I personally love layering a few smaller daintier necklaces.  I'm wearing my So Heather necklace that I designed for Harper Hallam.  I designed it specifically to look like it's layered, however, it's really only one necklace.  It's very versatile because of the mixed metals so it goes with so many of my looks, I literally wear it all the time, it's the perfect accessory sure to take all of your looks to the next level of chic!  The best part, you can 10% off with SOHEATHER10!
My navy velvet puffer is by Jocelyn which is one of my all-time favorite brands which is carried at Shopbop.  They make the most beautiful jackets and all of them are very high quality.  My velvet puffer is extremely warm and I love the detachable rabbit fur trimmed hood.  Every time I wear this jacket I get tons of compliments on it, especially about the gorgeous navy blue hue.  The only reason I look forward to cold winter days is that I get to wear this fabulous puffer jacket!
The red puffer jacket I'm wearing in look 2 is by Karen Kane and I love it!  It's super comfortable and I'm obsessed with the statement-making red color of this super chic jacket!  The best part, it's on CRAZY SALE for only $84. Grab one before they sell out! Trust me, you'll be glad you did!
It was last week when I purchased this leather cosmetic case that is perfect for traveling!  It has so many little compartments for all of my make-up and even a place for my make up brushes.  My makeup has never looked so organized, I'm actually excited to pack all of my beauty products in this fabulous case for my next trip!  I highly suggest picking up one of these life-changing beauty cases and while you're at it grab one for your bff, you Mom, and your sister because they're that good and only $28!

Please feel free to email me at [email protected] if you have any questions!  I'm always happy to help with styling or picking out a specific outfit for an event!   Have a fabulous day!!
CHECK OUT MY INSTAGRAM SHOP HERE TO SHOP ALL OF MY INSTAGRAM LOOKS
YOU CAN ALSO DOWNLOAD THE LIKETOKNOW.IT APP AND FOLLOW ME ON IT BY CLICKING HERE.
STAY IN THE KNOW:  Don't forget to sign up for my exclusive News Letter –  Sign up by clicking here.
Thank you so much for stopping by today, I truly appreciate all of you!
XOXO, Heather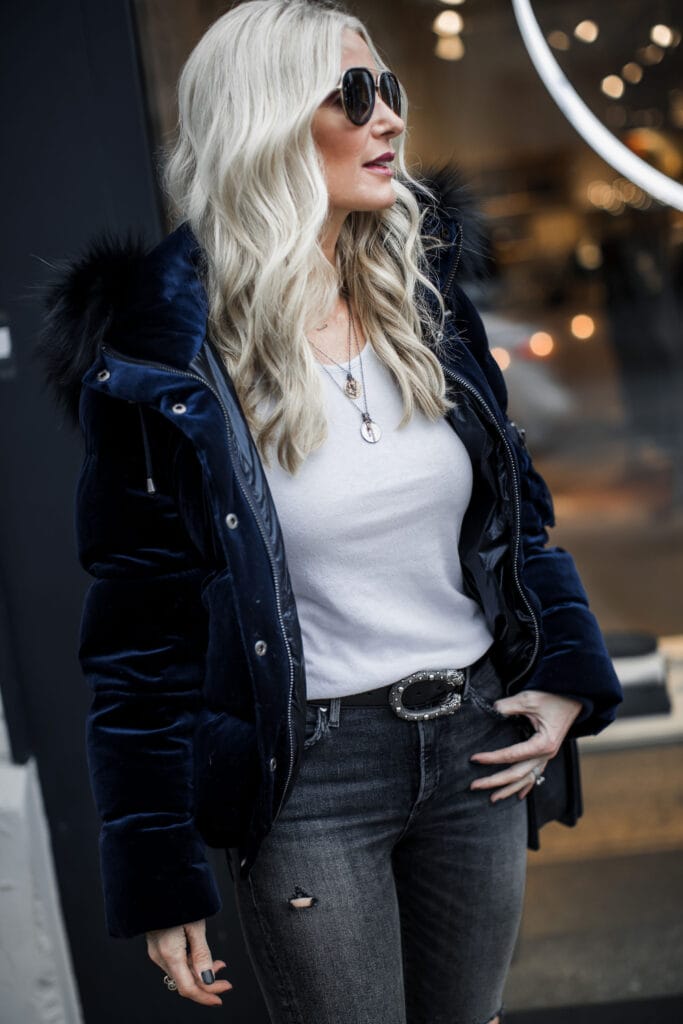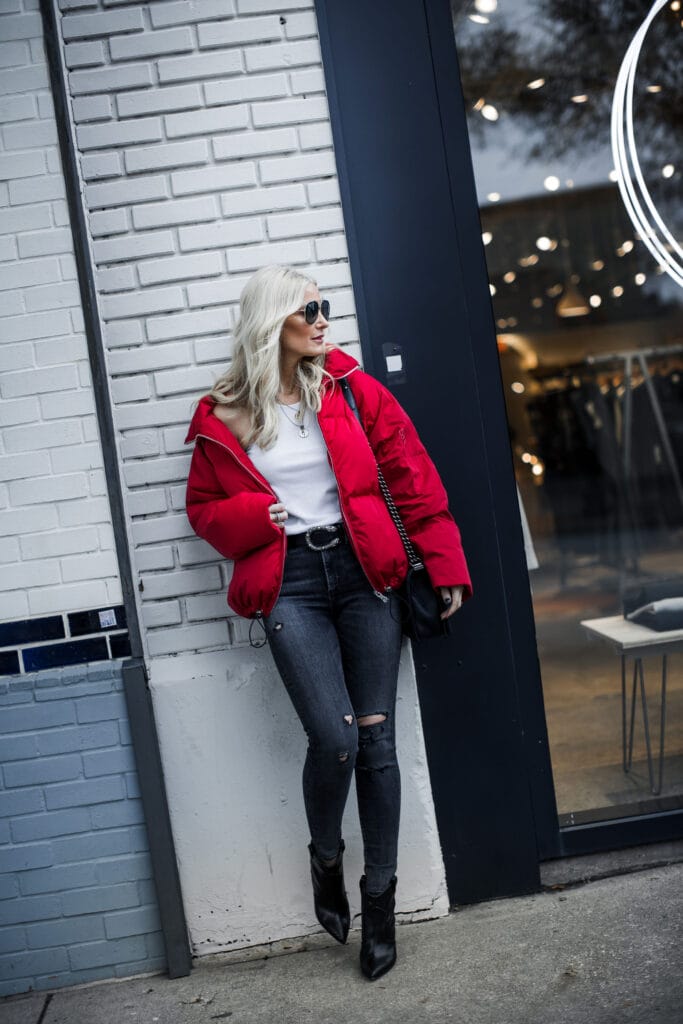 LOOK 1:
JOCELYN VELVET AND FUR PUFFER WEARING A SIZE XS // FRANK & EILEEN TANK // AGOLDE JEANS OLD SIMILAR WEARING A SIZE 25 // VERONICA BEARD BOOTIES SOLD OUT FOR LESS HERE // GUCCI BELT WEARING A SIZE 75  // CHANEL BOY BAG FOR LESS HERE  // GUCCI SUNGLASSES FOR LESS HERE
LOOK 2:
ALL THE SAME EXCEPT I'M WEARING THIS PUFFER BY KAREN KANE WHICH IS ON SALE FOR ONLY $84!  WEARING A SIZE XS
My mission is to empower women to look and feel confident. I hope through the different looks I create that I am able to inspire YOU to express yourself in a way that makes YOU feel good – on the inside and on the out. If you wear what you love and what you feel your best in your confidence will shine through and that is the best accessory a woman can wear! Every woman deserves to look and feel like the best versions of themselves, no matter what their age!

beauty

chic-at-every-age

fashion

fitness

lifestyle

travel

videos