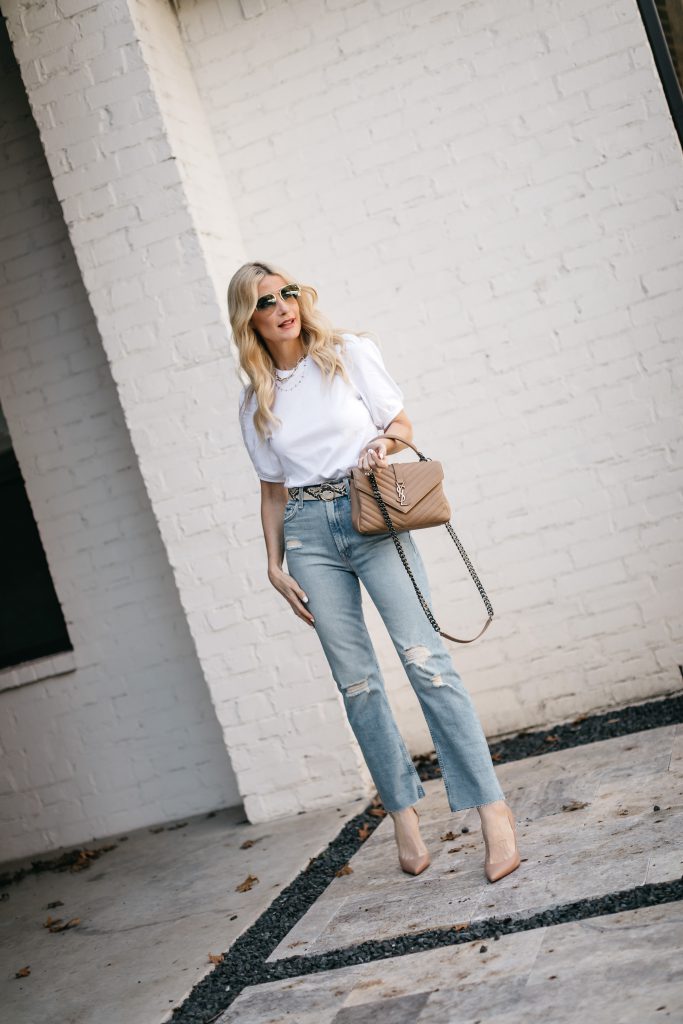 Happy Tuesday gorgeous ladies!  I always love looking back to see what items y'all are buying so I can continue featuring items you all love!  The top 10 best sellers in March were a wide variety of items including a versatile under $100 blazer, a stunning white vegan leather moto jacket, of course, denim, and even a killer pair of snake print mules that I personally have found myself wearing a ton lately since they're so comfortable!  Most of these items are super affordable including the under $50 white tee I'm wearing in look one and all are amazingly chic so keep scrolling to see if anything catches your eye. I'm featuring 6 looks in today's post along with a detailed description of each top-selling item. Make sure to scroll down to the bottom to check out the fabulous MARCH BOUTIQUE I put together for y'all to see all of these fabulous items in one spot.
SHOP THE LOOK:

TOP 10 BEST-SELLERS:

TOP 10 BEST SELLERS IN MARCH:
1.) UNDER $50 PUFF SLEEVE TEE:

This white puff sleeve tee has been a consistent best seller for months now because it's just that good and you ladies have loved it just as much as I do! It's a must-have basic that every woman should add to their wardrobe for spring and summer. I love wearing this tee with light wash jeans and simple gold accessories. It's the perfect piece for your errand running days or more casual events! This top runs true to size, I'm wearing an XS.
SHOP THE LOOK (BODYSUIT IS UNDER $30 & JEANS ARE UNDER $50):

2.) $30 BODYSUIT:

This gorgeous cream bodysuit is one of my all-time favorite bodysuits that I own because it's unique thanks to the chic shoulder pads. It's currently on major sale right now for $30 making it a budget-friendly must-have! This bodysuit runs true to size, I'm wearing an XS. Since the bodysuit from Express is almost out of stock, I'm sharing this super similar one that is fully in stock.
3.) GRAY JEANS (UNDER $50):

I've shared these gray jeans many times before because I'm just that obsessed with them! They are super slimming and uber high-waisted making them the perfect style for almost any body type. I love that you can order these jeans in different lengths making them even more versatile depending on your height. They run true to size, I'm wearing a zero regular.
4.) SNAKE PRINT MULES:

I've been wearing these snake print mules on repeat ever since I got them! They are super comfortable and wearable because of the low block heel which I especially love. These heels are also versatile since they go with literally everything you have on thanks to their pretty neutral color. If you're in the market for a new shoe addition to your spring wardrobe, these are the ones you have to have!
SHOP THE LOOK:

5.) GRAY MIDI DRESS (UNDER $100):

I am truly obsessed with this form-fitting dress by Michael Stars because it compliments and accentuates my waist and figure. The gray version of this dress is fully stocked here and it's also linked above if you click on the black version of this dress.  It comes in several colors and I'm really loving the mint green shade for spring! It runs true to size, I'm wearing an XS.
6.) NUDE SPANX:

I'm totally convinced that every single one of you need these nude Spanx no matter what your size or age. They will literally make you look up to 10 pounds slimmer – I swear by them and wear them with all of my form fitting dresses. They are some of the best out there and will last you years! They run true to size, I'm wearing an XS.
SHOP THE LOOK:

7.) WHITE VEGAN LEATHER MOTO JACKET:

I will always believe that leather is a girl's best friend because it can make any outfit look sophisticated, elevated, and chic. This white vegan leather Moto jacket has to be one of my most worn spring and summer jackets because of the fresh color and versatility. It's also super comfortable and affordable at under $100! It runs true to size, I'm wearing an XS.
8.) GOLD CHAIN NECKLACE:

An outfit is never 100% complete without a gold chain necklace or accessory. I wear this gold necklace at least three times a week because I love it that much! It is truly my number one favorite spring accessory.
SHOP THE LOOK:

9.) REDONE JEANS:

If you only add one pair of jeans to your spring wardrobe, let it be these by Redone! They are my current favorite jeans and my most worn pair of denim because they're super slimming, high-waisted and the most perfect length. These jeans do run true to size, I'm wearing a 24.
SHOP THE LOOK:

10.) LIONESS BLAZER ($88):

The actual blazer I'm wearing is the infamous Balmain blazer, but the best selling blazer is the best dupe to the Balmain blazer which is this gorgeous Lioness blazer from Shopbop. I recently made a BEST DESIGNER DUPE video and this blazer was featured in that video so be sure to check it out. I'm wearing a size 34 in this Balmain Blazer and an XS in the Lioness blazer.
TOP 10 BEST SELLERS IN MARCH:

FEEL FREE TO SUBSCRIBE TO MY NEW YOUTUBE CHANNEL FOR STYLE, BEAUTY, AND FITNESS TIPS TO HELP WOMEN LOOK AND FEEL CONFIDENT
CHECK OUT MY INSTAGRAM SHOP TO SHOP ALL OF MY INSTAGRAM LOOKS
YOU CAN ALSO DOWNLOAD THE LIKETOKNOW.IT APP AND FOLLOW ME ON IT BY CLICKING HERE.
STAY IN THE KNOW:  Don't forget to sign up for my exclusive News Letter for AMAZING STYLE TIPS, SALE ALERTS, AND MUCH MORE!
Thank you so much for stopping by today, I truly appreciate all of you!
XOXO, HEATHER
TOP 10 BEST SELLERS IN MARCH