Happy Friday! Are you a rule breaker or a rule follower?  I think I'm actually both depending on my mood, but when it comes to style I typically tend to break the rules except for these 5.  I think you should be able to wear what you feel most comfortable in and more importantly most confident in and as long as you follow that rule you will be golden. However, there are 4 other style rules in addition to the one I just mentioned that I swear by and personally always follow.  Scroll down to check out the 5 fashion rules you should NEVER break along with 9 chic spring looks to go with each rule.  I made a video as well on YouTube so feel free to watch it and let me know what you think because I always love hearing from y'all! PS – make sure to scroll all the way down and read the last rule because it's definitely the most important one!
SHOP THE LOOK (DRESS IS UNDER $100):

CHECK OUT THE YOUTUBE VIDEO TITLED: 5 STYLE RULES YOU SHOULD NEVER BREAK:
5 FASHION RULES YOU SHOULD NEVER BREAK:
1.) THE ABC RULE:
I've talked about this on my channel before numerous times because I think it is the best style rule out there. ABC stands for accentuate, balance, and camouflage. To read more about what these mean, keep scrolling!
A (ACCENTUATE):
Always accentuate your best features by wearing pieces that really show the most flattering parts of your body! Of course you want to look like the best version of yourself and in order to do that, accentuating your favorite features is important. In order to define your most loved features, ask yourself what you feel and look best in. For me, I believe this form-fitting dress by Michael Stars because it truly compliments and accentuates my waist and figure. The gray version of this dress is fully stocked here and it's also linked above if you click on the black version of this dress.  It comes in several colors and I'm really loving the mint green shade for spring!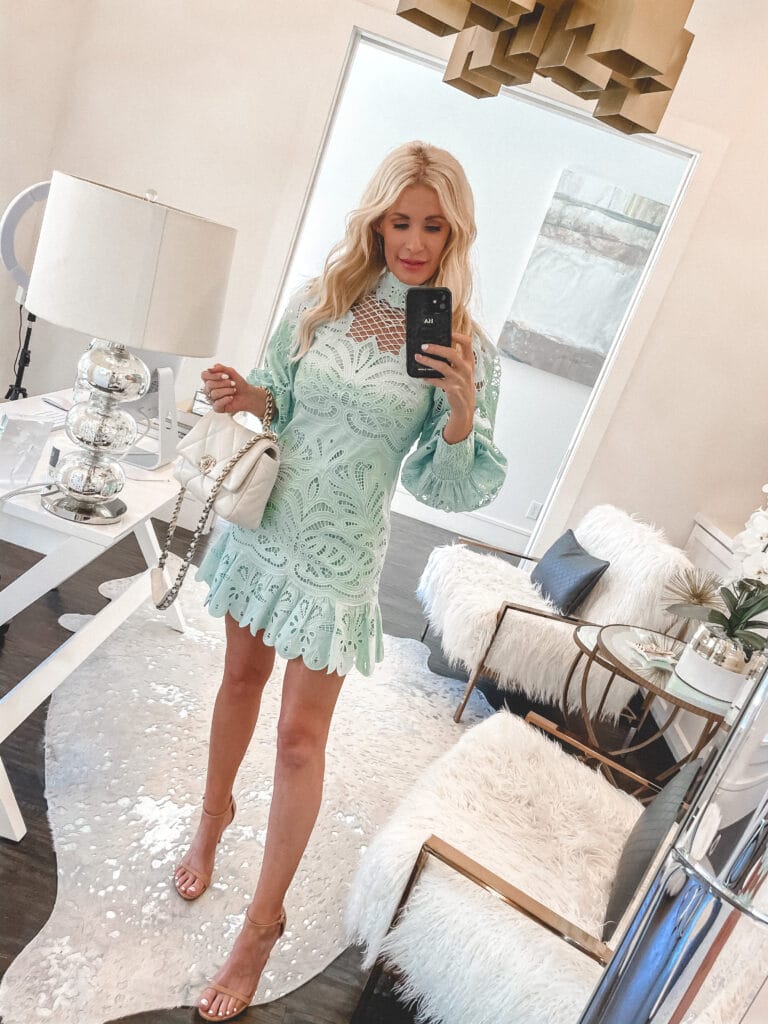 SHOP THE LOOK:

2.) B (BALANCE):
It's all about balance when it comes to fashion! When applying this rule to your outfit, you will look polished and elegant every time. As you can see from the look above, this dress is short and shows my legs, so I covered the top portion of my body. Since this dress is long-sleeved and has a high neckline, it creates an effortlessly balanced look that is both chic and polished.
SHOP THE LOOK (BODYSUIT IS UNDER $30):

This look showcases the balance rule perfectly too since this under $25 bodysuit is tight I chose to pair it with baggier jeans. Not only is the balance rule age-appropriate, it's also a rule that will take your looks to the next level in no time!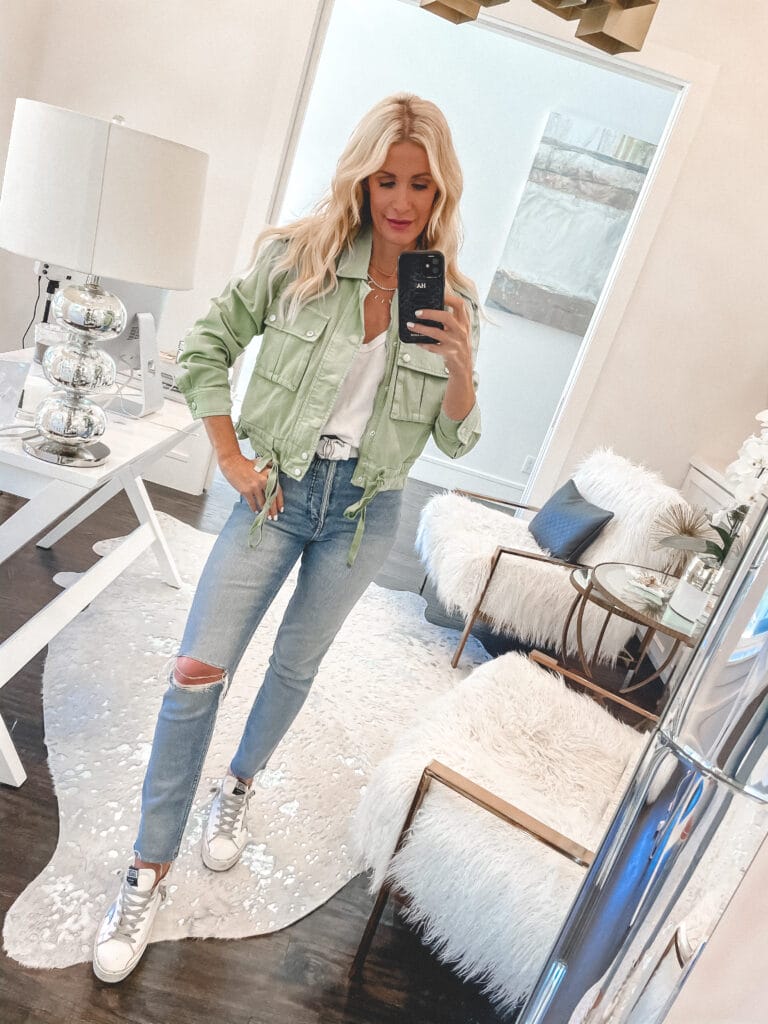 SHOP THE LOOK ( JACKET IS UNDER $100):

C (CAMOUFLAGE)
If there are parts of your body that you just don't love or feel confident about, it's totally acceptable to cover them up and still look super chic. For instance, if you are someone who doesn't love your arms, you can always add a third layer like a jacket, blazer, or cardigan. In my opinion, adding a third layer like I've done with this gorgeous green spring jacket is always a good idea because it takes any look to the next level.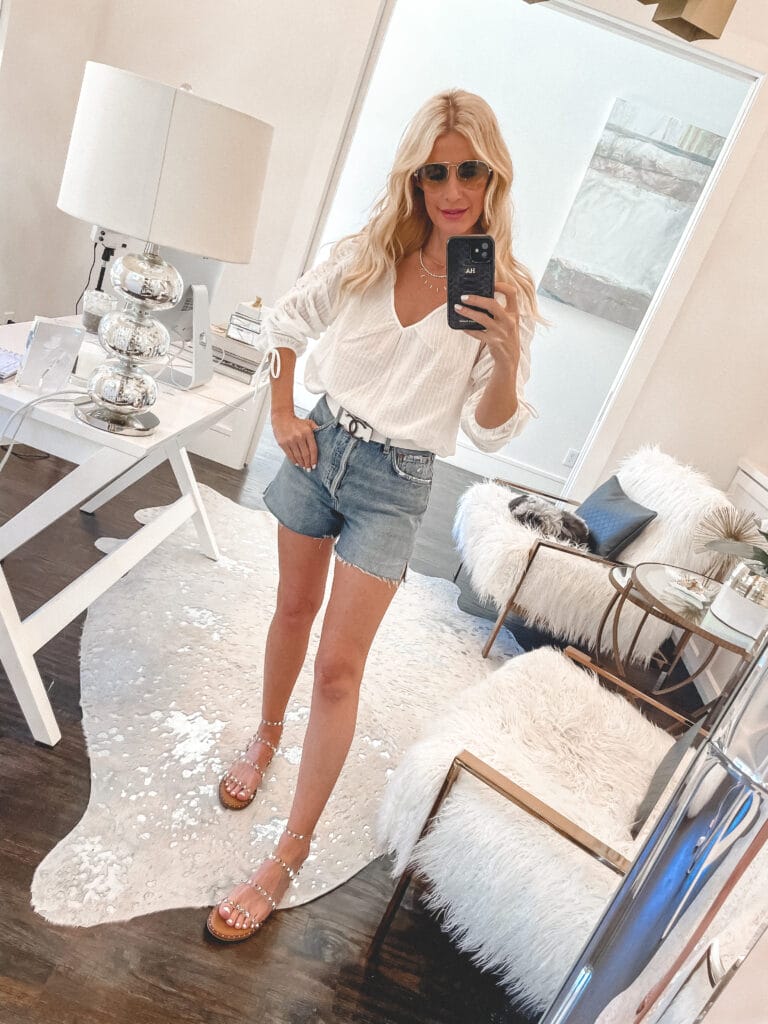 SHOP THE LOOK (TOP AND SHOES ARE UNDER $100):

3.) DRESS FOR THE OCCASION:
When in doubt, overdress! Dressing well is a form of respect but it goes both ways – if you're attending something super casual like a sporting event, wear something casual like the look above so you don't look like you're overdoing it or trying too hard. I love wearing simple white tops like the one I'm wearing above because they can be easily dressed up or down depending on the occasion.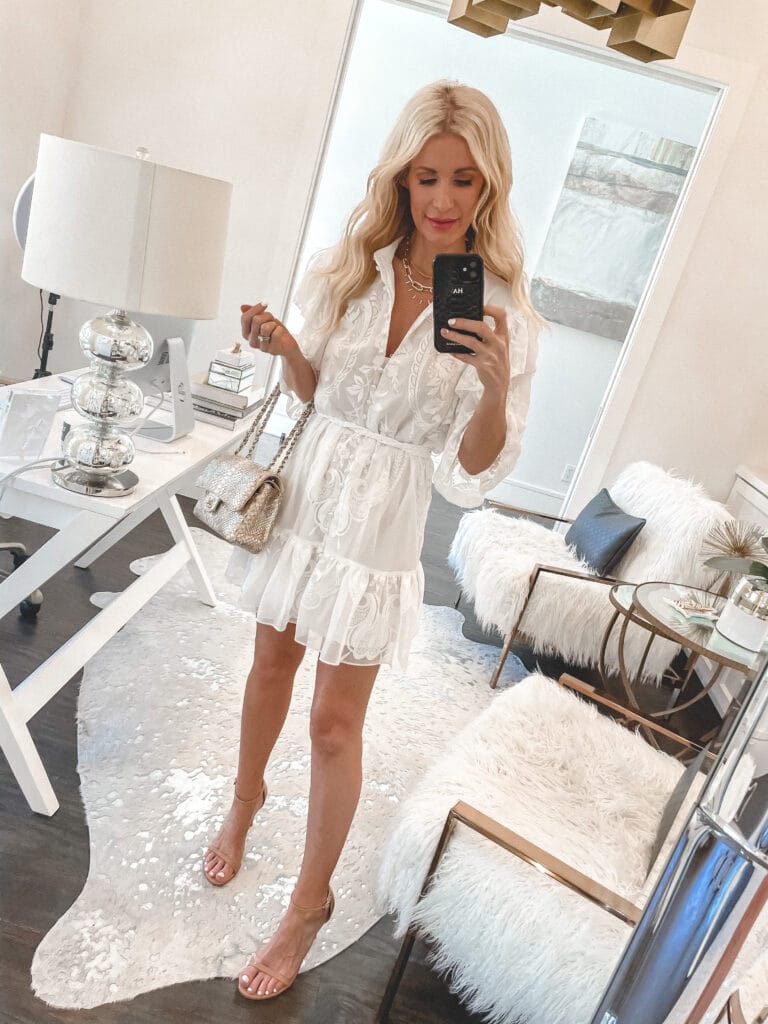 SHOP THE LOOK:

On the flip side, in regards to dressing for the occasion… if I'm going to a luncheon or a fancy brunch, I will almost always wear a dress. This dress in particular is becoming one of my favorite sundresses for spring and summer because it's simple, elegant, and classy. If you're in need of a gorgeous white dress that you can wear to almost any occasion, I highly recommend this one!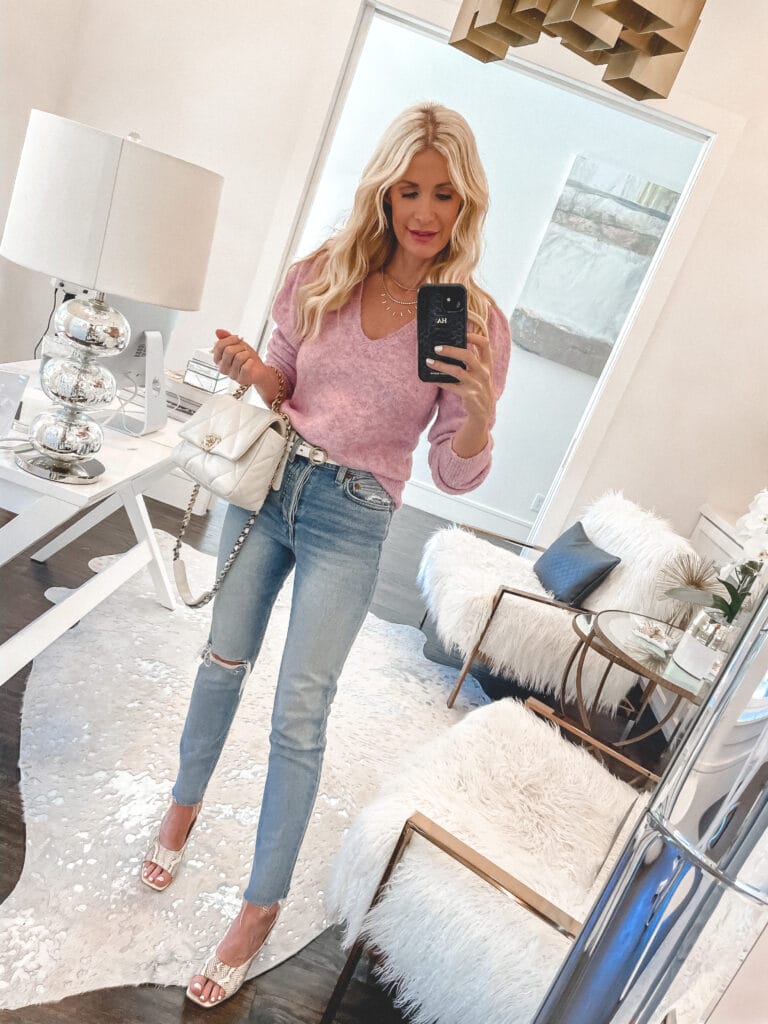 SHOP THE LOOK (SWEATER IS UNDER $40):

4.) WEAR ONLY ONE TREND PIECE AT A TIME:
I always say that the best functional wardrobe that is going to make getting dressed easier for you every single day is a wardrobe that is mostly made of high quality basics. Why? Because if you have too many trend pieces you won't have something to wear after the trend is gone. If you are wearing more than one trend piece at a time, it might come off as if you're trying too hard or trying to dress too young for your age. The one trend piece I chose in this look is this puff-sleeve pink sweater that is currently on major sale making it under $40!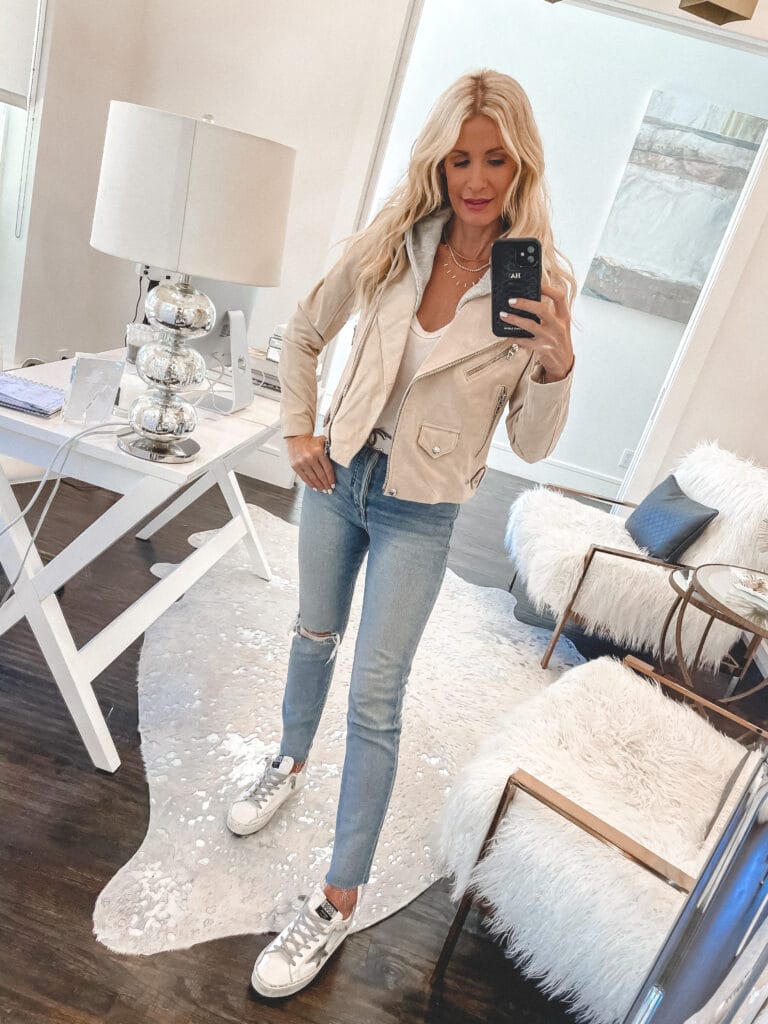 SHOP THE LOOK:

Another example of only wearing one trend piece at a time which are these amazing platform Golden Goose sneakers that I wear every single week because they're that good! If you don't own a pair of Golden Goose sneakers yet, they are most definitely worth the investment.
SHOP THE LOOK (JEANS AND CAMI ARE UNDER $70):

5.) WEAR WHAT YOU FEEL MOST CONFIDENT IN
This is the most important rule and the one I try to follow every single day! For me, I always feel like the best version of myself when I wear a jacket of some sort, a pair of jeans of course, and a sleek pair of heels. This is one of my all-time favorite blazers to wear because it simply makes me feel good! What do you feel most confident in? Whatever that is, wear that and wear it often because confidence is the best accessory a woman can wear!
FEEL FREE TO SUBSCRIBE TO MY NEW YOUTUBE CHANNEL FOR STYLE, BEAUTY, AND FITNESS TIPS TO HELP WOMEN LOOK AND FEEL CONFIDENT
CHECK OUT MY INSTAGRAM SHOP TO SHOP ALL OF MY INSTAGRAM LOOKS
YOU CAN ALSO DOWNLOAD THE LIKETOKNOW.IT APP AND FOLLOW ME ON IT BY CLICKING HERE.
STAY IN THE KNOW:  Don't forget to sign up for my exclusive News Letter for AMAZING STYLE TIPS, SALE ALERTS, AND MUCH MORE!
Thank you so much for stopping by today, I truly appreciate all of you!
XOXO, HEATHER
5 FASHION RULES YOU SHOULD ALWAYS BREAK