Happy Spring gorgeous ladies!  I love springtime, in fact, I think it's my favorite time of year because the weather starts to warm up and that means more sunshine and enjoying the outdoors more!  With spring in full swing, there is no better time than now to add a few fresh and modern spring basics to your wardrobe.  Cathy of The Middle Page, (a fellow influencer and dear friend of mine) and I agree that this stunning vegan leather white blazer is a definite spring wardrobe essential sure to bring all of your looks up to the level!  We both fell in love with it the moment we laid eyes on it in one of our favorite Dallas boutiques, Alice and Oliva.  A white blazer along with 4 other white spring essentials are featured in today's post.  These are all pieces I swear by and wear a ton, especially in the springtime.   These chic white spring staples will not only refresh your spring wardrobe, but they will make getting dressed every day so much easier for you!  If this sounds good to you then keep scrolling to find out what the 5 white spring wardrobe essentials are and as always feel free to add anything along the way if you love it as much as we do!
SHOP MY LOOK:

5 WHITE SPRING WARDROBE ESSENTIALS:
1.) THE WHITE BLAZER:

A white blazer is essential in any woman's wardrobe because it can be worn so many different ways and to so many places. I love this chic, on-trend white blazer because it's perfectly over-sized and the vegan leather is super soft. The longer length is my favorite length because it's so flattering and sophisticated. If you're looking for another white blazer outfit idea, check out my recent post titled: BEST BALMAIN BLAZER DUPE STYLED 3 WAYS.
2.) WHITE LAYERING TOPS:

I wear camis, tees, or white bodysuits a ton under my jackets during the spring and summer so having a few that you love is key.  This tank by Alice and Olivia is a great layering top and it's the one I'm actually wearing in this post! It's gorgeous and tastefully sexy making it perfect for a date night or GNO. I linked more of my favorites above that I love so make sure to check those out. It runs true to size, I'm wearing an XS.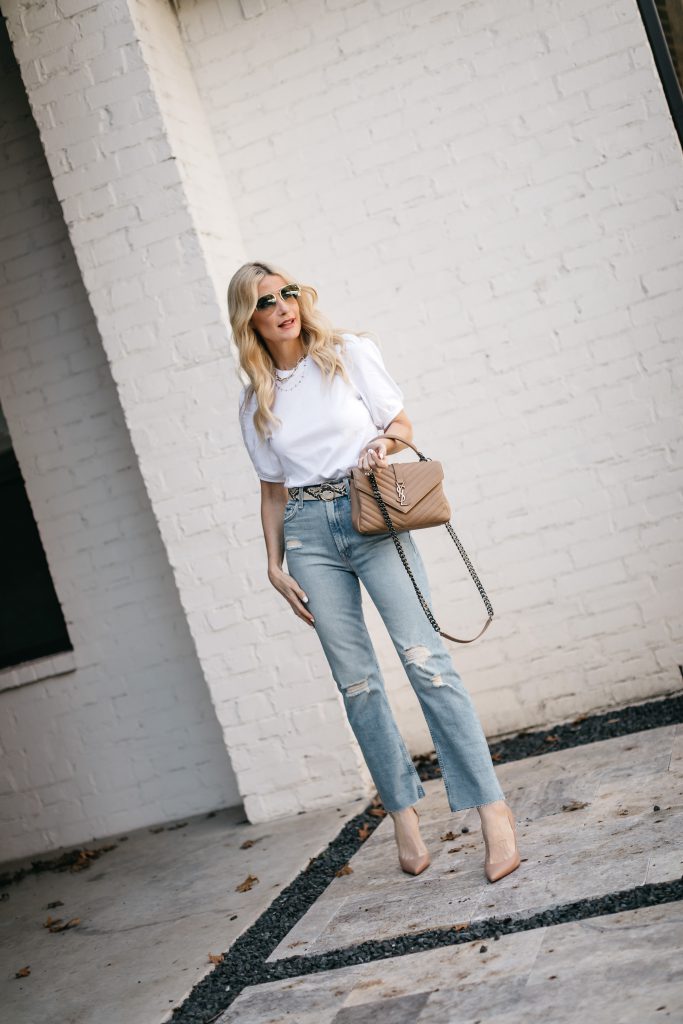 SHOP THE LOOK:

3.) CUTE WHITE TOPS:

Looking for an easy outfit formula you can wear this spring and summer? This is a look I wear a ton this time of year because you can simply never go wrong with a white top and a really good pair of denim. This cute puff-sleeve top is so chic and under $50. You all loved this white tee so much that it's been a top seller for 4 consecutive weeks! It runs true to size, I'm wearing an XS.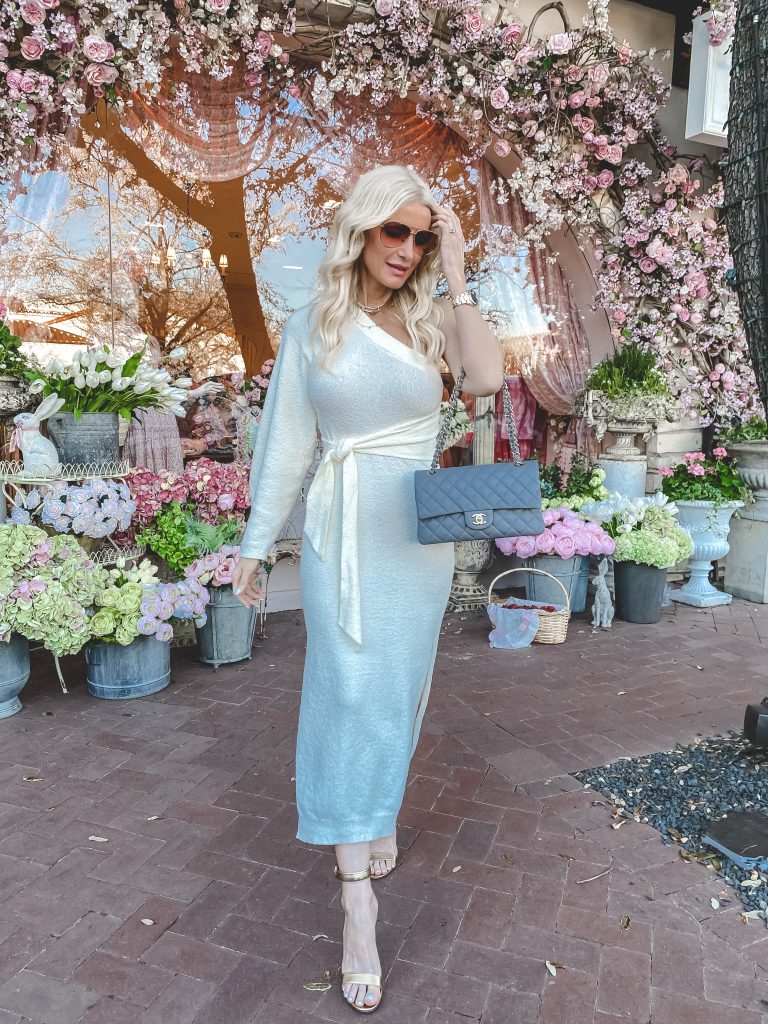 SHOP THE LOOK:

4.) CHIC WHITE DRESSES:

Nothing screams spring more than a beautiful and elegant white dress like this one by Nanushka. I'm obsessed with how gorgeous and flattering this dress is thanks to the tie waist…not to mention crazy comfortable, too! You might be wondering if it's see through, but it's actually not at all. It runs true to size, I'm wearing an XS.
SHOP THE LOOK:

5.) WHITE JEANS:

I'll be the first to admit that white jeans can be tricky because the material of the denim has to be thick enough to hide any flaws. However, these Nico jeans by Agolde do just that… they are super slimming because they're high waisted and are the modern skinny jean we all love. I wear these a ton, especially during spring and summer. These run true to size, I'm wearing a 25. If you're looking for styles for the upcoming season other than non-skinny jeans, check out my recent post titled: 5 KEY STYLE TIPS WHEN WEARING NON-SKINNY DENIM.
FEEL FREE TO SUBSCRIBE TO MY NEW YOUTUBE CHANNEL FOR STYLE, BEAUTY, AND FITNESS TIPS TO HELP WOMEN LOOK AND FEEL CONFIDENT
CHECK OUT MY INSTAGRAM SHOP TO SHOP ALL OF MY INSTAGRAM LOOKS
YOU CAN ALSO DOWNLOAD THE LIKETOKNOW.IT APP AND FOLLOW ME ON IT BY CLICKING HERE.
STAY IN THE KNOW:  Don't forget to sign up for my exclusive News Letter for AMAZING STYLE TIPS, SALE ALERTS, AND MUCH MORE!
Thank you so much for stopping by today, I truly appreciate all of you!
XOXO, HEATHER
SPRING WARDROBE ESSENTIALS