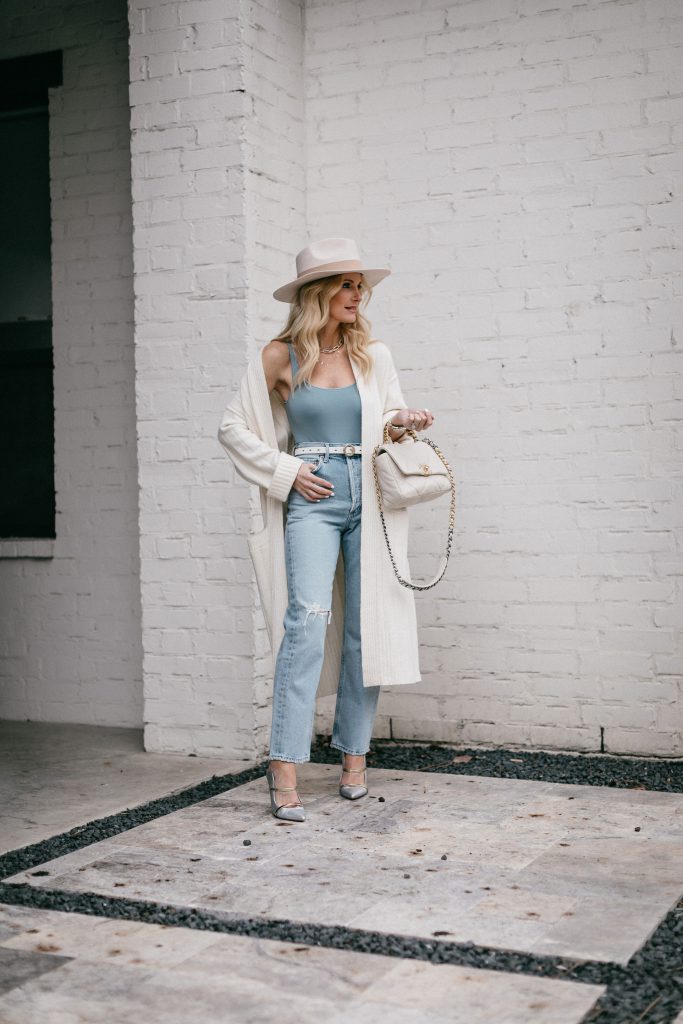 Cardigans are always one of my top-selling items every month and I can see why….they're crazy comfortable and incredibly chic!  I particularly love long statement-making cardigans because they're a sure-fire way to take any look to the next level.  I'm styling this amazing ivory cardigan that literally feels like a blanket 4 different ways in today's post.  The second way is my personal favorite.  I paired this long ivory cardigan over the matching midi dress that is just as soft and just as chic!  Cardigans can be worn with jeans, over dresses, and even with skirts proving the versatility and wearability making it a definite spring staple.  If you're wondering how to style a cardigan then you've come to the right place for some excellent outfit ideas.  If you don't already own a cozy and comfy long cardigan then now is the time to add one to your spring collection, trust me, you'll find yourself wearing it a ton, I know I d0!
STYLE TIP: WHEN WEARING A LONG CARDIGAN MAKE SURE EVERYTHING ELSE UNDERNEATH IS FITTED SO THE CARDIGAN DOESN'T END UP OVERWHELMING YOUR SILHOUETTE.  
SHOP THE LOOK:

SHOP OTHER LONG NEUTRAL CARDIGANS FOR EVERY BUDGET:

CARDIGAN:

Say hello to your new favorite cardigan! This cardi is so soft – it feels like you're wearing a blanket! I love the neutral color for spring making it versatile and wearable. If this one is out of your budget, no worries, I love this cardigan just as much and it looks almost identical! It runs true to size, I'm wearing an XS.
BODYSUIT:

This gorgeous bodysuit by Skims is hands down the most comfortable bodysuit I own. It's so cozy yet super chic which is why I got it in ivory too (wearing the ivory color in look 3 below). If you're going to invest in a bodysuit, let it be this one… you can thank me later. It runs true to size, I'm wearing an XXS/XS.
AGOLDE 90'S LOOSE FIT JEANS:

I have to admit, I'm a true denim lover through and through. I truly believe every woman looks amazing in denim if they're the right style! These Agolde 90's loose fit jeans are some of my very favorite to date and the IT style of denim in 2021. These do run a bit big, so I highly recommend sizing down 2 sizes, I'm wearing a 23.
IVORY HAT:
This chic under $100 ivory hat is part of The Curateur box which I recently featured with Chic At Every Age. If you want to elevate your looks, this is definitely an essential piece you need in your wardrobe. It's a must-have spring accessory that will take your outfits to a whole new level!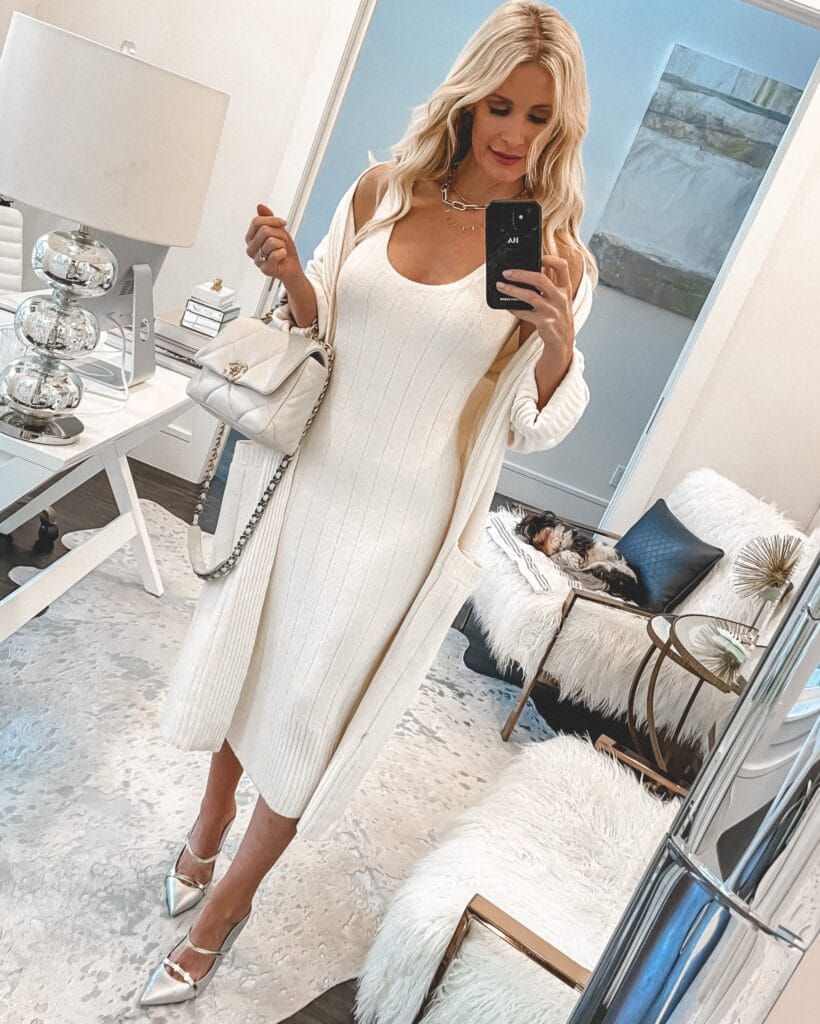 SHOP THE LOOK:

DRESS:

This beautiful white body con dress is crazy soft and would be perfect to wear on a date night or GNO! I think I'm going to wear it to brunch and church on Easter Sunday. I love wearing this cardigan with it to add an extra lightweight layer. I've said this before and I'll say it over and over again, a midi length dress will always be my favorite length on women over 40! It runs true to size, I'm wearing an XS.
SPANX:

Any time I wear a midi dress like this one, I always put these Spanx underneath! They will literally make you look up to 5 pounds slimmer which is a huge plus for any woman no matter what size.
SHOP THE LOOK:

IVORY JEANS:

I already know I'll be wearing these ivory jeans on repeat this spring and summer because they're just perfect for the upcoming seasons! I love the high-rise, straight leg style that's so on-trend for 2021. In case you missed it, I recently featured white denim styled 10 ways on my YouTube, so be sure to check out the video! These jeans run true to size, I'm wearing a 25.
SKIMS BODYSUIT:

This under $70 bodysuit is hands down the most comfortable one I own. It's the perfect neutral color for spring and summer, but it also comes in 3 other beautiful colors which I know I'll be getting soon! A bodysuit is always a good idea when it comes to a look with a lightweight cardigan! This one runs true to size, I'm wearing an XXS/XS.
GOLD MULES:

Mules have become all the rage lately and I am obsessed – a favorite 2021 trend! Mules are super comfortable and wearable thanks to their backless style and open toe feature. These gold ones are some of my all-time favorites that can be worn year round, however, these amazing dupes are half the price and are just as good!
SHOP THE LOOK:

BODYSUIT:

This cream bodysuit by Free People is one of my personal favorites and only $30! It's super comfy and  comes in black too. If you love it enough, I highly recommend grabbing both colors because you'll be spending under $100 and wearing them tons. They go with everything proving their versatility. This piece runs true to size, I'm wearing an XS.
JEANS:

If you've been following along for a bit, you've probably heard me rave about these under $50 grey jeans from Express. They are seriously so flattering because they're high-rise skinny jeans. I love a good grey wash like this because they can easily be worn year round and add a bit of edge to any look. These run true to size, I'm wearing a 0 regular.
MULES:

These mules are seriously so comfy and quickly becoming my new favorite shoes. I love the neutral snake print because they can be worn with basically anything in your closet and to any occasion. Dress them up or down and wear them just about anywhere! These were actually featured in my recent video titled: 14 PIECE SPRING CAPSULE WARDROBE. 
FEEL FREE TO SUBSCRIBE TO MY NEW YOUTUBE CHANNEL FOR STYLE, BEAUTY, AND FITNESS TIPS TO HELP WOMEN LOOK AND FEEL CONFIDENT
CHECK OUT MY INSTAGRAM SHOP TO SHOP ALL OF MY INSTAGRAM LOOKS
YOU CAN ALSO DOWNLOAD THE LIKETOKNOW.IT APP AND FOLLOW ME ON IT BY CLICKING HERE.
STAY IN THE KNOW:  Don't forget to sign up for my exclusive News Letter for AMAZING STYLE TIPS, SALE ALERTS, AND MUCH MORE!
Thank you so much for stopping by today, I truly appreciate all of you!
XOXO, HEATHER
HOW TO STYLE A CARDIGAN