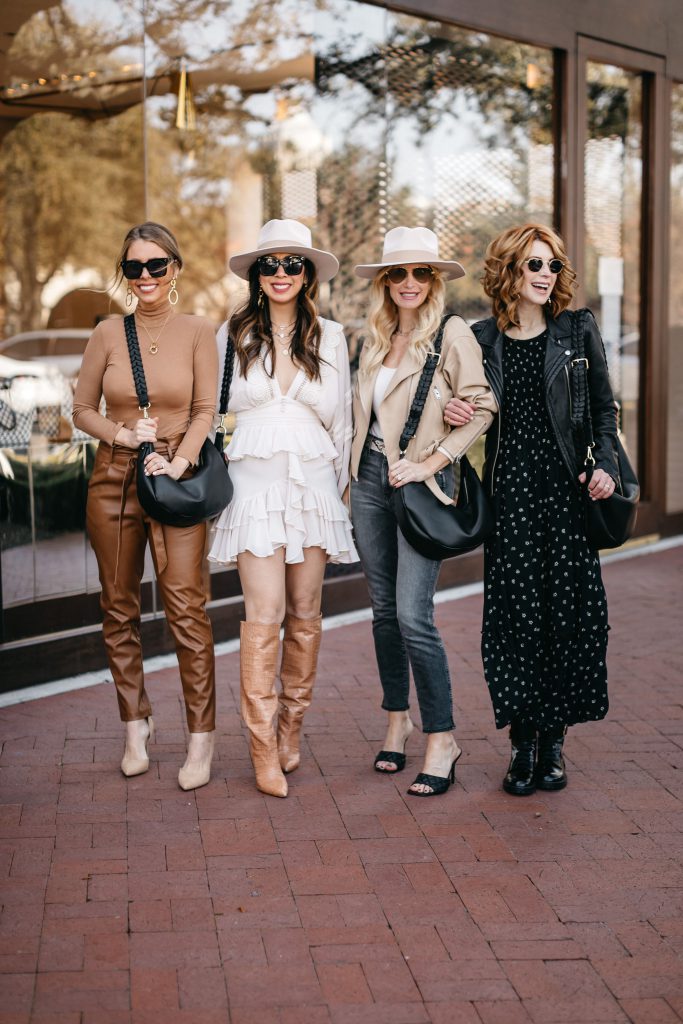 Good morning and happy Friday!  We're all so excited to be partnering with Rachel Zoe again featuring her BRAND NEW luxury style box called CURATEUR!  This seasonal 5-piece curation is the key to elevating your style and unlocking all the CURATEUR benefits! With a retail value of more than $500, grab yours for an amazing price of only $74.99 with code CHIC25!  Scroll down to check out all 5 products and see why we all love them so much!!  Be sure and check out my YouTube video as well for more ways to style this insanely chic hat and to learn more about all of these fabulous 5 products. We are obsessed with The Spring Curateur Box!
Natalie Keinan of THE FASHION HOUR  // Samantha Stewart of  STYLE OF SAM // Cathy Williamson of  THE MIDDLE PAGE
 SHOP MY LOOK (BAG AND HAT ARE PART OF THE CURATEUR STYLE BOX): 

CHECK OUT MY YOUTUBE VIDEO FEATURING THE CURATEUR & STYLING THIS LUXE HAT 7 DIFFERENT WAYS: 
5 COVETABLE ITEMS YOU'LL WANT TO LIVE IN ALL SEASON LONG:
1.) JULES KAY ZOLA BAG (RETAIL VALUE $95):
This gorgeous vegan leather handbag is to die for!  I love the versatility and wearability of this chic handbag.  I have carried this bag during the day super casual with jeans and sneakers but it also works well at dressed up at night with a sleek midi dress and some fab heels.  There is plenty of room in this bag yet it's not too heavy which I love.  Another amazing thing about this chic handbag is that it has an adjustable strap so you can make it longer or shorter depending on how you want to carry it.  This will no doubt be one of my most carried handbags this season and I'm sure if you end up treating yourself to this box it will be for you too!
2.) VITA FEDE CASSIO EARRINGS (RETAIL VALUE $388):
How stunning are these gorgeous gold earrings?  I love that they have interlocking hoops that you can take off or change making them very customizable which I think is so cool and fun.  I think adding earrings to any look is a sure-fire way to take it to the next level and these earrings are guaranteed to do just that! Wear them on your next date night or girl's night out and I'm sure you'll get a few compliments!
3.) HUGH & GRACE RENEWING NIGHT SERUM (RETAIL VALUE $90):
I don't know about you, but as I get older my skin just keeps getting dryer!  Well, if you answered yes to that question then you're going to love this nourishing night serum!  It's 100% natural, vegan, and cruelty-free plus it smells delicious!  I've been using it now for about 2 weeks and my skin feels and looks more supple and plump and I'm pretty sure the fine lines around my eyes have even lessened, always a plus!
4.) ILLAMASQUA BEYOND POWDER HIGHLIGHTER (RETAIL VALUE $45):
This gorgeous illuminating high-lighter is also vegan and cruelty-free which is something I look for in all of my beauty products.  It does a great job of effortlessly highlighting the features of your face without going overboard like a lot of highlighters seem to do.  It stays on all day which is another plus.  Try putting this on the top of your cheekbones, under the arches of your brows, and in your cupids bow for the perfect highlighting method that is sure to help you look like the best version of yourself!
THE FOLLOWING 2 ITEMS YOU GET TO CHOOSE BETWEEN THE FABULOUS HAT OR THE GORGEOUS GOLD RING: 
5.) TERESSA FOGLIA HAT ($400 VALUE):
I'm literally obsessed with this hat!  This is the item I chose and I'm so glad that I did!  It's so incredibly chic and every time I wear it I get tons of compliments on it and I'm sure you will too!  I'm so in love with this beautiful ivory shade because it's a color that will go seamlessly with so many different outfits.  In fact, I've been wearing so much more than I thought  I would since it goes with so much.  It has an adjustable hat band on the inside so matter what size hat you wear this hat is guaranteed to fit.  If you're wondering how to style this fabulous hat beyond the 2 ways in this post be sure and watch the video I included above styling this chic hat 7 different ways.
OR
VITA FEDE CASSIO RING (RETAIL VALUE $250):
This gold ring is so versatile because you can stack the 3 rings and wear them all together or you can wear them separately which is nice too.  I personally love wearing them all together stacked because it makes more of a statement.  You also have the option of interlinking these rings which creates another chic way to wear this incredibly beautiful gold ring! This modern yet classic ring will be an accessory that will stand the test of time and one you can wear dressy or casual!
All 5 of these INCREDIBLY CHIC AND HIGHLY COVETABLE products retail for over $500 BUT you will get all of them for only $74.99 with code CHIC25.  I highly recommend treating yourself to this incredible luxe style box called the CURATEUR!   Trust me, you'll be living in all of these chic spring items all season long, I know I will be!
A special thank you to Rachel Zoe's CURATEUR for sponsoring this post!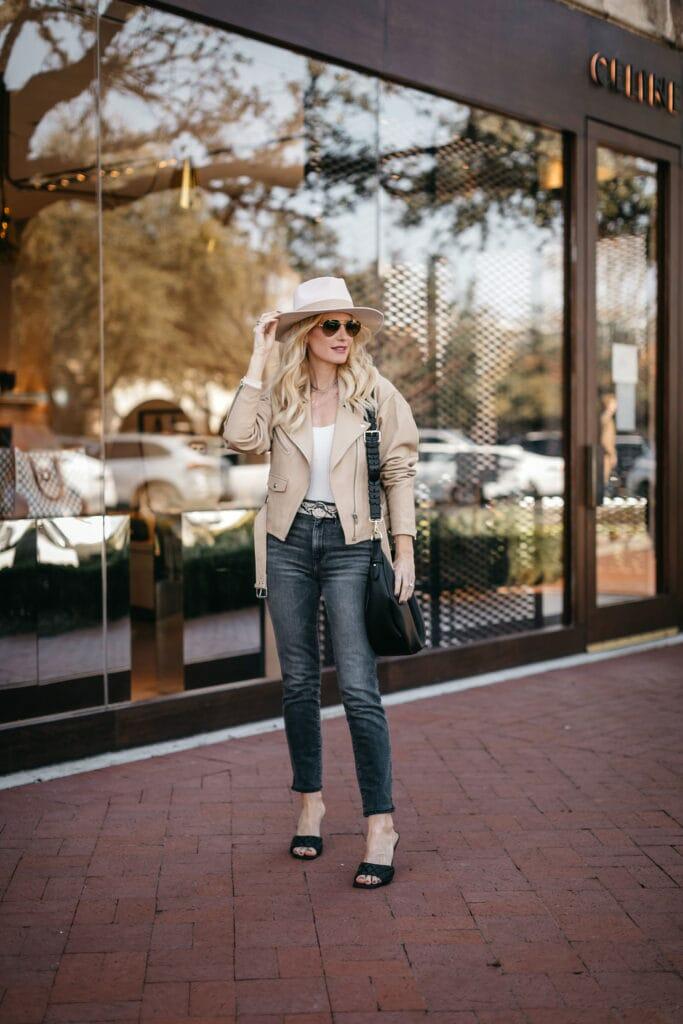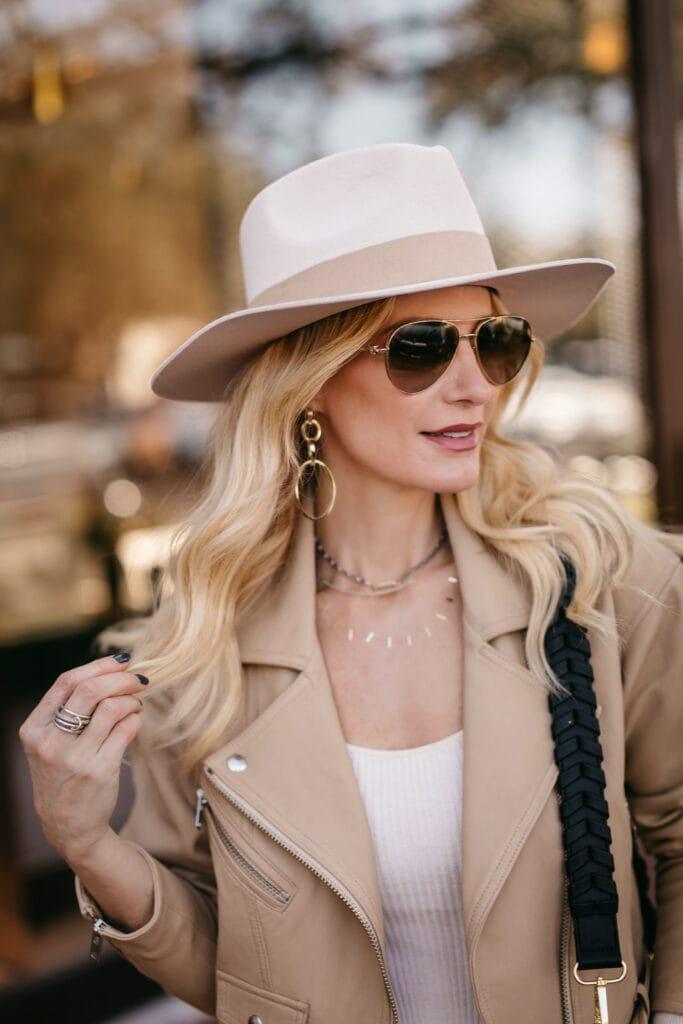 LEATHER JACKET (WEARING A 36) SIMILAR FOR LESS // BODYSUIT SIMILAR // JEANS SIMILAR (WEARING A 25) // SNAKE PRINT BELT SIMILAR // STEVE MADDEN BLACK MULES
FEEL FREE TO SUBSCRIBE TO MY NEW YOUTUBE CHANNEL FOR STYLE, BEAUTY, AND FITNESS TIPS TO HELP WOMEN LOOK AND FEEL CONFIDENT
CHECK OUT MY INSTAGRAM SHOP TO SHOP ALL OF MY INSTAGRAM LOOKS
YOU CAN ALSO DOWNLOAD THE LIKETOKNOW.IT APP AND FOLLOW ME ON IT BY CLICKING HERE.
STAY IN THE KNOW:  Don't forget to sign up for my exclusive News Letter for AMAZING STYLE TIPS, SALE ALERTS, AND MUCH MORE!
Thank you so much for stopping by today, I truly appreciate all of you!
XOXO, HEATHER
The Spring Curateur Box
Share the post "CHIC AT EVERY AGE FEATURING THE CURATEUR: A $500 VALUE FOR UNDER $100"