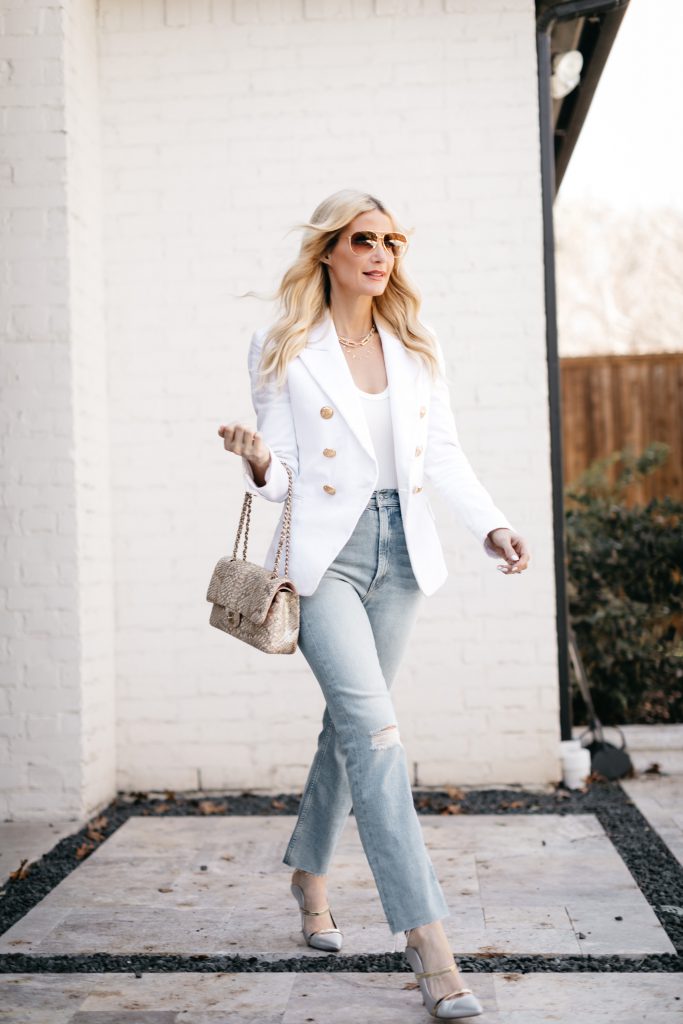 The Balmain blazer, the epitome of all blazers is a timeless and versatile investment piece that will never go out of style.  The Balmain blazer is one of my all-time favorite investment pieces I've added to my wardrobe over the years and I'll have to say I'm so glad I did!  It's one of those pieces that when I put it on I instantly feel polished and put together.  I realize that the Balmain blazer is expensive which is why I'm featuring the best Balmain blazer dupes in today's post.  Since a really good blazer paired with some amazing denim is an outfit formula I wear a ton it's safe to say I know a good blazer when I see one.  If you love a good blazer too and are wondering what the best dupes are to the infamous Balmain blazer then keep scrolling because these budget-friendly dupes look very similar to the real thing yet they're a fraction of the price!
STYLE TIP: THE LAST BALMAIN BLAZER DUPE IS MY PERSONAL FAVORITE AND YOU ALL GET 15% OFF THAT BLAZER WITH CODE SOH15
SHOP THE LOOK: 

CHECK OUT THIS YOUTUBE VIDEO I CREATED STYLING THE BEST BALMAIN DUPE BLAZER 3 WAYS TITLED: 5 THINGS CLASSY WOMEN SHOULD NEVER WEAR:
WHITE BALMAIN BLAZER:

The gorgeous white blazer I'm wearing in look one is the actual REAL Balmain blazer and an investment piece I'm so glad I splurged on. Why you may ask, well there are several reasons.  First, the fit is impeccable and like no other because the waist is cut in just as a well-structured blazer should be making it extremely flattering.  Second, the beautiful gold buttons are very luxe-looking making this stunning blazer that much more special.  Third, I knew this blazer would be a piece that I would wear often proving its cost per wear.  I always say if you can't think of how to wear something at least 3 different ways then you shouldn't buy it.  Needless to say, there are endless ways to wear this amazing Balmain blazer so I decided to make the splurge!  And finally and most importantly, every time I put on this blazer I just feel special and like the best version of myself which makes this investment piece worth every penny!  Now, I realize not everyone will want to make this investment which is why I'm highlighting the 3 best Balmain blazer dupes so keep scrolling to check them out and see how I styled them.  This blazer does run true to size, I'm wearing a size 34.
BEST BALMAIN BLAZER DUPES:
1.) THE L'AGENCE WHITE BLAZER:

This chic Balmain blazer dupe looks just as good as the real deal but is half the price. I love the white with gold buttons, however, this one comes in multiple colors, including black, navy, blush, and olive green! It may seem like an investment, but it's a blazer you'll have and wear forever because it's super timeless and won't go out of style. This one runs true to size, I'm wearing an XS.
2. LIONESS $88 BLAZER:

What a steal! This dupe blazer is actually under $100 making it an unbelievable price point for a blazer this high-quality. Though the fabric isn't as high quality as the one above, it's still an amazing piece if you're only wanting to spend $88. This one also comes in black and navy and is can be styled a variety of ways proving its versatility. The blazer runs true to size, I'm wearing an XS.
SCROLL DOWN TO SEE BLAZER #3 STYLED 3 DIFFERENT WAYS
SHOP THE LOOK: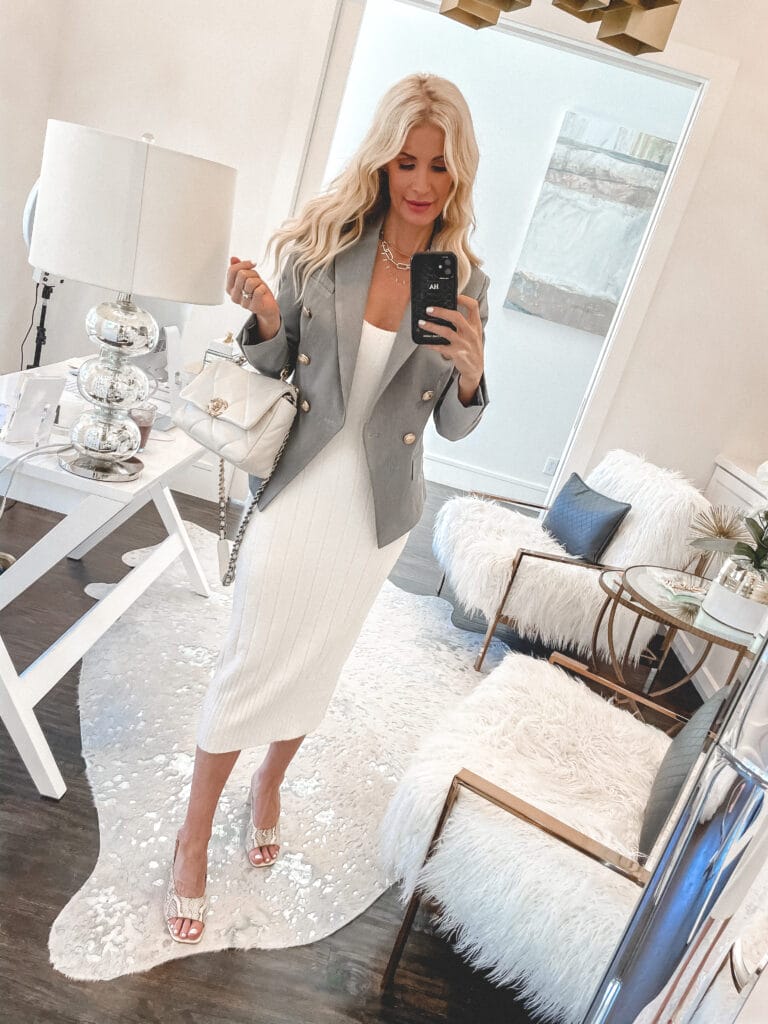 SHOP THE LOOK:

3. LILY SILK GRAY BLAZER:

In my opinion, this is THE BEST BALMAIN BLAZER DUPE, and here's why.  The fit is just as flattering as the Balmain blazer because it's cut in at the waist just as a well-structured blazer should be.  The gold buttons are just as gorgeous and statement-making as the gold buttons on the Balmain blazer which makes this blazer by LilySilk a real gem! And finally, the material is very high-quality and wrinkle-free just like the Balmain blazer.  This blazer runs true to size, I'm wearing an xs.  You can see the real gray Balmain blazer by clicking HERE. 
The best part, you all get 15% OFF with code SOH15 and that is sitewide too by the way!  The real Balmain will run you around $2200 however, this one by Lilysilk ends up being just under $150 with your discount code, quite a steal for such a timeless staple!  
IVORY MIDI DRESS:

I've recently featured this exact ivory midi dress in my post titled: EASTER DRESS EDIT: SHARING 4 CHIC DRESSES because I love it that much! As I've mentioned before, a midi-length dress is the perfect length for any woman… especially over the age of 40. The gorgeous ivory color is perfect for the spring and summer and this dress looks stunning worn by itself or paired with a blazer like I've done in this look. I am truly obsessed with this dress and it's extremely comfortable, too! It runs true to size, I'm wearing an XS.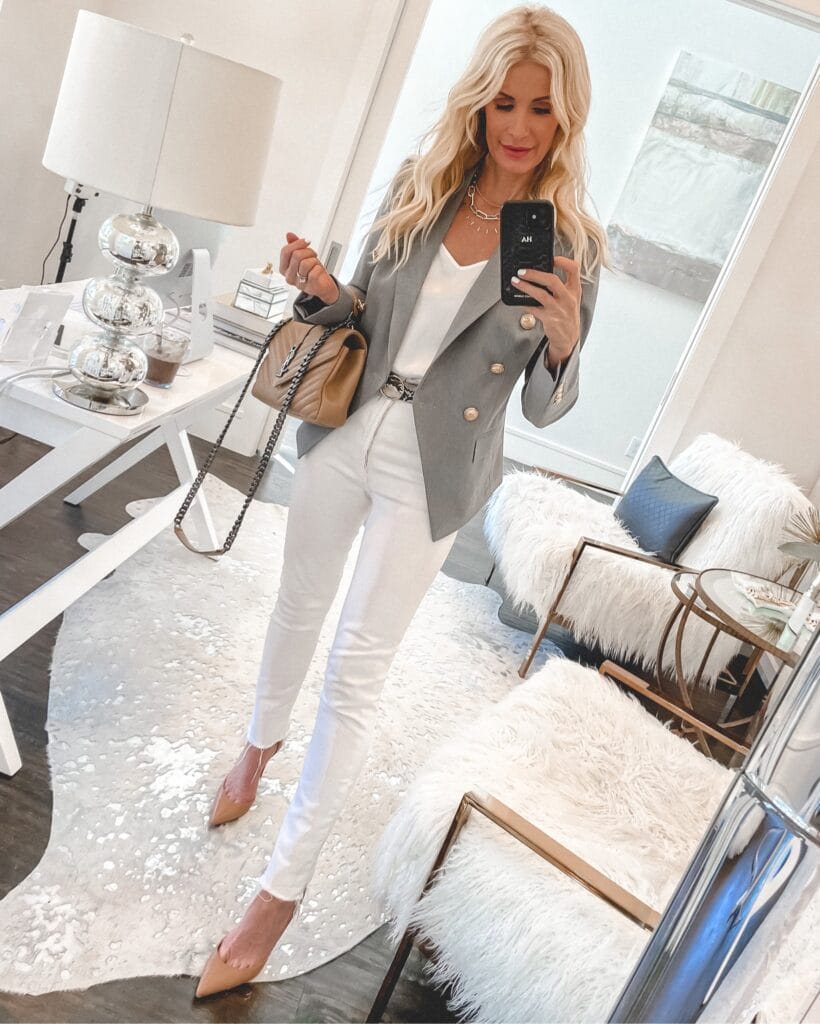 SHOP THE LOOK:

WHITE CAMISOLE:

If you don't already own a silky cami that will go with any outfit you have on, you definitely have to grab this one by Lilysilk! You can get this exact cami for 15% off right now using the code SOH15 which makes it even more budget-friendly than it already is. This is such a great piece to layer under all of your favorite jackets, blazers, and cardigans. I am obsessed with it and have it in multiple different colors since I wear it so much. It runs true to size, I'm wearing an XS.
WHITE JEANS:

I already know I'll be wearing these white jeans on repeat this spring and summer because they're just perfect for the upcoming seasons! I love the high-rise, modern skinny style that's so on-trend for 2021. In case you missed it, I recently featured white denim styled 10 ways on my YouTube, so be sure to check out the video! These jeans run true to size, I'm wearing a 25.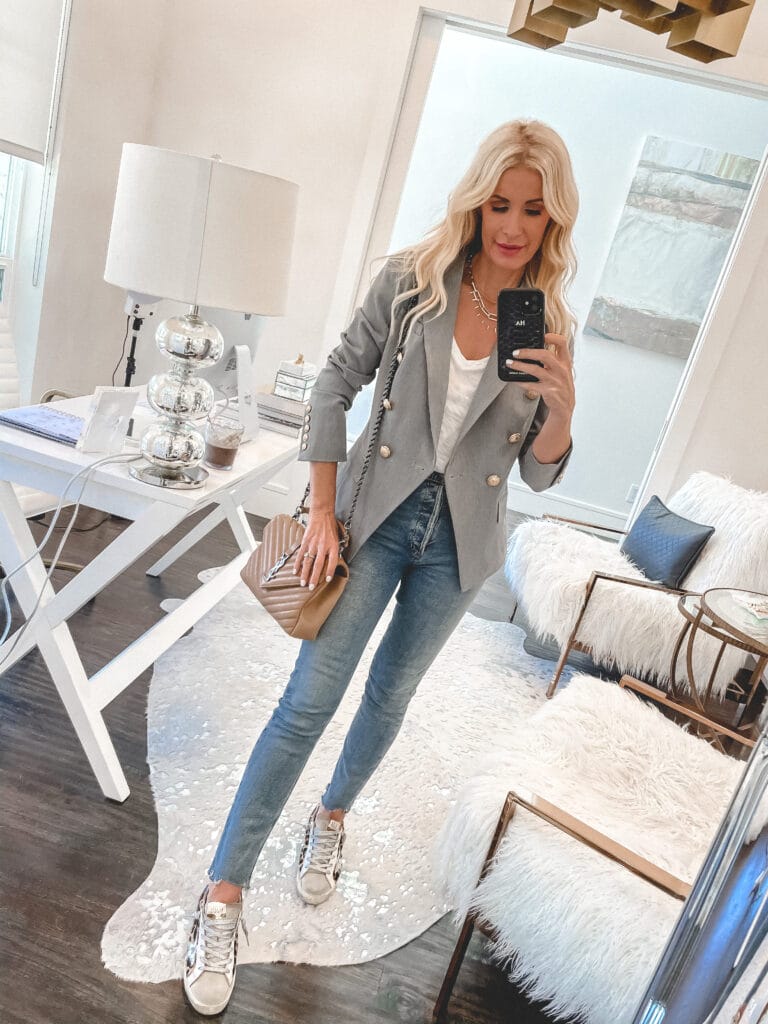 SHOP THE LOOK:

WHITE TEE:

If I had to recommend one white tee that I swear by and wear year after year, it would hands down be this one by ATM. This is truly the best basic white tee I've ever owned and I have had it for many years. A white tee is a basic wardrobe essential every woman needs! It will take you a million places this spring and summer because you can easily dress a tee like this one up or down for any occasion. This one runs true to size, I'm wearing a small.
AGOLDE JEANS:

Another denim fave! I love these modern skinny jeans by Agolde so much because they're comfortable, wearable, and perfect for spring! If you're on the lookout for a new pair of denim, I recently published a YouTube video titled BEST DENIM FOR WOMEN OVER 40, so be sure to check it out! They run true to size, I'm wearing 24.
GOLDEN GOOSE SNEAKERS:

If you've been wondering if Golden Goose sneakers are worth it, I 100% think they are and highly recommend investing in a pair! They are actually hand made Italy with the finest leather. Since all of the leather is handmade in Italy, they mold to your feet meaning the more you wear them the more comfortable they become! I swear I wear my Golden Goose sneakers at least 3 times a week and my feet never hurt! For this reason alone they're literally worth every penny!
FEEL FREE TO SUBSCRIBE TO MY NEW YOUTUBE CHANNEL FOR STYLE, BEAUTY, AND FITNESS TIPS TO HELP WOMEN LOOK AND FEEL CONFIDENT
CHECK OUT MY INSTAGRAM SHOP TO SHOP ALL OF MY INSTAGRAM LOOKS
YOU CAN ALSO DOWNLOAD THE LIKETOKNOW.IT APP AND FOLLOW ME ON IT BY CLICKING HERE.
STAY IN THE KNOW:  Don't forget to sign up for my exclusive News Letter for AMAZING STYLE TIPS, SALE ALERTS, AND MUCH MORE!
Thank you so much for stopping by today, I truly appreciate all of you!
XOXO, HEATHER
Best Balmain Blazer Dupe