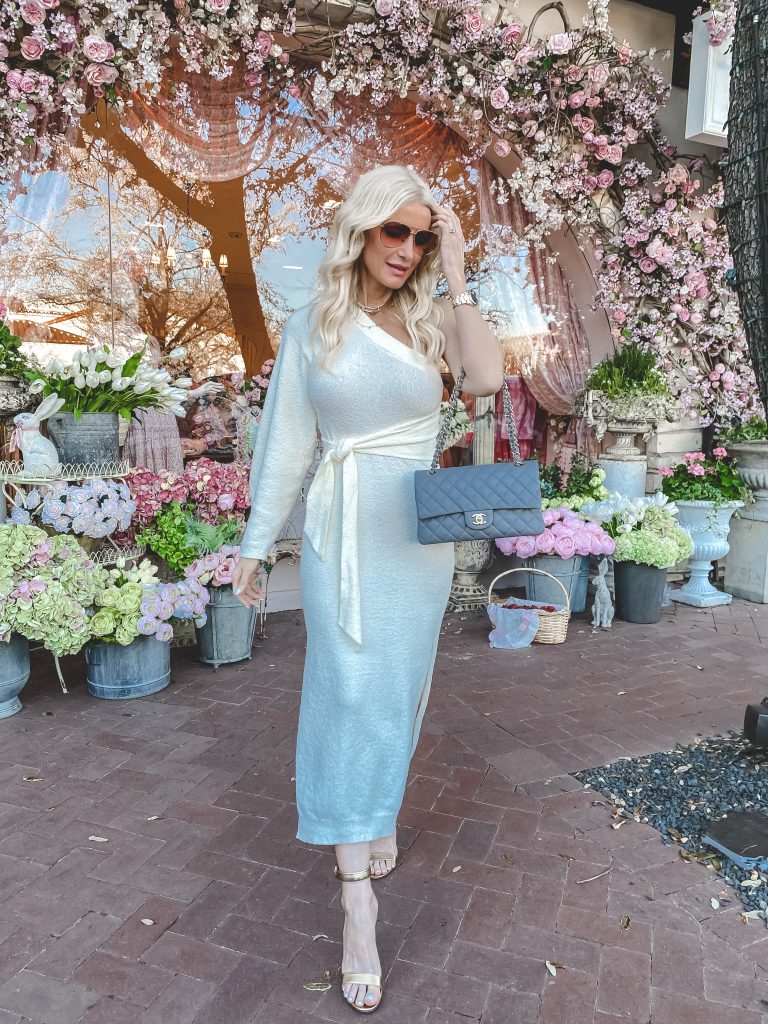 Can you believe that Easter is just 16 days away?  I certainly can't and I'm sure you would agree with me!  With that being said, I wanted to get my Easter dress edit up as soon as possible so you guys would have plenty of time to order any of these gorgeous Easter dresses online and get them on time.  Whether you're staying in and hosting a brunch at your house (which is what I'm doing) after we go to church, going out for brunch, or over to someone's house I think you will find at least one dress you love and one that would be perfect for any of those occasions.  I'm featuring 4 beautiful spring dresses which can of course be worn on so many other occasions.  Keep scrolling for some serious spring dress inspiration and as always feel free to add anything to your cart along the way.
PS – This photo was taken in Highland Park Village in front of the new Love Schack Fancy which is a definite MUST-SEE if you live in or visit Dallas!
SHOPBOP HAS AN AMAZING SELECTION OF LOVE SCHACK FANCY ITEMS IN CASE YOU CAN'T VISIT THE STORE IN PERSON
SHOP THE LOOK:

SHOP OTHER GORGEOUS EASTER DRESSES:

STYLE TIP: I wear SPANX under all of these form-fitting midi dresses because they make everything look so much better and can even make you look up to 10 pounds thinner!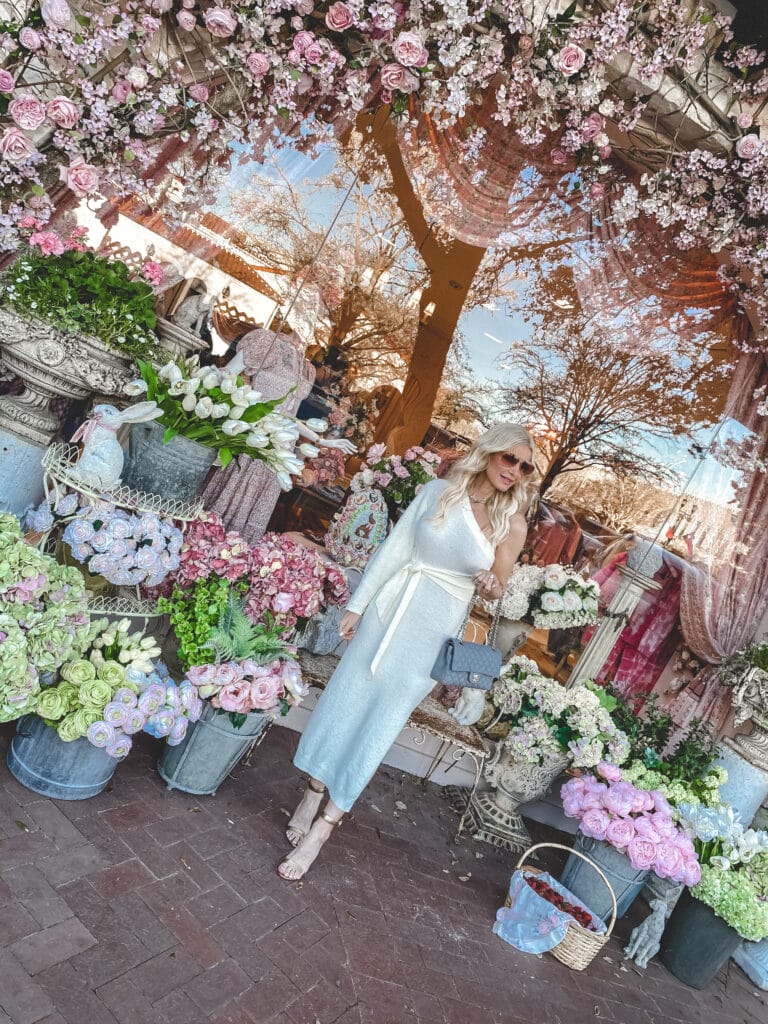 SHOP THE LOOK:

IVORY ONE SHOULDER DRESS:

How gorgeous is this ivory dress with the one-shoulder detail? I haven't seen many dresses like this one making it super unique and different. It's the perfect color and style for spring and Easter! It's honestly so soft and almost feels like you're wearing a light-weight blanket. It runs true to size, I'm wearing an XS.
GOLD CHAIN NECKLACE:

This gold chain is obviously one of my very favorite accessories since I'm wearing it with all of these Easter looks below. A gold chain necklace is a piece every woman should own and it doesn't have to be expensive! If this one is out of your budget, I love this budget-friendly just as much.
SHOP THE LOOK:

ALICE AND OLIVIA DRESS:

If you know me, you know I don't really wear a lot of bright colors, but when I saw this dress I had to have it! I love the fringe and this gorgeous bubblegum pink shade because it's so perfect for spring. It's also super flattering which is always a plus! This dress runs true to size, I'm wearing a size 2.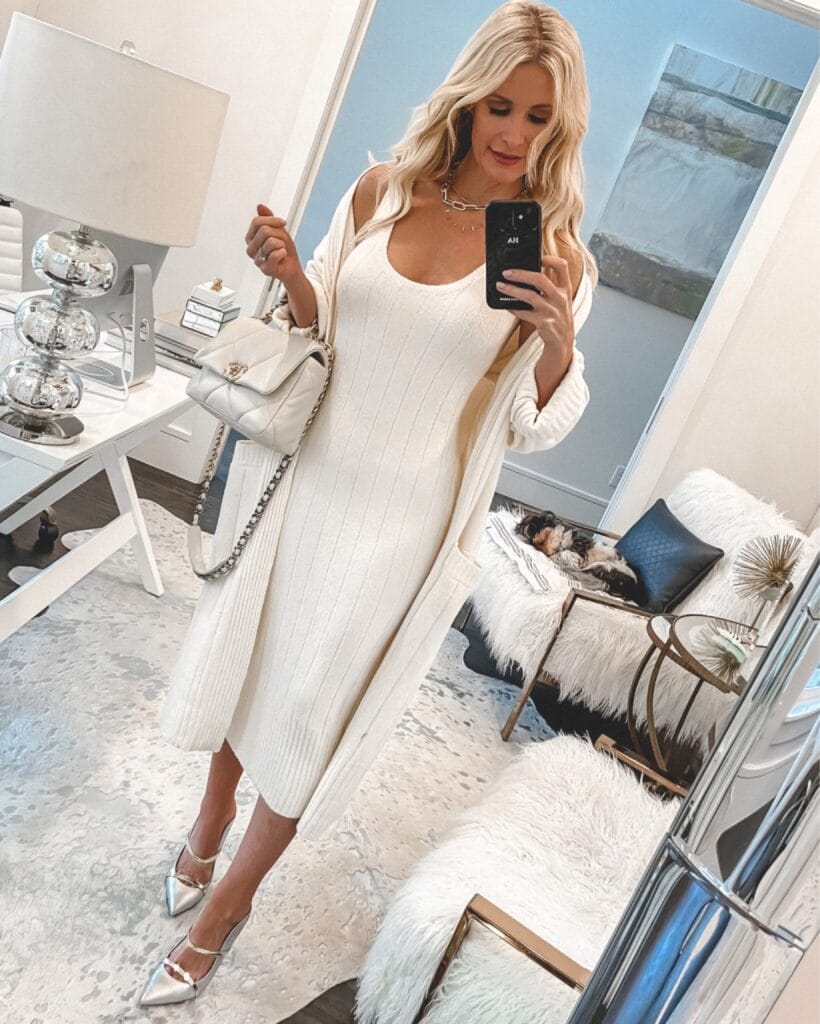 SHOP THE LOOK:

IVORY MIDI DRESS:

I've featured this ivory midi dress so many times before because it's just that good. Not only is it crazy comfortable, but it's also very slimming and the neutral color is super versatile! It's a great color… especially for the springtime. I love it paired with this matching cardigan but also love it worn with a chic blazer or stunning moto jacket. It runs true to size, I'm wearing an XS.
LONG CARDIGAN:

This lightweight cardigan is light enough to wear in the spring and even the summer if the climate is cool enough! It's so soft and cozy, and I love wearing it paired with dresses and jeans especially. I recently featured it with jeans in this look here which I know I'll be wearing a ton this season! It runs true to size, I'm wearing an XS.
SHOP THE LOOK:

GRAY MIDI DRESS (UNDER $100):

This grey midi dress is by Michael Stars so the price point is amazing! Thanks to the ruching in the front and back, this piece is super flattering and perfect for women over 40! It's made of both cotton and spandex, so it's wrinkle-free and super comfortable. It runs true to size, I'm wearing an XS.
FEEL FREE TO SUBSCRIBE TO MY NEW YOUTUBE CHANNEL FOR STYLE, BEAUTY, AND FITNESS TIPS TO HELP WOMEN LOOK AND FEEL CONFIDENT
CHECK OUT MY INSTAGRAM SHOP TO SHOP ALL OF MY INSTAGRAM LOOKS
YOU CAN ALSO DOWNLOAD THE LIKETOKNOW.IT APP AND FOLLOW ME ON IT BY CLICKING HERE.
STAY IN THE KNOW:  Don't forget to sign up for my exclusive News Letter for AMAZING STYLE TIPS, SALE ALERTS, AND MUCH MORE!
Thank you so much for stopping by today, I truly appreciate all of you!
XOXO, HEATHER
EASTER DRESS EDIT