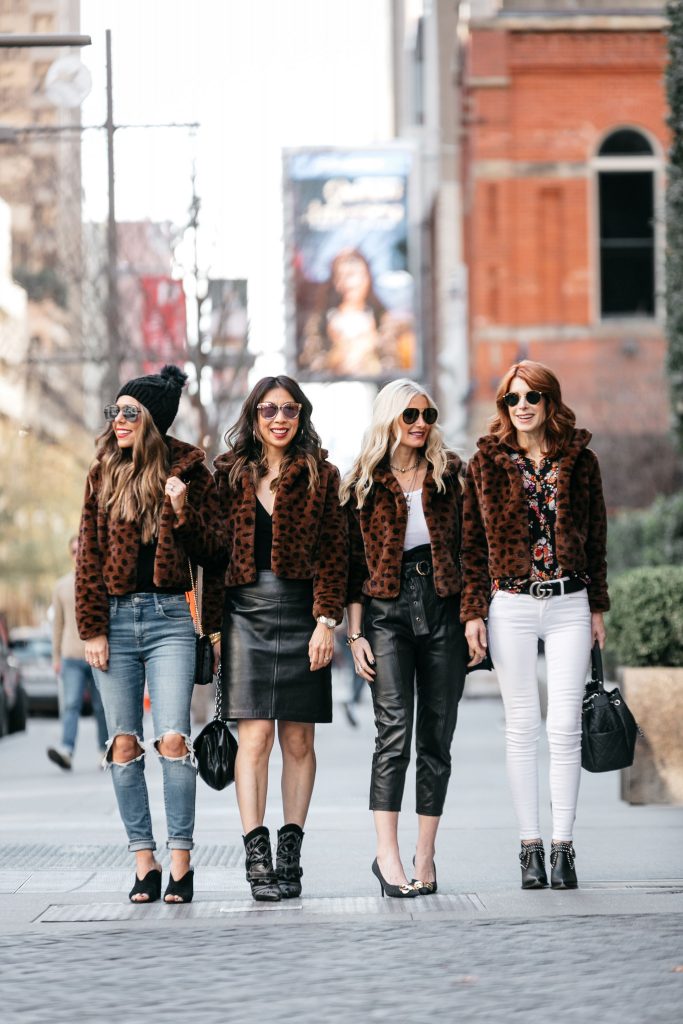 It's that time again, our CHIC AT EVERY AGE series talking about how to style this fabulous leopard teddy coat.
Natalie Keinan of THE FASHION HOUR  // Samantha Stewart of  STYLE OF SAM // Cathy Williamson of  THE MIDDLE PAGE
 SHOP MY LOOK:

Happy Friday ladies!  I love a good
teddy coat
as you can tell if you've been reading my blog for a while now.  In fact,
teddy coats
are hands down my favorite type of jacket to wear in the winter time.  Why you may ask, well here's the answer:  They so cozy yet incredibly chic making them the perfect topper to any winter ensemble sure to keep you warm without sacrificing style!  Below I've handpicked my top 10 favorite teddy coats all under $100 including this extremely versatile
 leopard teddy coat
in this post, happy shopping!
HOW TO STYLE A TEDDY COAT:
As you can see from this post, we've all styled this teddy coat a different way.  Natalie paired it with ripped jeans, a fun beanie, and some chic suede mules for a casual yet cool look you could wear on your off-duty days!  Sam dressed it up a bit pairing it with an edgy leather skirt and super cool Isabel Marant booties (sadly no longer available).  I love Sam's look for a date night or girl's night out!  Cathy went with unexpected white denim and a floral top for a fun and winter look perfect for a lunch date or running errands.
3 RECENT POSTS I'VE DONE IN TEDDY COATS: LUXURY JEWELRY RENTAL WITH FLONT, TRENDING NOW: MIDI DRESSES, ANKLE BOOTS, AND TEDDY COATS,  & TEDDY COATS FOR EVERY BUDGET
My look is semi-dressy and would be perfect for a date night, girl's night out or a dressy Sunday brunch.  Here is a break down of each item I'm wearing:
MARISSA WEBB LEATHER PANTS:
I splurged on these edgy leather pants months ago and I'm so glad that I did!  They're very fashion forward yet extremely versatile.  The super high-waist band has a removable belt and is asymmetrical making these fabulous leather pants anything but ordinary!  The cropped length allows you to show off your favorite shoe of the moment which is always a plus!  These black leather pants can be styled so many ways proving their versatility and making them well worth the investment when you consider the cost per wear. I realize these are quite an investment, so I found these by Amanda Uprichard that are very similar yet a fraction of the price!  
RE/DONE WHITE TANK:
I'm obsessed with the cut of this tank, it's cut in on the shoulders so it's very flattering.  Yes, it 's simple, but sometimes all your outfit needs to balance it out is a simple white tank.  Trust me, you'll want to wear this basic white tank under all of your favorite jackets, I know I do!
BALENCIAGA HEELS:
I got these beautiful Balenciaga heels for Christmas as a gift to myself and I adore them!  I always say shoes are something you should invest in as long as they're a shoe you'll wear over and over again and for me, I know for sure these super chic heels will be on major repeat for me!  The heel height is only 3 inches so they're relatively comfortable which is always a plus!  Pair these charcoal gray denim heels with almost any look and I guarantee they will take it to the next level!
SO HEATHER NECKLACE:
I was so honored and excited to design this gorgeous coin necklace for Harper Hallam, one of my all-time favorite jewelry lines!  I wear this necklace a ton with literally everything because it goes with so much! Layering necklaces are so in right now, so I made this chic necklace to look like it's layered, however, it's actually just one necklace!  I designed it with silver and gold on purpose because I love mixing metals, it's such a chic and effortless way to wear jewelry!  The best part, the 'SOHEATHER' necklace is now 10% off with code: 'SOHEATHER10' – THIS CODE WILL WORK SITEWIDE!  Give this necklace as a gift to someone special on your list and grab one for yourself while your at it, trust me, you'll find yourself wearing this timeless piece, again and again, I know I do!
SHOP THE CHICEST TEDDY COATS UNDER $150:

Please feel free to email me at [email protected] if you have any questions!  I'm always happy to help with styling or picking out a specific outfit for an event!   Have a fabulous day!!
CHECK OUT MY INSTAGRAM SHOP HERE TO SHOP ALL OF MY INSTAGRAM LOOKS
YOU CAN ALSO DOWNLOAD THE LIKETOKNOW.IT APP AND FOLLOW ME ON IT BY CLICKING HERE.
STAY IN THE KNOW:  Don't forget to sign up for my exclusive News Letter –  Sign up by clicking here.
Thank you so much for stopping by today, I truly appreciate all of you!
XOXO, Heather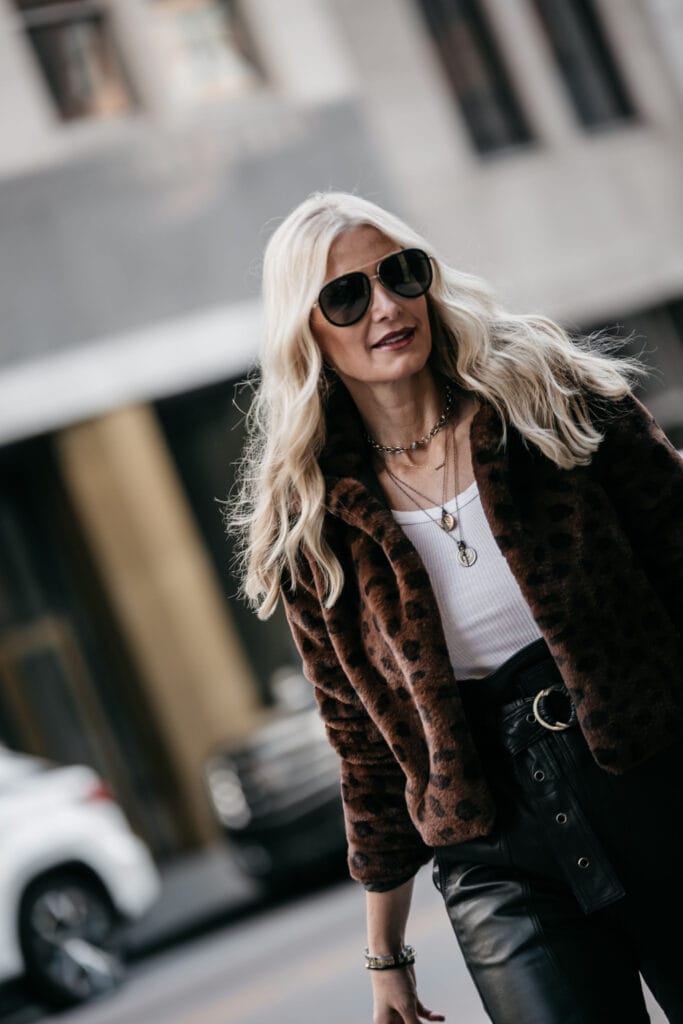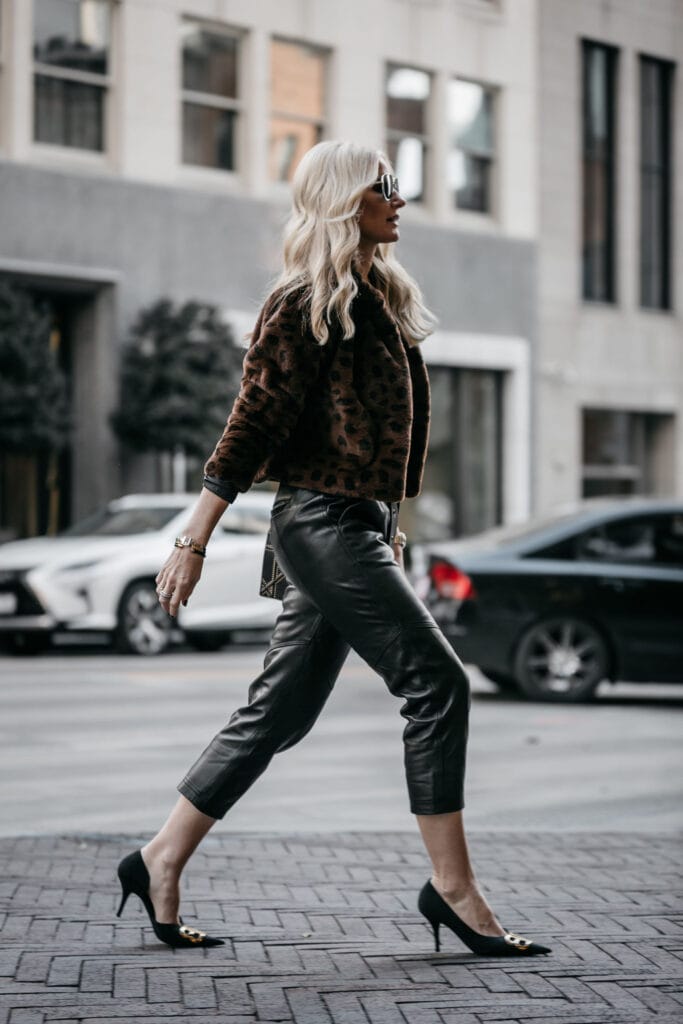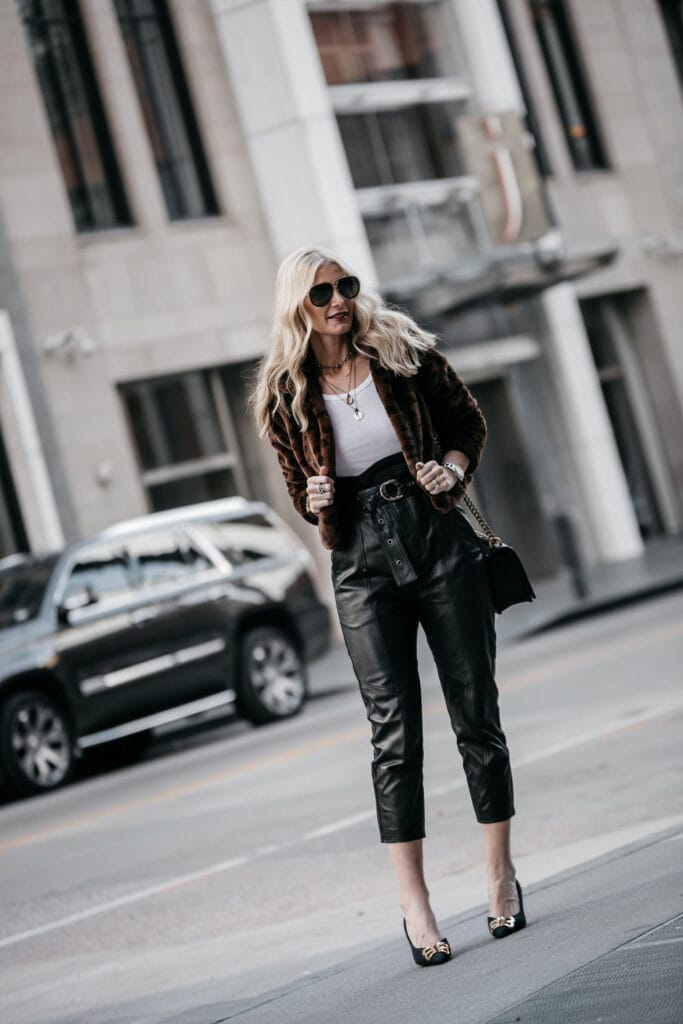 MARISSA WEBB LEATHER PANTS WEARING A SIZE 2 FOR LESS HERE // RE/DONE WHITE TANK // LEOPARD TEDDY COAT WEARING A SIZE S // BALENCIAGA HEELS SIMILAR HERE // 'SO HEATHER' NECKLACE (GET 10% OFF WITH CODE 'SOHEATHER10')
HOW TO STYLE A TEDDY COAT