Happy Monday ladies!  My go-to signature look and one that I wear a ton is a chic jacket, a simple tee or cami and a sleek pair of jeans.  I wear this look casual with sneakers and dressy with heels depending on where I'm going.  This is what I feel most like myself in and most confident in so naturally this is why this outfit formula is my go-to.  What is your go-to look, what do you feel most confident in?  Whatever that is for you, wear it and wear it often because confidence is the best accessory a woman can wear!
Since I wear jackets more than tops for the most part and personally think any look topped with a chic jacket is automatically taken to the next level I thought I would dedicate today's post to the 5 most fabulous spring jackets starting at just $69!!  See below for the 5 most amazing spring jackets sure to take all of your spring looks to the level!
SHOP MY LOOK:

TOP 5 SPRING JACKETS FOR WOMEN:

Nothing screams spring to me more than a white leather jacket, faux or real, you can't go wrong with a white moto jacket!  This exact jacket is the one I'm wearing in this post.  I love the ivory off white shade of this jacket and the faux leather actually looks and feels real.  The fit is impeccable hugging my waistline which makes it super flattering.  It runs true to size, I'm wearing a size XS.  I would wear this chic faux leather jacket with jeans, over a chic midi dress or fun maxi dress. And even with a pair of cut-offs or denim mini skirt for an even more casual ensemble for the weekends!
  The styling possibilities are endless with this versatile and timeless moto jacket making it a definite spring staple! Oh, and did I mention the price point on this chic-to-death jacket (that comes in black too) is under $150, grab it while you can because I predict this one will sell out soon!
I just did a post in this fabulous utility jacket titled: MUST-HAVE $69 MILITARY JACKET and it's by far one of my most recent favorite jacket purchases!  It's the perfect piece to add to your wardrobe to tie in the utility trend which so hot this spring.  The moment I laid eyes on this cropped jacket I knew it was a good one and one I just had to have.  I own several army jackets and wear them a ton, but I didn't have a cropped one like this and for only $69 it was definitely a no-brainer!  Wear this jacket to a kid's sporting event or to run errands with your favorite pair of sneakers and jeans for the perfect casual ensemble!
If I had to pick one jacket that was made for spring it would be this one!  First of all, it's lavender which is my all time favorite color to wear in the spring and summer as you well know if you follow me on Instagram or have been reading my blog lately.  Lavender is another huge trend this season and a personal favorite of mine.  This suede moto jacket is so good that I actually own it in like 3 colors.  The fit is amazing. Also, the price point can't be beat making it a definite spring staple and one you'll wear for many seasons to come.  You can view a full post I did in this exact jacket titled: TOP 8 SPRING TRENDS OF 2019
I posted this jacket already on Instagram and on my Liketoknow.It page so you may have seen it already.  It literally looks very similar to a Balmain jacket because of the super cool buttons, however, instead of being $2,000 it's only $128!  I styled this chic denim jacket with some light wash denim for an uber chic denim on denim look sure to take you many places in style!  This unique denim jacket is the perfect addition to any woman's spring jacket collection. And one sure to take all of your looks to the next level of chicness!
I think a white blazer is a must-have in the spring and summer just like a black blazer is a wardrobe essential in the fall and winter.  I wear my Veronica Beard white blazer a ton with everything from jeans to skirts and even dresses.  I've talked about how much I love Veronica Beard blazers a few times on my blog before because the fit is so good and you can wear them with interchangeable dickeys which you can zip in and out of the blazer making it look like an entirely different jacket.
See below for some examples of Veronica Beard blazers with and without dickeys and notice how different they all look.  I realize this blazer is a splurge but because the fit and quality are so good and because of their versatility they are well worth the investment especially when you consider the cost per wear.  I've had my Veronica Beard white scuba jacket for about 2 years now and I know I've worn it over a dozen times making it a darn good investment!

OUTFIT DETAILS:
GRLFRND JEANS:
These are hands-down one of my top 3 favorite ripped jeans in my closet.  They are the 'IT' style of jean for 2019 which is the high-waisted straight leg silhouette which is always super flattering because the high rise elongates your legs making you appear and thinner and let's face who doesn't want that!?  These are made of more rigid denim so if you're between sizes, size up one size.  I took my regular size in these cool-girl jeans, I'm wearing a size 25.
SCHUTZ HEELS:
Translucent heels are another big trend we're seeing this spring and I'm a huge fan!  I just did a full post in these chic heels titled: TOP 8 SPRING TOPS UNDER $100 talking about how they look like exactly like the Manolo Blahnik heels but are a fraction of the price!  These nude heels are sure to make your legs look longer no matter what look you pair them with.  If these 2 reasons don't convince you to grab these flattering heels I don't know what will.  One thing I know for sure, I'll be living in mine all spring and summer long and I bet you will be too if you decide to grab a pair!
Please feel free to email me at [email protected] if you have any questions!  I'm always happy to help with styling or picking out a specific outfit for an event!   Have a fabulous day!!
CHECK OUT MY INSTAGRAM SHOP HERE TO SHOP ALL OF MY INSTAGRAM LOOKS
YOU CAN ALSO DOWNLOAD THE LIKETOKNOW.IT APP AND FOLLOW ME ON IT BY CLICKING HERE.
STAY IN THE KNOW:  Don't forget to sign up for my exclusive News Letter for AMAZING STYLE TIPS, SALE ALERTS, AND MUCH MORE!
Thank you so much for stopping by today, I truly appreciate all of you!
XOXO, Heather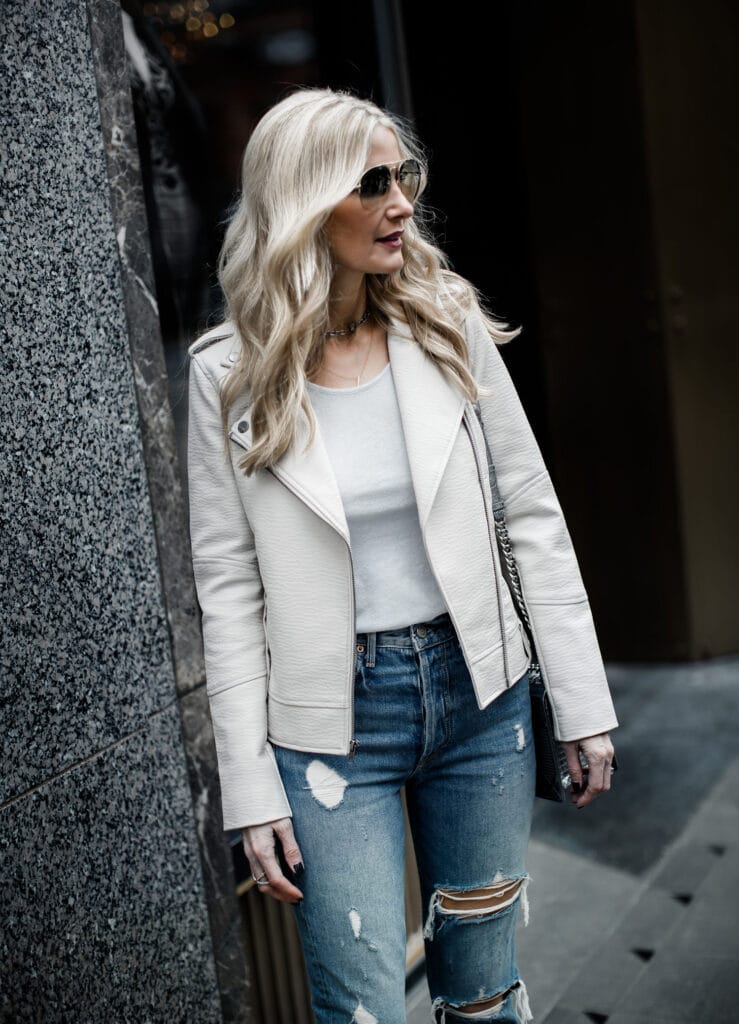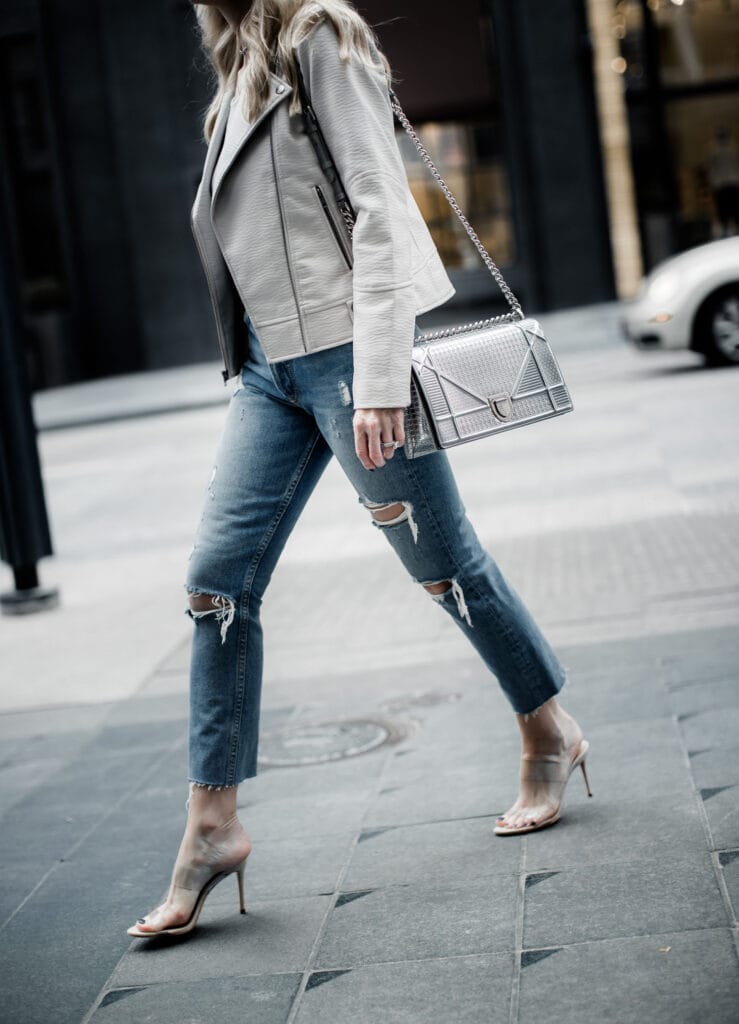 CUPCAKES AND CASHMERE JACKET WEARING A SIZE XS // GRLFRND JEANS WEARING A SIZE 25 // FRANK & EILEEN TANK // SCHUTZ HEELS // DIOR HANDBAG FOR LESS HERE
Share the post "TOP 5 SPRING JACKETS STARTING AT JUST $69 + THESE HEELS WILL LITERALLY MAKE YOUR LEGS LOOK LONGER"