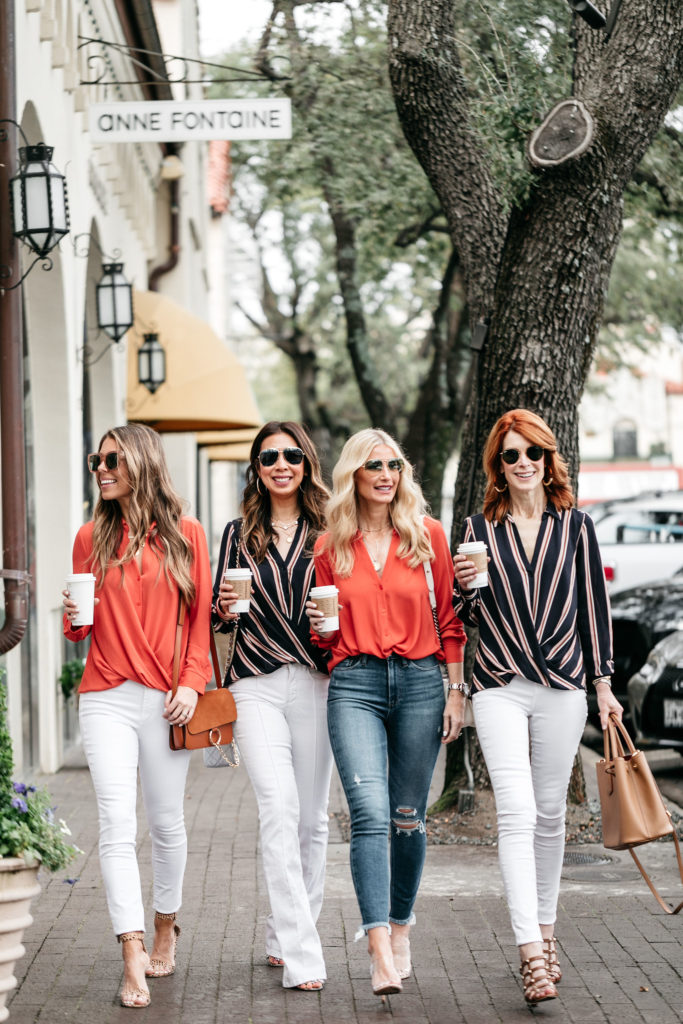 It's that time again, our CHIC AT EVERY AGE series featuring this incredibly chic UNDER $50 SPRING TOP!
Natalie Keinan of THE FASHION HOUR  // Samantha Stewart of  STYLE OF SAM // Cathy Williamson of  THE MIDDLE PAGE
 SHOP MY LOOK:

BEST SPRING TOPS UNDER $50:

Happy Friday ladies!  I just did a post featuring the TOP 10 SPRING TOPS UNDER $100 so I thought I would dedicate today's post to the BEST SPRING TOPS UNDER $50 since this fabulous top that Cathy and I found at Nordstrom is only $49!  It comes in 6 gorgeous colors/patterns and they're all so perfect for spring!  These chic tops are representing 2 of spring's hottest trends: STRIPES and CORAL which is the Pantone color of the year by the way.
I've said it before and I'll say it again, tops are NOT something you need to spend a ton of money on, save your $$ for a great investment bag or a killer pair of heels since those are items you'll wear over and over.  This draped top is wrinkle free by the way and looks good styled with jeans of course, but would also look fabulous paired with a denim skirt or shorts and some chic wedges or fun sneakers.
STYLE TIP: 
Wear this top with the sleeves pushed up and the front portion of it tucked into some high-waisted jeans for a look sure to make you look taller and slimmer!  
I just got these jeans about 2 weeks ago while I was in LA at the Paige store and I'm obsessed! I love the mega high-rise because they make your legs look crazy long. Also, the distressing is dead on, not too overdone but still enough to be edgy.  They have a bit of stretch to them making them extremely comfortable which is something I always look for in a good pair of jeans.  I wore these jeans on the way back from LA on the plane and I will say they travel very well because they're comfortable and this medium wash doesn't show any stains.
Another reason I'm a big fan of this medium blue wash is that they can be worn all year round making them definitely worth every penny knowing I'll wear them a ton. I'm sure you will too if you decide to grab a pair.  I also want to add that these chic jeans are an ankle length which is perfect for all heights, but especially if you're petite like me because you won't have to have them hemmed.  (I'm 5'4 by the way)  They run true to size, I'm wearing a size 25.
Ok, can we talk about my nude transparent heels for a second and how they make your legs look longer?!
I'm seriously obsessed with these versatile heels because they not only have an elongating effect, but this nude shade literally goes with everything!  I've only had these heels a short time and I've already worn them a ton proving their wearability.  I also want to add that for a heel they're pretty comfortable because the heel height is 4 inches.  Trust me, adding this chic pair of neutral heels to your spring shoe collection is definitely a good idea!
Please feel free to email me at [email protected] if you have any questions!  I'm always happy to help with styling or picking out a specific outfit for an event!   Have a fabulous day!!
CHECK OUT MY INSTAGRAM SHOP HERE TO SHOP ALL OF MY INSTAGRAM LOOKS
YOU CAN ALSO DOWNLOAD THE LIKETOKNOW.IT APP AND FOLLOW ME ON IT BY CLICKING HERE.
STAY IN THE KNOW:  Don't forget to sign up for my exclusive News Letter –  Sign up by clicking here.
Thank you so much for stopping by today, I truly appreciate all of you!  XOXO, Heather
CORAL TOP // PAIGE JEANS WEARING A SIZE 25 // SCHUTZ HEELS // WHITE CHANEL BOY BAG SIMILAR // COIN NECKLACE SIMILAR