How is everyone holding up during this social distancing time?  I'm doing ok, but if I'm being honest there are days I feel like I'm going crazy and cabin fever is definitely hitting me hard.  I'm starting to find a routine each day because that's what helps me stay sane.  I've always been one to thrive on organization and a set schedule, even as a little girl I appreciated how regimented my Mother was and I still do!  With this quarantine thing in full swing, I thought it would be the perfect time to share 7 ways to de-stress which has been helping me stay calm and feel less anxious and hopefully they will do the same for you.
SHOP MY LOOK: 

CHECK OUT A ANOTHER RECENT POST I DID TITLED: 8 ITEMS YOU SHOULD NEVER PURGE FROM YOUR CLOSET AND 3 YOU SHOULD
7 WAYS TO DE-STRESS:
1.) EXERCISE:
Now that all the gyms and yoga studios are closed down I've been doing 2 things.  First, I've been doing Black Swan Yoga's live stream Power Yoga class every other morning at 10 AM.  I love all the teachers and the classes are still challenging and fulfilling even if I"m doing them from my bedroom!  On the alternating days, I downloaded this exercise app: THE SCULPT SOCIETY and I absolutely love it!  I get my cans of beans out instead of hand weights and enjoy a full-body 30-minute workout and it's amazing!  After doing these workouts I always feel calmer, I have more energy, and my stress level is definitely lower!  Not to mention this will get your endorphins flowing which will inevitably always put you in a better mood, always a plus!
2.) MAKE A GRATITUDE LIST:
This was actually one of my New Year's resolutions so I've been doing this every morning since Jan. 1 with a few exceptions.  I set my alarm for 6:30 AM every morning, get my cup of much-needed coffee, and go sit in front of my fireplace.  I get my devotional out and read a bible verse and then I write down 5 things I'm grateful for and they can't ever be the same as the day before.  It's amazing how many things in my life and I'm sure in your's too that we have to be thankful for.  This not only makes me realize how blessed I am but that feeling of pure thankfulness is carried on throughout the day which is much needed especially during the days of self-quarantine!  Try it and I promise you'll feel a sense of joy you never knew was there, I know I have!
3.) GO ON WALKS:
Nothing calms the soul like a brisk walk especially when the sun is shining so you can get some much-needed vitamin D!  I always take my sweet dog Lily on a walk every morning and then throughout the day whenever I start to feel confined and anxious I walk again and it always seems to help, even it's just a few blocks.  Try taking at least one walk a day and see how it makes you feel.  If you're like me you'll always feel better 100% of the time after a nice walk around the neighborhood!
4.) TAKE A BUBBLE BATH:
I do this every night before bedtime and it always relaxes me and even helps me sleep better.  Truth be told, I've been doing this for years, long before the quarantine started but I'll have to say it still helps me calm down and de-stress at the end of every day, especially now!
5.) GET PLENTY OF SLEEP:
Sleep is so important and has been proven to help slow down the process of aging and it helps you deal with stress better as well.  Try getting at least 8 hours of sleep every night and I bet you'll feel better the next day.  I always feel my best and am more productive not to mention calmer and less anxious when I get ample sleep.
6.) EAT HEALTHY:
Eating is another thing that will no doubt help you feel less anxious.  A diet full of vegetables,  lean white meats and fish, along with fruits and nuts is a great way to feel nourished and energized throughout the day.  With this Covid-19 thing going around now more than ever is a great time to boost your immune system and eating healthy is one of the best ways to do that!  I make a protein shake every single morning that I swear by!  It fills me up and it's full of nutrients, plant proteins, and good leafy greens sure to boost that immune system and help you maintain a healthy weight.  Scroll down to the bottom of this post for the full recipe.
7.) READ MORE:
Although I love to watch Netflix and do almost every night when I read I feel much more relaxed and sleep better.  Now is the perfect time to read some of those books you've been wanting to read for a long time but never had the time.  I've been reading a ton of self-help books and Al-Anon literature which is keeping me going during this trying time.  What are some of your favorite things to read?
SCROLL DOWN TO GET MY AMAZING PROTEIN SMOOTHIE RECIPE: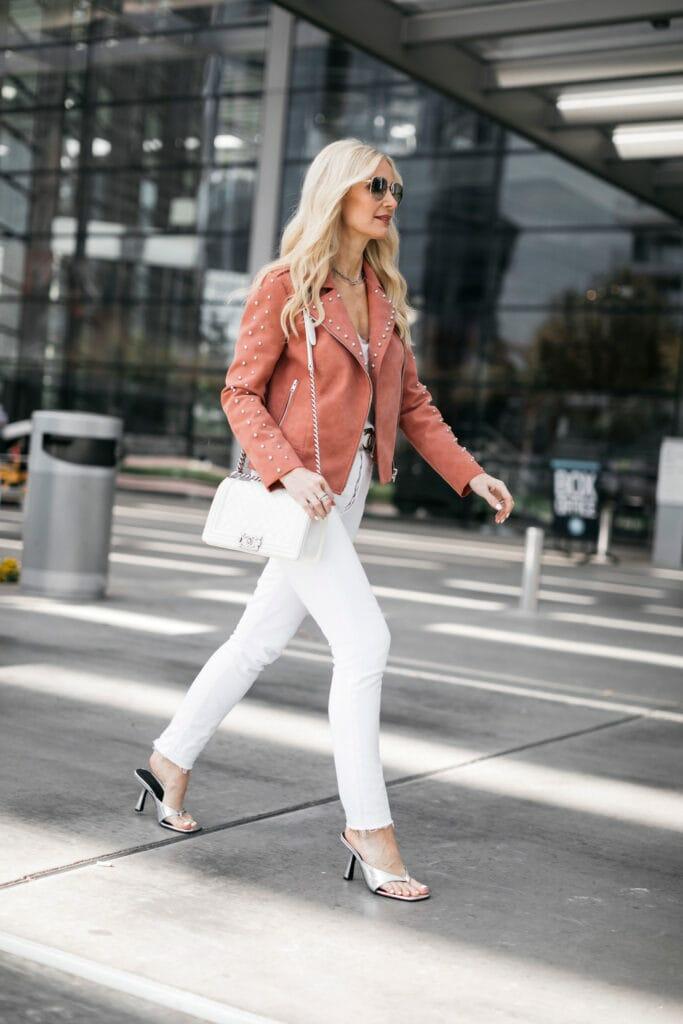 PINK STUDDED MOTO JACKET (WEARING A SIZE XS) // SILVER FOIL TEE (WEARING AN XS) // AGOLDE JEANS (WEARING A SIZE 25) // SILVER HEELS SIMILAR FOR LESS HERE // GUCCI SUNGLASSES // WHITE CHANEL BOY BAG SIMILAR FOR LESS HERE
PROTEIN SMOOTHIE RECIPE: 
1 scoop of  SPROUT LIVING plant-based protein powder
1 scoop of organic cacao powder
1/3 banana
1/4 cup of mixed frozen organic blueberries
1/2 cup of frozen organic spinach
3 ice cubes
1/2 teaspoon of cinnamon – this keeps your blood sugar level
1/2 teaspoon of ginger – this strengthens your immune system among many other benefits
1 teaspoon of chia seeds
1 1/2 – 2 cups of coconut water – hands down the best form of hydration
Combine all of these ingredients in the blender or Nutra-Bullet and mix on high for 60 seconds. Enjoy!:))
Ways to De-Stress