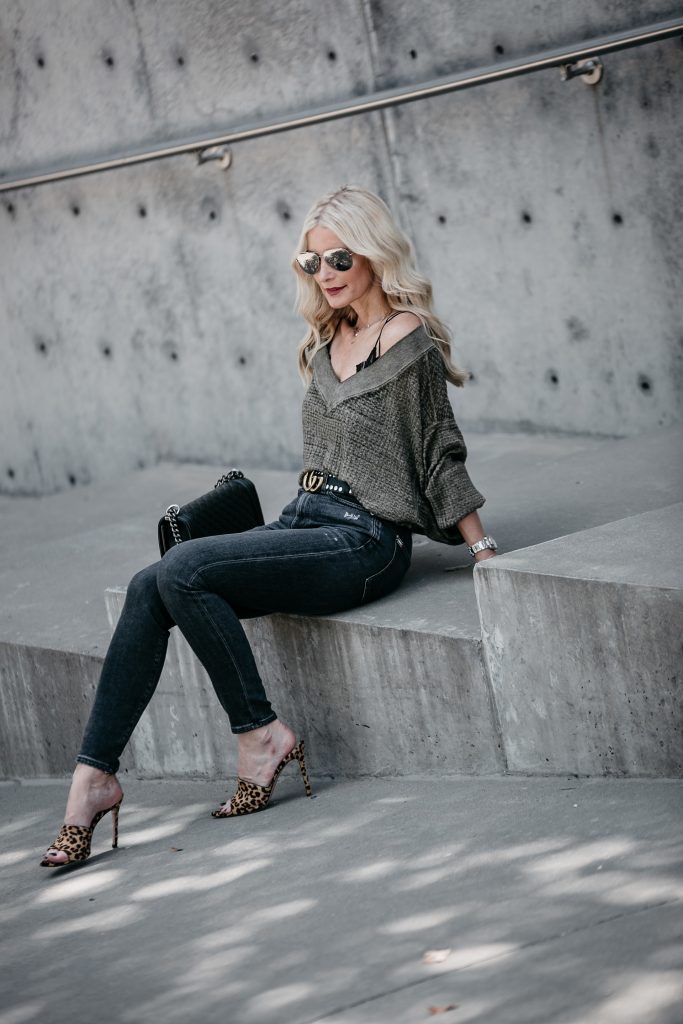 Good morning gorgeous ladies!  My all time favorite color of denim to wear is gray denim!  The reason is because it's so versatile and seems to literally go with everything!  A pair of gray jeans can easily be dressed up or down depending on what your pair with them and worn almost anywhere!  See below for some of my favorite ways to style gray skinny jeans as well as some of my favorite gray jeans. All uber chic and super slimming!
SHOP MY LOOK:

HOW TO STYLE GRAY SKINNY JEANS:
One of my favorite colors to pair with gray denim is army green, well any shade of green really.  I adore this easy and effortless green top by Free People (only $68).  It's super soft and I love the deep v-neck line in the front and back perfect for showing off a sexy lace bralette.  This fabulous top comes in 6 colors and the price can't be beat making it a definite fall must-have!

WITH A CHIC BLAZER:
I love a good blazer and really love one dressed up a bit edgy – think Cate Blanchet in the movie Oceans 8!  One of my go-to looks is a good fitting VELVET blazer, a cool vintage tee, my go-to studded Gucci belt, layered necklaces, and some killer heels.  This look could be worn so many places from drinks with friends, to a casual lunch, and even on a date night.

You can never go wrong styling gray jeans with an amazing leather jacket.  I suggest owning at least one real leather jacket, it's probably my most versatile jacket in my closet so definitely worth the investment!  To add some color try adding a burgundy leather jacket, a leopard tank, and some black heels – this look will take you many places in style!

  Another fun way to style the gray jeans would be super casual with a simple tee, a utility jacket and some really chic sneakers!


LIFE CHANGING LIP STICK COMBO:
I have discovered the best shade of lipstick and one that literally doesn't come off yet it's not too drying!  I've been asked and literally stopped several times by strangers asking me what color I have on.  I can drink wine and have a full meal and my lipstick is still on!  It's the combo of these 2 lipsticks and in this order: 1 – TOM FORD LIP LACQUER IN PUSSY CAT and 2 – GIORGIO ARMANI MATTE LIPSTICK IN COLOR 501 .  This combo makes the most gorgeous medium berry color, so perfect for day and night!

SUPER EASY WAY TO SHOP MY LOOKS:  DOWN LOAD THE LIKETOKNOW.IT APP AND FOLLOW ME ON IT BY CLICKING HERE.
CHECK OUT MY INSTAGRAM SHOP TO SHOP ALL OF MY INSTAGRAM LOOKS.
STAY IN THE KNOW:  Don't forget to sign up for my exclusive News Letter – Sign up by clicking here.
Thank you so much for stopping by today, I truly appreciate all of you!  XOXO, Heather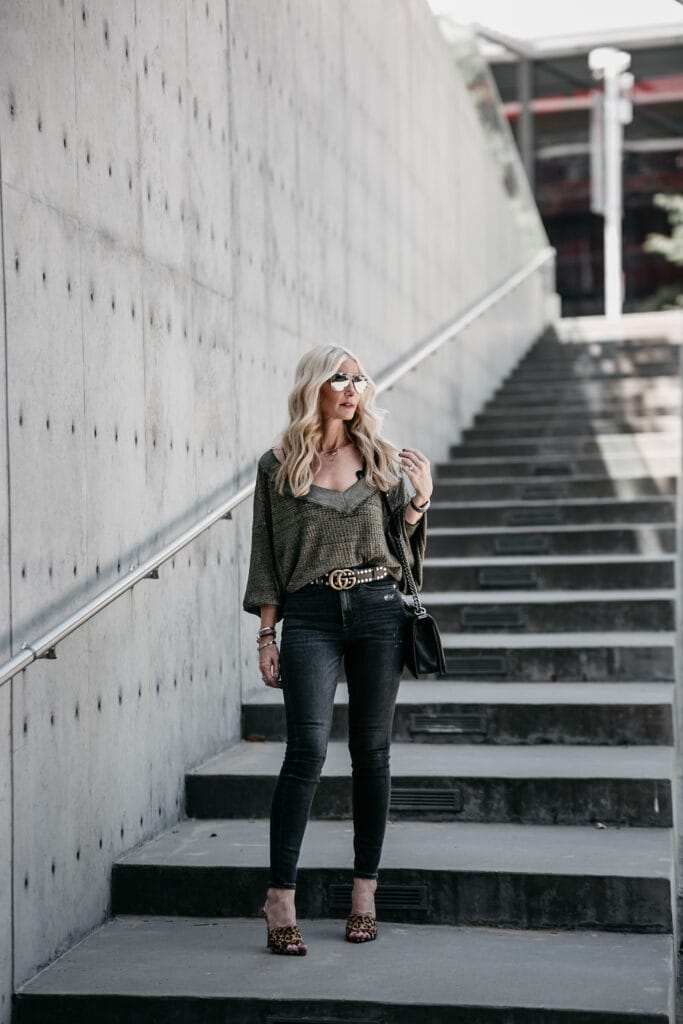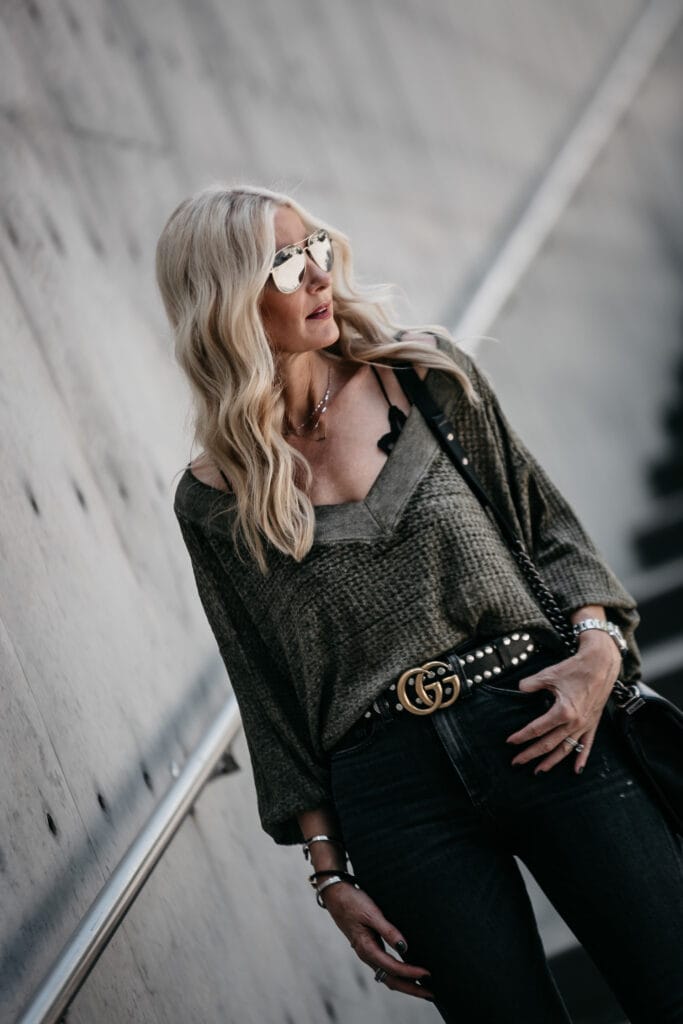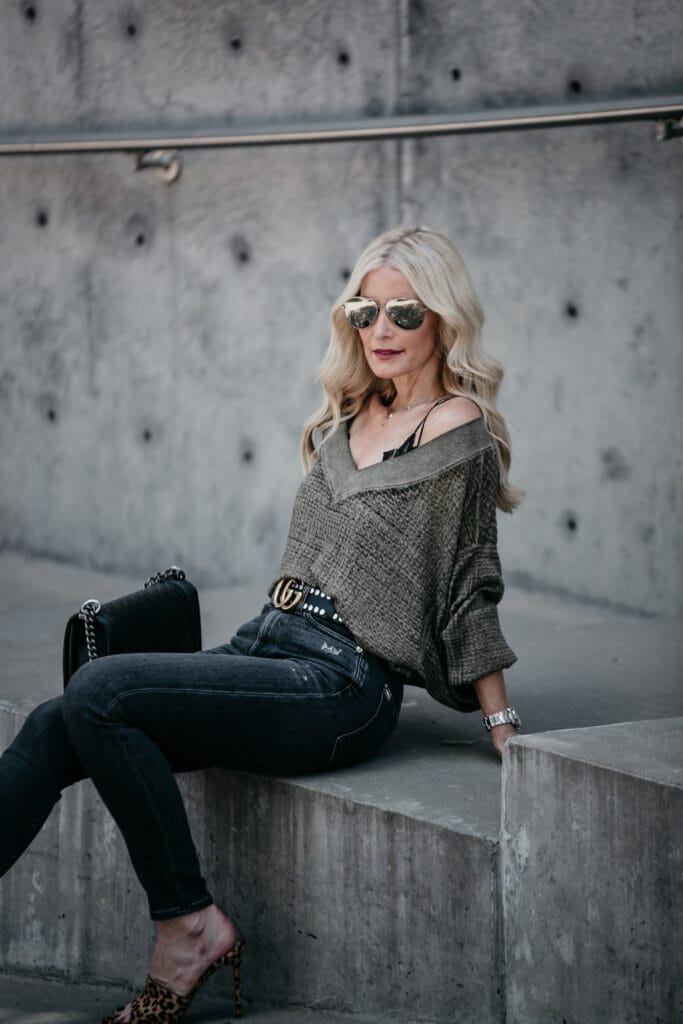 FREE PEOPLE TOP WEARING A SIZE XS // AOLA JEANS WEARING A SIZE XS // FREE PEOPLE BRALETTE // GUCCI STUDDED BELT FOR LESS HERE // LEOPARD HEELS FOR LESS HERE // CHANEL BOY BAG FOR LESS HERE