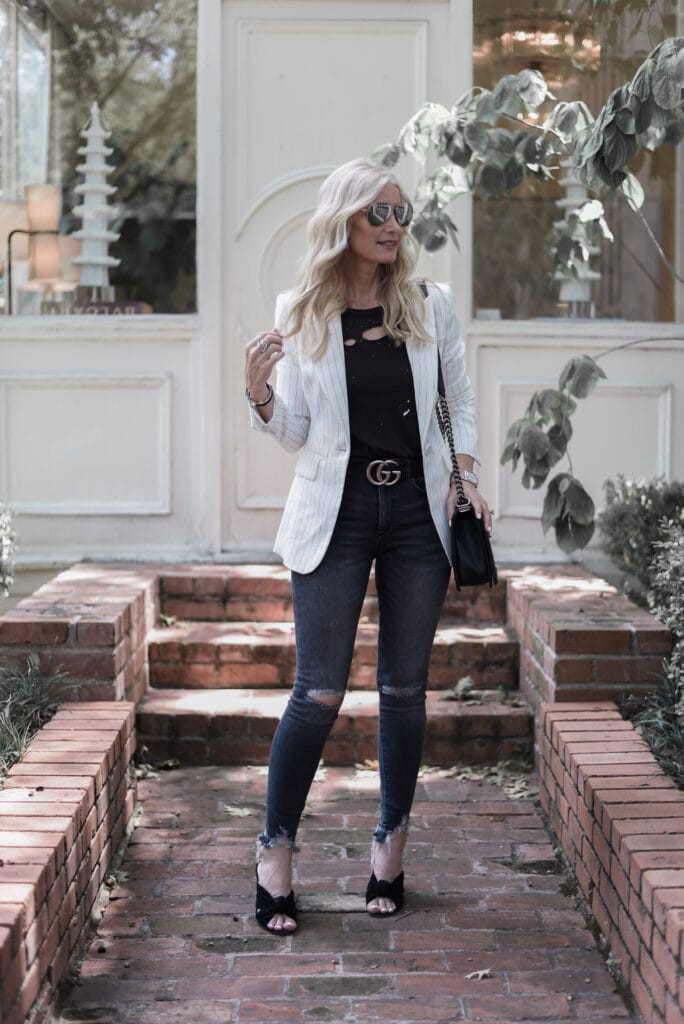 Happy Wednesday friends!
A good white blazer is a definite wardrobe staple!  It can be worn so many places and styled so many ways.  You can wear it to the office, to brunch, on a date night or girl's night out. In today's post I'm going to show you 5 ways to wear this closet staple and share with you the best places to rock one of these chic white blazers.
SHOP LOOK 1: (THIS COOL VINTAGE TEE IS ON SALE FOR UNDER $35!)

WHEN TO WEAR A WHITE BLAZER:
There a tons of places dressy and casual to wear a white blazer.  The most obvious one is to the office, but a white blazer can be worn super casual during the day to run errands too.  You can also wear a white blazer on a date night or girl's night out.  The possibilities are endless because a white blazer is extremely versatile making it a definite wardrobe essential.
HOW TO WEAR A WHITE BLAZER:
TO THE OFFICE:
The way I would style a white blazer for the office would be pairing it with non-ripped jeans, a heel of some sort and a simple silk tank with minimal jewelry.  See look 3 below. 

CHECK OUT MY LATEST POST IN A WHITE BLAZER TITLED: WHAT TO WEAR TO CASUAL FRIDAY TO WORK
TO BRUNCH:
For brunch, try pairing a white blazer with an uber cool pair of ripped jeans and some killer snake skin heels.  See look 5 below.

LATEST BRUCH POST TITLED:  5 LOOKS TO WEAR TO BRUNCH + MY 5 FAVORITE BRUNCH SPOTS IN DALLAS
TO CHURCH:
I've worn my white blazer to church numerous times and I always wear it with non-ripped jeans, a fabulous heel, and minimal jewelry.  See look 3 below.

ON A DATE:
For a date night, I recommend going for a more sexier vibe and pairing the white blazer with an edgy lace tank or cropped top, an amazing heel of course, and some uber cool ripped jeans.  See looks 2 and 4 below.

ON A GIRL'S NIGHT OUT:
For a fun girl's night out I recommend paired the white blazer with ripped jeans, an amazing heel, and a simple tank.  See looks 1 above, and 4 and 5 below.

CASUAL DURING THE DAY:
Styling a white blazer for daytime I would pair it with a cool vintage tee, ripped denim and some comfortable heels or chic sneakers.  See look 1.

WHITE BLAZERS I LOVE ( 3 ARE FEATURED IN THIS POST AND THE FIRST 3 ARE UNDER $100):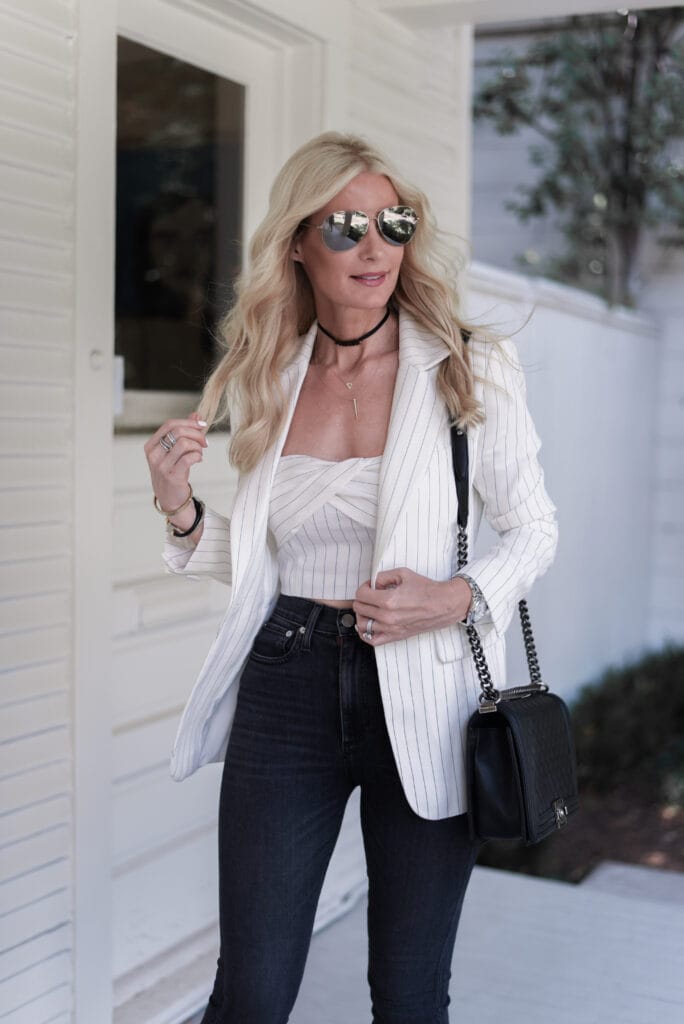 SHOP LOOK 2: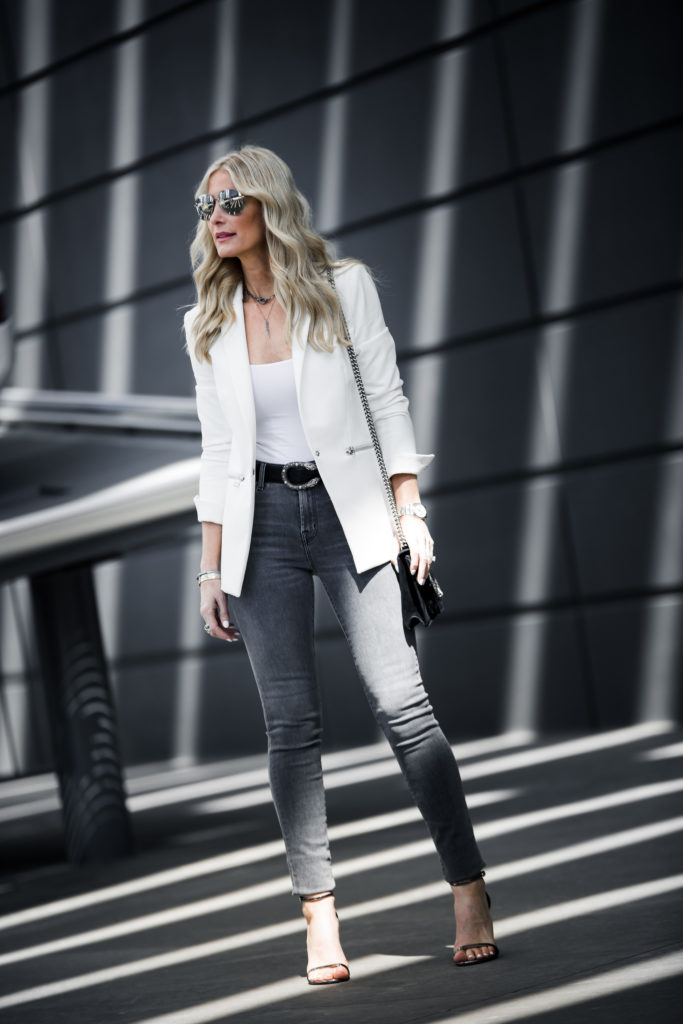 SHOP LOOK 3: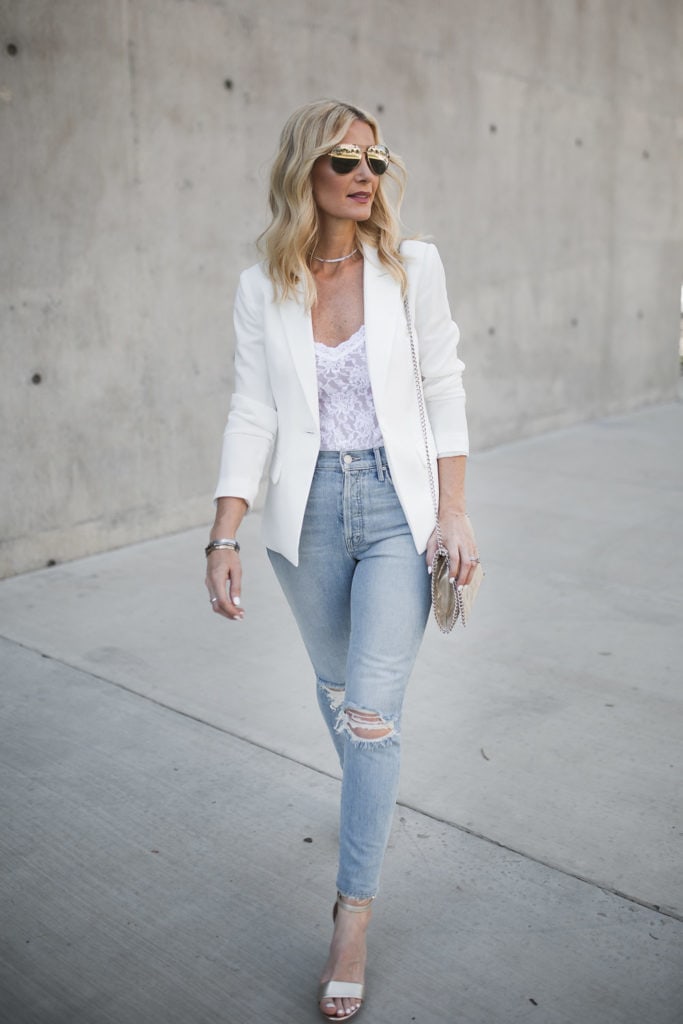 SHOP LOOK 4:

SHOP LOOK 5:

SUPER EASY WAY TO SHOP MY LOOKS:  DOWN LOAD THE LIKETOKNOW.IT APP AND FOLLOW ME ON IT BY CLICKING HERE.
CHECK OUT MY INSTAGRAM SHOP TO SHOP ALL OF MY INSTAGRAM LOOKS.
STAY IN THE KNOW:  Don't forget to sign up for my exclusive News Letter – Sign up by clicking here.
Thank you so much for stopping by today, I truly appreciate all of you!  XOXO, Heather
STAY TUNED FOR MY NORDSTROM ANNIVERSARY SALE POST GOING LIVE REALLY EARLY TOMORROW MORNING!!!  LOTS OF FALL LOOKS ALL ON SALE!!