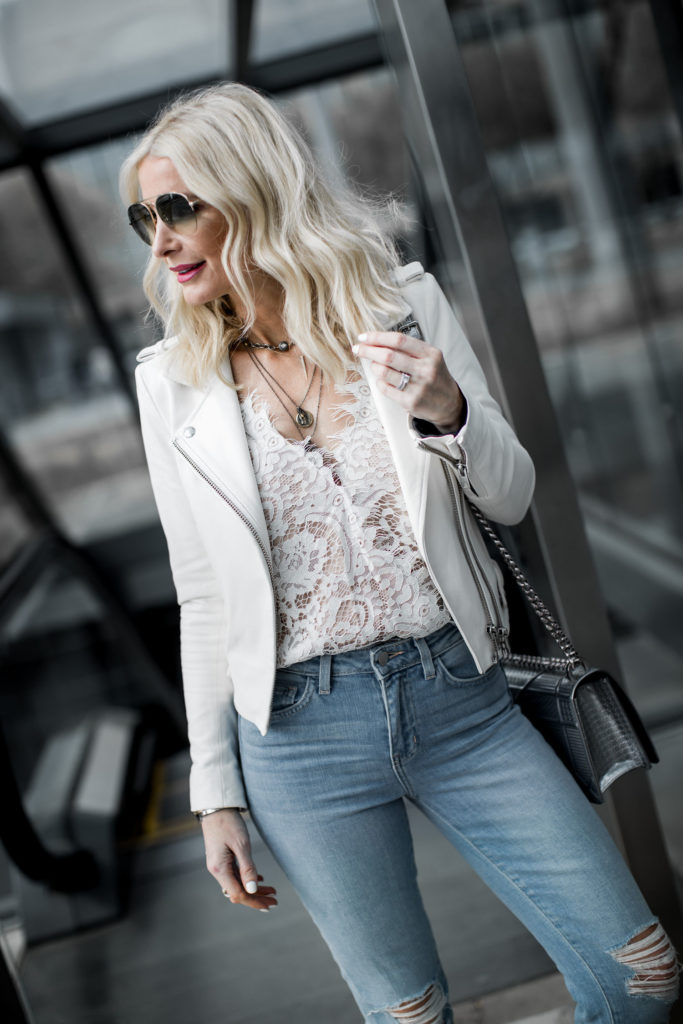 Happy Monday!  I hope all of you are enjoying your week!  I got a request from a very special reader of mine to cover "What to Wear Under Jackets" and since I wear jackets a ton and more importantly if you've been reading my blog for a while now then you probably do too then this topic is perfect!
Every wardrobe needs these 3 types of tops to wear under jackets for both dressy and casual occasions.  It depends on the weather and where you're going as to which style of top you choose.  For dressier looks, I always go with a sexy lace cami or bodysuit like the one I'm wearing in this post, for more casual ensembles you can never go wrong with a simple tee, and finally, for colder days I love layering my favorite jacket over a cashmere sweater or long sleeve tee!  I've broken down my top picks by category at all price points to make shopping for these 3 types of tops super easy so the next time you go to throw on a chic jacket you're sure to have just the right top to wear underneath it!
SHOP MY LOOK: (LACE BODYSUIT IS UNDER $100) CLICK THE IMAGE OF THE PRODUCT BELOW TO SHOP IT

BEST TOPS TO WEAR UNDER JACKETS:
SHOP TEES & TANKS FOR MORE CASUAL LOOKS:

When you're just going to run errands or want to be super casual and comfy on the weekends having a wide variety of basic tees is essential.  I suggest stocking up on the basic colors like white, black, and gray so you'll always have a good go-to tee to layer under a jacket.  My favorite budget-friendly tees and tanks are by Madewell, they're super soft and the price can't be beat – they're literally under $20 so grab a few!  My favorite dressier tees are by Zadig Voltaire because they're all lined in this really cool metallic trim making all their basic tees look not so basic!
SHOP CAMIS & BODYSUITS FOR MORE DRESSY LOOKS:

When you want to amp up your look a few notches for a date night or a fun girl's night out I suggest wearing a sexy cami or bodysuit under your jacket.  My favorite brand of cami is CAMI-NYC hands-down!  They make the prettiest and sexiest camis and all of them are very high quality.  I own the black and white one and wear them a ton under my jackets when I need my look to be more on the dressier side.  Anine Bing also makes a really beautiful cami, I'm really loving the snake print one she just came out with!
As far as bodysuits go, I'm really loving the gorgeous lace one I'm wearing in this post!  It comes in 3 patterns and it's very budget friendly.  I also just got these long sleeved bodysuits in black and white by Free People and I'm obsessed! They have a pretty neckline line and the 3 quarter length sleeve is really nice too!
SHOP LONG SLEEVE TEES,  SWEATERS, AND HOODIES FOR CHILLY DAYS:

Currently, my favorite thing to wear under a jacket when it's cold out is a chic hoodie!  Cool hoodies under jackets have been seen all over Instagram and Pinterest on celebs and mega influencers so they're definitely having a moment! My favorite brand of hoodie to wear under a jacket is Frank and Eileen.  The sleeves on all of their hoodies are long and thin so they fit easily under a jacket, unlike most hoodies which are way too bulky.  They're are a bit pricey, but well worth it because the quality is very high and it will last many seasons!
CHECK OUT ANOTHER POST I DID WEARING A CHIC FRANK AND EILEEN HOODIE ON MY JACKET TITLED: VERONICA BEARD BLAZER REVIEW + COST PER WEAR AND WHY IT MATTERS
NEW DENIM REVIEW:
MY light wash jeans are so perfect for spring and summer!  These jeans are by L'agence which is one of my favorite designers, they make really amazing denim but they also make gorgeous tops and blazers!  These uber chic and slimming jeans are high-waisted of course which means they will make your legs look longer and slimmer, always a plus!  They're very comfortable because the denim is incredibly soft so I would definitely travel in these jeans.  I adore the ankle length raw edge hem which means I didn't have to get them hemmed, they already hit right above the ankle bone which is the most flattering length to wear your denim.  I wrote a full blog post on this very topic titled: BEST JEANS UNDER $300, $200, AND $100 covering this very topic in detail so feel free to check it out.  They do have a bit of stretch to them, but not too much so I would take your regular size, I'm wearing a size 25.
My white leather jacket is by Iro which is my all time favorite leather jacket designer!  The leather literally feels like butter and the fit is impeccable and like no other leather jacket I've ever tried on!  They're a bit pricey but well worth the investment when you consider cost per wear and the fact that this high-quality leather jacket will never go out of style so rest-assured you'll have this timeless and versatile jacket in your closet for many years to come! I live in this white leather jacket all spring and summer long and I'm sure if you decide to get one you will too!  I've also linked one very similar that I love by Cupcakes and Cashmere and it's a fraction of the price.
CHECK OUT ANOTHER POST I DID WEARING THE CUPCAKES AND CASHMERE FAUX LEATHER JACKET TITLED: THE TOP 5 SPRING JACKETS STARTING AT JUST $69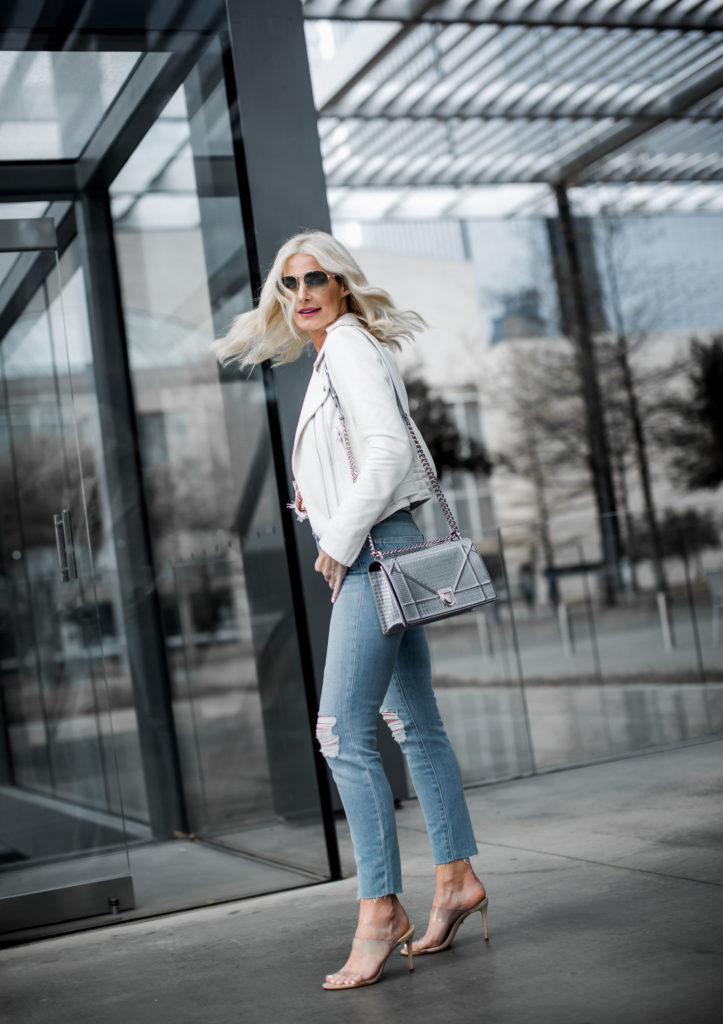 Please feel free to email me at [email protected] if you have any questions or if you have any post ideas for me.  I'm always happy to help with styling or picking out a specific outfit for an event!   Have a fabulous day!!
CHECK OUT MY INSTAGRAM SHOP HERE TO SHOP ALL OF MY INSTAGRAM LOOKS
YOU CAN ALSO DOWNLOAD THE LIKETOKNOW.IT APP AND FOLLOW ME ON IT BY CLICKING HERE.
STAY IN THE KNOW:  Don't forget to sign up for my exclusive News Letter for AMAZING STYLE TIPS, SALE ALERTS, AND MUCH MORE!
Thank you so much for stopping by today, I truly appreciate all of you!
XOXO, Heather
PHOTOGRAPHS BY MARY SUMMERS OF M.A.S. PHOTOGRAPHY
Share the post "THE CHICEST TOPS TO WEAR UNDER JACKETS FOR ALL OCCASIONS + NEW DENIM REVIEW"