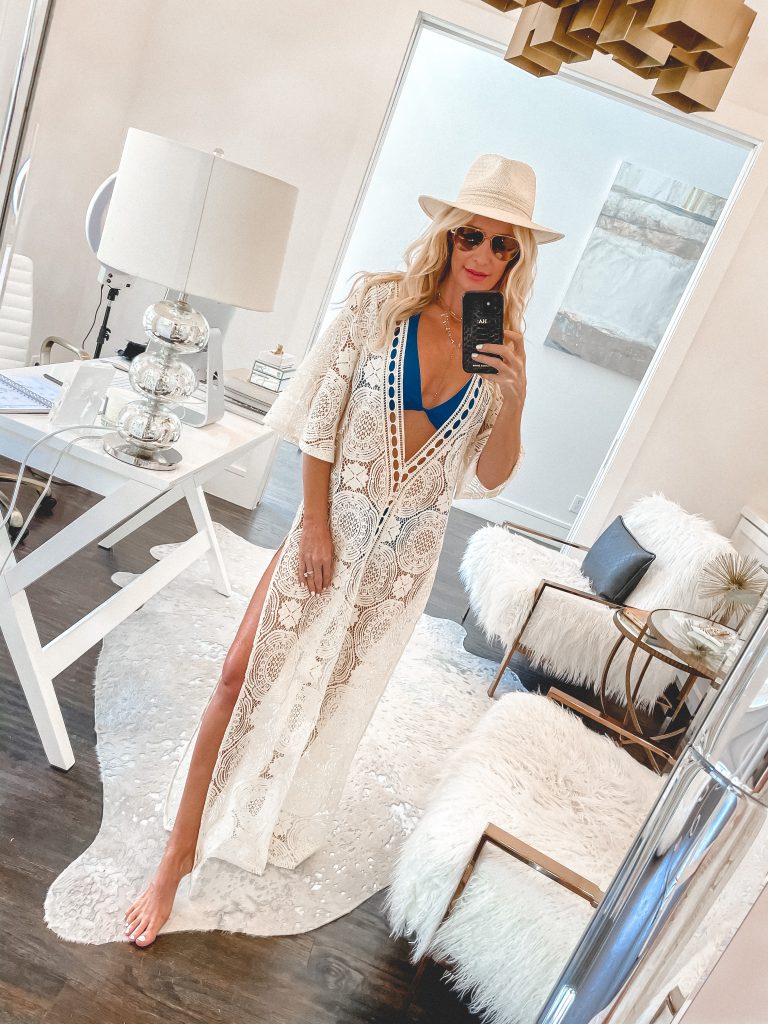 With summer around the corner and warmer temps in the air, that means swimsuit season is quickly approaching!  I believe no matter what your age or your size you deserve to look like the best version of yourself whether your poolside, beachside, or lakeside which is why I've dedicated this entire post to the chicest cover-ups available right now!  I believe that a cover-up not only makes or breaks any swimsuit look but it can instantly take any average swimsuit look to the next level.  More importantly, if being in a bathing suit makes you feel a little uneasy as many of us do then adding a cover-up is a sure-fire way to still feel like the best version of yourself even when you're wearing a swimsuit. Scroll down to check out the best swimwear for women over 40 including 7 of the most incredible cover-ups most of which are super affordable and very comfortable!
SHOP LOOK 1:

SHOP THE CHICEST COVER-UPS:

PRO TIP: I ALWAYS WEAR A HAT WHEN I'M BY THE WATER, IT KEEPS THE SUN OFF OF MY FACE AND I CAN COVER UP MY CRAZY BEACH HAIR!

CHECK OUT MY RECENT YOUTUBE VIDEO TITLED: BEST SWIMSUITS + COVER-UPS FOR WOMEN OVER 40: 
TOP 6 COVER-UPS:
1.)WHITE LACE COVER-UP (UNDER $100):

A white lace cover-up is always a good idea because it's so chic and feminine! This one is my favorite one of the edit because it's so gorgeous with the plunging neckline and feminine style. It's actually almost sold out so you better grab it quick if you love it. Best part? It's under $100 making it super budget-friendly. Since it's almost sold out, I'm linking another one that's similar here that I love just as much! It runs true to size, I'm wearing an XS.
SHOP LOOK 2:

2.) CORAL MAXI COVER-UP (UNDER $100):

As you can see, in most of these looks I'm wearing long maxi cover-ups because that is definitely my favorite length that I find the most flattering. This maxi cover up is another favorite of mine – I love the orange color, however, it comes in a variety of options! Not to mention it's super comfortable and wearable, so it's perfect to take to the pool or the beach. It runs true to size, I'm wearing an XS.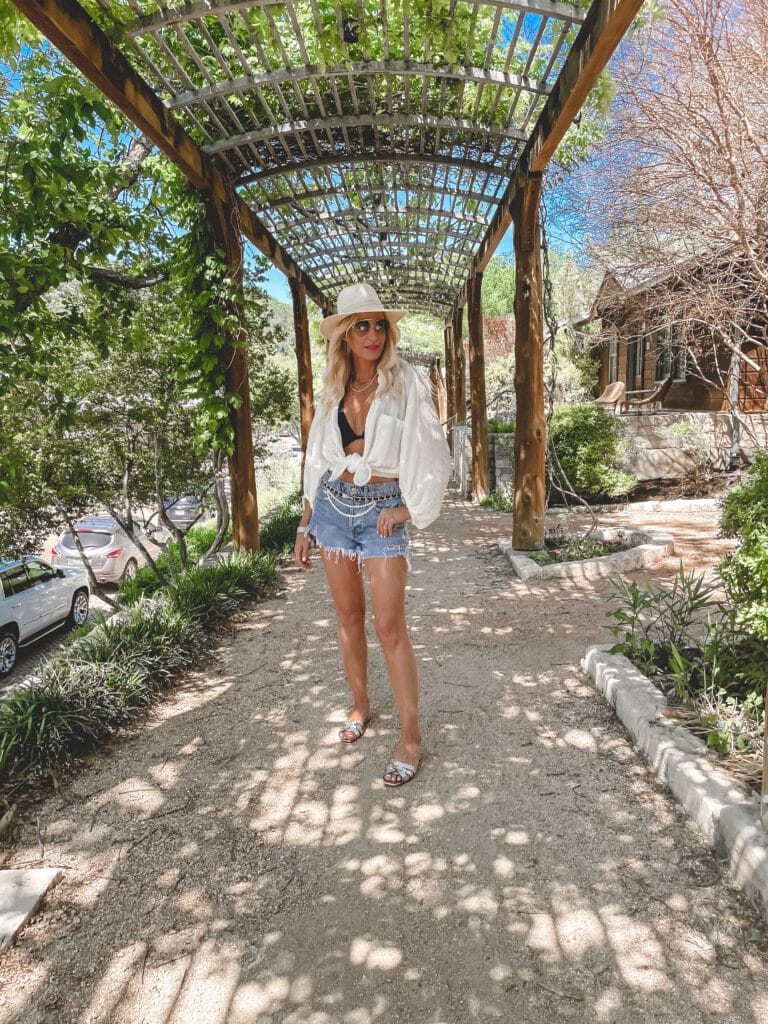 SHOP LOOK 3:

3.) OVER-SIZED WHITE SHIRT COVER-UP (UNDER $50):

Another chic way to look stylish poolside is tying an oversized white shirt at the waist and wearing as a cover-up like I'm doing in this look. The exact shirt I'm wearing is sold out, but I love this under $60 one just as much (make sure to size up one size). I also love this oversized option as well that looks super similar to the one I'm wearing above.
PARKER CUT OFF SHORTS:
When I wear a white button-down shirt as a coverup, I always make sure to pair them with denim shorts because it's a sure-fire way to look amazing at the pool or the beach during the summer. I love these Parker denim cut offs because they're comfortable and age-appropriate for women over 40. I suggest always sizing up in your shorts – I'm wearing a 26 in these.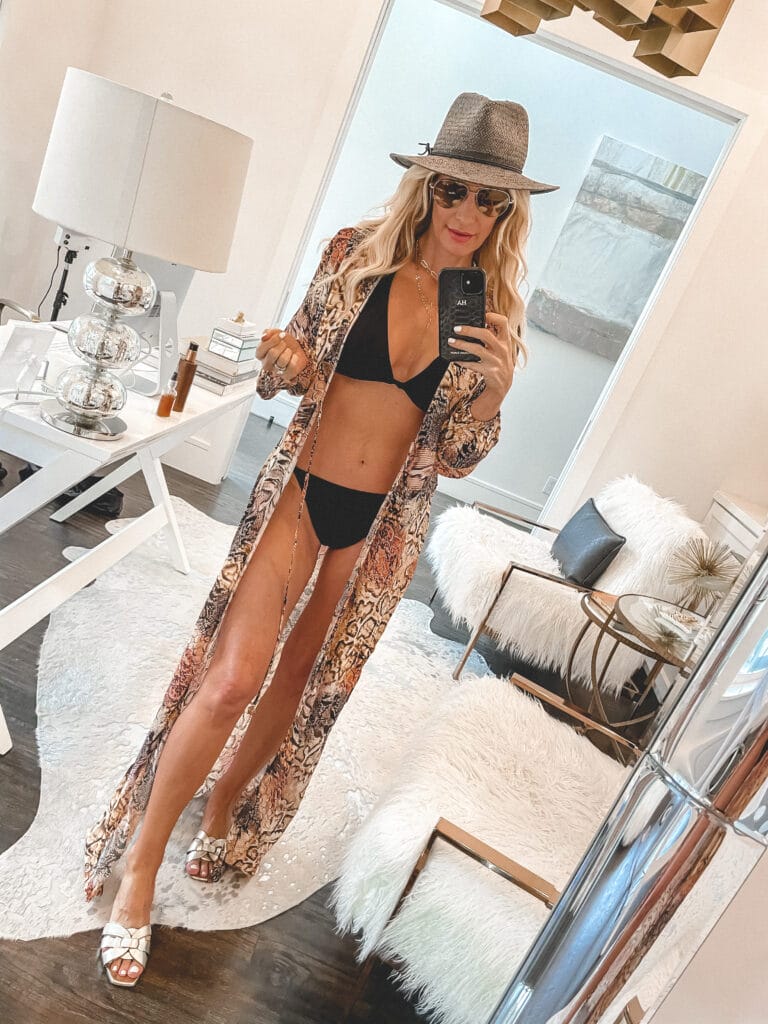 SHOP LOOK 4:

4.) SNAKE PRINT MAXI COVER-UP:

I am obsessed with this gorgeous snake print kimono coverup because the color combo is so pretty and it looks way more expensive than it really is. If you're wanting more coverage, there is a simple way to achieve it by tying it at the waist proving its versatility! This coverup runs true to size, I'm wearing an XS.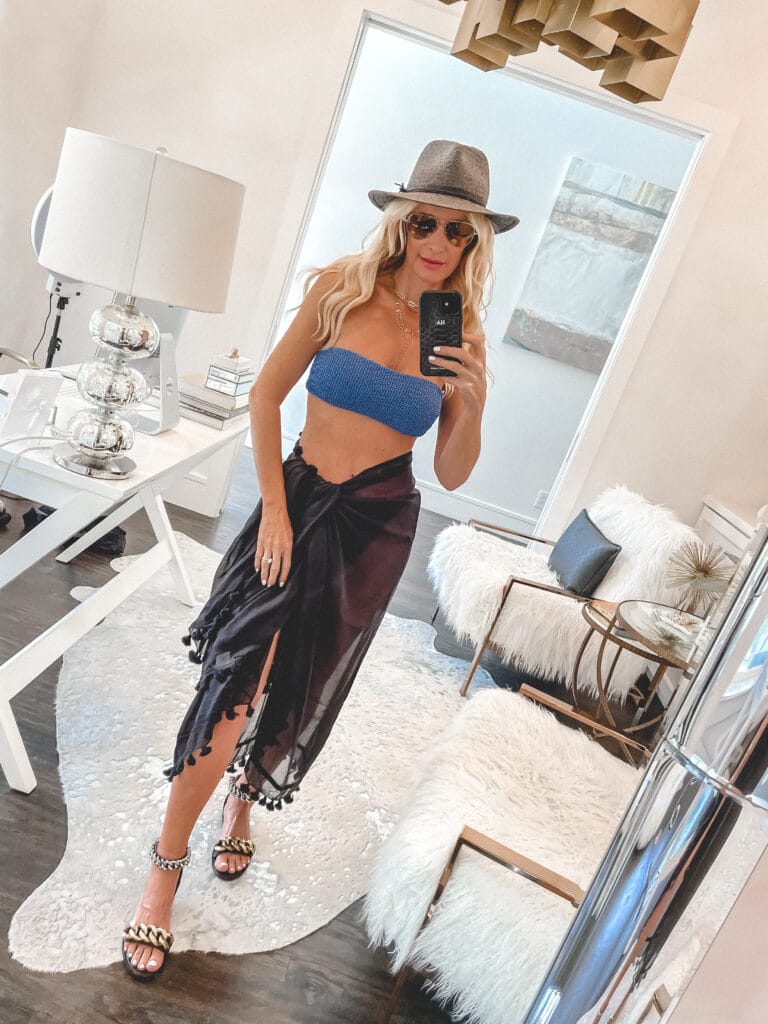 SHOP LOOK 5:

5.) TIE WAIST BLACK COVER-UP (UNDER $100):

The exact skirt that I'm wearing above is sold out, but this one from Revolve is very similar and just as fabulous. I love wearing a high-waisted skirt coverup with a bikini because it provides just the right amount of coverage yet still super chic. This piece is a must-have for any woman during the summer! It runs true to size, I'm wearing an XS.
SHOP LOOK 6:

6.) BLACK MAXI DRESS/COVER-UP (UNDER $100):

I'm obsessed with this simple black coverup that you can also wear as a dress! It's so comfortable and also has pockets which is always a plus. I'll be packing this piece on all of my summer vacations because of its versatility and wearability. It's easy to dress up with a pair of your favorite heels and accessories or down with a pair of sandals. It runs true to size, I'm wearing an XS.
SHOP LOOK 7:

7.) TIE-DYE COVER-UP (UNDER $100):

Last but not least is this super soft and comfy tie-dye coverup that is so gorgeous for summer. Again, I love the kimono style because you can wear it open or tied closed depending on how much skin you're wanting to show. I adore the gorgeous light blue shade, but it also comes in a pretty peach color, too. It runs true to size, I'm wearing an XS.
FEEL FREE TO SUBSCRIBE TO MY NEW YOUTUBE CHANNEL FOR STYLE, BEAUTY, AND FITNESS TIPS TO HELP WOMEN LOOK AND FEEL CONFIDENT
CHECK OUT MY INSTAGRAM SHOP TO SHOP ALL OF MY INSTAGRAM LOOKS
YOU CAN ALSO DOWNLOAD THE LIKETOKNOW.IT APP AND FOLLOW ME ON IT BY CLICKING HERE.
STAY IN THE KNOW:  Don't forget to sign up for my exclusive News Letter for AMAZING STYLE TIPS, SALE ALERTS, AND MUCH MORE!
Thank you so much for stopping by today, I truly appreciate all of you!
XOXO, HEATHER
BEST SWIMWEAR FOR WOMEN OVER 40