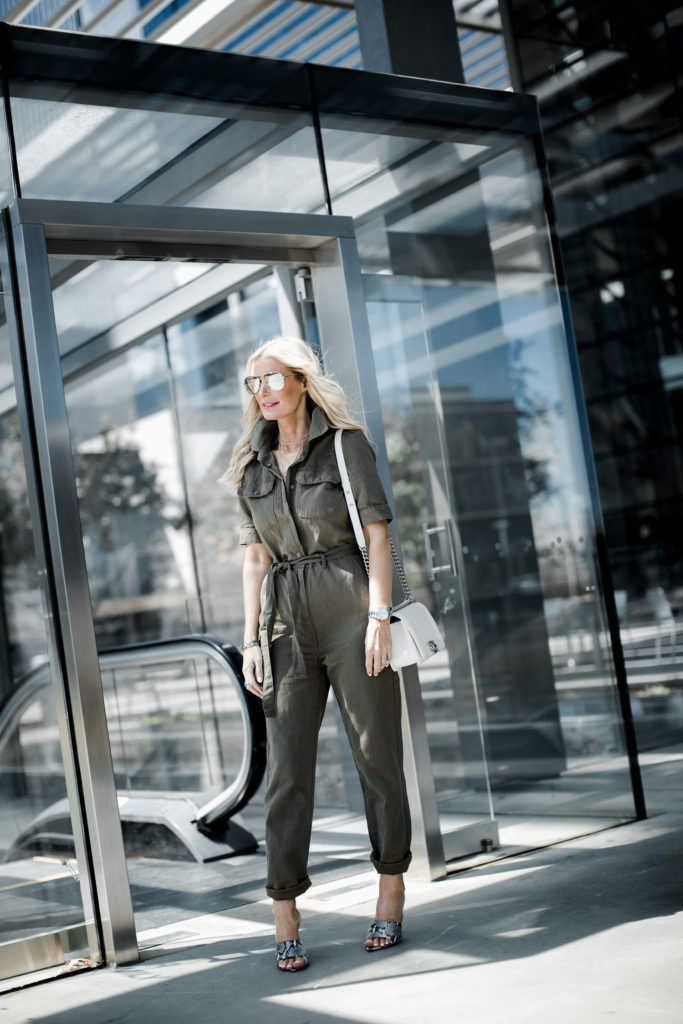 Good morning beauties!  I'm thrilled to be teaming with my favorite department store, Nordstrom, to bring all of you 4 of the best spring trends of 2019!  Nordstrom is always my go-to destination for basics such as denim, heels, and jackets, but it's also an amazing place to find those of-the-moment trend pieces which are always fun to sprinkle into your wardrobe come spring time!  I'm sharing 2 looks representing 2 of my personal favorite trends in each look.  What are some of your favorite spring trends this year?  If you see any spring trend pieces you love below feel free to add them to your cart, I promise your future self will thank you!
SHOP LOOK 1 (THIS JUMPSUIT IS NOW 25% OFF!):

SHOP LOOK 2: 

BEST SPRING TRENDS OF 2019:
1.) UTILITY CHIC:

I've been a lover of this trend for years as it has come and gone many times. This is such an easy trend to incorporate into your wardrobe. From chic army jackets which I'll admit I own way too many of, to effortless army pants, and even edgy camo tees, Nordstrom has the best selections at the most reasonable price points!
My army green jumpsuit by Frame is a perfect representation of this of the moment trend AND IT'S ON SALE!  I love that it's lightweight so it's perfect for when it gets a bit warmer and the belted waistline is super flattering!  I always love wearing jumpsuits because they're so easy to style since you don't have to think of what to pair them other than your shoes and bag.  I love this chic jumpsuit worn with the legs cuffed just above the ankle bone because will make your legs look longer and allow you to show off your favorite heel of the moment!  This jumpsuit runs true to size, I'm wearing a size XS.
2.) SNAKE PRINT:

I've written about this hot trend before as being one of my favorite's and that is still true!  I recommend adding at least one edgy snake print piece to your wardrobe.  Nordstrom has tons of amazing snake print items that are sure to bring any look to the next level of chic!
These snake print heels by Tony Bianco would be the perfect addition to any shoe collection!  Tony Bianco is a really cool shoe brand out of Australia and I'm so glad that Nordstrom is now carrying it!  This fabulous mule style is the most comfortable type of heel to wear since the back and front are open which means they don't confine your foot in any way.  The heel height is 4 inches so these heels are actually pretty comfortable and very wearable for a heel.  I've had these heels for about 2 months and I've already worn them over a dozen times proving their wearability and versatility.  I'm sure if you add these uber chic heels to your spring shoe collection you'll find yourself wearing them a ton!
The snake print heels I've got in look 2 are by Sam Edelman and I really love these!  If you've been reading my blog for a while now then you've probably seen them a few times because I wear them a ton!  I love the block heel because that's the reason these heels are so comfortable.  I can wear these heels all day and my feet never hurt.  I have them in black and nude because the price point is so good!  I highly recommend adding at least one pair of these chic Sam Edelman block heels to your wardrobe, trust me, you'll be glad you did!
3.) PASTELS:

Want a sure fire way to freshen up your wardrobe and make it very springy, add a few pastel pieces to your closet and you've done it!  I love wearing pastel shades in the spring and summer because they compliment all the other spring shades like whites and metallics so well.
This pastel pink cami is from the Topshop selection available at Nordstrom and it's such a pretty shade of pink!  It's the perfect layering cami to wear under any and all of your favorite spring jackets!  The best part, this gorgeous cami is only $35, quite a steal for such a chic top you'll want to wear all the time!  It comes in black too and runs true to size, I'm wearing a size US size 4.
4.) STATEMENT BLAZERS:

Blazers are one of my favorite things to wear period!  I would say they're definitely part of my go-to outfit formula!  That being said, I'm thrilled that statement blazers are a huge trend this season!  Nordstrom definitely has a wide selection of fabulous blazers at all price points to fit every budget!
My white blazer I'm wearing in look 2 is by 1.State and it looks way more expensive in person than it really is.  In fact, it reminds me of the white scuba jacket by Veronica Beard yet it's a fraction of the price!  If you don't already own a white blazer, trust me, you need one!  I literally wear my white blazer a ton in the spring and summer because it goes with so much and a blazer is an easy way to bring any ordinary look to the next level!  I love wearing this blazer with the sleeves pushed up to give it that casual effortless vibe.  It runs true to size, I'm wearing a size XS.
A special thank you to Nordstrom for sponsoring this post!
LOOK 1: FRAME DENIM JUMPSUIT WEARING A SIZE XS // TONY BIANCO SNAKE PRINT MULES // COIN NECKLACE SIMILAR // GOLD CHOKER SIMILAR
LOOK 2: WHITE BLAZER WEARING A SIZE 0 // PINK CAMI // MOTHER JEANS SOLD OUT SIMILAR // SAM EDELMAN HEELS // REBECCA MINKOFF SILVER HANDBAG
Please feel free to email me at heather@soheather.com if you have any questions!  I'm always happy to help with styling or picking out a specific outfit for an event!   Have a fabulous day!!
CHECK OUT MY INSTAGRAM SHOP HERE TO SHOP ALL OF MY INSTAGRAM LOOKS
YOU CAN ALSO DOWNLOAD THE LIKETOKNOW.IT APP AND FOLLOW ME ON IT BY CLICKING HERE.
STAY IN THE KNOW:  Don't forget to sign up for my exclusive News Letter for AMAZING STYLE TIPS, SALE ALERTS, AND MUCH MORE!
Thank you so much for stopping by today, I truly appreciate all of you!
XOXO, Heather