6 WARDROBE BASICS EVERY WOMAN NEEDS + JANUARY'S TOP SELLERS
in Fashion on 09/02/2021
I always love looking back and seeing what items y'all loved the most each month!  This month you guys seemed to love wardrobe staples which is what I talk about a ton on my YouTube channel and here on my blog as you probably know if you're a regular around here (and if you are then I want to say thank you!)  Why you may ask, are focusing on basic wardrobe staples versus trend pieces such a good idea?  Well, if you have a closet made of high-quality basics then you most likely will never have that dreaded feeling of "I have nothing to wear".  I'm pleased to report that 6 of the top-selling items are high-quality basics sure to make getting dressed every single day easier for you!  So, if you want to see all 10 of these chic items and how I styled them then keep scrolling and as always feel free to add anything to your closest along the way.
SHOP THE LOOK (CARDIGAN IS UNDER $100):

CHECK OUT THE VIDEO I CREATED FEATURING THESE 10 ITEMS TITLED: 5 WARDROBE STAPLES EVERY CLASSY WOMAN NEEDS:
JANUARY'S TOP 10 SELLING ITEMS (THE FIRST 6 ARE BASIC WARDROBE STAPLES) :

1. IVORY CARDIGAN:

This gorgeous cardigan is a best seller and one that I wear all the time! It's under $100 making it an amazing price and a gorgeous neutral color that goes with everything. I recently featured this exact cardigan in a video titled: 5 WARDROBE BASICS EVERY CLASSY WOMAN NEEDS. It runs true to size, I'm wearing an XS.
SHOP THE LOOK:

2. VERONICA BEARD SCUBA BLAZER (HIGH-QUALITY BASIC):

This scuba blazer by Veronica Beard is such a classic, high-quality staple that every woman should own. I've talked about this jacket so many times on my page because it's just that good! I love the black, however, it comes in navy and white too. Not to mention it's wrinkle-free making it a perfect travel piece. It runs true to size, I'm wearing a size 0.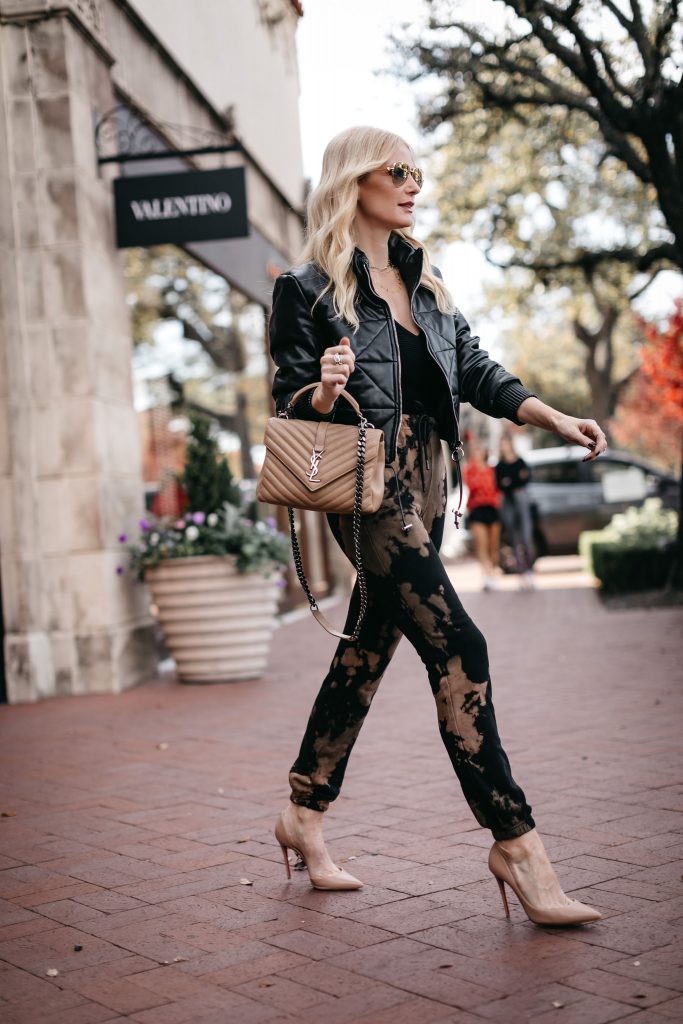 SHOP THE LOOK (JACKET IS UNDER $100):

3.) COTTON CITIZEN JOGGERS:

These are the most flattering joggers ever because they're high-waisted and have a slim cut! I recently featured them in a post titled: TOP FASHION TRENDS IN 2021. If these are out of your budget, no worries, I love these too by Blanknyc that look very similar yet are a fraction of the price. They run true to size, I'm wearing an XS.
SHOP THE LOOK (SHIRT JACKET IS UNDER $50):

4. CAMEL SHIRT JACKET:

I love this under $50 camel shirt jacket I've been wearing all winter long! I love the camel color making it the perfect color to match anything in your wardrobe. It's so good that I recently featured it in my WINTER CAPSULE WARDROBE video and post! It runs true to size, I'm wearing an XS.
SHOP THE LOOK:

5. ATM WHITE TEE (HIGH-QUALITY BASIC):

If you're in the market for a new simple white tee, I swear by this one by ATM! I personally love the v-neck line because it makes it a bit more edgy and tastefully sexy. It's a high-quality tee that will last you a few years at least and it's so comfortable! This piece is one of my most worn tops hands down. It runs true to size, I'm wearing an XS.
6. LEOPARD GOLDEN GOOSE SNEAKERS (HIGH-QUALITY BASIC):

These are some of my all-time favorite sneakers and have been so comfortable from day one!  I've had these for years, and I've literally worn them hundreds of times proving their cost per wear. They might seem like an investment at first, but I guarantee you will love them just as much as I do!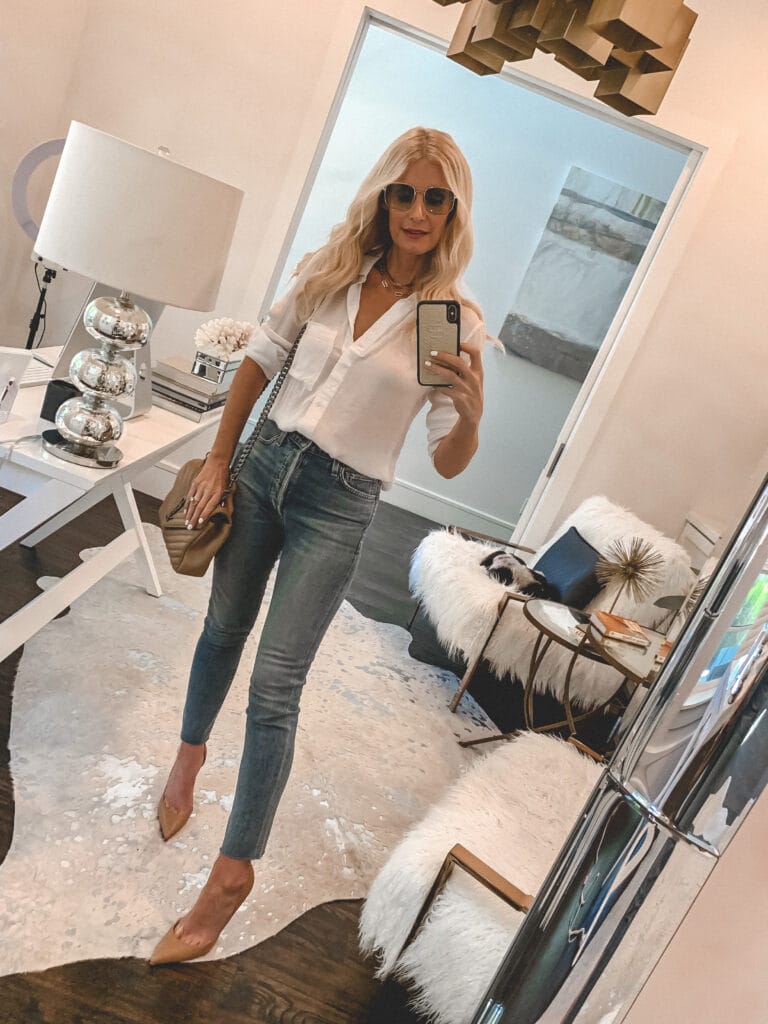 SHOP THE LOOK:

7. WHITE BUTTON-DOWN (HIGH-QUALITY BASIC):

I am obsessed with a good white button-down that's a high-quality basic you can wear basically anywhere! This one comes in black, too, which is just as good. It's lightweight so it's a perfect spring and summer top that I love. Best part? It's under $100 which is an incredible price! It runs true to size, I'm wearing a small.
8. CITIZENS OF HUMANITY MODERN SKINNY JEANS (HIGH-QUALITY BASIC):

These jeans by Citizens of Humanity are modern skinny jeans with a high-waist making them flattering and slimming for any woman. This medium shade is so versatile and can be worn year round making the cost per wear totally worth it. These exact jeans were featured in my BEST DENIM of 2021 video because they're that good. These run true to size, I'm wearing a 24.
SHOP THE LOOK:

9. BROWN HOODIE:

I'm totally in love with this brown hoodie – so comfortable and cute for workouts or running errands casually on the weekends. I wear wear it with high-waisted leggings or jeans or layer a tank underneath so my mid-drift doesn't show. It's under $50 and comes in 4 different colors. It runs a bit small, so I recommend sizing up one size – I'm wearing a small.
SHOP THE LOOK (SWEATER IS UNDER $60):

10. CASHMERE SWEATER: (HIGH-QUALITY BASIC):

This is one of my favorite real cashmere sweaters and it just so happens to be on major sale for under $60! That's a huge steal for a true cashmere piece. It comes in tons of colors and is crazy soft and cozy! It was actually my most worn sweater in the fall and winter. It runs true to size, I'm wearing an XS.
TOP 10 SELLING ITEMS:

FEEL FREE TO SUBSCRIBE TO MY NEW YOUTUBE CHANNEL FOR STYLE, BEAUTY, AND FITNESS TIPS TO HELP WOMEN LOOK AND FEEL CONFIDENT
CHECK OUT MY INSTAGRAM SHOP TO SHOP ALL OF MY INSTAGRAM LOOKS
YOU CAN ALSO DOWNLOAD THE LIKETOKNOW.IT APP AND FOLLOW ME ON IT BY CLICKING HERE.
STAY IN THE KNOW:  Don't forget to sign up for my exclusive News Letter for AMAZING STYLE TIPS, SALE ALERTS, AND MUCH MORE!
Thank you so much for stopping by today, I truly appreciate all of you!
XOXO, HEATHER
BASIC WARDROBE STAPLES
My mission is to empower women to look and feel confident. I hope through the different looks I create that I am able to inspire YOU to express yourself in a way that makes YOU feel good – on the inside and on the out. If you wear what you love and what you feel your best in your confidence will shine through and that is the best accessory a woman can wear! Every woman deserves to look and feel like the best versions of themselves, no matter what their age!

beauty

chic-at-every-age

fashion

fitness

lifestyle

travel

videos