A POST + A YOUTUBE VIDEO SHARING THE TOP 10 FALL TRENDS OF 2019
in Fashion on 04/09/2019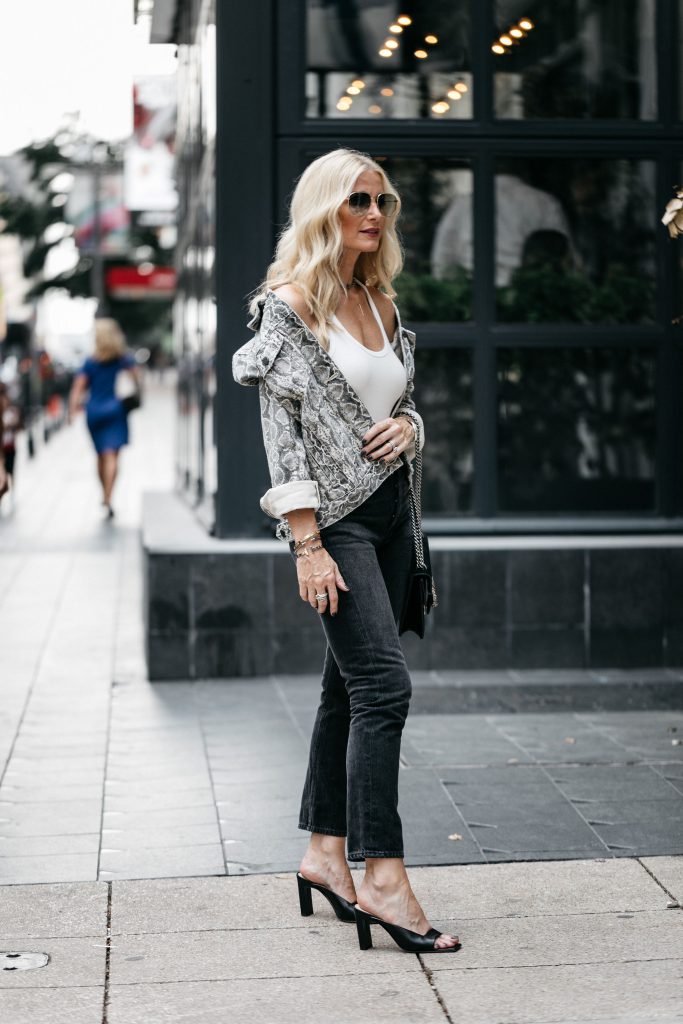 Happy Wednesday ladies!  Now is the time to start thinking about what fabulous fall pieces you want and need to add to your fall wardrobe.  I honestly can't believe fall is almost here, but I'll have to say I'm really happy because fall is one of my favorite seasons!  I love wearing jackets, jeans, chunky sweaters, tall boots and of course faux fur!!  After spending some time in Paris with my Mom recently and attending numerous fashion shows and of course getting tons of fashion inspo on IG from some of my fellow influencers I've seen plenty of the hottest fall trends.  I've handpicked my 10 favorite fall trends plus I'm picking a few of my favorite pieces from each category sure to help your fall wardrobe feel a little more complete!
SHOP MY LOOK: (I'M WEARING 3 OF FALL'S HOTTEST TRENDS – CAN YOU GUESS WHICH ONES)?

TOP 1O FALL TRENDS FOR 2019:
1.) ANIMAL PRINT:
One of my personal favorite fall trends: ANIMAL PRINT!  We're seeing tons of leopard and snake print and I'll have to admit I'm a huge fan of both.  I don't wear prints very often, but when I do you can bet it will be a chic animal print.  I love this snake print denim jacket I'm wearing in this post!  It's under $100 and trust me when I say it looks way more expensive than that in real life.  Pair it with black straight leg jeans for a chic fall ensemble sure to get a few compliments!
SHOP MY TOP ANIMAL PRINT PIECES:

2.) LEATHER:
I'm obsessed with leather, whether that be leather jackets, skirts, tops, and even pants!  Anyone else a huge fan of leather?  We've been seeing tons of leather on leather in both faux and real so you don't have to break the bank to add this cool-girl trend to your wardrobe.  Case in point – this super chic faux leather jacket I'm wearing below which had the coolest gold-toned hardware is only $98, yes you heard that right so go grab one quick before it sells out!  This fabulous jacket runs true to size, I'm wearing an XS.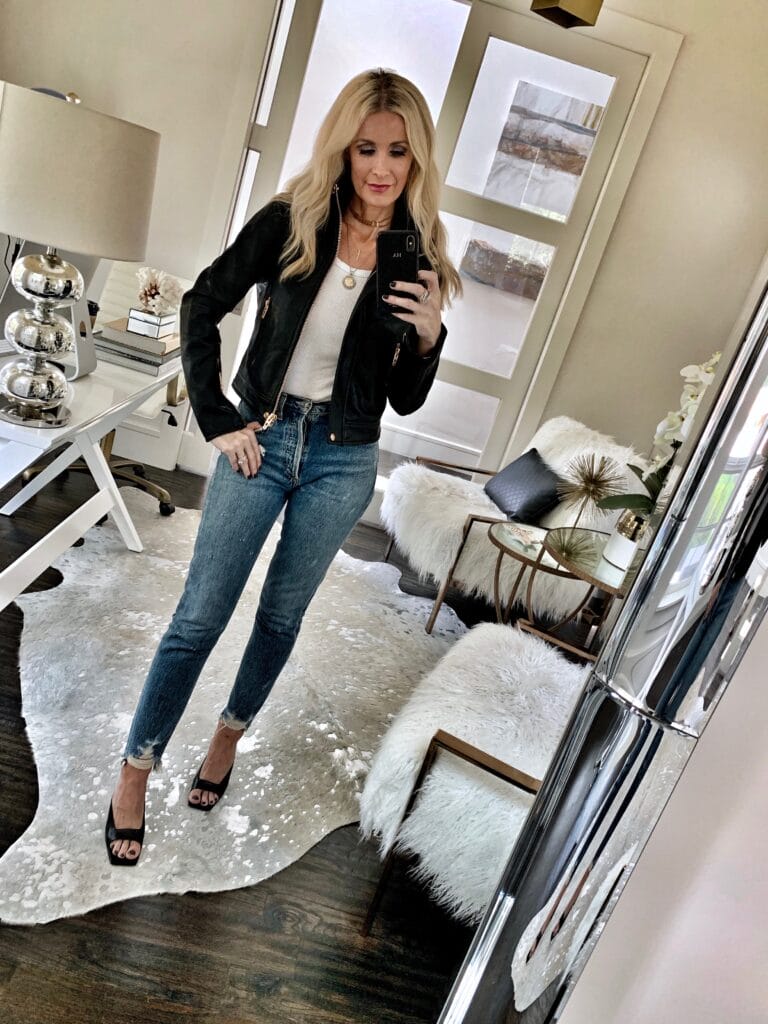 SHOP MY TOP LEATHER PICKS:

3.) SQUARE TOE HEELS:
Square toe heels are being seen everywhere on tons of celebs and mega influencers and I'm obsessed with the ones I'm wearing which are from Netaporter.  They're so comfortable because the heel height is very reasonable and I love the slender block heel!  I know I'll be wearing these fashion-forward square toe heels all season long and I'm sure you will be too if you decide to add some to your shoe collection!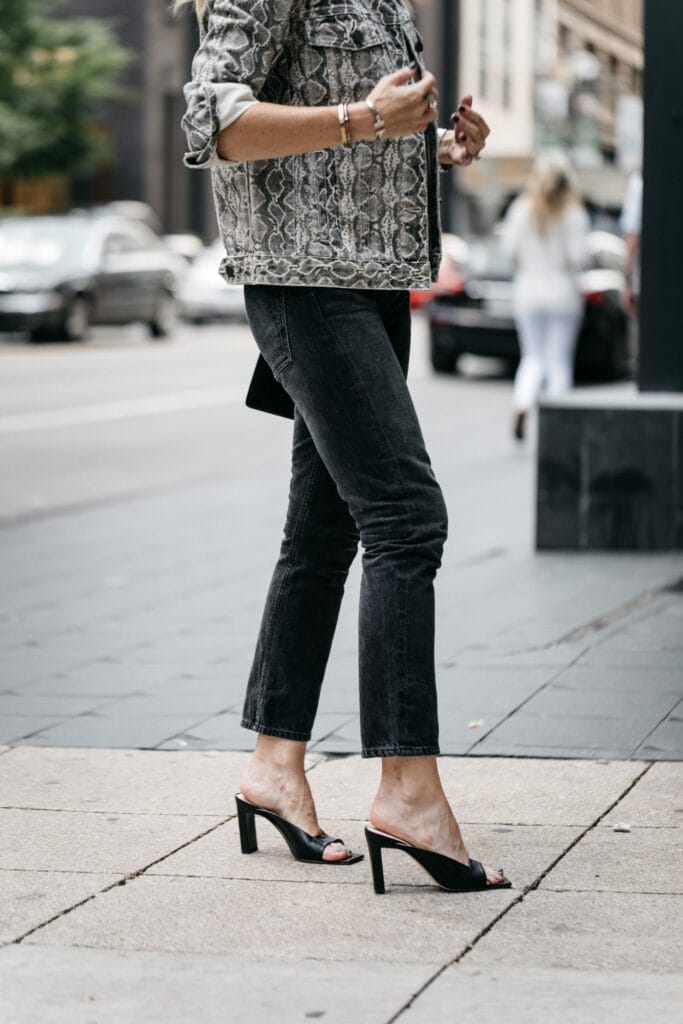 SHOP THE HEELS PLUS SOME OTHERS AT ALL PRICE POINTS:

4.) NEUTRALS:
Mixing neutral tones is a sure-fire way to chic and polished!  Neutrals and beiges are everywhere on the fashion runways and I saw these tones a ton while I was in Paris.  So when in doubt, go neutral because you literally can't go wrong when wearing neutral tones!
SHOP MY TOP NEUTRAL PICKS:

5.) HIGH-WAISTED STRAIGHT LEG DENIM:
This certainly isn't a new denim trend, but it is one that is becoming more and more popular and I'm a huge lover of this type of denim!  It makes your legs look longer and it makes you look taller and thinner, need I say more?!  I love the vintage-inspired ones I'm wearing below and the best part, I found them 30% off!!  They run true to size, I'm wearing a size 25.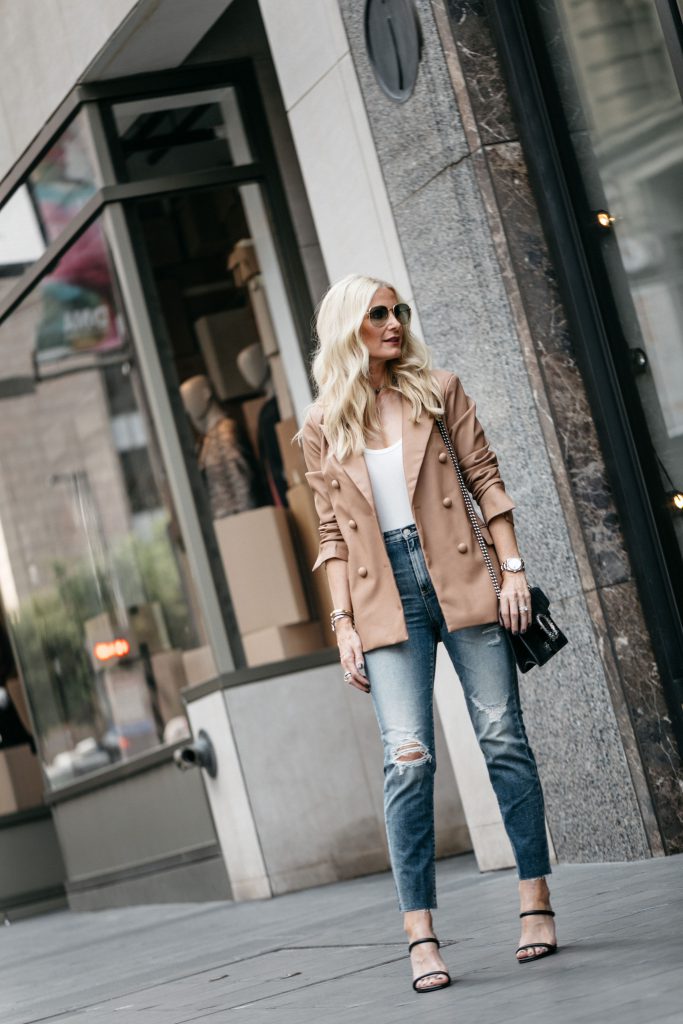 SHOP MY HIGH-RISE STRAIGHT LEG DENIM PICKS:

6.) LONG JACKETS/COATS:
Nothing makes a statement more than a chic and effortless long duster or coat!  Just keep everything else form-fitting underneath so it doesn't end up overwhelming you as I did in this look below.  The exact snake print duster is sold, but don't worry, I've linked some of my faves for every budget below!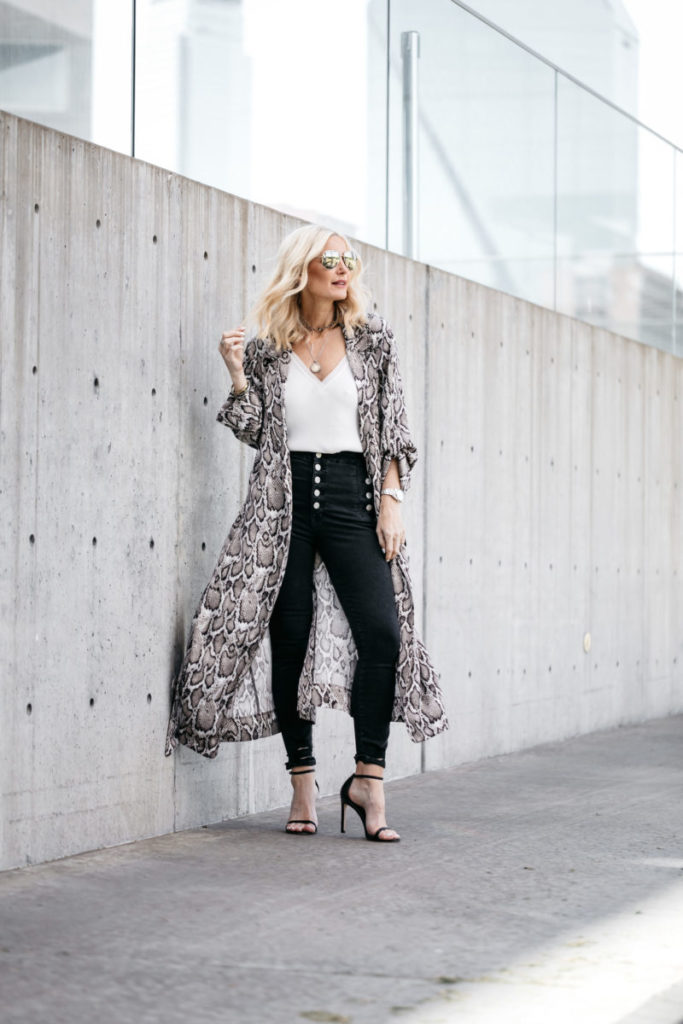 SHOP MY FAVORITE LONG COATS AND DUSTERS:

7.) 80'S INSPIRED JACKETS:
Ok, I saw these everywhere in Paris and I'm really loving this modern cut!  It has shoulder pads, yes I know that seems crazy but shoulder pads actually make your waist appear smaller because they make your shoulders appear broader which is always a plus.  The jacket I'm wearing I just got on Revolve and I wore it all over Paris and got so many compliments on it!  It looks amazing with denim of course, but I also wore it over a slip dress and with cut-offs proving its wearability.  This fashion-forward cool-girl jacket comes in 3 colors and runs true to size, I'm wearing an XS.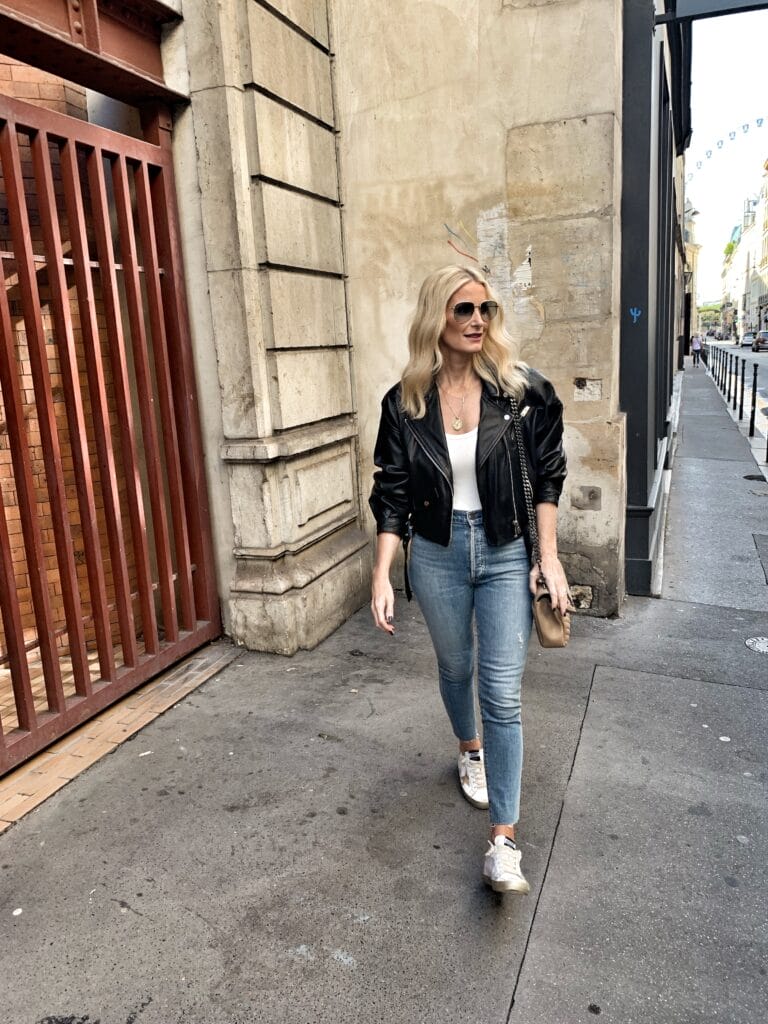 SHOP THIS LOOK:

8.) SUITING:
We are seeing tons of suiting this fall and it's a very polished and sophisticated trend that I'm really loving!  I love wearing the jacket and pants together as a suit as a statement look as I did in this look below but I also love wearing these pieces separately to create more looks making investing in this suit more practical.  I've worn this blazer with black jeans and a white tee and I wore the pants the other night on a date night with the black leather jacket above.  This head-turning suit runs true to size, I'm wearing a size 0 in both pieces.
SHOP THIS LOOK:

CHECK OUT MY FULL BLOG POST WEARING THIS SUIT TITLED: BEST GIRLS' DAY EVER WITH NEIMAN MARCUS
9.) SATIN:
I love satin, it lays beautifully on the body and it's typically wrinkle-free. Whether you choose to grab a satin cami, a satin jacket, or some sleek satin pants, if you wear satin this fall you will definitely be on-trend!!  I love this satin jacket I just got from Nordstrom, it's wrinkle-free and under $100 making it quite a steal and a definite must-have!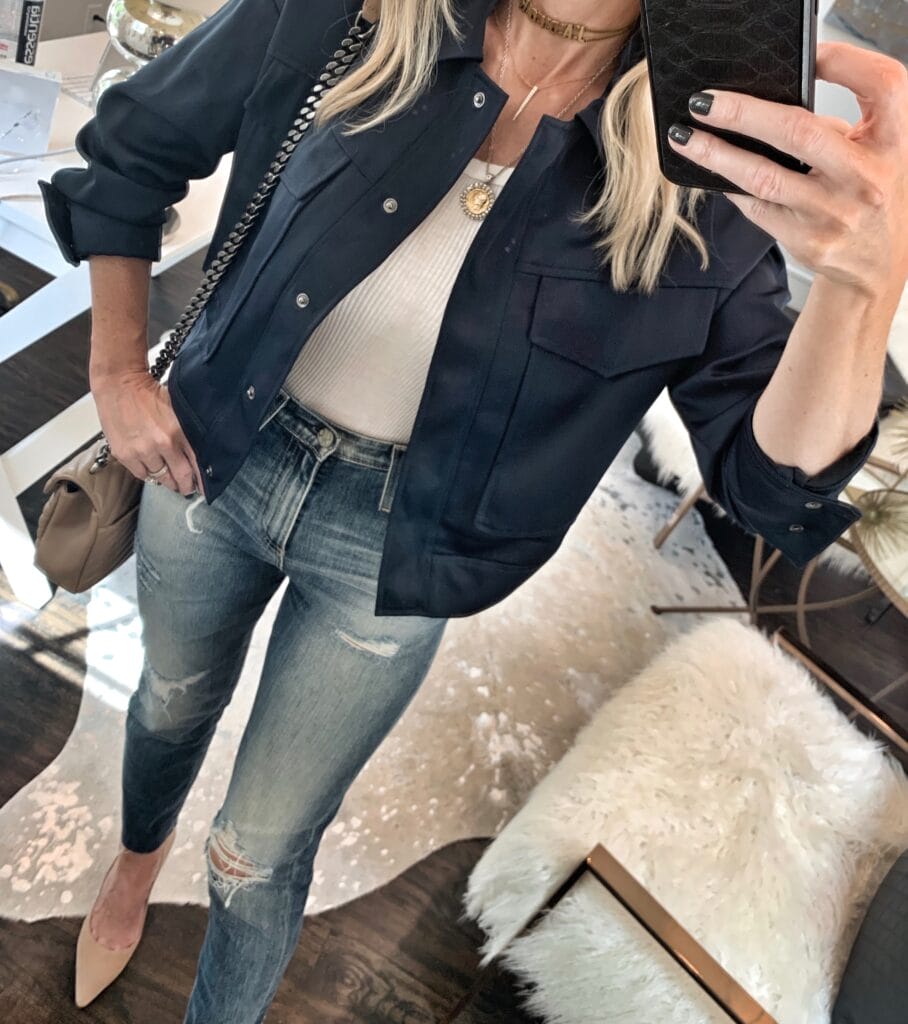 SHOP THIS LOOK:

10.) GOLD/METALLICS:
Gold and metallics shades are literally everywhere and they're the perfect thing to add to your wardrobe to glam it up a bit!  I personally love a chic metallic jacket paired with denim or leather pants for the perfect fall ensemble sure to take you many places in style!
SHOP MY FAVORITE METALLIC PIECES:

FEEL FREE TO SUBSCRIBE TO MY NEW YOUTUBE CHANNEL FOR STYLE, BEAUTY, AND FITNESS TIPS TO HELP WOMEN LOOK AND FEEL CONFIDENT
CHECK OUT MY INSTAGRAM SHOP TO SHOP ALL OF MY INSTAGRAM LOOKS
YOU CAN ALSO DOWNLOAD THE LIKETOKNOW.IT APP AND FOLLOW ME ON IT BY CLICKING HERE.
STAY IN THE KNOW:  Don't forget to sign up for my exclusive News Letter for AMAZING STYLE TIPS, SALE ALERTS, AND MUCH MORE!
Thank you so much for stopping by today, I truly appreciate all of you!
XOXO, Heather
My mission is to empower women to look and feel confident. I hope through the different looks I create that I am able to inspire YOU to express yourself in a way that makes YOU feel good – on the inside and on the out. If you wear what you love and what you feel your best in your confidence will shine through and that is the best accessory a woman can wear! Every woman deserves to look and feel like the best versions of themselves, no matter what their age!

beauty

chic-at-every-age

fashion

fitness

lifestyle

travel

videos