It's that time again, our CHIC AT EVERY AGE series and we're all incredibly excited to be partnering with the Neiman Marcus in Fort Worth!
Natalie Keinan of THE FASHION HOUR  // Samantha Stewart of  STYLE OF SAM // Cathy Williamson of  THE MIDDLE PAGE
SHOP MY LOOK:

We had the most amazing girl's day EVER last week at the gorgeous Neiman Marcus store located in Fort Worth.  If you've never been to this Neiman Marcus it's definitely worth a trip!  It's not only filled with the most exquisite and fashion-forward merchandise, but the store is full of the most stunning white marble everywhere you look!
Our fun girls day started out in the fabulous restaurant inside of Neiman Marcus which is located on the second floor.  This restaurant is not only gorgeous, but the food is to die for and the service is impeccable!  They had a table set for 16 of us and on the table were the most beautiful floral arrangements I think I've ever seen!  They have amazingly delicious salads, sandwiches, and of course the most decadent desserts, my most favorite part of any meal, lol!  If you're looking for a new amazing place to grab lunch with some girlfriends this restaurant would be the perfect spot!
We all got to enjoy facials which were by the way so relaxing and my skin felt so nourished and moisturized!  I didn't realize that Neiman Marcus had a full-service spa inside of it, did you?  The woman who gave me my facial worked for the skincare line, Sisley, which is an amazing line made in Italy.  She was very well informed about every product and told me exactly what type of products I needed for my specific skin type.  I was very pleased with my facial and my skin never looked better!  It prepared me perfectly for our next treat of the day:  a makeover!
I got my make up done at the Chanel counter and was pleasantly surprised with all of the new colors that had come out for summer!  My favorite product that they used on me was something new they just came out with which is called LES BEIGES WATER TINT.  It's basically a very lightweight face tint you can wear under or over your foundation and it gives your skin the perfect glowy due!
Of course, we couldn't help but do some shopping while we were there!  I always love admiring the mannikins when I'm in Neiman Marcus and I can always count on them to have the most fashion-forward and on-trend pieces!
If you're looking for an amazing place to have your next girls day out, I highly recommend Neiman Marcus for a fun day filled with shopping, relaxing, pampering, and so much more!
I'm part of their incredible IN CIRCLE PROGRAM and if you love to shop at Neiman Marcus you should be too!  It's basically a program that rewards you with perks such as gift cards to the spa, restaurant, for valet parking, and even gift cards to buy merchandise with!  They keep track of how much you spend so basically for every dollar you spend using your NM credit card you get 2 IN CIRCLE points.  You can check out the different levels of IN CIRCLE they have along with all the outstanding benefits and perks by clicking HERE.   Basically, the more you spend, the more you're rewarded!  The only thing you have to do to become a member is to get a Neiman Marcus Credit Card.  I've had mine for over 20 years now and I don't know how I would live without it!  You can apply for their card by clicking HERE.
OUTFIT DETAILS:
My chic snake print suit is of course from Neiman Marcus and the moment I laid eyes on it I knew it had to be mine!  The jacket and pants are made of very high-quality wrinkle-free material and they fit like a glove!  I love wearing them together to create a statement, but I'll also be wearing them separately to create a more casual ensemble.  I wore the blazer the other day to dinner with a simple white tee and black denim and got so many compliments on it!  This snake print blazer and pants would be a great addition to any fall wardrobe and is guaranteed to take you many places in style!  They both run true to size, I'm wearing a size 0 in the blazer and the pants.
A very special thank you to Neiman Marcus for sponsoring this post.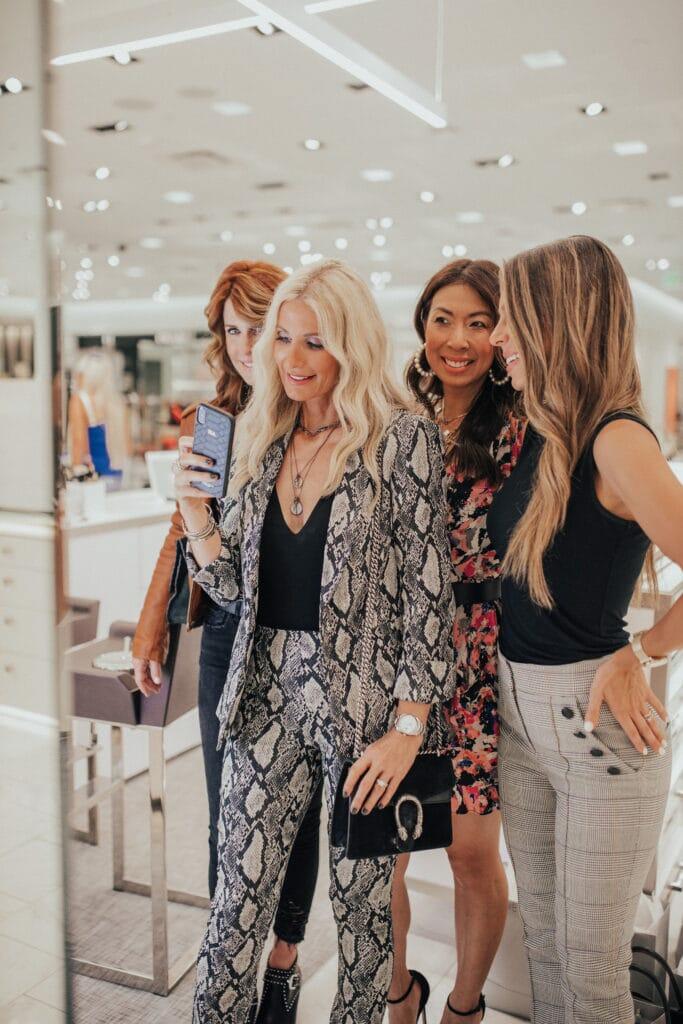 ALICE AND OLIVIA BLAZER WEARING A SIZE 0 // ALICE AND OLIVIA PANTS WEARING A SIZE 0 // STUART WEITZMAN HEELS // GUCCI HANDBAG // GUCCI SUNGLASSES
FEEL FREE TO SUBSCRIBE TO MY NEW YOUTUBE CHANNEL FOR STYLE, BEAUTY, AND FITNESS TIPS TO HELP WOMEN LOOK AND FEEL CONFIDENT
CHECK OUT MY INSTAGRAM SHOP TO SHOP ALL OF MY INSTAGRAM LOOKS
YOU CAN ALSO DOWNLOAD THE LIKETOKNOW.IT APP AND FOLLOW ME ON IT BY CLICKING HERE.
STAY IN THE KNOW:  Don't forget to sign up for my exclusive News Letter for AMAZING STYLE TIPS, SALE ALERTS, AND MUCH MORE!
Thank you so much for stopping by today, I truly appreciate all of you!
XOXO, Heather
My mission is to empower women to look and feel confident. I hope through the different looks I create that I am able to inspire YOU to express yourself in a way that makes YOU feel good – on the inside and on the out. If you wear what you love and what you feel your best in your confidence will shine through and that is the best accessory a woman can wear! Every woman deserves to look and feel like the best versions of themselves, no matter what their age!

beauty

chic-at-every-age

fashion

fitness

lifestyle

travel

videos