I first want to address all the chaos and terrible violence that is going on right now in our country.  My heart breaks for all of this tragic violence and racism our society is enduring in these difficult and trying times.  All I know is this: Hate and violence are not the answer.  My hope is that we can ALL come together by focusing on love and unity!  
With summer upon us now is the perfect time to wear some of your favorite summer trends!  Please remember that if there is a trend that you don't love you certainly do NOT have to wear it!  I always suggest picking one or 2 of your favorite trends and wearing those while making sure you focus most of your time and energy on building a wardrobe of functional basics so you'll have endless outfits to choose from.  If you're in need of some amazing summer basics feel free to check out one of my most recent videos I created titled: 18 PIECE SUMMER CAPSULE WARDROBE.  Scroll all the way down to check out some of this season's most wearable summer trends for 2020 and as always feel free to shop anything you love along the way!
SHOP THIS LOOK:

TREND #1: PUFF SLEEVES:
Have I mentioned how much I love the current puff sleeve trend?! I think it's so classy and chic. This top is definitely one of my summer favorite pieces, and it's not too cropped if you wear it with high-waisted denim! Only a sliver of your skin will show if any at all. This top runs true to size, I'm wearing a size XS. If you're looking for some amazing jeans to add to your denim collection, these are highly recommended. Make sure to size down one size, I'm wearing a 24.
CHECK OUT MY YOUTUBE VIDEO BELOW TO SEE THESE LOOKS IN ACTION:
SHOP THIS LOOK (TOP IS ON MAJOR SALE):

Another puff sleeve find! I love this top for going out because it's edgy, chic and sexy making it the perfect date night or girl's night out top. Best part? It's on crazy sale making it a definite must have. Both the top and the jeans run true to size, I'm wearing a size 2 in the top and 25 in the jeans.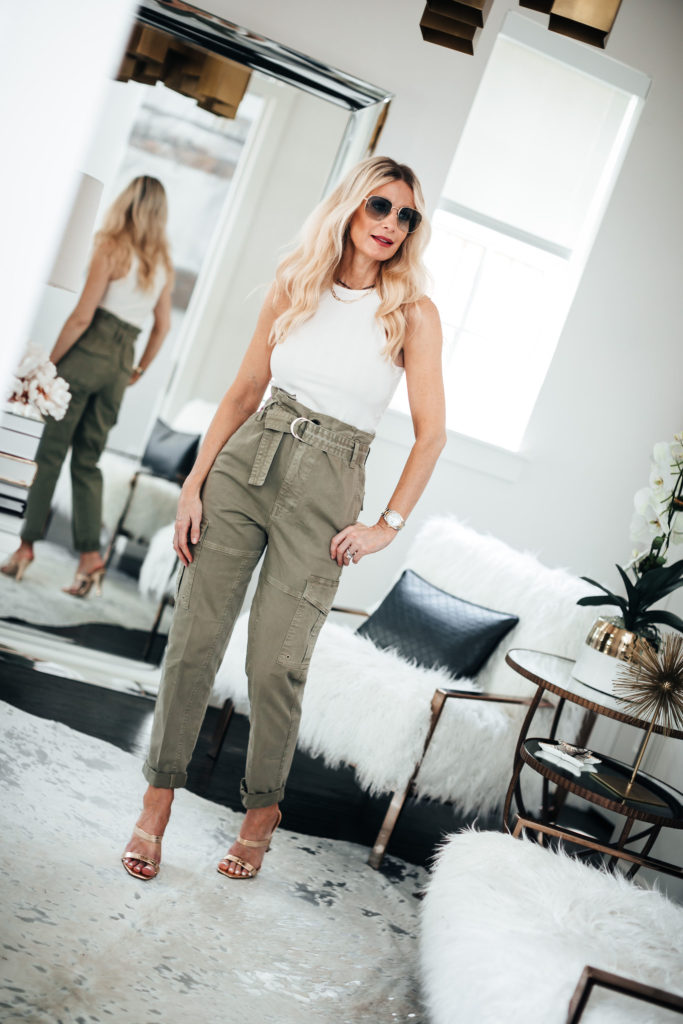 SHOP THIS LOOK:

TREND #2: PAPER BAG PANTS:
These army green paper bag pants are super cool and edgy for spring and summer. Wear these with gold heels at night or gold summer slides during the day and you're ready to go! To see some of my favorite gold slides, check out this YouTube video titled: MUST-HAVE SUMMER SHOES 2020. These pants are so comfortable and flattering since they cinch in at the waist! They run true to size, I'm wearing a size XS.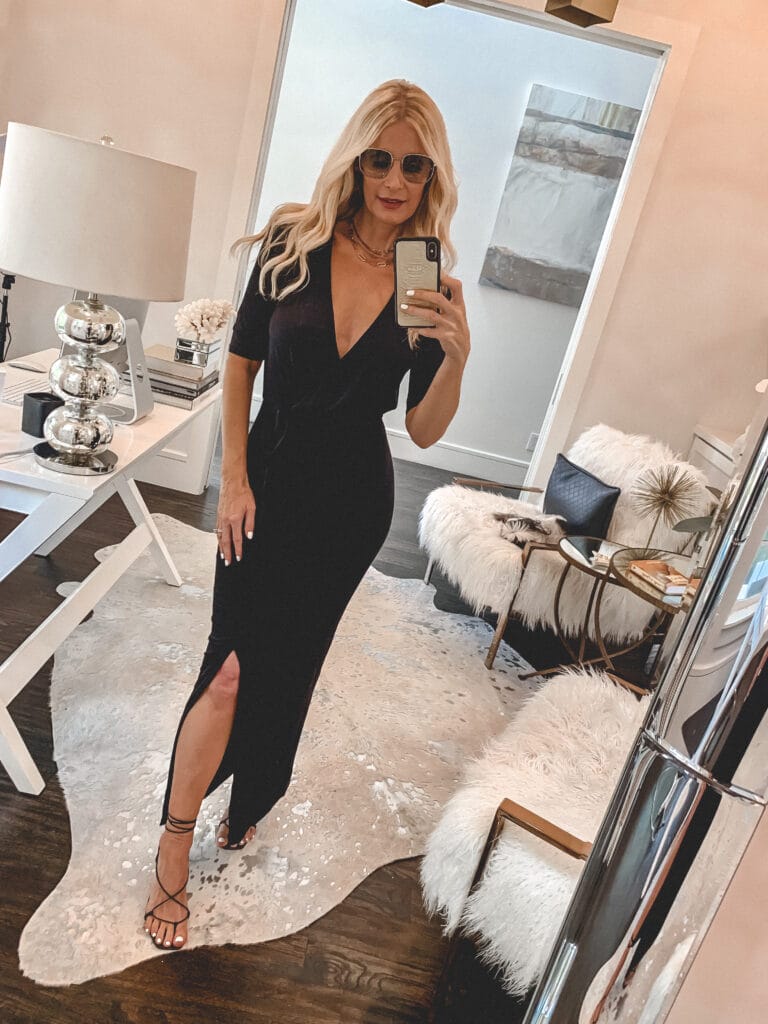 SHOP THIS LOOK: (DRESS IS 60% OFF – WEARING AN XS)

TREND #3: LACE-UP SANDALS:
These lace-up heels are amazing and so flattering! I love these heels because they're extremely comfortable and wearable. The heel height is low at only 3 inches, so they're easy to wear for any occasion. These also come in beige, however, I opted for the black because I love wearing black year-round. These are on sale at Shopbop right now so I definitely suggest investing in these.
SHOP THIS LOOK:

TREND #4: SUMMER LEATHER:
I absolutely love wearing this top in the summer because it's leather, so it's a perfect way to incorporate the leather trend into your summer look. I'm wearing it with high-waisted jeans so it won't show too much skin making it age-appropriate. I topped this crop with a beautiful gold blazer that's so unique and chic! It's definitely a dressier look, so I recommend wearing it for a night out! I sized up to a small in the crop top and a wearing a 2 in the blazer.
SHOP THIS LOOK:

TREND #5: UTILITY CHIC:
I'm obsessed with this cool camo jacket for under $100! It's the perfect summer essential because it goes with any basic black or white tee and denim. I love this utility chic trend that's never going out of style! My neutral and clear shoes were featured in my 18 PIECE SUMMER CAPSULE WARDROBE, so make sure to check them out because they're perfect for summer. My camo jacket runs true to size, I'm wearing an XS.
SHOP THIS LOOK:

TREND #6: RACER TANKS:
You will probably see tons of fashion forward influencers wearing these cut-in tanks with a gold chain necklace over it because the duo is becoming a huge summer trend. I adore this beige under $100 racer tank because the nude color makes it look more expensive than it really is. I paired it with this under $100 pink blazer from Nordstrom – one of my favorite shades for spring and summer. This blazer is one of my favorite summer staples because it's flattering and makes anyone look taller than they are. The tank and blazer run true to size, I'm wearing a size XS in both.
SHOP THIS LOOK:

TREND #7: WHITE ACCESSORIES:
Whether you're wearing dark, neutral, or bright outfits in the summer, white accessories are a must! White accessories truly tie together any summer look making it more modern and fresh. Featured above is one of my all-time favorite white handbags I wear with tons of spring and summer outfits. If you don't already own some white accessories – whether that be sandals, heels, handbags or jewelry – it's time to add a few to your summer wardrobe!
FEEL FREE TO SUBSCRIBE TO MY NEW YOUTUBE CHANNEL FOR STYLE, BEAUTY, AND FITNESS TIPS TO HELP WOMEN LOOK AND FEEL CONFIDENT
CHECK OUT MY INSTAGRAM SHOP TO SHOP ALL OF MY INSTAGRAM LOOKS
YOU CAN ALSO DOWNLOAD THE LIKETOKNOW.IT APP AND FOLLOW ME ON IT BY CLICKING HERE.
STAY IN THE KNOW:  Don't forget to sign up for my exclusive News Letter for AMAZING STYLE TIPS, SALE ALERTS, AND MUCH MORE!
Thank you so much for stopping by today, I truly appreciate all of you!
XOXO, HEATHER
SUMMER TRENDS FOR 2020