Happy Wednesday friends!  A ton of my outfits never make it to my blog, but they do make it to my Instagram feed so I wanted to make sure you all knew the easiest and quickest way to shop all of my Instagram looks.
I'll be sharing 8 looks in today's post, and yes, in 5 of them I'm wearing leopard proving it's fall's hottest trend and my personal favorite by a long shot.  Scroll down and shop the look below each photo by clicking on the product or the bolded text link.
SHOP LOOK 1:
I picked up the super cool and edgy cropped leopard denim jacket while I was in NYC last week and was blown away that it was under $100!  Then when I got home and went to post on my Instagram feed I was so happy to find out it went on sale and is now under $50!  Grab one before they sell because I can assure you, it will!  It runs true to size, I'm wearing an XS.

HOW TO SHOP MY INSTAGRAM FEED:
1.) Make sure you're following me on Instagram
2.) Download the LiketoKnow.It app
3.) Follow me @soheatherblog in the Liketoknow.it app
4.) When you're scrolling through Instagram and you see one of my photos you must SCREEN SHOT it to get my outfits details to show up in the app.
5.) Click on the photo of me in the app of my outfit and the products will show up below where you can easily click and shop.
That's it!  For those of you who are saying, not a chance, I'm not going to get on Instagram to shop your looks, no problem, you can go to my SHOP MY INSTAGRAM page on my blog and shop all of my Instagram looks there!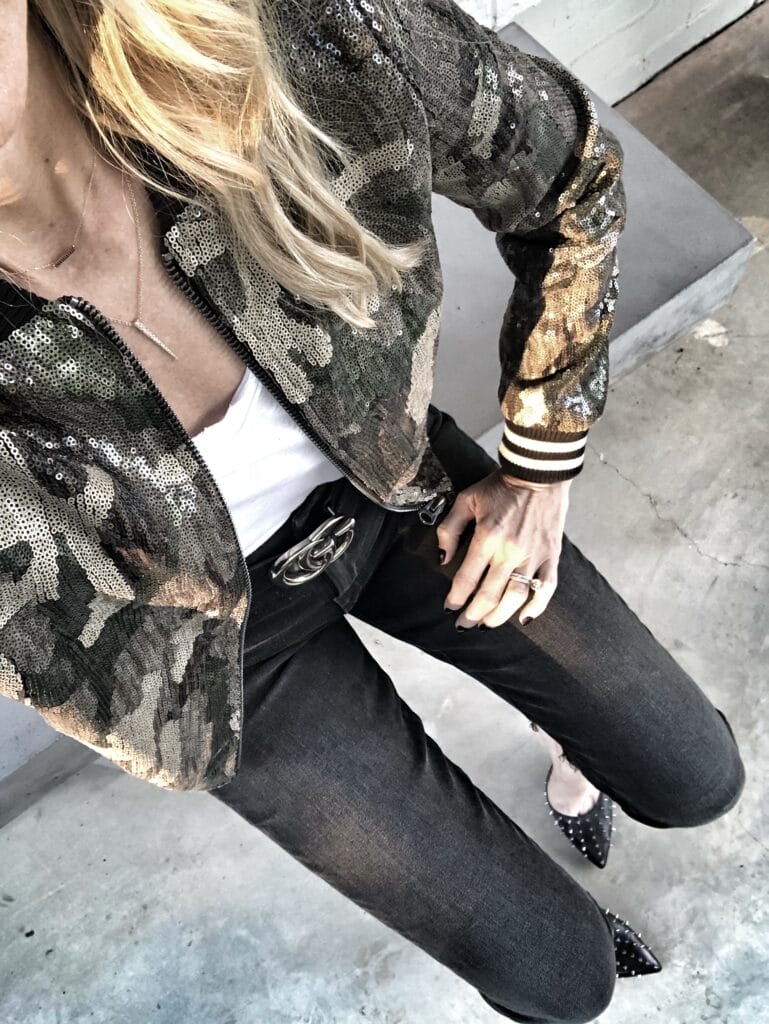 SHOP LOOK 2:

Cathy and I both bought this jacket in NYC last week because it's so amazing and UNDER $100!!  I promise this will sell out so grab one before it does!  It runs true to size, I'm wearing an XS.
SHOP LOOK 3:
I did an Instagram collaboration with Karen Kane, I love her pieces, they're high quality and very reasonably priced.  This crazy soft chenille cardigan is the such a gorgeous navy blue shade, I love it paired with jeans and a simple tank!

SHOP LOOK 4:
This chic camo under $100 button-down is so good, it's the perfect top to throw on with your favorite pair of jeans!  If you want to dress it up, wear heels with this look as I did in this shot or if you want to dress it down throw on a chic pair of Golden Goose sneakers.  I wanted it a bit oversized so I ordered one size up, I'm wearing a size S.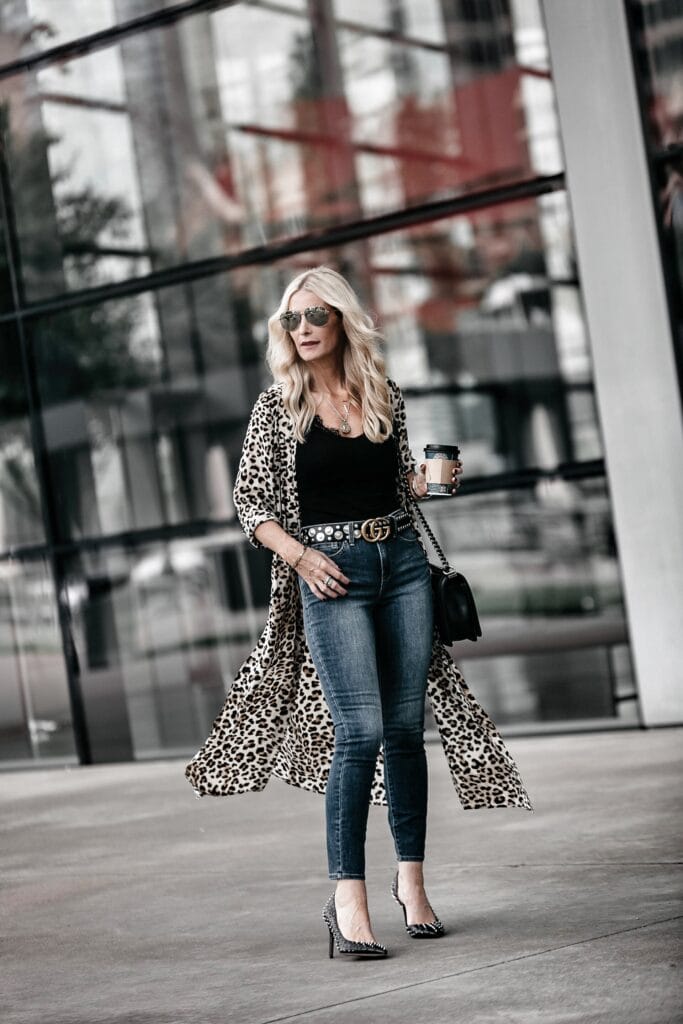 SHOP LOOK 5:
I did an Instagram collaboration with Chico's and this was the look I posted.  This leopard duster is to die for, 3 other bloggers posted in too because it's that good!  My high-rise jeans are such a versatile wash so they can be worn all year round with just about anything!  I'm wearing a size 0 in the jeans and the duster.

SHOP LOOK 6:
I actually shot in this look and then this leopard cardigan sold out, I was so mad!  But, I found one very similar on Amazon for under $30 so I just had to share it with all of you!!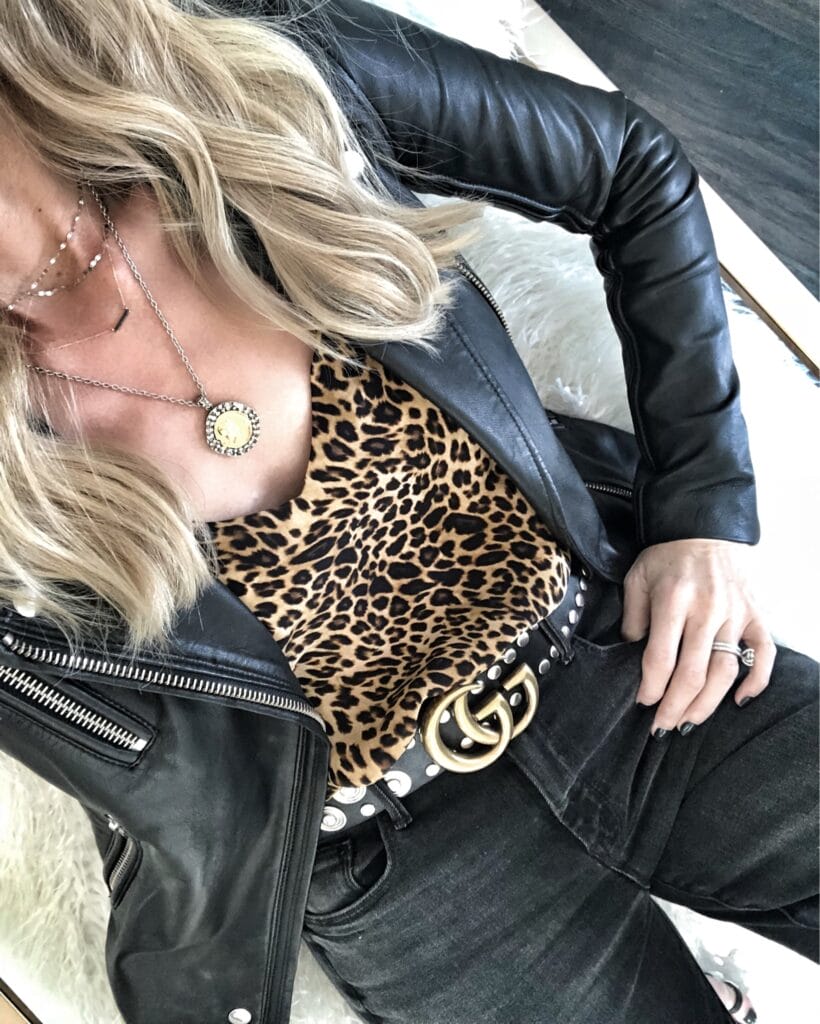 SHOP LOOK 7:
If you don't already own a leopard cami, trust me, you need to!  I wear this one a ton under blazers and leather jackets, it's an easy way to add some leopard to your look.  The exact one I'm wearing is by Anine Bing, but sold out so I have linked some similar ones below.

SHOP LOOK 8:
This leopard top is so good, it looks just like a higher end one I have.  It's Topshop so the price point is amazing, only $60 for this chic top, quite a steal for such an amazing top!

STAY IN THE KNOW:  Don't forget to sign up for my exclusive News Letter. Sign up by clicking here.
Thank you so much for stopping by today, I truly appreciate all of you!  XOXO, Heather