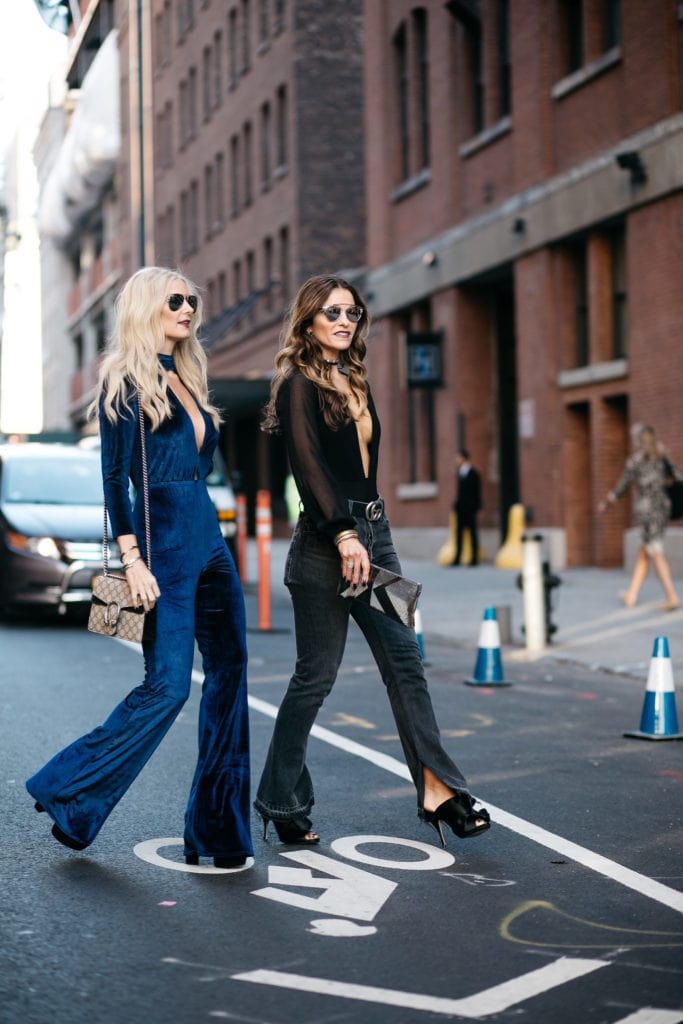 Another 'Streed Edit' is here with my good friend and fellow Dallas Fashion Blogger, Tiffany Davros, of Street Style Squad.  This amazingly cool and edgy velvet jumpsuit was what I wore on Day 4 of NYFW.  

Happy hump day!  I hope all of you are having a fabulous week!  I actually decided to go to New York Fashion Week at the last minute this year.  I really wasn't planning on going and then after a meeting with Reward Style and talking with some fellow bloggers we all decided to go and I'm so glad we did!  Of course, one of the first things I thought about was….WHAT AM I GOING TO WEAR?! Well, the good news is in NYC anything goes and I always say wear what makes you feel most confident because let's face it, confidence is the BEST accessory we can wear.
For me, I was looking for something really cool and sexy that would stand out in a crowd in an edgy and effortless way, when I found this jumpsuit by LPA on REVOLVE it was love at first sight!  The navy blue velvet is to die for and even more gorgeous in person.  The fit is perfect, although I did have to have it hemmed and I had the neck line stitched at the bottom so it wasn't too plunging.  There are only limited sizes left in the navy blue color, however, all sizes are available in the night purple shade which I love just as much!
This line, LPA, makes so many other gorgeous pieces that I ADORE!  I just recently bought a velvet button down in a really pretty dark purple color that I'll be wearing a ton with black or gray jeans.  I listed below my other top picks from this amazing line.
I got a ton of compliments on this outfit the night I wore it, I actually wore it to the Reward Style roof top party.  This amazing velvet jumpsuit would be so perfect for a holiday event or a New Year's Eve party.  It's something that will make a statement and trust me when I say, you'll feel like a million dollars when you wear this fabulous velvet jumpsuit!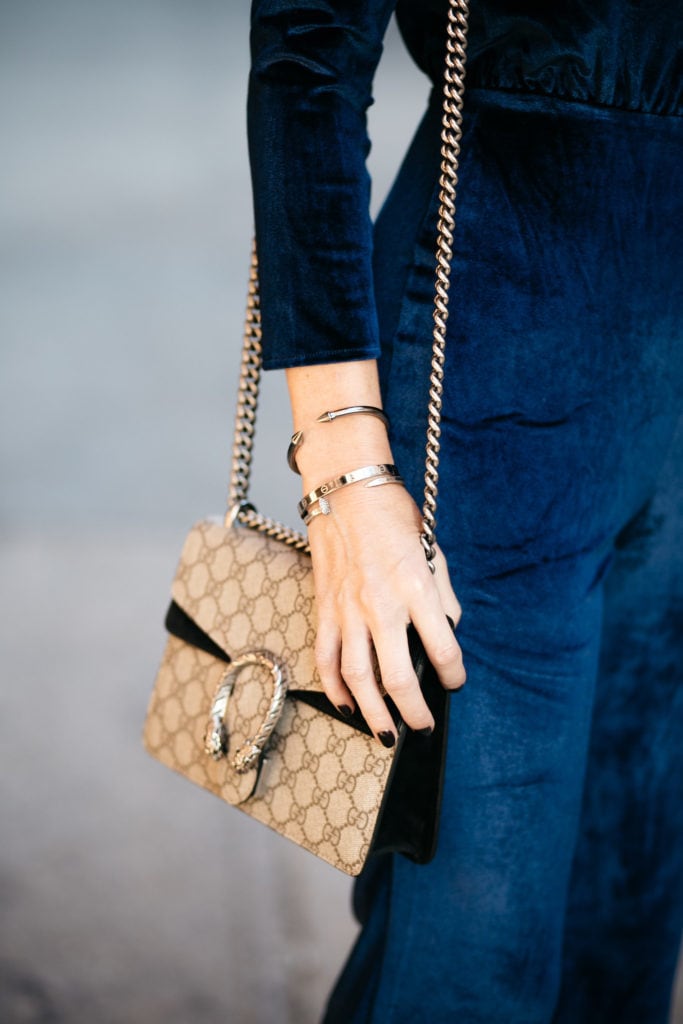 VELVET JUMPSUIT WEARING A SIZE XS // GUCCI HANDBAG // SILVER RAY-BANS // STEVE MADDEN BLACK HEELS // KENDRA SCOTT BLACK COCKTAIL RING
Thank you so much for stopping by today!  I'm so thankful for all of you!  XOXO, Heather
STAY IN THE KNOW:  Don't forget to sign up for my exclusive News Letter – I share hot trends, amazing sale alerts, giveaways, and much more!  Sign up by clicking here.
PHOTOGRAPHS BY Rebecca OF BECKLEY & CO