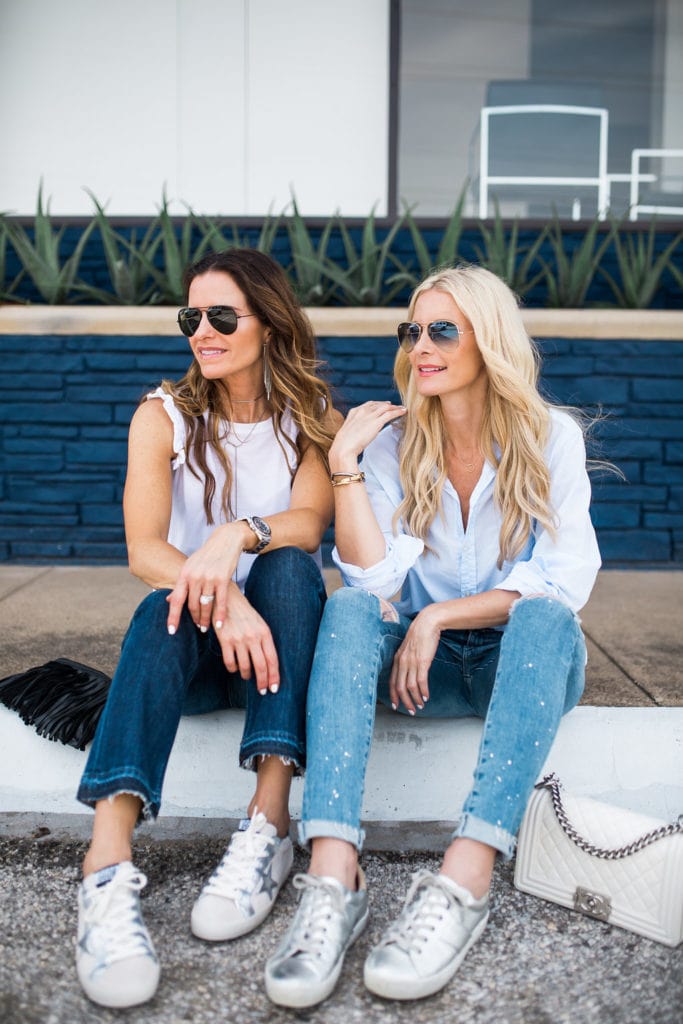 Another 'Streed Edit' is here with my good friend and fellow Dallas Fashion Blogger, Tiffany Davros, of Street Style Squad.  Since sneakers are such a HOT TREND right now we thought it would be fun to show all of you how we dress casual yet still manage to look stylish – in our favorite sneakers!
I'm wearing my favorite Joie sneakers that I've actually had for quite a while now.  We shot these sneakers about 2 months ago and I always worry that things will sell out before I can get them on my blog and show all of you.  In this case, y'all are really lucky because these amazingly comfortable and chic Joie sneakers are still in full stock AND on MAJOR SALE – yay!!  They were originally $210 and are marked down to $126.  They run true to size, I'm wearing a size 38.  The metallic silver shade is so cool and edgy!  I love pairing them with jeans and cut-offs and simple tees and button-downs.  Try pairing these Joie sneakers with some faded black jeans and your favorite black tee for more of a fall look.  I've already worn these sneakers a ton, they are the perfect weekend shoe and so easy to throw on with just about anything and look cute.  These will sell out quickly so join the fun sneaker trend and add a pair to your wardrobe – you'll be so glad you did!
NOT ONLY ARE MY SNEAKERS ON SALE, BUT MY TOP AND JEANS ARE TOO!  
CLICK TO SHOP:

JOIE SILVER SNEAKERS // FRANK & EILEEN BUTTON DOWN // AG JEANS  ON SALE WEARING A SIZE 25 SIMILAR HERE // WHITE CHANEL BOYBAG SIMILAR HERE // BLUE RAY-BANS
Thank you for stopping by today and shopping with me!  XOXO, Heather