3 MUST-HAVE WINTER ACCESSORIES WITH NORDSTROM
in Fashion on 06/12/2017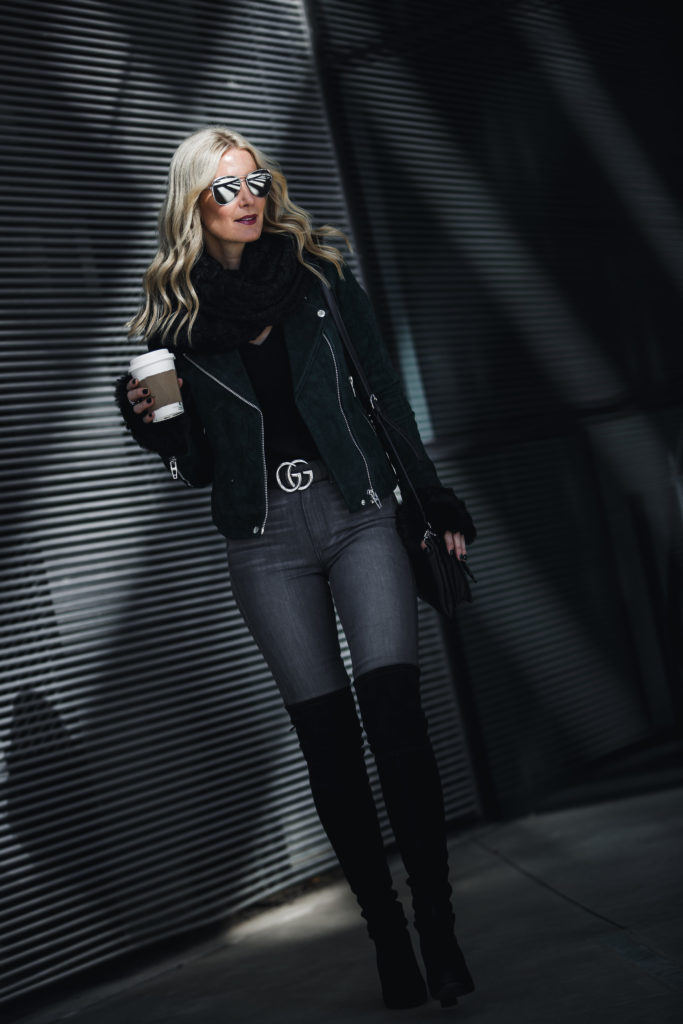 I'm honored and excited to be teaming up with my favorite department store, Nordstrom, to bring all of you 3 chic must-have winter accessories all under $100!  These would all make perfect Christmas gifts for all the fashion lovers on your list and of course for yourself!
SHOP LOOK 1:

SHOP LOOK 2:

3 CHIC WINTER ACCESSORIES UNDER $100:
1.) BLACK INFINITY SCARF: I love infinity scarves, they're uber chic and they do a great job of keeping you warm during the winter months!  This one comes in 5 gorgeous colors and the price point is amazing, only $45 for this fabulous scarf, quite a steal for such a chic winter accessory!
2.) FINGERLESS FUR GLOVES:  Okay, I think it's safe to say that I'm obsessed with these!  I got a pair for myself and for a few girls on my list this year!  These are so coxy and crazy chic, they look amazing paired with moto jackets, bomber jackets, and even blazers!  I'll be wearing these all winter long and I'm sure if you decide to get them you will be too!  The best part, these just went on sale, originally $70 marked down to $52.50, grab a pair for yourself or for someone on your list and fast, these will sell out soon!
3.) FREE PEOPLE CAMEL SCARF:  This scarf is crazy soft and I love the camel color because it's so versatile and literally matches everything!  This gorgeous scarf comes in 4 beautiful colors and it's under $50 making it the perfect gift for your self or someone on your list!

OUTFIT DETAILS:
My green suede moto jacket is by my favorite jacket designer, BLANKNYC, they make the absolute best moto jackets all very high quality and the price point is AMAZING!  This exact jacket comes in 5 gorgeous colors (I have the burgundy and the beige color too) because they are that good!  This jacket runs true to size, I'm wearing an XS.
My gray jeans are by Paige, and I literally feel like I'm wearing pajamas when I have these jeans on, they're that comfortable and extremely soft!!  They're high-waisted so they make your legs look crazy long and slim and the gray wash is very versatile, one of my favorite denim colors to wear!  These run true to size, I'm wearing a 25.
The black v-neck cashmere, yes cashmere, sweater I'm wearing in both looks is so soft and comfortable and can you believe it's ON SALE for only $69.20, such a steal for a chic and cozy CASHMERE sweater!  It comes in 15 amazing colors, I'll be getting a few of them since the price point is so good!
My black studded handbag is a new favorite of mine, it looks way more expensive than it is, only $59 for this amazingly chic and edgy bag!  I'll be carrying this bag with all of my fall and winter looks!
I love wearing my OVER THE KNEE BOOTS: SPLURGE VERSION // STEAL VERSION  – Over the knee boots are another trend that's been around for a while and is definitely here to stay.  One of my favorite looks to wear in the winter time is over the knee boots paired with skinny jeans and an over sized sweater or moto jacket.  I wear my Stuart Weitzman (splurge version) otk boots a ton in the fall and winter making them a definite winter staple and a must-have for sure!  I also love the steal version, great quality and you can't beat the price!
YOU CAN VIEW MY LATEST POST IN THE SPLURGE VERSION OF THE OVER THE KNEE BOOTS BY CLICKING HERE.
A special thank you to Nordstrom for sponsoring this post!
CHECK OUT MY INSTAGRAM SHOP HERE TO SHOP ALL OF MY INSTAGRAM LOOKS
STAY IN THE KNOW:  Don't forget to sign up for my exclusive News Letter –  Sign up by clicking here.
Thank you so much for stopping by today, I truly appreciate all of you!  XOXO, Heather
LOOK 1:  INFINITY SCARF // JOCELYN FINGERLESS FUR GLOVES // HINGE CASHMERE SWEATER // PAIGE JEANS WEARING A SIZE 25 // BLANKNYC MOTO JACKET WEARING A SIZE XS // GUCCI BELT SIMILAR // STUDDED HANDBAG
LOOK 2: FREE PEOPLE CAMEL SCARF // HINGE CASHMERE SWEATER // PAIGE JEANS WEARING A SIZE 25 //  // GUCCI BELT SIMILAR // STUDDED HANDBAG
PHOTOGRAPHS BY MARY SUMMERS OF M.A.S. PHOTOGRAPHY
My mission is to empower women to look and feel confident. I hope through the different looks I create that I am able to inspire YOU to express yourself in a way that makes YOU feel good – on the inside and on the out. If you wear what you love and what you feel your best in your confidence will shine through and that is the best accessory a woman can wear! Every woman deserves to look and feel like the best versions of themselves, no matter what their age!

beauty

chic-at-every-age

fashion

fitness

lifestyle

travel

videos