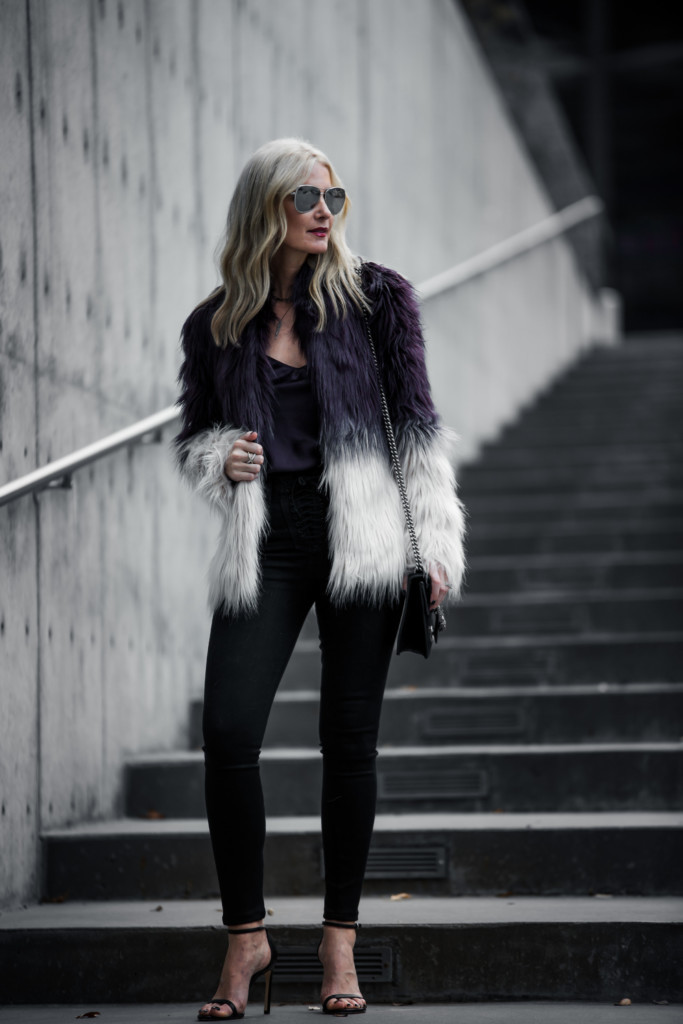 One of my favorite types of coats to wear in the fall and winter are faux fur jackets, in fact, when I'm out shopping with my fellow blogger buddies and we see a faux fur jacket they always say "That jacket is SO HEATHER!"  I came across this chic faux fur jacket while shopping in Nordstrom and fell in love!  It's so glamorous and I love the ombre effect, so chic and on trend!  It also comes in a solid burgundy color which I adore too.  This look would be perfect for a New Year's Eve party or any holiday party.  This faux fur jacket runs true to size, I'm wearing an XS.  This amazingly fabulous jacket is under $150, quite a steal for such a chic statement piece that will take you many places in style!
SHOP MY LOOK:

SHOP MY FAVORITE FAUX FURS:

SCROLL DOWN FOR YOUR CHANCE TO WIN A $950 GIFT CARD TO NORDSTROM, GOOD LUCK!
My silk cami by Paige is a gorgeous dark purple color, it will look fabulous under all of your favorite jackets this season!  It runs true to size, I'm wearing an XS and comes in 3 stunning colors!  This look would also look amazing with THIS black velvet cami which is a much lower price point only $59) and would pair well with any holiday look or date night ensemble.
My black lace-up faux leather pants are by Hudson and I'm obsessed!  The fit is amazing, they're super slimming and look like real leather only they're not so the price point is amazing!  They run true to size, I'm wearing a size 25.  I'll be wearing these edgy lace-up pants a ton this season and I'm sure if you get them you will be too!
I'm in love with these incredibly chic heels by Stuart Weitzman!  They're much more comfortable than the original Nudist heel by Stuart Weitzman because the heel height is 4 inches instead of 5 and trust me, that makes a big difference!  These will be my go-to heel this season, I'll be wearing them a ton with dresses, skirts, and of course jeans!
My HOLIDAY SHOP is now live on the blog.  I've handpicked all of my favorite gifts broken down by category to make your holiday shopping super easy, happy shopping!






CHECK OUT MY INSTAGRAM SHOP HERE TO SHOP ALL OF MY INSTAGRAM LOOKS
STAY IN THE KNOW:  Don't forget to sign up for my exclusive News Letter –  Sign up by clicking here.
Thank you so much for stopping by today, I truly appreciate all of you!  XOXO, Heather
CHELSEA 28 FAUX FUR JACKET WEARING A SIZE XS // HUDSON LACE-UP FAUX LEATHER PANTS WEARING A SIZE 25 // STUART WEITZMAN HEELS // GUCCI HANDBAG SIMILAR // PAIGE SATIN TANK // LAGOS RING
PHOTOGRAPHS BY MARY SUMMERS OF M.A.S. PHOTOGRAPHY
With the holidays approaching, I decided to team up with some of my favorite bloggers and bring you an amazing giveaway. One lucky reader will win a $950 gift card to Nordstrom.
Money Can Buy Lipstick | Rebekah Elizabeth | Sophisticaition | Outfits & Outings | Classy Sassy
The Style Sauce | The Polished Posy | Britt + Whit | Nina Tekwani | Trendy Chickadee
Style Weekender | RD's Obsessions | The Classic Brunette | Caitlin Eliza | Pine Barren Beauty
Have Need Want | Something Dashing | Blush & Blooms | Absolutely Annie | Street Style Squad
Cameron Proffitt | By Brittani Lauren | Aquamarine Dreams | A New York Love Affair
South Coast Style OC | Blondes & Bagels | Sunflowers and Stilettos | So Heather | Coming Up Roses
Simply Classy | Dress Me Blonde | The Chic Series | The Blue Hydrangeas | Carli Best
Use the widget below to enter the giveaway. The more "tasks" you complete, the more entries you will receive. The giveaway is open internationally. The winner will be announced (on the widget only) up to 2 weeks after the giveaway has ended. It can take time to select, verify, and get in contact with the winner. If you have any questions about the giveaway process, feel free to e-mail [email protected]
—