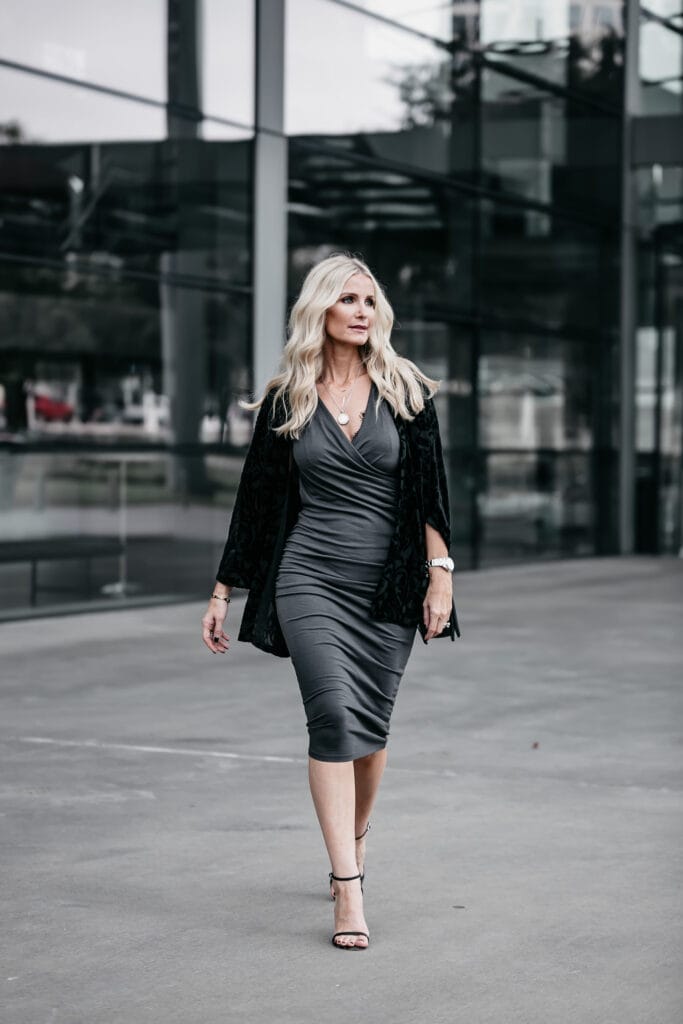 Good morning gorgeous ladies!  If I had to pick one style of dress that was my all time favorite and the most flattering for all ages it would hands down be the midi dress!  The reason is because the hem line hits right below the knee and our knees age faster than any other part of our legs, did you know that?!  Because the hem line hits below the knee it actually elongates your body making you appear taller and slimmer, especially when you pair the midi dress with a sleek pair of heels!

This slimming midi dress is so soft, it's made out of a t-shirt like material so it really feels like I'm wearing pajamas when I have it on!  I adore the chic ruching because it has a slimming effect and accentuates all my curves perfectly!  It comes in 7 gorgeous colors including black and it's only $98, quite a steal for such a chic dress!
HOW TO STYLE THE MIDI DRESS FOR FALL:
When fall and winter roll around and the cooler temps start to hit you can definitely still wear your sleeveless dresses, just pair them with a chic kimono or jacket of some sort.
I love this black velvet kimono by Karen Kane, it's so chic and sophisticated and I love the versatility of it!  It can easily be dressed up or down depending on what you wear with it.  To dress it up emulate the look in today's post, to dress it down try pairing it with a simple white tee and your favorite pair of jeans.
I wore this dress last week to church with a dark green blazer over it and got tons of compliments on it!  You can also top this chic midi dress with an edgy moto jacket for the perfect date night look!
Please feel free to email me at [email protected] if you have any questions!  I'm always happy to help with styling or picking out a specific outfit for an event!   Have a fabulous day!!
CHECK OUT MY INSTAGRAM SHOP HERE TO SHOP ALL OF MY INSTAGRAM LOOKS
YOU CAN ALSO DOWN LOAD THE LIKETOKNOW.IT APP AND FOLLOW ME ON IT BY CLICKING HERE.
STAY IN THE KNOW:  Don't forget to sign up for my exclusive News Letter –  Sign up by clicking here.
Thank you so much for stopping by today, I truly appreciate all of you!  XOXO, Heather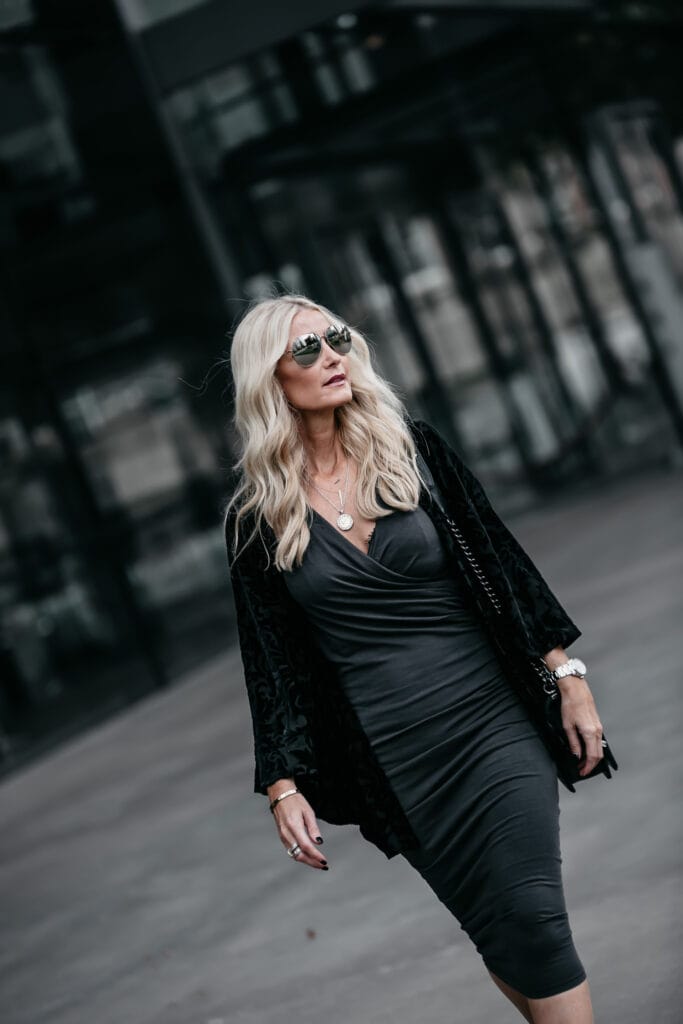 MICHAEL STARS MIDI DRESS WEARING A SIZE XS // KAREN KANE KIMONO // STUART WEITZMAN HEELS // FREE PEOPLE BRALETTE // CHANEL BOY BAG SIMILAR HERE // COIN NECKLACE SIMILAR