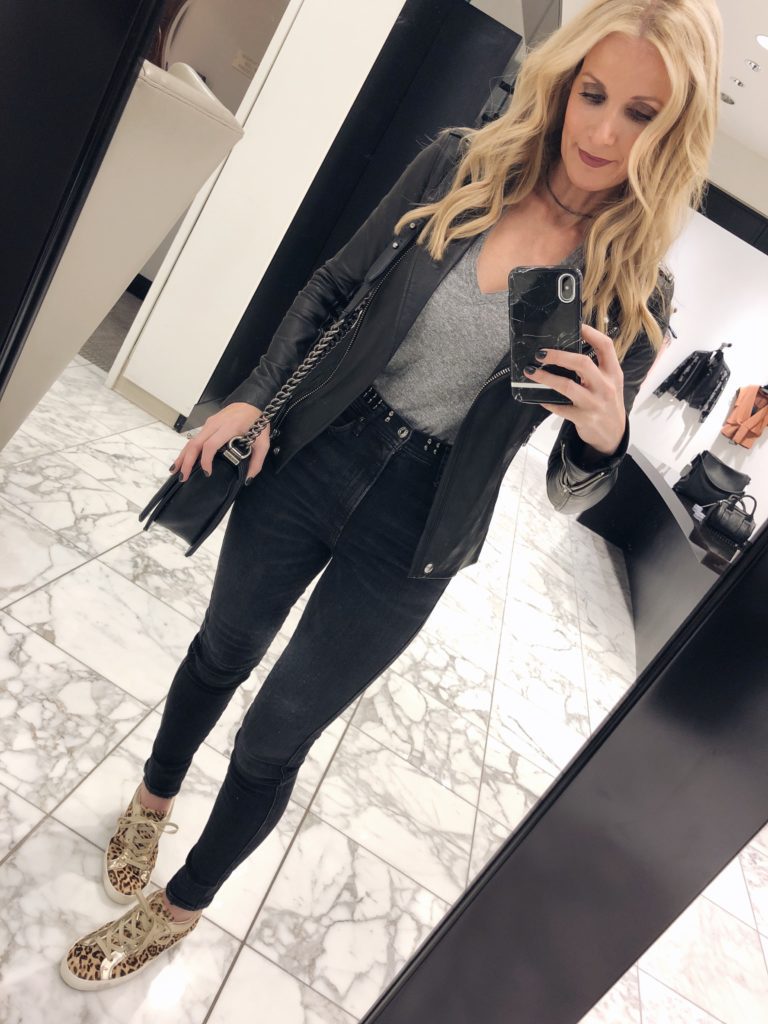 HAPPY FRIDAY!!  I'm so excited to start a new series this year and share it with all of you!  Once a month I'll be sharing the best selling items from the prior month, that way if you missed a post you can still have a chance to see all the really good stuff that you may want to add to your wardrobe!
TOP 5 SELLING ITEMS IN JANUARY:

1.) THE LEOPARD SNEAKER:  The number one selling item on my blog in January – not surprised by this one bit, these chic sneakers will take you many in places in extreme comfort AND style!  They look very similar to the Golden Goose brand yet they're a fraction of the price (under $100) making them quite a steal a definite must-have!
YOU CAN VIEW THE FULL POST FEATURING THESE LEOPARD SNEAKERS BY CLICKING HERE.
2.)  BLACK CARDIGAN – ON SALE FOR ONLY $69 (WEARING AN XS) :  It comes in 4 gorgeous colors (I really love the burgundy too) and is currently on sale for only $69.20, quite a steal for such a chic cardigan making it a definite must-have!
YOU CAN VIEW THE FULL POST FEATURING THIS BLACK CARDIGAN BY CLICKING HERE.
3.) HOT PINK BLAZER (WEARING AN XS): Can you believe this gorgeous blazer is under $100, me neither!  I adore this fun pop of color, so perfect to throw on with a cool pair of jeans and a sexy bodysuit, but I also love it paired with a pair of sleek black jeans and some suede over the knee boots for a more casual ensemble. The possibilities are endless because this chic blazer is so versatile!
YOU CAN VIEW THE FULL POST FEATURING THIS BLACK CARDIGAN BY CLICKING HERE.
4.) FREE PEOPLE SWEATER ON SALE (WEARING AN XS): This sweater is so comfy and not itchy at all!  It comes in a really pretty gray color too which would be so perfect for spring!  The best part it's just been marked down 40% making it quite a steal!
5.) GUCCI BELT (WEARING A SIZE 75): I wear this belt a TON and that's an understatement, you know this if you've been reading my blog for a while now, lol!  It just really brings any look to the next level, trust me, if you get this belt you will find yourself wearing it all the time too!  I just ordered the light pink one for spring and I'm so excited to get it!  I know it will on major repeat for me this season making it well worth the investment!
GUCCI BELT SIZING:  I've had several of you email me and DM me on Instagram asking about the sizing on these belts.  I'm wearing a size 75 and this size works best with high waisted denim.  I wear a size 25 in jeans to give you more of an idea of my size.  If your in between sizes I would order one size up because you can always take it to a tailor and they can cut it down for you.  I hope this helps, please email at [email protected] if you have any questions.
CHECK OUT MY INSTAGRAM SHOP HERE TO SHOP ALL OF MY INSTAGRAM LOOKS
STAY IN THE KNOW:  Don't forget to sign up for my exclusive News Letter –  Sign up by clicking here.
Thank you so much for stopping by today, I truly appreciate all of you!  XOXO, Heather
LEOPARD SNEAKERS // FREE PEOPLE SWEATER ON SALE WEARING A SIZE XS // BLACK CARDI ON SALE WEARING A SIZE XS // GUCCI BELT WEARING A SIZE 75 // HOT PINK BLAZER WEARING A SIZE XS