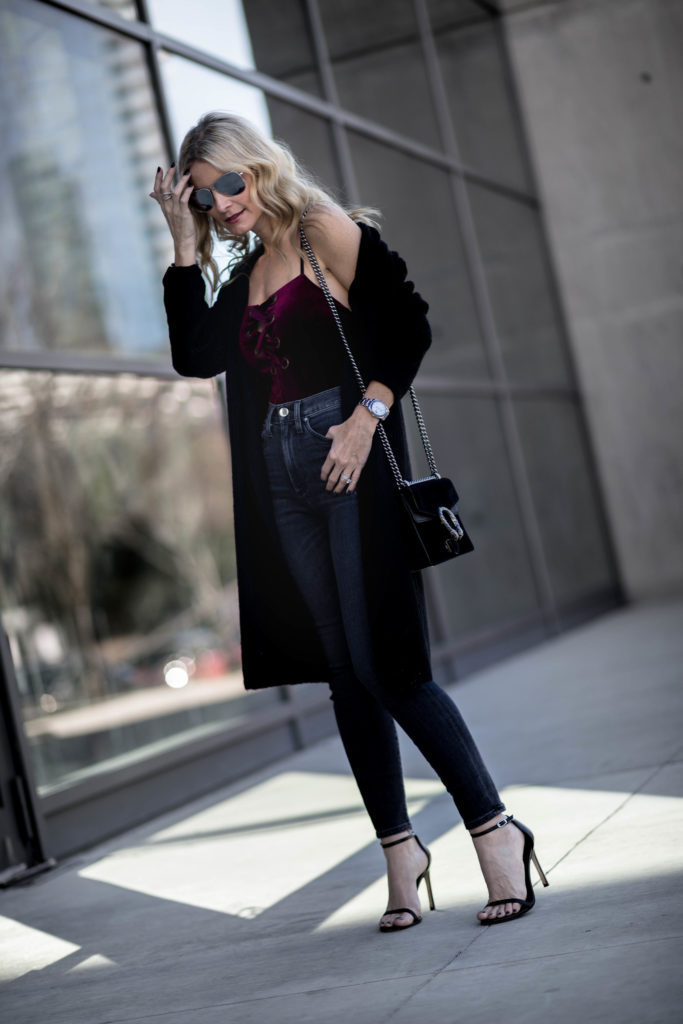 Happy Friday!  I hope all of you had a great week!  I'm still trying to get over a cold!  One of my favorite things to wear in the fall and winter are cozy cardigans. They're so versatile, they can easily be dressed up or down depending on what you style them with.  I chose to dress mine up in this particular look, I would wear this on a date night or a fun girl's night out.  I've also worn this cardigan more casual with jeans, a simple white tee and some chic sneakers.  It comes in 4 gorgeous colors (I really love the burgundy too) and is currently on sale for only $69.20, quite a steal for such a chic cardigan making it a definite must-have!

STYLE TIP:  When wearing an over-sized cardigan keep everything else fitted and simple underneath so it doesn't end up over-whelming you and making you look bigger than you really are.
Can you believe my burgundy velvet bodysuit is on sale for only $23.40?!  It's such a cool and edgy piece that can be worn under so many different things such as a leather jacket, bomber jacket or cozy cardigan.  It's super soft and actually comfortable for a bodysuit, it runs true to size, I'm wearing an XS.
NEW DENIM REVIEW:  My uber high waisted and ultra slimming jeans are by a new line of denim created by Alice & Olivia called AOLA.  They are only sold at Neiman Marcus and Alice & Olivia.  When I tried these jeans on I immediately fell in love!  They're super high-waisted, the rise is 11.5 inches instead of the normal 10 inch rise which is what most high waisted jeans are so they really make your waist look tiny and your legs look crazy long, who doesn't want that?!  I love the wash, sort of a faded black grayish wash which is my favorite wash of jeans because they go with so much.  They're not super stretchy so they do a great job of holding their shape and I love the little bit of distressing they have on the front pocket.  The length is perfect too for me, I didn't even have to have these hemmed like I usually do with most of my jeans so that was a plus too!  If your petite like me, 5'4 or under these jeans will be the perfect length!  If you're taller they're amazing too, they will just hit you more above the ankle which is also a very flattering length.  You can view the entire line of AOLA at Neiman Marcus by clicking HERE.  I highly recommend adding these uber slimming jeans to your denim collection, trust me, you'll find yourself wanting to wear them all the time, I know I do!
I'm in love with these incredibly chic heels by Stuart Weitzman!  They're much more comfortable than the original Nudist heel by Stuart Weitzman because the heel height is 4 inches instead of 5 and trust me, that makes a big difference!  These will be my go-to heel this season, I'll be wearing them a ton with dresses, skirts, and of course jeans!
CHECK OUT MY INSTAGRAM SHOP HERE TO SHOP ALL OF MY INSTAGRAM LOOKS
STAY IN THE KNOW:  Don't forget to sign up for my exclusive News Letter –  Sign up by clicking here.
Thank you so much for stopping by today, I truly appreciate all of you!  XOXO, Heather
VELVET BODYSUIT ON SALE WEARING A SIZE XS // BLACK CARDI WEARING A SIZE S // AOLA HIGH WAISTED JEANS WEARING A SIZE 25 // STUART WEITZMAN HEELS // GUCCI HANDBAG SIMILAR