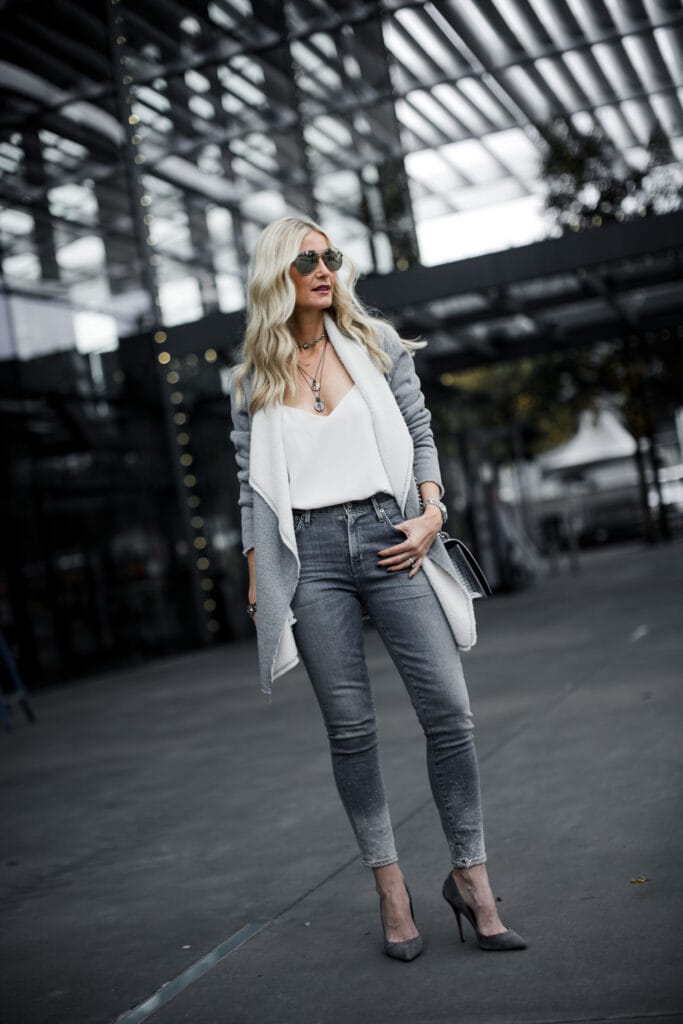 Good morning ladies!  I love getting and giving a good cozy gift for Christmas!  Since Christmas time is quickly approaching and the number of days to shop is getting smaller and smaller I thought it was the perfect time to publish a chic gift guide for all the gals on your list covering my top 10 favorite cozy pieces!
SHOP BOTH LOOKS:

TOP 10 COZY CHRISTMAS GIFTS FOR HER:

This gorgeous gray and white cardi I'm wearing in this post is literally the softest thing I've ever put on my body!  Not only is it super soft, but it's very versatile too!  I love it dressed up as I did in this post, but it's also the perfect thing to throw on on a lazy Sunday afternoon with a simple tee and some gray sweats!  This cardigan would literally make the perfect gift for all the girls on your list, they'll want to live in this crazy SOFT cardigan, I know I do!
This this the other coat I'm wearing in this post and it's equally as soft and cozy!  I adore this gorgeous pink shade and I love the effortless fingertip length.  This teddy coat would also look amazing paired over a winter white ensemble with some chic gray over the knee boots!
Ok, if you've never heard of this brand then you'll be so happy your reading this post because now you have!  They make the SOFTEST loungewear items on the planet!   Not only is it the perfect Netflix companion, but it looks pretty on the bed or draped over the couch!  This blanket would be the perfect gift for you Mom, sister, BFF, or any other special gal on your list!
These uber chic slippers look so cozy and soft and trust me, they feel just as cozy and soft on as they look in the picture!  Every day I get home for running errands I can't wait to put these cozy slippers on!!
When it's really freezing out these insanely chic fingerless fur gloves are sure to take any winter look to next level while keeping you very warm!  I wear mine with my leather jackets and puffer jackets and always get asked 'where did you get those' every single time I wear them.  Give these cool-girl gloves to all the fashion-forward gals on your list!
The blanket I mentioned above also comes in a cardigan form and I can't believe I lived so long without one of these!  As I said before, Barefoot Dreams literally makes the softest loungewear on earth so naturally, I want to live in the cardi and so will the person you decide to buy this for!
Yes, thank goodness Barefoot Dreams make robes too.  Sometimes I take an extra shower just so I can put this super soft robe on, it's that good!
Everyone loves Uggs so it's no surprise that these comfy socks will be the perfect cozy companion to your PJ's all winter long!  I got a pair for both of my daughter's and think they love them!
A favorite cardigan that's gone crazy on Instagram among tons of influencers (aka bloggers) and even some celebs and I can see why.  This crazy chic chunky knit cardi is perfect for cold winter days, try pairing it with a simple tee and your favorite pair of denim for the perfect cold weather ensemble!  All the fashion girls on your list will LOVE this one, I promise!
Ok, I know this sounds too good be true, but this amazing cashmere sweater is on SALE coming in just under $60 and it comes in like 12 colors!  This is such a good deal for cashmere, I promise all the girls on your list will love this and at this price, you should grab one or two for yourself!  I have the black and the striped one and wear them a ton under jackets all winter long!
CHECK OUT AN INSTAGRAM POST I DID USING LIKETOKNOW.IT IN THE BURGUNDY CASHMERE SWEATER
SCROLL DOWN TO VIEW MY COMPLETE HOLIDAY SHOP BROKEN DOWN BY CATEGORY TO MAKE YOUR HOLIDAY SHOPPING SUPER EASY!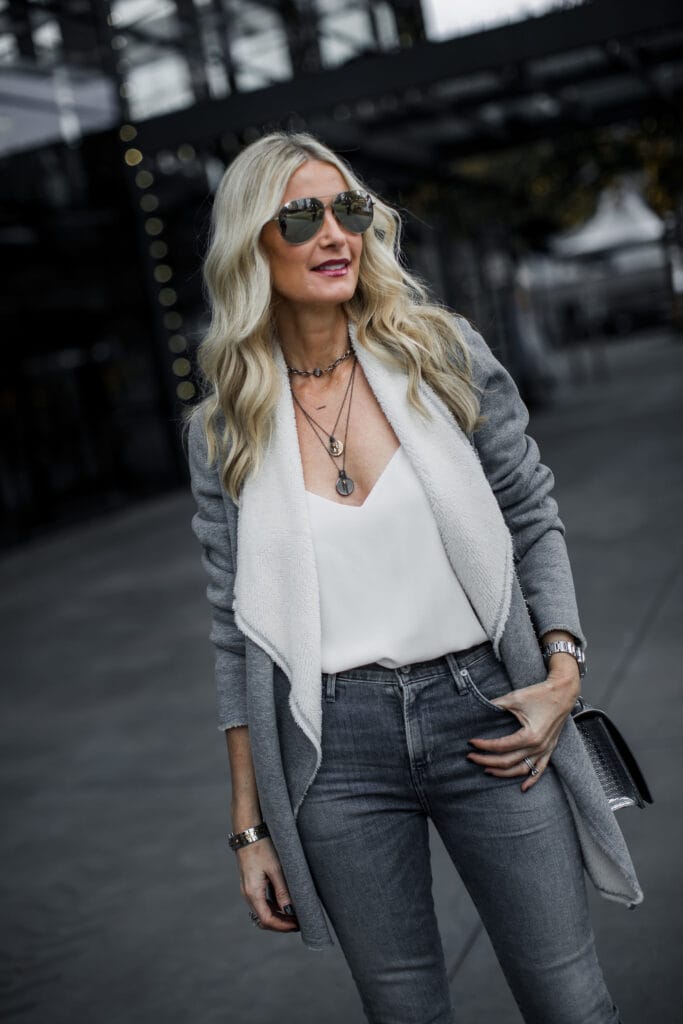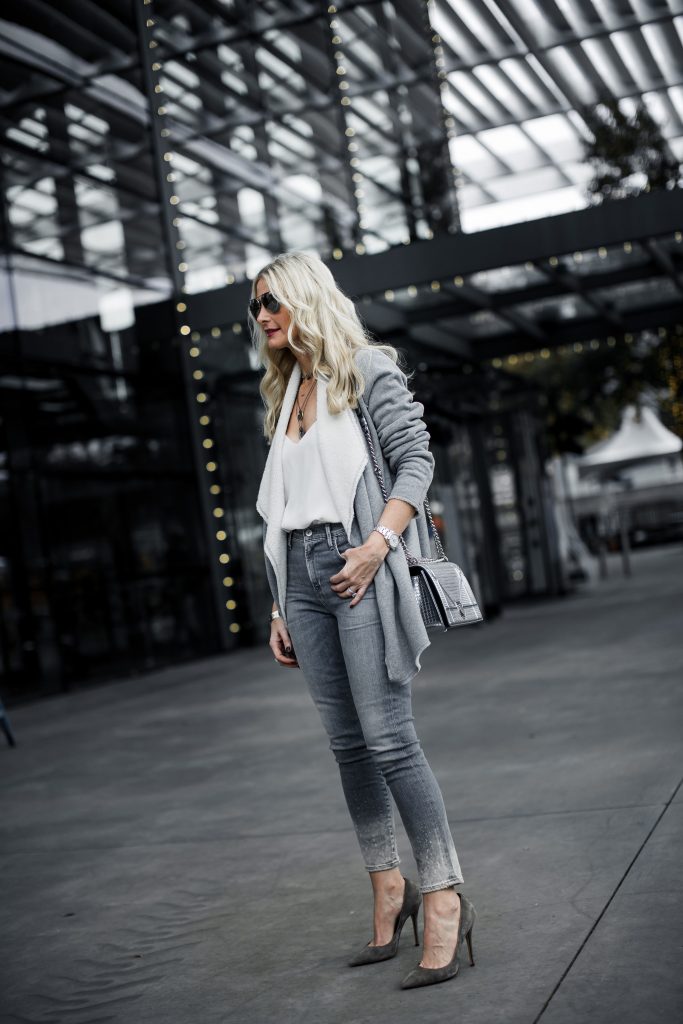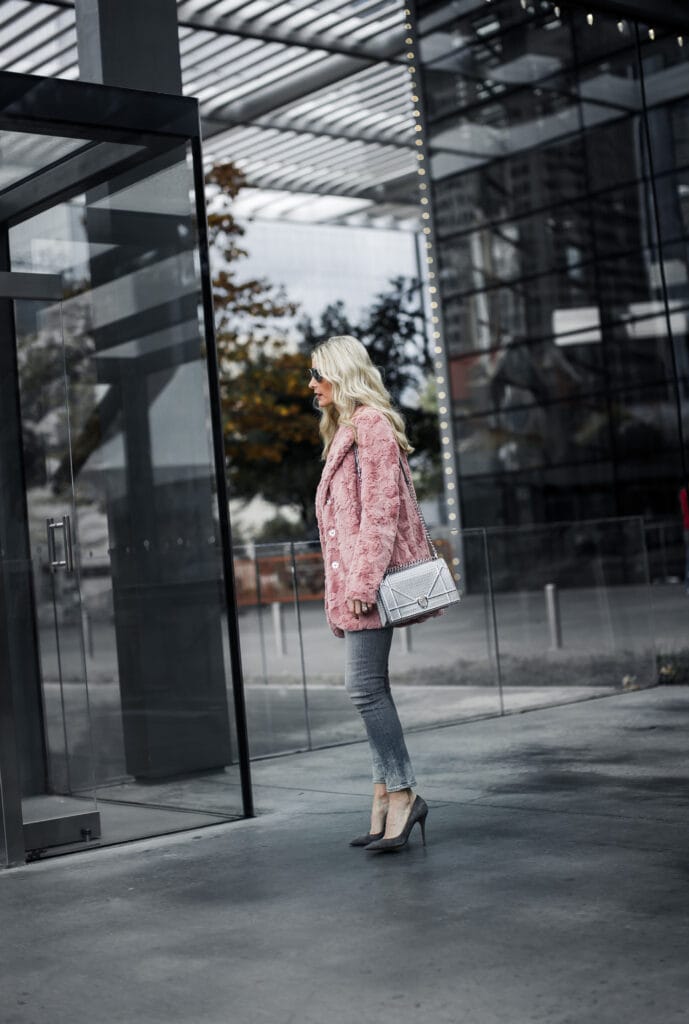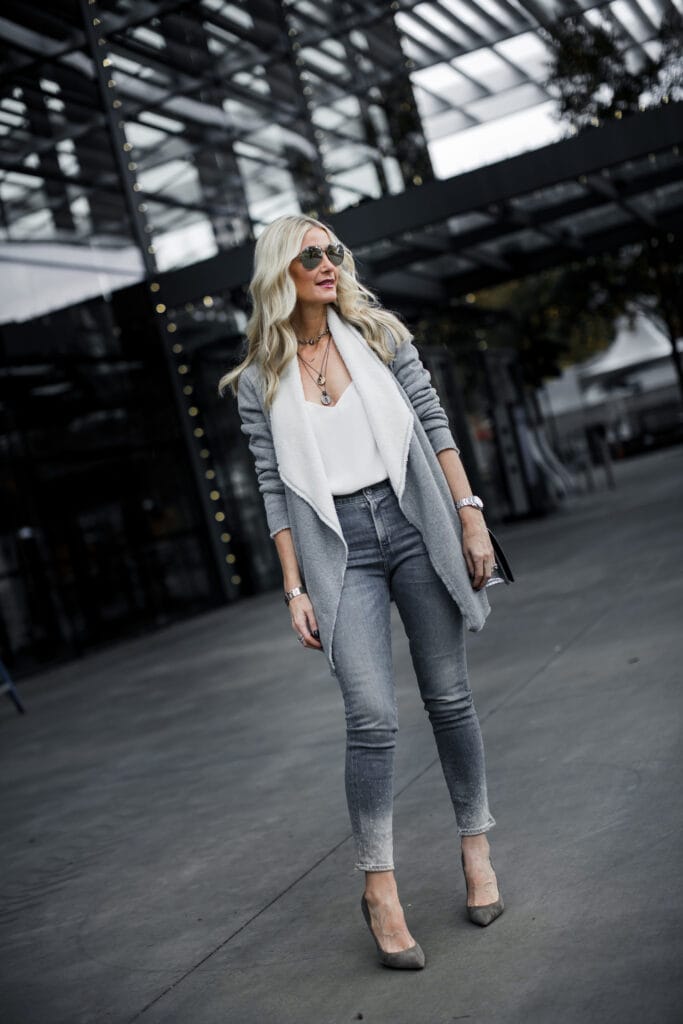 KAREN KANE GRAY CARDIGAN WEARING A SIZE XS // KAREN KANE PINK TEDDY COAT WEARING A SIZE XS // CITIZENS OF HUMANITY JEANS SIMILAR // GRAY SUEDE PUMPS SIMILAR // 'SO HEATHER' COIN NECKLACE (GET 10% OFF WITH CODE 'SOHEATHER10' // WHITE CAMI FOR LESS HERE
My Holiday Shop is now LIVE ON MY BLOG!  I've handpicked all the chicest gifts for everyone on your list broken down by category to make your shopping super easy, you're welcome!







Please feel free to email me at [email protected] if you have any questions!  I'm always happy to help with styling or picking out a specific outfit for an event!   Have a fabulous day!!
CHECK OUT MY INSTAGRAM SHOP HERE TO SHOP ALL OF MY INSTAGRAM LOOKS
YOU CAN ALSO DOWNLOAD THE LIKETOKNOW.IT APP AND FOLLOW ME ON IT BY CLICKING HERE.
STAY IN THE KNOW:  Don't forget to sign up for my exclusive News Letter –  Sign up by clicking here.
Thank you so much for stopping by today, I truly appreciate all of you!
XOXO, Heather
I can't believe the holidays are already here! To celebrate, I decided to team up with a group of bloggers I love, to bring you some holiday cheer. We are giving away a $500 Nordstrom E-Gift card to one lucky winner!
You can see the hosts + how to enter below! Good luck, and happy holidays!
Hearts of Gold Blog | Pretty In Pink Megan | Sunflowers and Stilettos | The Style Sauce
Tanya Foster | The Lush List | Olive & Ivy | Street Style Squad | Dawn P Darnell
The Middle Page | So Heather | Glitter & Spice | Sincerely Katerina | LegalLee Blonde
From the Family | Uptown Fashion By Jess | RD's Obsessions | Lou What Wear | Haute Sweat
The Confused Millennial | How 2 Wear It | Lovely Silvia | L. Avenue | Cup of Charisma
Josephina Collection | SheSheShow | Happily Inspired | Lifestyles by Lauren
Hey Kaily Mae | Glamorous Versatility | Tayler Malott | I'm Fixin' To
One lucky winner will get a $500 Nordstrom E-Gift Card. This giveaway is brought to you by the wonderful influencers above, be sure to check out their websites for gift guide suggestions! Enter by performing the actions listed in the Rafflecopter below for a chance to win!
Make sure to do the actions in the Rafflecopter before marking they are done! Marking done doesn't automatically perform the action. Good luck! Winner will be announced in the Rafflecopter on this blog post.
One winner, giveaway runs from December 5, 2018 to December 19, 2018 (concludes at 11:59 PM on the last day). Open to the U.S. and Canada only. Void where prohibited. By entering you are agreeing that you are performing the actions in the Rafflecopter that you have marked as done. By entering you acknowledge that you are agreeing to the newsletter subscriptions and all other terms & conditions of the giveaway. More giveaway details can be read in the terms & conditions here. Winner will be announced within 14 days of the conclusion of the giveaway and entries will be verified by the hosts. Thanks for participating, I can't wait for you to check out these amazing bloggers!
We're making a list and checking it twice!
I've teamed up with an amazing group of bloggers
to give YOU a chance to win:
a $1,000 Nordstrom Gift Card, just in time to complete your holiday wish list!
Simply enter below by completing the rafflecopter.
You'll receive one entry per completion.
This giveaway is open to the U.S. and Canada only and runs until 12/14.
Winner will be announced here. Good Luck!
Void where prohibited.
By entering the giveaway you acknowledge that you are agreeing to complete each task,
which involves following, liking and subscribing to newsletter's.
Share the post "TOP 10 COZY GIFTS FOR HER: SHARING 2 LOOKS + $500 GIVEAWAY TO NORDSTROM + $1000 NORDSTROM GIVEAWAY REMINDER"