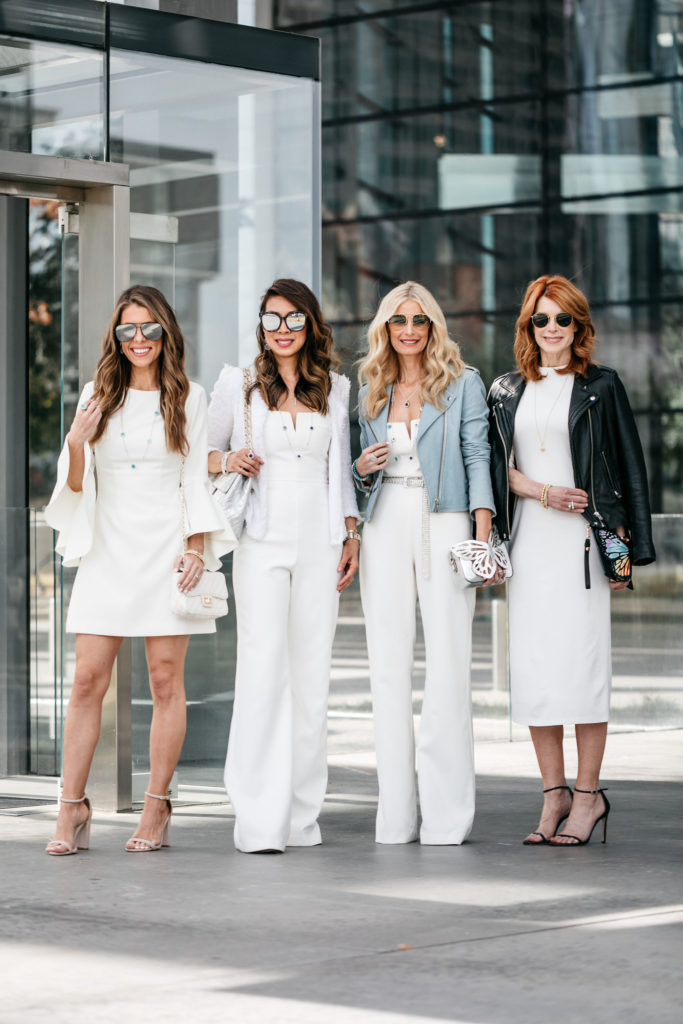 It's that time again, our CHIC AT EVERY AGE series and we're all incredibly excited to be partnering with Neiman Marcus and LAGOS jewelry!
Natalie Keinan of THE FASHION HOUR  // Samantha Stewart of  STYLE OF SAM // Cathy Williamson of  THE MIDDLE PAGE
 Lagos jewelry makes the most stunning and exquisite jewelry and they have the absolute best selection of LAGOS jewelry at Neiman Marcus.   Neiman Marcus is one of my favorite department stores to shop at by a long shot.  I love to admire all the mannequins and see how each one of them has been styled because they always look very fashion forward and on trend!   When I'm in the market to buy some jewelry all of the sales associates are very helpful and extremely friendly yet not pushy making my shopping experience very enjoyable!  I adore shopping for LAGOS jewelry specifically because it's not only gorgeous but I love how it's all meant to be layered together making it the perfect topper to any look!
SHOP MY LOOK:

THE LAGOS JEWELRY I'M WEARING:
3 NECKLACES:
The necklaces I'm wearing are such beautiful shades of blue and I love that they're actually done in several different hues of blue making these necklaces more interesting and even more versatile.  The sterling silver on both of these stunning necklaces is done in silver which I love wearing more in the spring and summer because I think silver compliments pastel tones and whites so much better.
The shorter necklace I'm wearing is made with a gorgeous royal blue stone called a Lapis and I love that it's trimmed in silver.  You could also wear this necklace alone for more of an everyday simple and casual look.  My favorite way to wear it as an everyday piece would be to pair it with a simple tee and some distressed jeans.
If you want a little more and need to dress up your look, pair this short single pendant necklace with this fabulous long turquoise and silver necklace.  I'm actually wearing 2 of the long necklaces layered on top of one another in this post which really adds an amazing pop of color to my look!  I think this necklace would also look stunning worn over a simple black tee, the silver and turquoise would really show up beautifully.  This is such a fun piece to have in your jewelry collection sure to take all of your looks to the next level of chic!
MAYA 3-DROP MOTHER OF PEARL EARRINGS:
My gorgeous earrings are called the Maya 3-Drop mother of pearl earrings and talk about a statement-making accessory sure to amp up any look, these are your answer!  When you're getting dressed up in a little black dress or really any color dress these earrings will add the perfect finishing touch.  The fact that they're mother of pearl means they will literally match everything.  Because of their neutral tone, I have no doubt you will get your wear out of them making the well worth it when you consider the cost per wear.
3 BRACELETS:
My fabulous silver and blue bracelets are so fun and chic!  I love wearing them layered together, the more the merrier in my book, who's with me?!  Again, these stunning bracelets can be worn with everyday casual looks too because they're very versatile!
MAYA ROUND MOTHER OF PEARL RING:
This stunning beautiful ring is such a fun statement piece!  I love the mother of pearl and silver combination because this ring will go with so much!  I personally love wearing a chic chunky ring on my middle finger on my right hand and this one is hands-down the perfect choice.  This ring is a timeless piece that you'll find yourself wearing over and over again!
Whether you're looking for some stunning and timeless pieces to add to your own jewelry collection or you're looking for the perfect gift for your Mother on Mother's day LAGOS available at Neiman Marcus has the chicest most versatile jewelry collection on the market.  Every piece is unique and I love that they all look so good worn alone or layered together.  No matter what the occasion, dressy or casual, let Lagos jewelry be the one accessory to take all of your looks to the next level!
OUTFIT DETAILS:
My white jumpsuit is from Neiman Marcus of course and it's by a brand called Likely who makes the most stunning dresses and jumpsuits at very affordable prices!  I love the flared legs on this jumpsuit because they make you taller and slimmer which is always a plus!  I chose to belt it at the waist but you certainly don't have to.  This chic jumpsuit is a great alternative to wearing a dress and can be worn so many places such as brunch, church, a luncheon, and even on date night!  It runs true to size, I'm wearing a size 2.
I'm wearing a baby blue Iro leather jacket I got at Neiman Marcus years ago but I still it wear a ton proving a leather jacket is a timeless piece everyone should have in their wardrobe!  I linked a very similar one in a pretty pastel blue shade which is so perfect for spring and summer!  Iro jackets run true to size, I'm wearing a size 36 which is the same as an XS.
My fun butterfly silver handbag is by Sophia Webster and it's the perfect accessory to chic up any look!  I adore the silver metallic finish because it will literally go with everything making it extremely versatile!
A very special thank you to Neiman Marcus and LAGOS Jewelry for sponsoring this post!
Please feel free to email me at [email protected] if you have any questions!  I'm always happy to help with styling or picking out a specific outfit for an event!   Have a fabulous day!!
CHECK OUT MY INSTAGRAM SHOP HERE TO SHOP ALL OF MY INSTAGRAM LOOKS
YOU CAN ALSO DOWNLOAD THE LIKETOKNOW.IT APP AND FOLLOW ME ON IT BY CLICKING HERE.
STAY IN THE KNOW:  Don't forget to sign up for my exclusive News Letter –  Sign up by clicking here.
Thank you so much for stopping by today, I truly appreciate all of you!  XOXO, Heather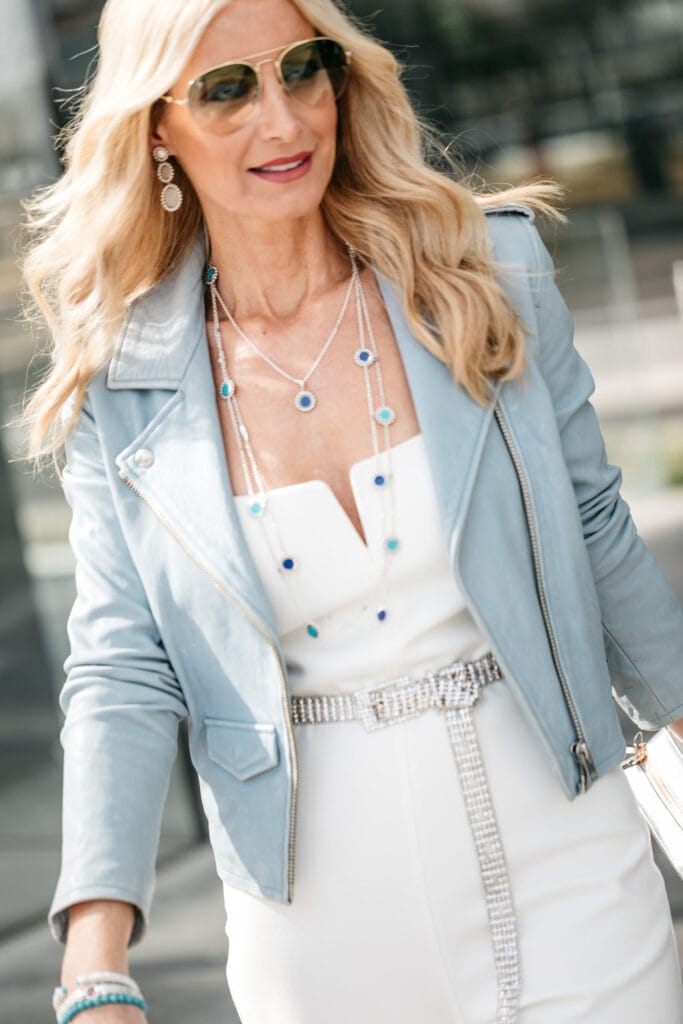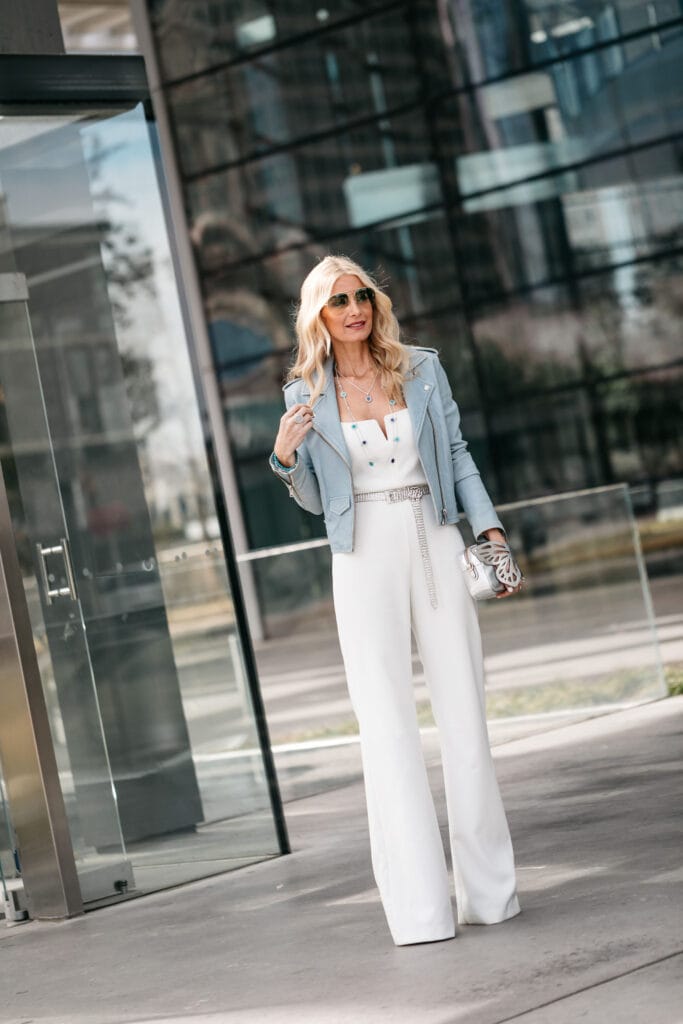 WHITE JUMPSUIT WEARING A SIZE 2 // IRO LEATHER JACKET SIMILAR // LAGOS LONG NECKLACE // LAGOS EARRINGS // LAGOS RING // LAGOS TURQUOISE BRACELET // LAGOS DIAMOND ROPE BRACELET// LAGOS STERLING SILVER HINGE BRACELET // SILVER BUTTERFLY HANDBAG
FEEL FREE TO SUBSCRIBE TO MY NEW YOUTUBE CHANNEL FOR STYLE, BEAUTY, AND FITNESS TIPS TO HELP WOMEN LOOK AND FEEL CONFIDENT
CHECK OUT MY INSTAGRAM SHOP TO SHOP ALL OF MY INSTAGRAM LOOKS
YOU CAN ALSO DOWNLOAD THE LIKETOKNOW.IT APP AND FOLLOW ME ON IT BY CLICKING HERE.
STAY IN THE KNOW:  Don't forget to sign up for my exclusive News Letter for AMAZING STYLE TIPS, SALE ALERTS, AND MUCH MORE!
Thank you so much for stopping by today, I truly appreciate all of you!
XOXO, Heather