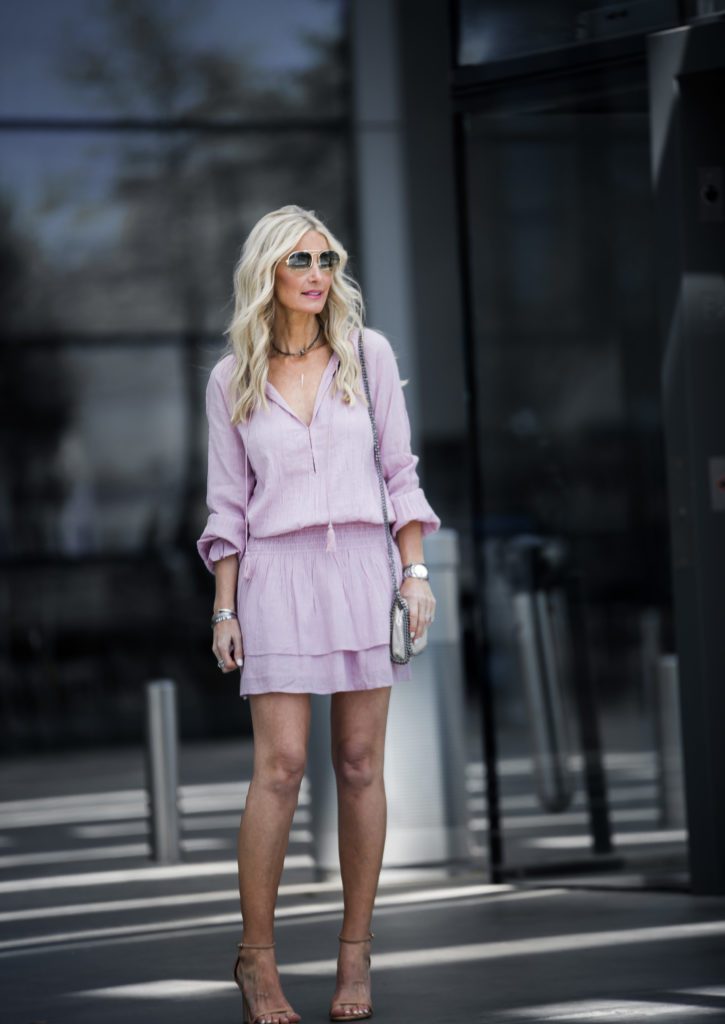 I'm so happy to be teaming up with my favorite department store, Nordstrom,  to bring all of you the 10 best casual dresses for spring.  I'm featuring 2 of my favorite's in today's post, both by Paige and both uber chic and super comfortable!
SHOP LOOK 1:

SHOP LOOK 2:

TOP 10 SRPING DRESSES:

LOOK 1 DETAILS:  I was shopping in Nordstrom the other day and I stumbled upon this amazingly chic pink dress and knew I just had to have it!  It's so perfect for all of the SUPER HOT summer days we have in Dallas!  The material is so light and breezy, wrinkle free and it just feels really good on!  Another amazing thing about this dress is that it's not see through at all (the skirt is double lined) which is always a plus!  It runs true to size, I'm wearing an XS.  It can be dressed up as I styled it in this post and worn on a date night or a fun GNO, but can also be worn super casual with some cool sneakers or some chic metallic slides.  I know I'll be living in this dress this season and if you decide to get it I'm sure you'll be too!
I'm in love with these incredibly chic heels by Stuart Weitzman, worth the investment for sure!  They're much more comfortable than the original Nudist heel by Stuart Weitzman because the heel height is 4 inches instead of 5 and trust me, that makes a big difference!  I have these in 3 colors (black, pewter, and the nude as seen in this post) because they're that good!  These will be my go-to heel this season, I'll be wearing them a ton with dresses, skirts, and of course jeans!
LOOK 2 DETAILS:  This blue and white striped dress is also by Paige and I'm obsessed!  I'm a sucker for anything blue and white striped and I love the draw string waist which allows you to wear this dress shorter or longer depending on where you tie it.  I tied it higher on my waist since I'm only 5'4 I wanted the dress to be a little shorter, however, if you're taller and want the dress to be longer just wear it down lower on your waist (like the model).  This fabulous dress runs true to size, I'm wearing a size XS.  The best part, it's on SALE, originally $199 marked down to $149.25 making it a definite must-have!
My Marc Fisher wedges are a favorite of mine for sure!  I live in these wedges all season long because they're super comfy yet incredibly chic!  I have them in 3 colors, they're that good!  I love this metallic gold shade because it's so versatile, these wedges will literally go with all your my spring looks. I highly recommend adding at least one pair of these amazing wedges to your shoe wardrobe, they're so comfortable AND they look good! The exact wedges I'm wearing are sold out, however, I love these and these, both are by Marc Fisher and very similar.  Below I've handpicked all my favorite wedges by Marc Fisher, trust me, you need at least one pair!

MIXING HIGHS AND LOWS:  I'm doing it again as I do a ton, mixing an investment handbag, my Gucci handbag, with a reasonably priced dress and some affordable shoes. Everything you wear doesn't have to be designer or expensive, but I do recommend in investing in a quality handbag.  
CLICK HERE TO SEE MY LATEST POST WITH NORDSTROM FEATURING  3 KEY PIECES YOU SHOULD INVEST IN AND WHY INCLUDING THIS GUCCI HANDBAG
A special thank you to Nordstrom for sponsoring this post!
CHECK OUT MY INSTAGRAM SHOP HERE TO SHOP ALL OF MY INSTAGRAM LOOKS
YOU CAN ALSO DOWN LOAD THE LIKETOKNOW.IT APP AND FOLLOW ME ON IT BY CLICKING HERE.
STAY IN THE KNOW:  Don't forget to sign up for my exclusive News Letter –  Sign up by clicking here.
Thank you so much for stopping by today, I truly appreciate all of you!  XOXO, Heather
Money Can Buy Lipstick | Ashley Brooke Nicholas | Blondes & Bagels | So Heather
Tonya Michelle | Street Style Squad | My Blonde Life | From the Family with Love
Glam & Posh | Whit Wanders | Lizzie in Lace | I'm Fixin' To
Bubbly Moments | Tall Blonde Bell | Karina Style Diaries | Trendy in Indy
Binkies & Baubles | Christine Marie
This week I decided to team up with my favorite bloggers and bring you a $500 Nordstrom gift card giveaway. Use the widget below to enter.