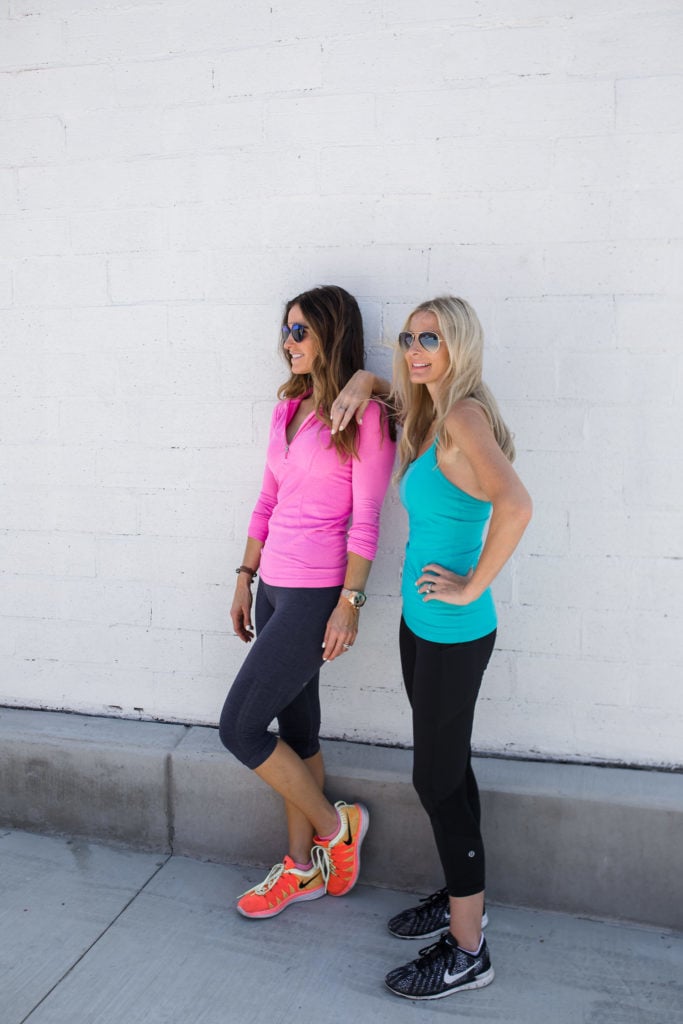 Another 'Streed Edit' is here with my good friend and fellow Dallas Fashion Blogger, Tiffany Davros, of Street Style Squad.  We thought it would be fun to wear work-out clothes in a post, because let's be real here, we certainly don't get dressed up in street clothes every day!  It IS possible to look cute in work-out clothes, I love this particular line from Nordstrom called Zella, and I've linked my top work-out gear picks – all part of the NORDSTROM ANNIVERSARY SALE!
Now, onto my work-out routine and eating habits:  I've been wanting to share this for quite a while now because I do get this question quite a bit from my readers and friends – "How do you stay fit in your 40's?"  Well, here's my honest answer:
I'm a firm believer that my size has everything do to with the foods I eat.  Period.  Yes, I also believe that exercise is crucial, not only because it keeps me toned and firm, but it helps me mentally as well.  I think what I eat is about 85% of the reason I'm the size I am, the other 15% is exercise.
I practice Bikram hot yoga and am obsessed with it.  I do it religiously four times a week, the other 2 days a week I play tennis, and I take Sunday's off.  Bikram is a 90 minute hot yoga class which takes place in a room that's 105 degrees, so I sweat a ton a feel like a million dollars when I step out of the class room, EVERY time.  It's tough and challenging to say the least, but it keeps me toned and helps me mentally.
I basically live by the Paleo way of eating.  I eat mostly fruits and vegetables, little or no red meat, and hardly ever drink alcohol.  I drink one cup or so of black coffee every morning in bed (one of my favorite times of the day), and the rest of the day I drink as much water as possible, never any sodas.
Here is what I eat on a daily basis:  I drink a shake in the morning, every morning, no matter what unless I'm traveling.  I'm a creature of habit I guess, because this is what I eat for breakfast literally every morning.  You can get the recipe for my morning shake here.
I'm a big snacker throughout the day which keeps my metabolism going.  When I get home from yoga or tennis I'll have some organic mixed nuts and a big glass of coconut water.  For lunch I usually have a juice from the GEM, made up of kale, spinach, lemon, ginger, apples, and cucumber, (this one is called the GREEN GLOW), along with a protein bar or a salad.  In the afternoon, I'll snack on some more nuts, gogi berries, celery and almond butter,  dark chocolate covered almonds, or a piece of fruit.  For dinner I usually have a protein such as chicken or fish, and a vegetable and or another salad.  I don't drink alcohol that often, maybe a glass or two of red wine every one-two weeks.  It's just never really been my thing for some reason.
My only dietary vice would be my enormous sweet tooth, which I inherited from my sweet Dad (pun intended).  So, to satisfy my sweet tooth I eat a small dessert only once a day, usually after dinner.  It's often a few cookies, or a small piece of pie or cake.  I also LOVE chocolate so I'll eat a few pieces of dark chocolate too!
It's different for everyone, and trust me I know it's not easy, but this regimen works for me.  It's all about finding that balance and what works for you and your body type.  I encourage all of you to look at exercise and healthy eating not as a diet, but as a way of life, and not just because you'll look better, but because you'll feel better too!
SHOP MY FAVORITE WORK OUT CLOTHES FROM THE NORDSTROM SALE: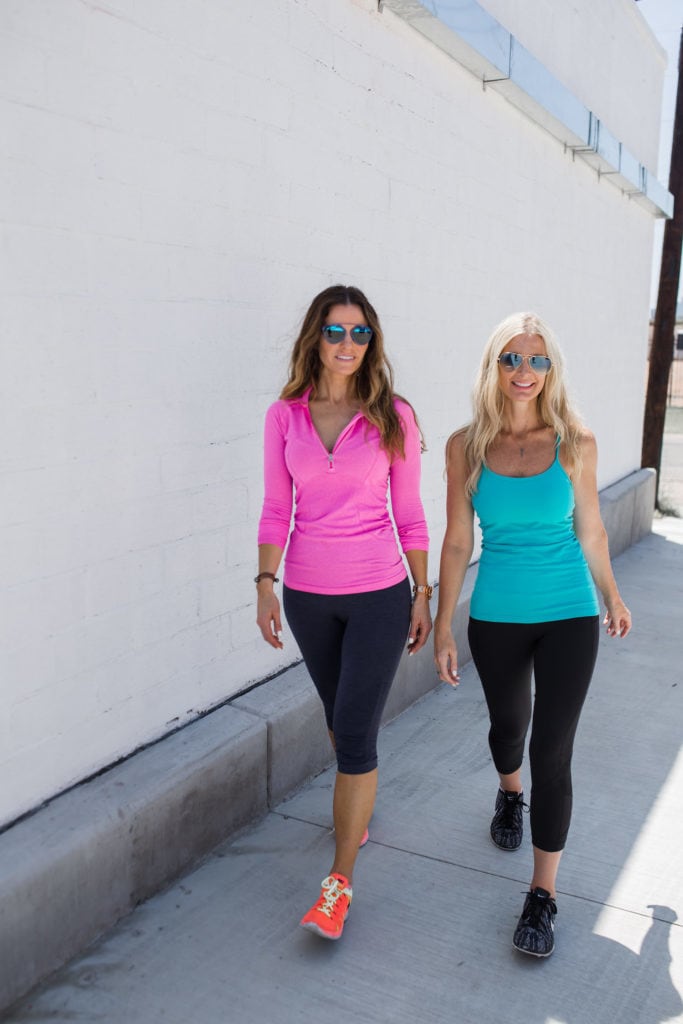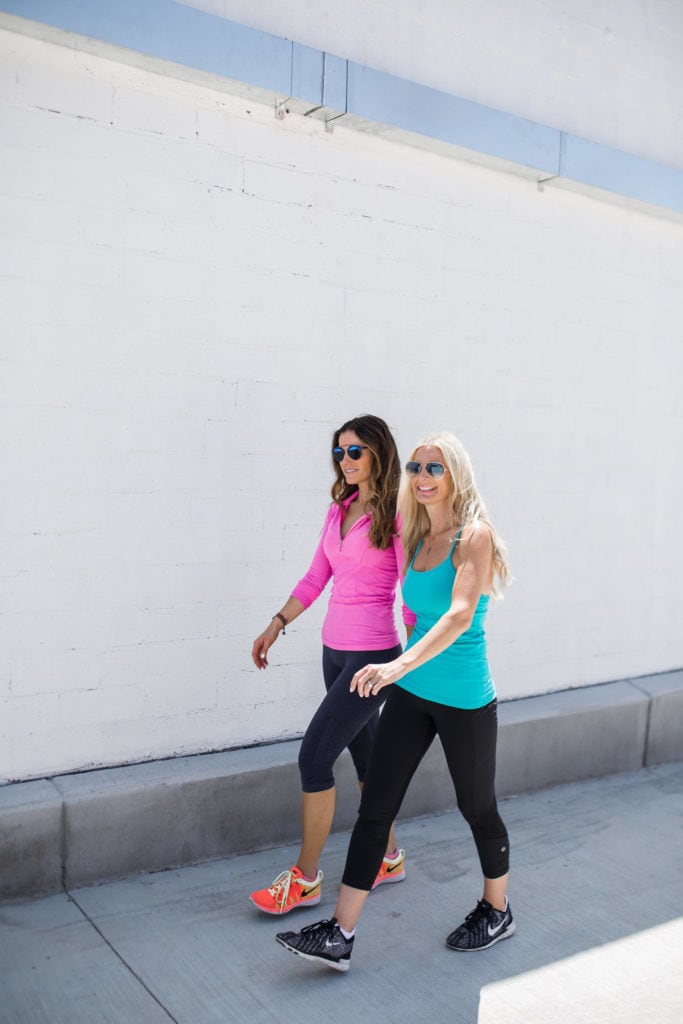 Thanks so much for stopping by today!  Have a great week!  XOXO, Heather
Share the post "How I Stay Fit in My 40s, Plus SHOP the Best Work Out Gear All on SALE"