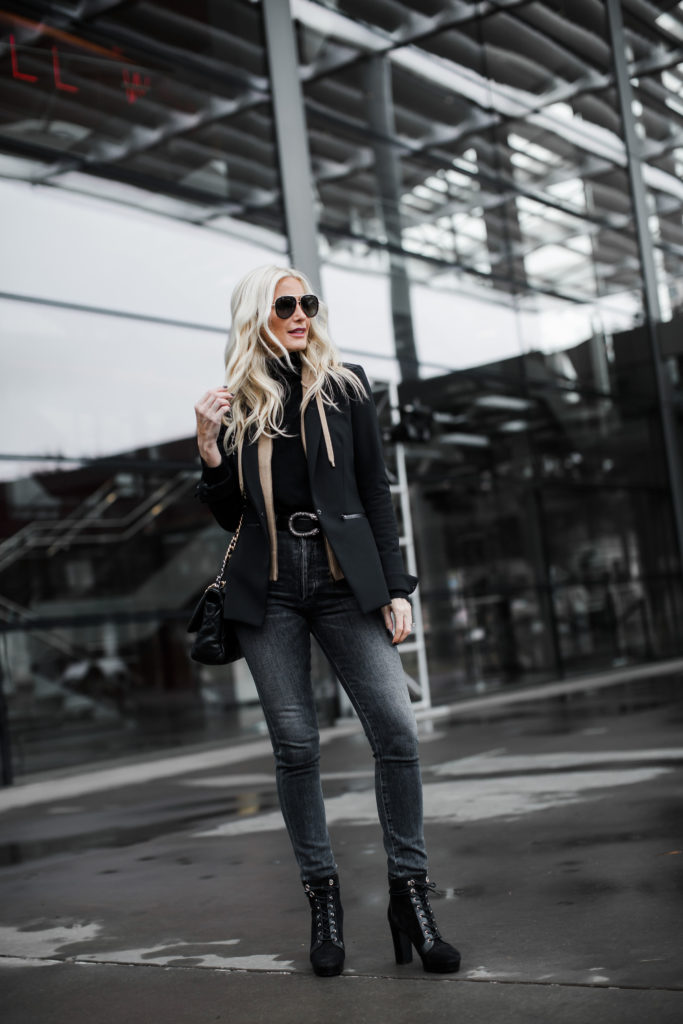 Happy Wednesday ladies!  Winter is officially here and I'll have to say I'm very happy!  I love sitting by cozy fires with family and friends, drinking hot chocolate, and wearing all of the fun winter basics such as sweaters, boots, and jackets!  Anyone else a huge fan of fall and winter clothes?  In order to have a functional winter wardrobe while still looking stylish, I believe you need to consider investing in 7 of the suggested winter basics below.  These are all items I literally couldn't live without during the cooler months and they for sure make getting dressed for me so much easier every single day during the fall and winter.  I hope they will do the same for you!  Check out my video and the 7 winter wardrobe basics I listed below and see what your winter wardrobe is craving.  Be sure and scroll all the way down to see how styled each of these fabulous winter wardrobe basics.  ALSO, CHECK THE BOTTOM OF THIS POST FOR ALL THE BEST CYBER SALES GOING ON THIS WEEK!
SHOP MY LOOK (JEANS ARE UP TO 25% OFF): 

SHOP THE 7 WINTER WARDROBE BASICS: 

7 WINTER WARDROBE BASICS:
1.) PUFFER JACKET:
SHOP THIS LOOK (JEANS ARE UP TO 25% OFF AND SO IS THE SOLID BLACK VERSION OF MY PUFFER THANKS TO THE SHOPBOP SALE): 

I'm recommending the SAM puffer jacket, you can view me wearing it here in the Liketoknow.it app.  I've had this jacket for over 4 years now and it still looks brand new and it's still available online.  I love the fur hood because it adds a bit of glam to this otherwise basic jacket.  It does come in a version with no fur if fur is not your thing which I will link for you ladies.  It's super warm and I love the shiny black material versus just a pain a black fabric making this puffer jacket incredibly chic!  It is a bit on the expensive side but well worth it when you take into consideration you'll have it for years and wear it a ton just like I have.  I did find this one that I love that's super chic and more budget-friendly!  Trust me, a chic puffer jacket is guaranteed to take you many places this winter in style and comfort!
2.) WEATHERPROOF BOOTS:
SHOP THIS LOOK:

Weatherproof boots are a must especially on the really cold days when it snows or rains.  Most of the weatherproof boots are not stylish looking in the least, however, when I stumbled up these the other day I was immediately impressed!  I love the wedge heel and the faux fur lining making these chic weatherproof boots not only incredibly warm but very stylish too!  I wore them the other night to Will's football game and feet were warm and never hurt even after walking a ton.  Check out this LiketoKnow.it post to see how I styled these chic to death booties!
3.)  BLACK BLAZER:
SHOP THIS LOOK: 

A black blazer is the most versatile and timeless jacket a woman can own so investing in a good one important.  The one I'm suggesting is the Veronica Beard blazer I'm wearing in this post.  I've had it for several years now and I still find myself wearing it a ton.  The fit is impeccable and the material is very high-quality and wrinkle-free making it a great jacket to travel in.  I love that it has interchangeable dickey's that you can zip into this blazer making it look like an entirely different jacket.  I'm wearing this gorgeous camel cashmere dickey in this post and I love it!  It's so cozy and it really adds a nice layer of warmth to my look without adding to much bulk.  You can check out more Veronica blazers here and dickeys here.  I have the camo dickey and the black leather dickey and love wearing them both with this versatile and timeless blazer.  If this one is out of your budget no worries, I linked this one from J Crew that I love!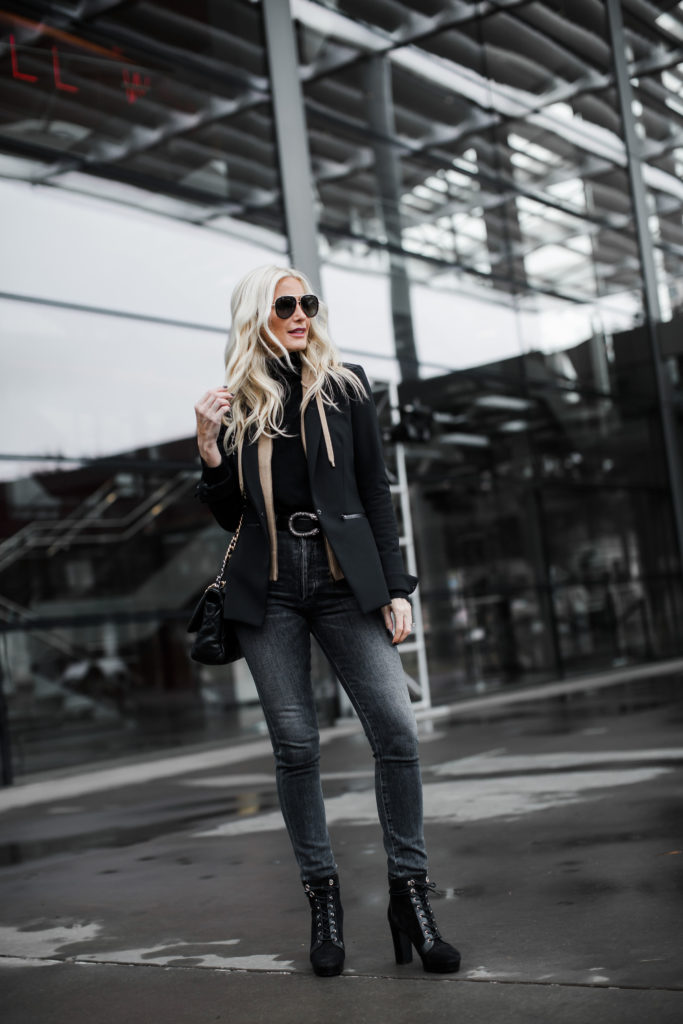 4.) CASHMERE TURTLENECK (UNDER $100):

I literally wear this UNDER $100 cashmere turtleneck all the time in the fall and winter under all of my favorite jackets.  It's not itchy, it does a great job of keeping you warm, and it's not too bulky so you can tuck it in.  It comes in a v-neck version which is my personal favorite and a crew neck version and yes they're all cashmere, all under $100, and all definite winter wardrobe must-haves!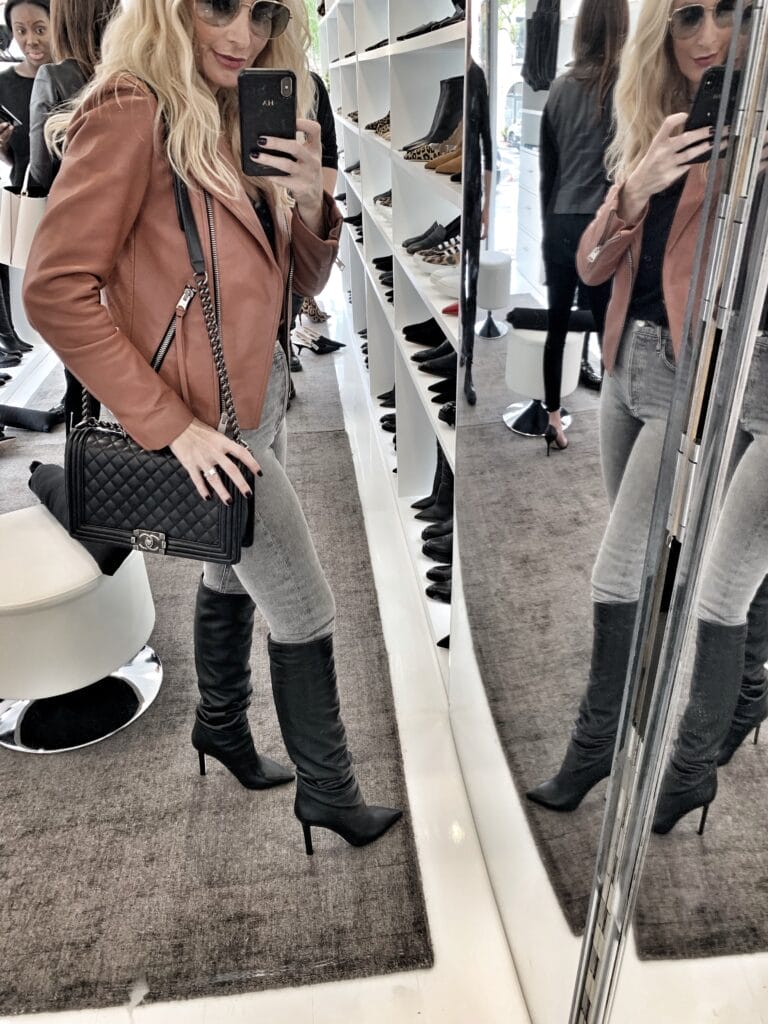 5.) KNEE-HIGH BOOTS ($100 OFF):
SHOP THIS LOOK: 

My favorite shoe to wear in the winter are knee-high boots because they do a great job of keeping you warm while still allowing you to wear a heel.  I love these by Tamara Mellon that I just purchased and I'm obsessed with them!  They're made of beautiful real Italian leather and they're seriously so comfy!  You can order them in different heel heights which I love.  I got the 90 mm heel so I could wear them all day without my feet hurting.  The coolest thing about these boots is that they can be worn over the knee or scrunched down and worn to the knee which is how I'll be wearing them most of the time.  The Tamara Mellon boots run big so size down a half a size.  These are a bit expensive, so I found these by Schutz that are almost identical but a fraction of the price.
6.) CASHMERE WRAP SCARF (UP TO 25% OFF THANKS TO THE SHOPBOP SALE):

A cashmere scarf is sure to keep you warm and cozy this winter while keeping you looking incredibly stylish!  I travel with this gray wrap scarf all the time and I love it!  I can use it as a blanket on the plane or as a scarf if I'm going somewhere really cold.  I also just got this brown and black zebra print one and love it too!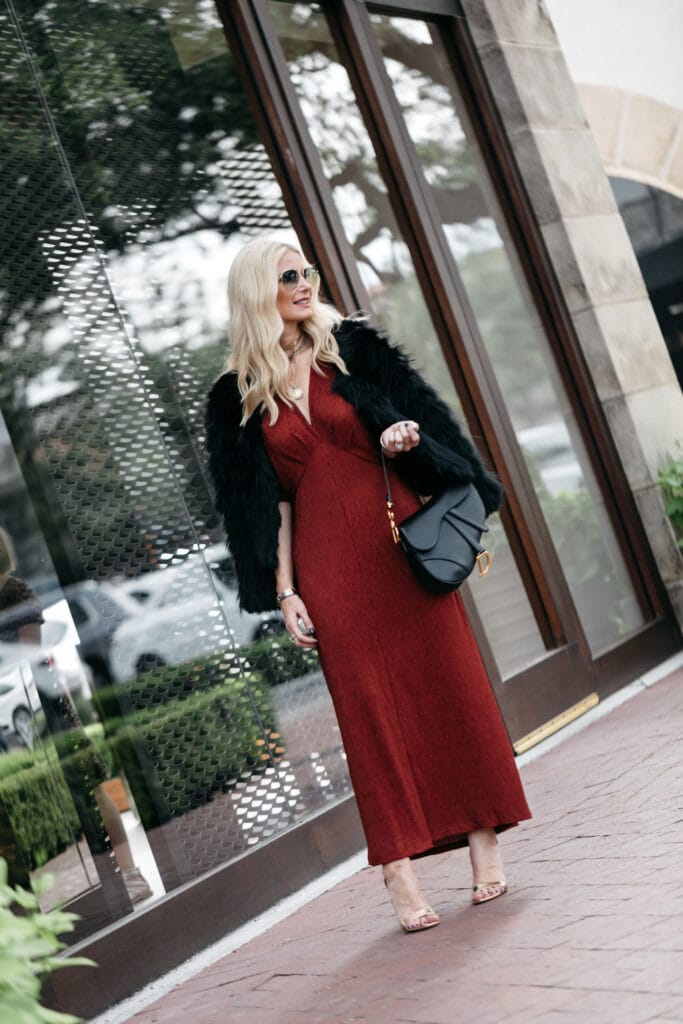 7.) FUR JACKET:
SHOP THE LOOK (FUR JACKET IS 25% OFF): 

This is a must in the wintertime and so perfect for whenever you get dressed up for events, parties, weddings, or even a date night.  You need a gorgeous fur jacket or faux-fur to wear over dresses, camis, and satin blouses.  I'm obsessed with this gorgeous fox fur jacket by Alice and Olivia AND IT'S CURRENTLY 25% OFF!  I wear it a ton over dresses and skirts but love wearing it with jeans and knee-high boots too!  The possibilities are endless proving the versatility of this luxe fox fur jacket sure to amp up all of your winter looks.  If real fur isn't your thing or if the Alice and Olivia jacket is out of your budget, no worries, I love this one by Blanknyc and it's under $100!
BEST CYBER WEEK SALES:
SHOPBOP IS DOING SPEND MORE SAVE MORE: 15% OFF ORDERS $200+, 20% OFF ORDERS $500 +, AND 25% OFF ORDERS $800+

ALICE AND OLIVIA IS OFFERING 25% OFF ALMOST EVERYTHING

NORDSTROM IS OFFERING 40% OFF PREMIER DESIGNER
BANANA REPUBLIC IS OFFERING  40% OFF REGULAR PRICED ITEMS

INTERMIX IS OFFERING 40% OFF SELECT ITEMS

J CREW IS OFFERING 40% OFF EVERYTHING
MADEWELL IS OFFERING 30% OFF WITH CODE GIFTWELL
BLDWN IS OFFERING 35% OFF SITEWIDE
FRAME DENIM IS OFFERING UP TO 60% OFF SELECT ITEMS
REVOLVE IS OFFERING UP TO 50% OFF OF SALE
VERONICA BEARD IS OFFERING 30% SELECT ITEMS
SAKS IS OFFERING UP TO 50% OFF DESIGNER ITEMS
NEIMAN MARCUS IS OFFERING UP TO 50% OFF SELECT ITEMS
NET-A-PORTER IS OFFERING UP TO 50% OFF
My HOLIDAY SHOP is now live on the blog.  I've handpicked all of my favorite gifts broken down by category to make your holiday shopping super easy, happy shopping!






FEEL FREE TO SUBSCRIBE TO MY NEW YOUTUBE CHANNEL FOR STYLE, BEAUTY, AND FITNESS TIPS TO HELP WOMEN LOOK AND FEEL CONFIDENT
CHECK OUT MY INSTAGRAM SHOP TO SHOP ALL OF MY INSTAGRAM LOOKS
YOU CAN ALSO DOWNLOAD THE LIKETOKNOW.IT APP AND FOLLOW ME ON IT BY CLICKING HERE.
STAY IN THE KNOW:  Don't forget to sign up for my exclusive News Letter for AMAZING STYLE TIPS, SALE ALERTS, AND MUCH MORE!
Thank you so much for stopping by today, I truly appreciate all of you!
XOXO, Heather
Share the post "A VIDEO SHARING 7 WINTER ITEMS EVERY WOMAN SHOULD INVEST IN + THE BEST CYBER WEEK SALES"