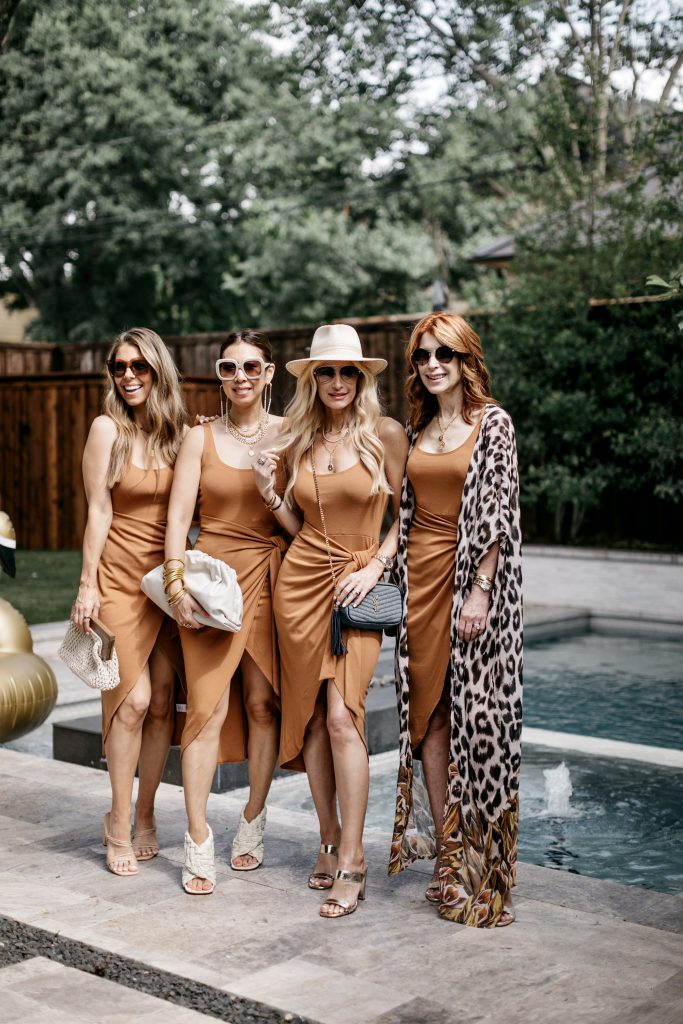 Happy Tuesday ladies! I hope you all had a wonderful Fourth of July holiday with friends, family, and loved ones! Now that the heat of summer is finally upon us, I thought I'd share some of my all-time favorite summer dresses for women over 40 I'll be wearing a ton this season. Dresses are my favorite thing to wear in the summertime because they're a one and done look that are easy to put together plus they're a ton cooler than wearing jeans. I truly believe you can never go wrong with a dress whether it's a midi, a maxi, or a short one! In this post, I'm featuring 5 incredibly stylish dresses so make sure to keep scrolling because the last dress I'm sharing is one of my new go-to pieces.
SHOP THE LOOK (GOLD HEELS ARE 15% OFF WITH CODE HEATHER15):

RUST COLORED MIDI-DRESS:

The exact color I'm wearing only has one size left, however, it is available in the olive green shade for preorder which would be perfect for fall! Just throw a leather jacket over it and wear it into the next season. I love that this dress is comfortable and wrinkle-free! It runs true to size, I'm wearing an XS.
GOLD HEELS (GET 15% OFF WITH CODE HEATHER15):

I am in love this metallic shade that is so perfect for summer! These heels are actually very comfortable and wearable because of the block heel. The best part? You can get 15% off with code HEATHER15 which makes these summer shoes a great steal.
CHIC AT EVERY AGE INFLUENCERS: Natalie Keinan of THE FASHION HOUR  // Samantha Stewart of  STYLE OF SAM // Cathy Williamson of  THE MIDDLE PAGE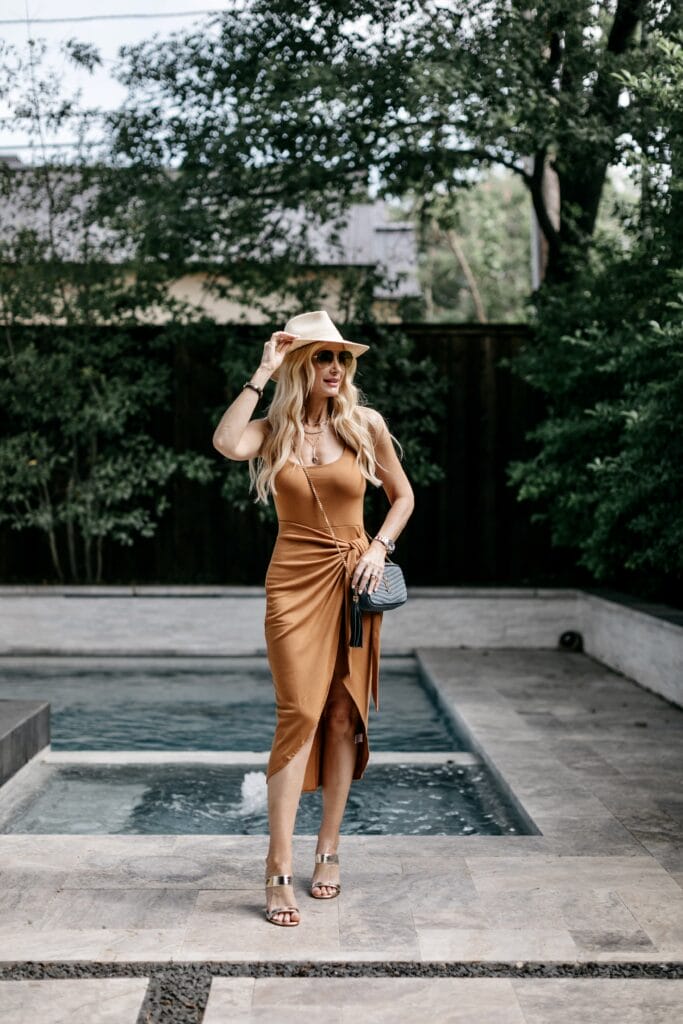 GET 15% OFF THESE FABULOUS HEELS WITH CODE HEATHER15

SHOP THE LOOK:

BROWN MAXI DRESS:

This simple chic maxi dress is a year-round favorite of mine for so many reasons! I love the tastefully sexy plunging neckline making it a bit more unique than your other maxi dresses. It's such a perfect date night or GNO piece and will look good all year long. In the fall, just throw on a third layer and you're all ready. This dress runs true to size, I'm wearing an XS.
SHOP THE LOOK (DRESS & SHOES ARE UNDER $100):

BLACK DRESS:
I am a sucker for a one-shoulder piece like this especially during the summertime. I also love the color black which you all probably know by now if you've been following along. This dress is so chic and super affordable which is a bonus! It runs true to size, I'm wearing an XS.
SHOP THE LOOK:

NEUTRAL MIDI DRESS:

Can a girl really ever own too many neutral dresses for the summer? This is hands down one of my favorite dresses in my summer collection because it's so slimming, flattering, and comfortable. I love the ribbed material making it a bit more edgy and giving it lots more detail! This one runs true to size, I'm wearing an XS.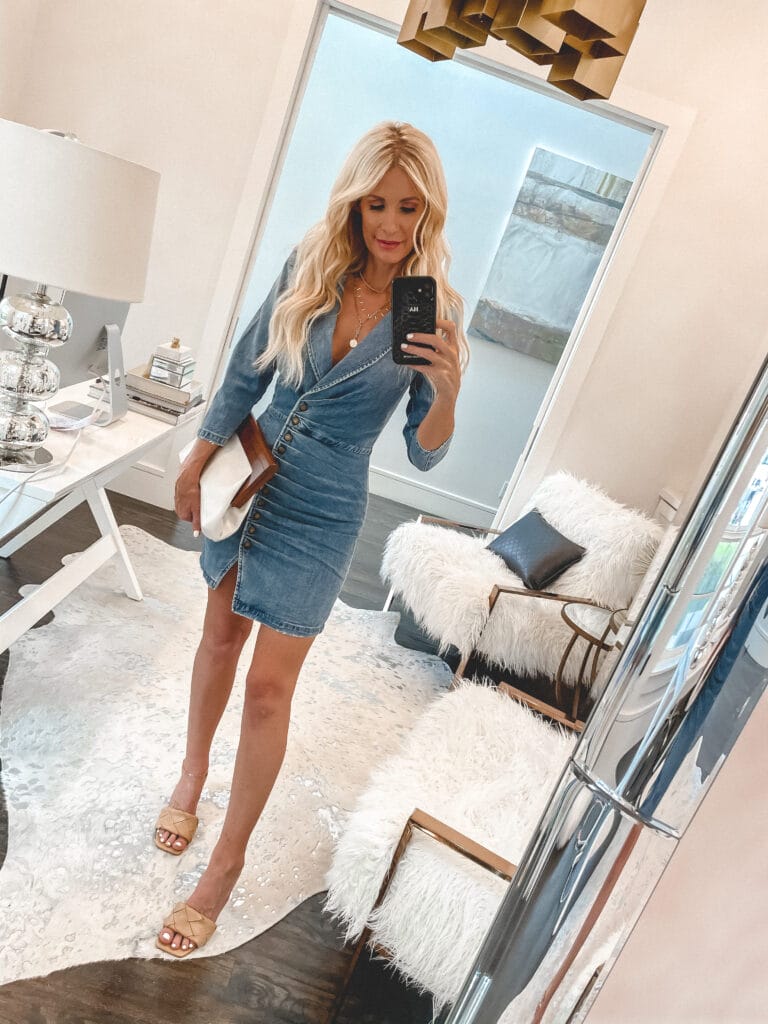 SHOP THE LOOK (CLUTCH IS UNDER $50):

DENIM DRESS:

Last but definitely not least is my favorite dress of the five – this denim number! I am a denim lover through and through and always will be. I am so obsessed with this chic and edgy denim dress that has a slit and a button-up detail you don't see very often making it the perfect date night or night out piece. To me, denim is a neutral, so it goes with pretty much everything whether that be a pair of chic heels or a third layer in the fall. For a more budget-friendly option, I love this denim dress too that's very simliar! This dress runs true to size, I'm wearing an XS.
FEEL FREE TO SUBSCRIBE TO MY NEW YOUTUBE CHANNEL FOR STYLE, BEAUTY, AND FITNESS TIPS TO HELP WOMEN LOOK AND FEEL CONFIDENT
CHECK OUT MY INSTAGRAM SHOP TO SHOP ALL OF MY INSTAGRAM LOOKS
YOU CAN ALSO DOWNLOAD THE LIKETOKNOW.IT APP AND FOLLOW ME ON IT BY CLICKING HERE.
STAY IN THE KNOW:  Don't forget to sign up for my exclusive News Letter for AMAZING STYLE TIPS, SALE ALERTS, AND MUCH MORE!
Thank you so much for stopping by today, I truly appreciate all of you!
XOXO, HEATHER
SUMMER DRESSES FOR WOMEN OVER 40