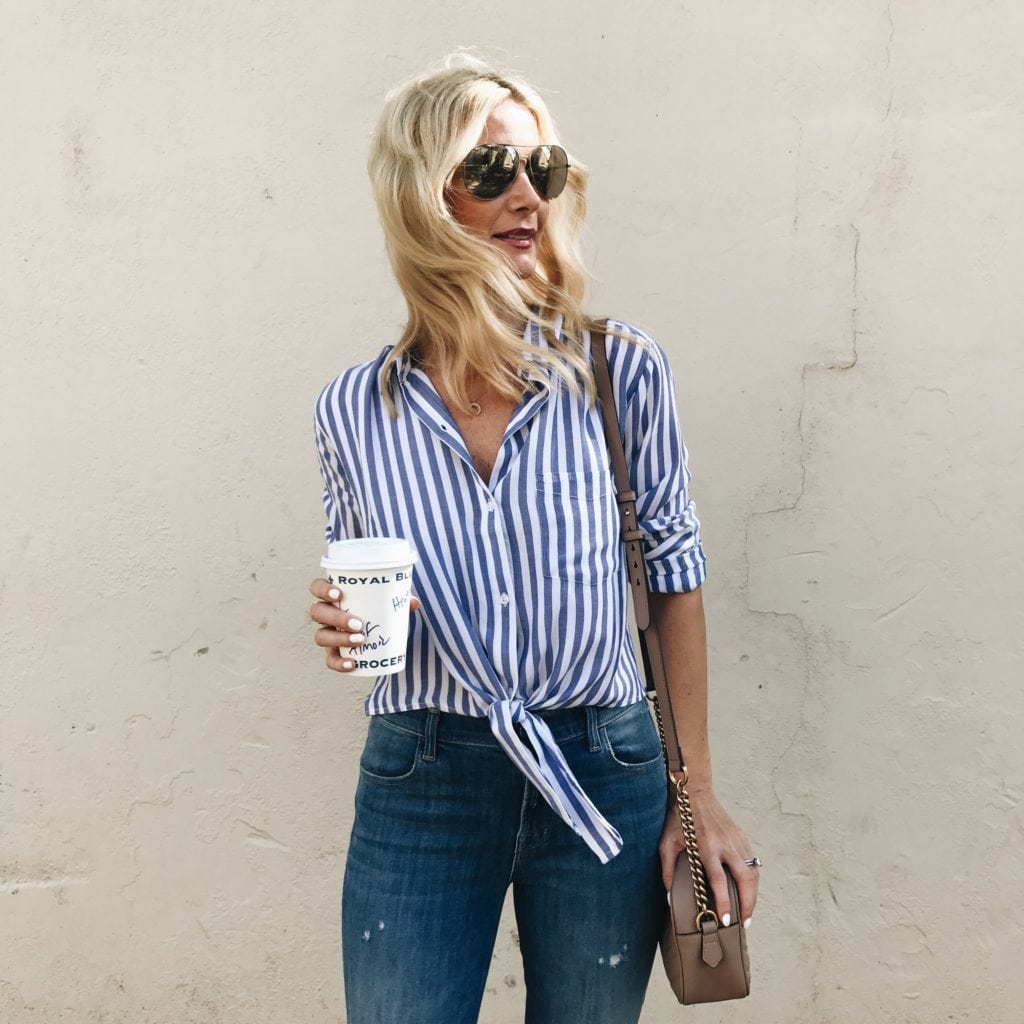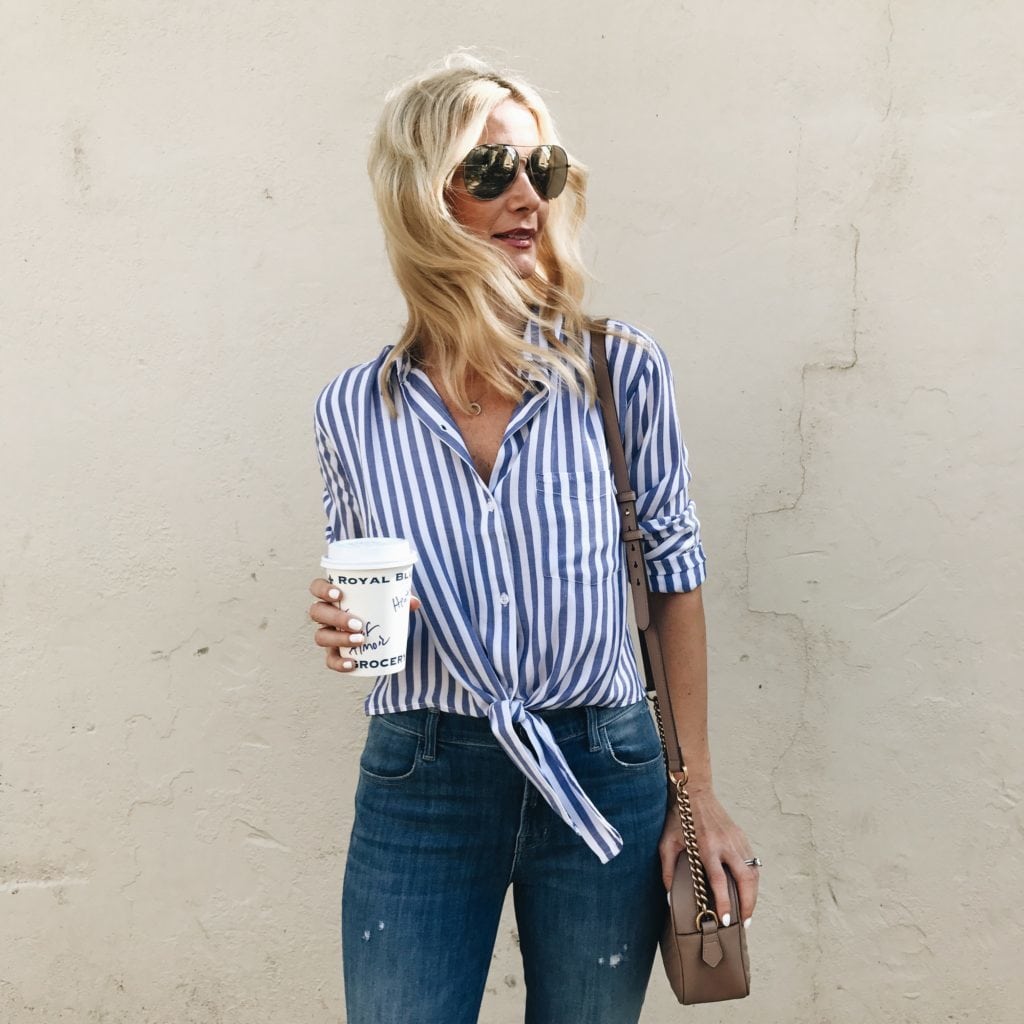 I LOVE a good sale and what I love even better is to be able to share a good sale with all of you!
SHOPBOP is offering 20% off total purchase under $500 and 25% off total purchase over $500 – SALE ENDS TOMORROW AT MIDNIGHT SO DON'T DELAY!  USE CODE EVENT17 . 

Above I'm wearing my favorite Rails striped top, it's super casual and chic, I love the tie at the waist.  I was headed to a Lacrosse game when I had this shot taken.  I've also worn this top with shorts and wedges for a casual weekend look. It runs a bit small, I'm wearing the size small.
My jeans are by J Brand, they're my most comfortable jeans I own hands down!  They're high-rise and perfectly distressed, I'm sure you seen them on my blog before because I wear them all the time, I love them that much!  You can view another post I did in these exact jeans by clicking HERE.  My top from that post is also part of this SHOPBOP SALE, I linked it below for you under TOPS.
A good white button down is a wardrobe staple and the one I'm wearing above is my favorite one!  It's by Frank & Eileen, they're known for making the best button-downs on the market.  The fabric is amazing, it's already pre-wrinkled which I love and the fit is impeccable.  It runs a bit small so order one size up, I'm wearing a size small.  The top button is perfectly placed showing off the perfect amount of skin. Wear this top with the collar up and the sleeves scrunched for the perfect cool-girl effect!  You'll have this top in your wardrobe for many seasons to come and wear it a ton, I know I have!

I took this shot on my way out the door to have lunch with a few friends at my favorite new lunch spot in Dallas, Flower Child, the food is amazing and the atmosphere is so fun!  I had the strawberry salad which was delicious and you must try the brownie, it's to die for, it literally has a chocolate bar in the middle of it!!  If you've never been you definitely need to check it out!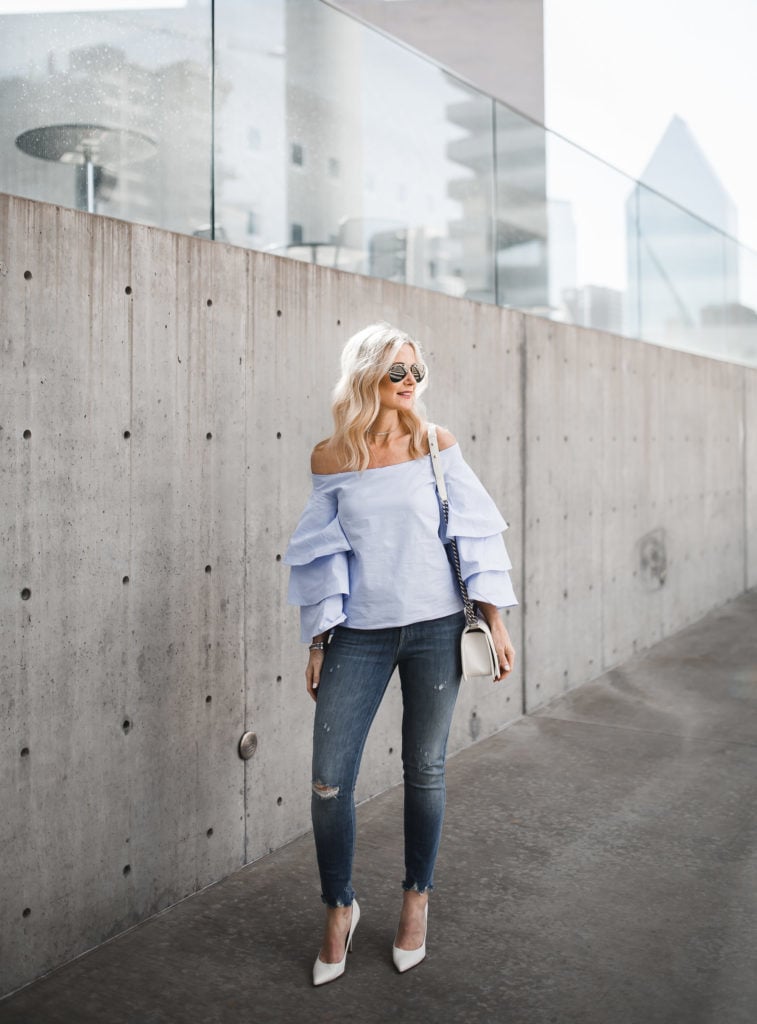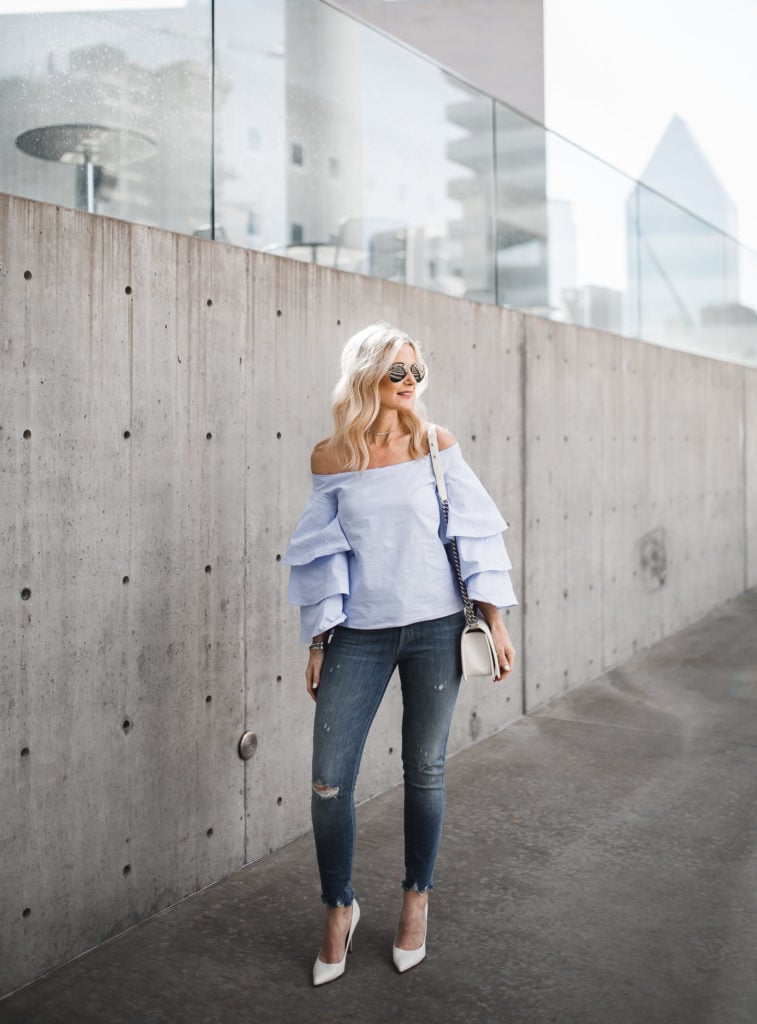 My RUFFLE TOP and JEANS are part of the sale:

My ONE SHOULDER TOP is part of the sale:

My TOP and JEANS are part of the sale:

These AG JEANS are part of the sale:

My TOP and JEANS are part of the sale:

SHOP MY TOP PICKS BY CATEGORY FROM SHOPBOP:
TOPS:

JEANS:

JACKETS:

BAGS AND ACCESSORIES:

SHOES:

Thank you so much for stopping by today and shopping with me!  Have a fabulous day!  XOXO, Heather
STAY IN THE KNOW:  Don't forget to sign up for my exclusive News Letter – I share hot trends, amazing sale alerts, giveaways, and much more!  Sign up by clicking here.
DON'T FORGET:  YOU CAN VIEW ALL OF MY INSTAGRAM LOOKS BY VISITING MY INSTAGRAM SHOP.