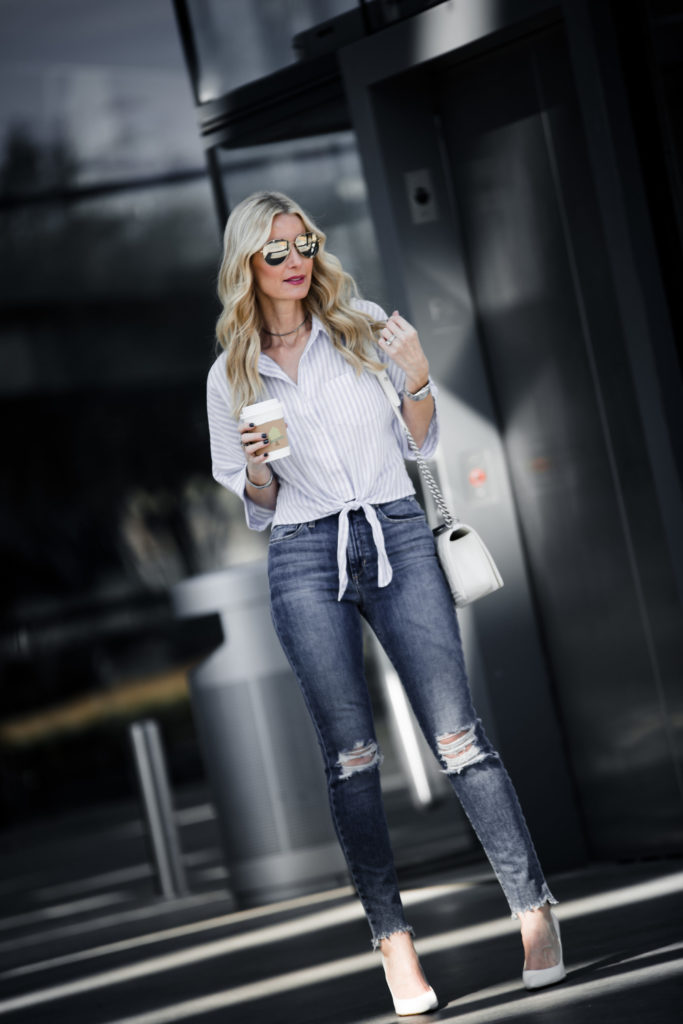 TGIF gorgeous ladies!  I'm so happy it's Friday and that it's Easter weekend!  Both of my kiddos are coming into town this weekend from college so I'm very excited!
I always love when an amazing SALE is going on because I get to share it with all of you!  NEIMAN MARCUS is offering 25% off select items and I've rounded up the best must-have items in today's post.  6 of the looks in today's post feature at least one item that's currently part of the epic SALE!
LOOK 1: My casual yet chic tie front top is part of the sale, this is the perfect effortless top for spring that I've already worn a ton and I'm sure if you end up getting it you will too!

TOP SALE PICKS ALL 25% OFF WITH CODE FRIEND (SALE ENDS APRIL 2ND AT 9 AM)
TOPS:

DRESSES:

JACKETS:

JEANS:

LOOK 2:  I purchased this fabulous blush pink jacket while I was in LA last week and I'm so excited I found it for all of you 25% off!  It's super light weight and I adore this gorgeous pink color for spring!  It runs tts, I'm wearing a size XS.  It also comes in olive green which I love and that color is on sale too! My Rag & Bone white tee is also 25% off, I wear this a ton under all of my favorite jackets!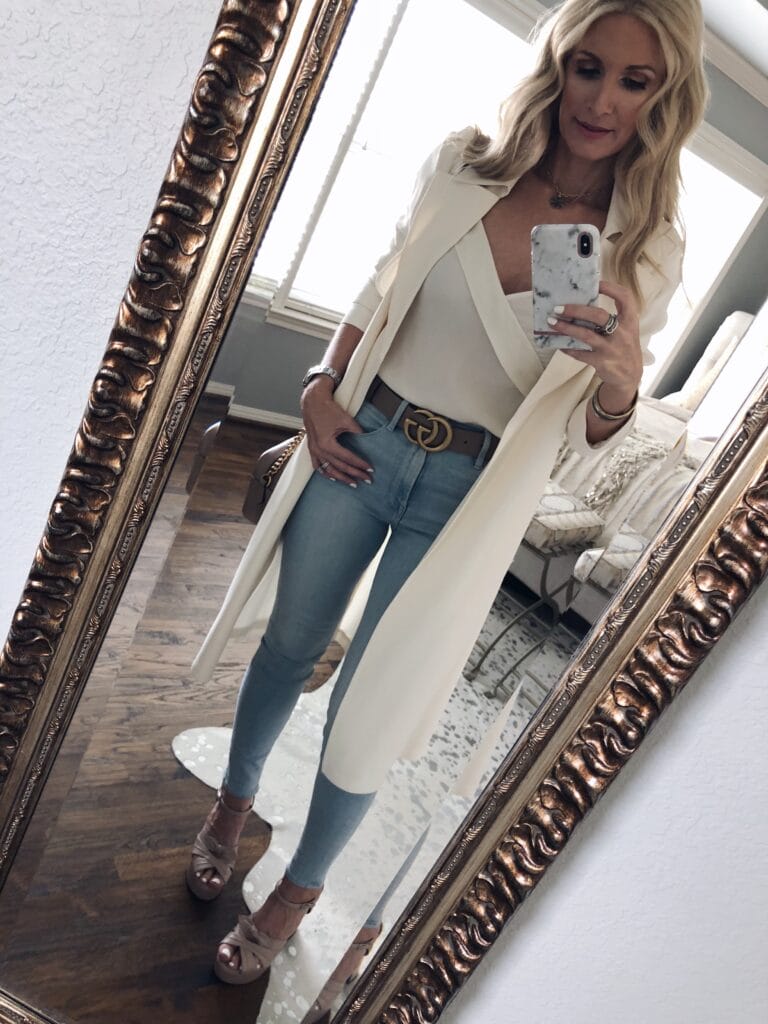 LOOK 3:  My uber chic trench coat by Theory is part of the fabulous sale, I hope it's not sold out by the time you're reading this!  I wore this look to a luncheon at Neiman Marcus and got tons of compliments on this amazing jacket!  It runs tts, I'm wearing a size XS.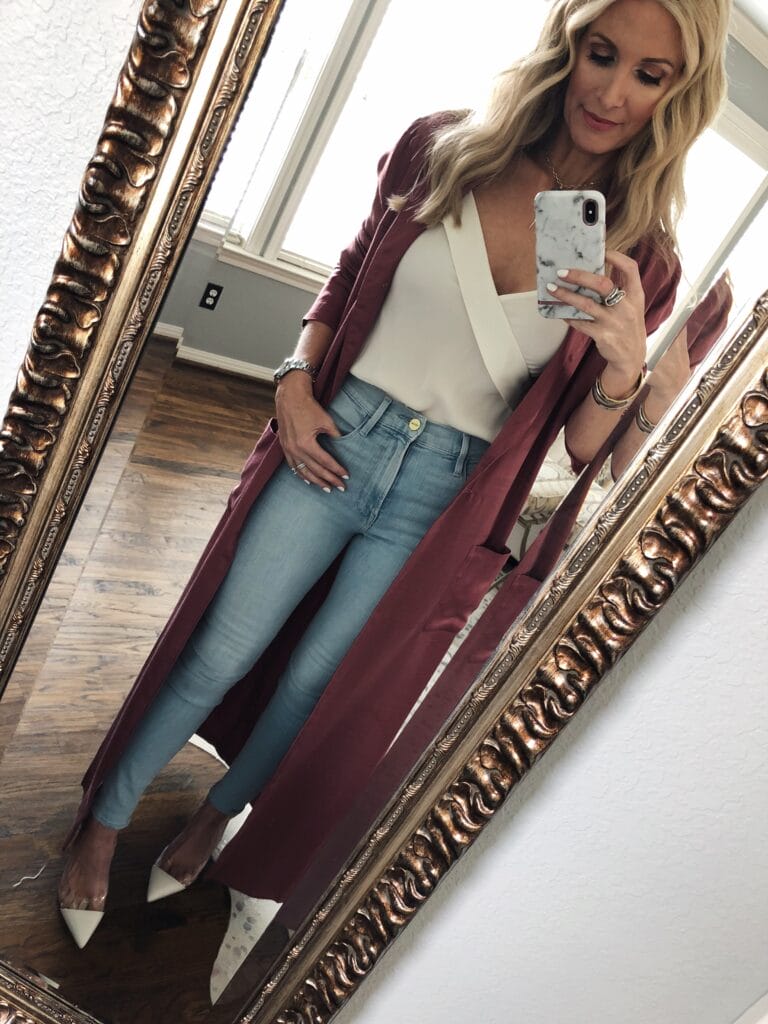 LOOK 4:  Probably my favorite denim purchase this spring – these AMAZINGLY SLIMMING and uber high-waisted jeans by Frame and yes, they're 25% off!  I'm wearing them in look 3 as well, I literally wear them all the time, they look perfect with all of my spring ensembles.  I wore this look to opening party of the new Frame Denim store in Highland Park Village.  They run a tad bit big, I went down one size, I'm wearing a 24.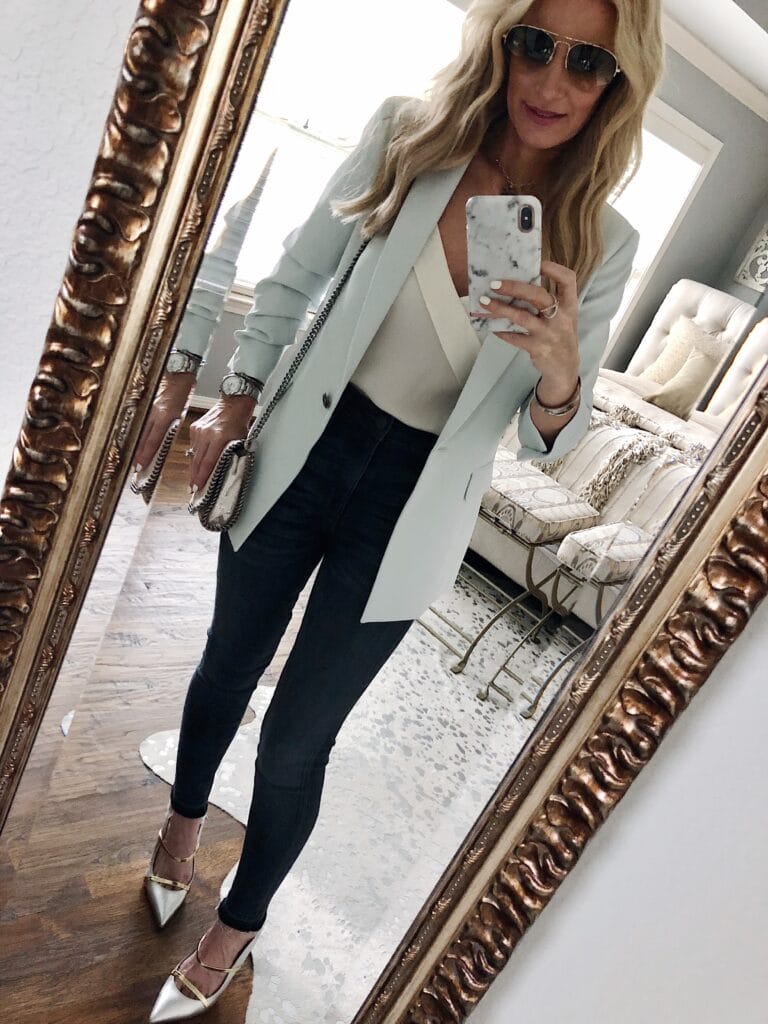 LOOK 5:  I'm so in love with this mint green blazer by Alice and Olivia!  This color is so pretty and it also has matching pants if which are also 25% off if you're in need of a suit.  I wore this look to church last Sunday and I'm going to wear this jacket with the matching pants and the sequin tank to a fun luncheon I have coming – all 3 pieces are 25% off!  I'm wearing a size 0 in blazer and I got a size 2 in the pants.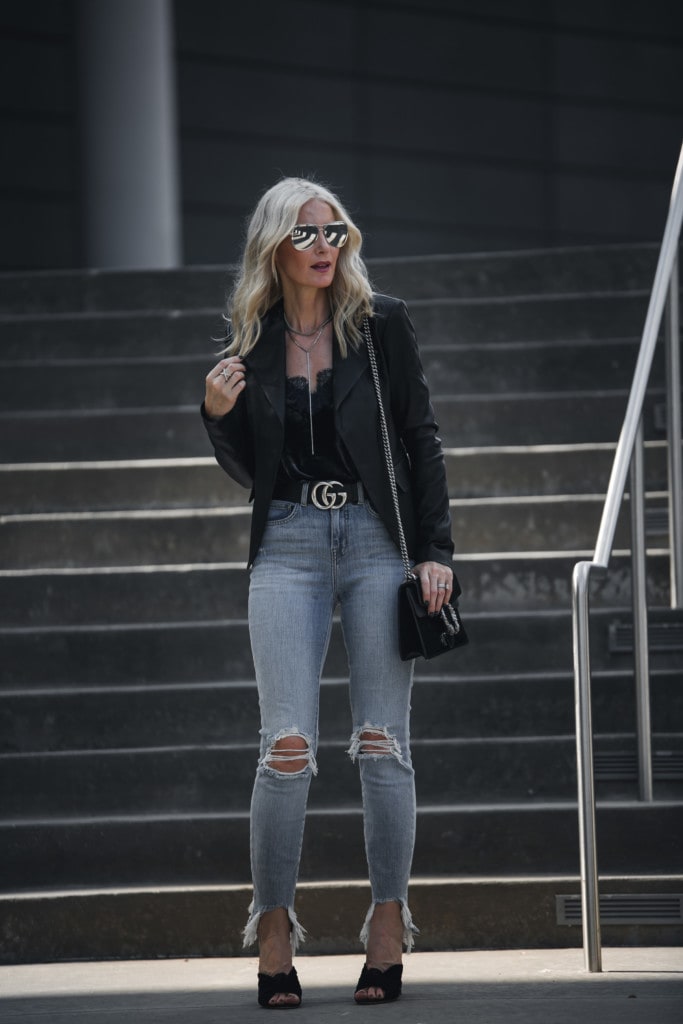 LOOK 6:  This gorgeous peplum leather jacket by Theory is so fabulous and 25% off!  I love that it's slightly cropped and that it doesn't have any hardware like most leather jackets so it's extremely versatile.  I've worn it to church with some solid gray jeans and black pumps, but I've also worn it on a girl's night out styled the way I wore it above proving it's versatility.  It runs tts, I'm wearing a size XS or P.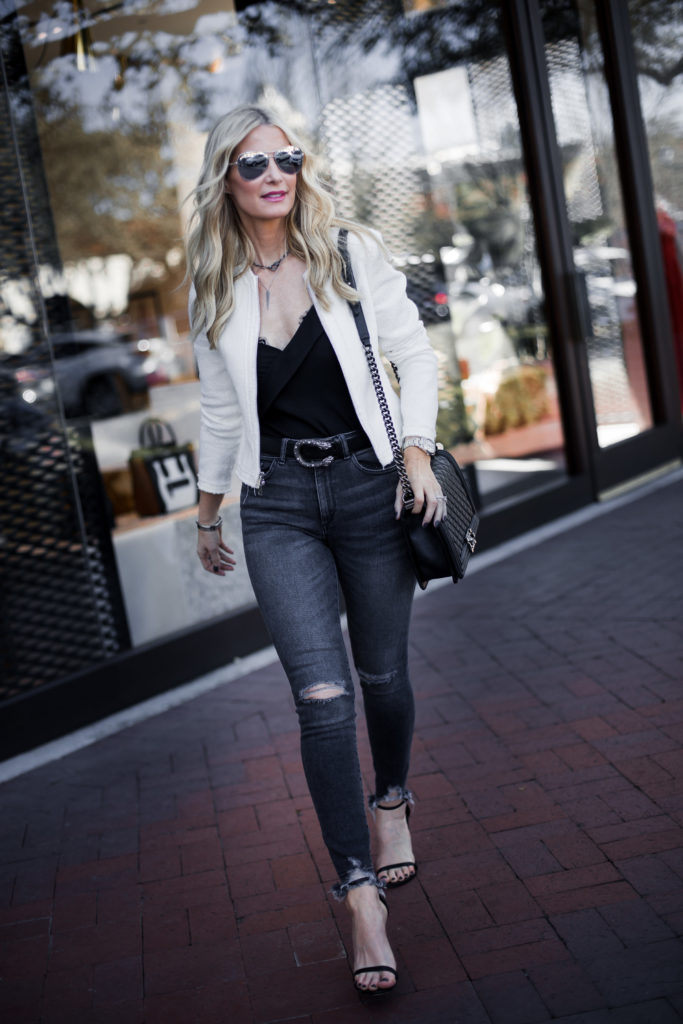 LOOK 7:  This chic white jacket by Theory currently 25% off is so amazing, the fit is impeccable and I love the peplum back detailing!  It runs true to size, I'm wearing a size XS or P.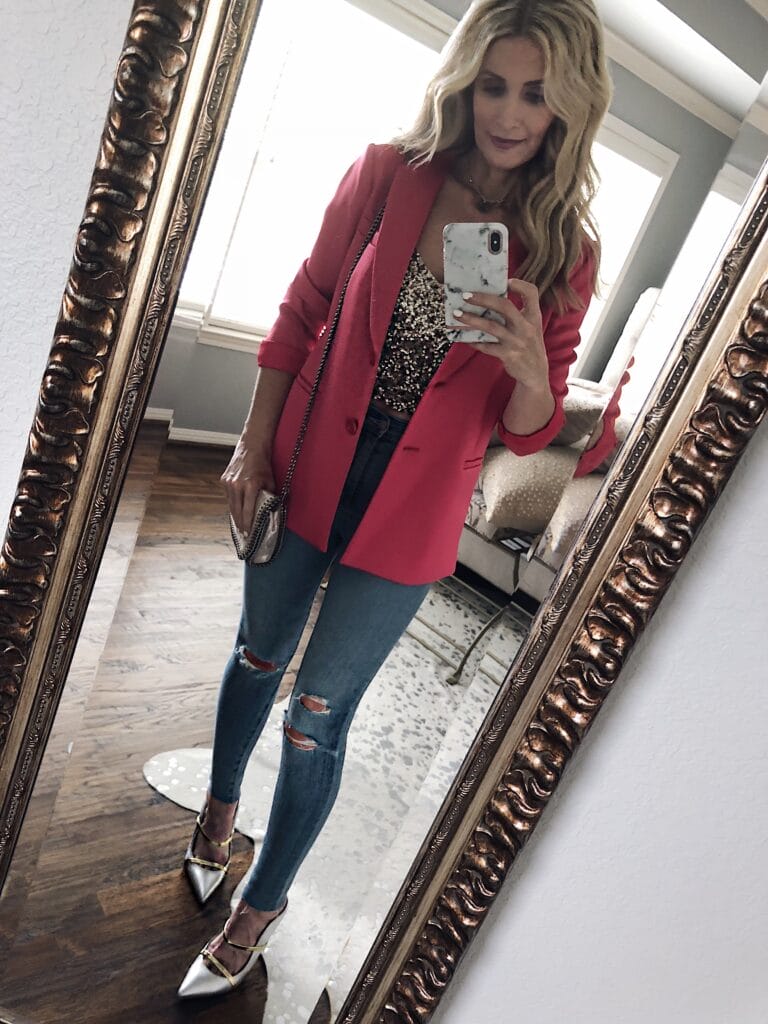 LOOK 8:  I'm so in love with this entire look!  I got this fab pink blazer and sequin tank both by Alice & Olivia while I was in LA last week and both are 25% off!  I've already worn this sequin tank under several jackets, this army jacket and this leather jacket!  It really adds that extra pop to any ensemble and although this tank is cropped it doesn't show any skin as long as you wear it with high-waisted bottoms.  I'm going to wear this gorgeous pink blazer with this sequin tank and the matching shorts to a blogger cocktail party I have coming up and all 3 pieces are 25% off with code FRIEND!  I'm wearing a size XS in the blazer, S in the tank, and I got a size 2 in the shorts.

Please feel free to email me at [email protected] if you have any questions!  I'm always happy to help in anyway that I can!  Have a fabulous day!!
CHECK OUT MY INSTAGRAM SHOP HERE TO SHOP ALL OF MY INSTAGRAM LOOKS
YOU CAN ALSO DOWN LOAD THE LIKETOKNOW.IT APP AND FOLLOW ME ON IT BY CLICKING HERE.
STAY IN THE KNOW:  Don't forget to sign up for my exclusive News Letter –  Sign up by clicking here.
Thank you so much for stopping by today, I truly appreciate all of you!  XOXO, Heather