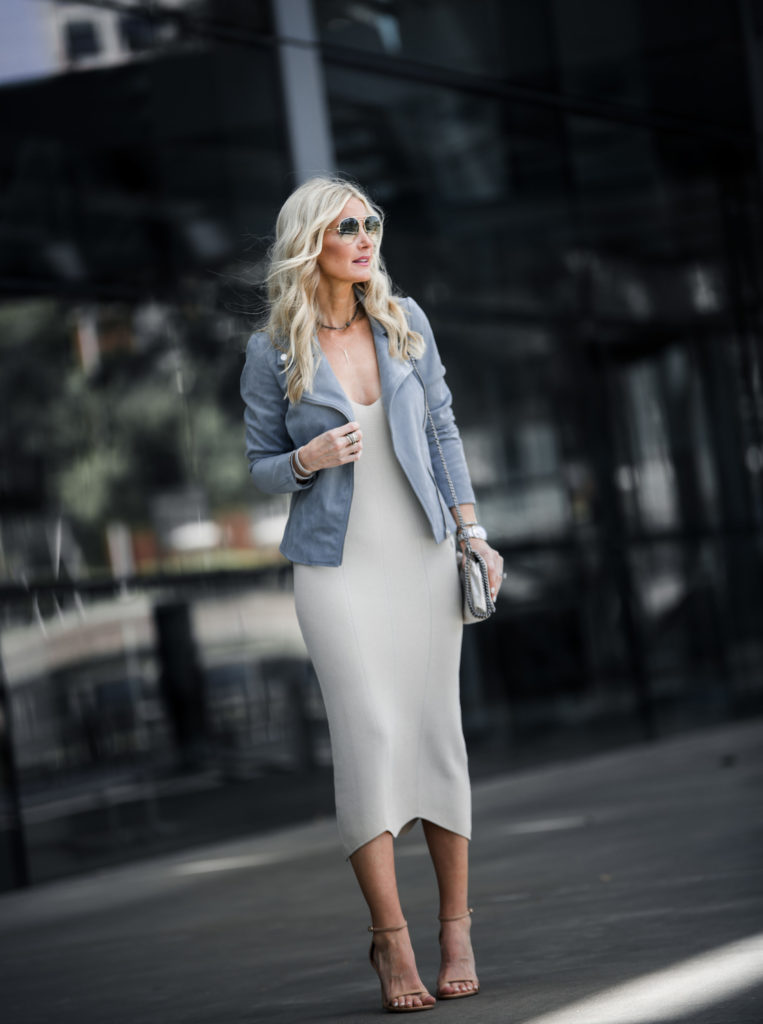 Happy Monday beautiful ladies!  I hope all of you enjoyed your weekend!  I love sharing fabulous STEAL VS. SPLURGES when I find them!  My shoes AND handbag are 2 of my most recent purchases that I'm crazy about, but I do like to keep my blog budget friendly so I found 2 very similar items to each of them that you will LOVE and both are under $100!  My faux suede jacket and slip dress midi are also under $100, can you believe that?

STEAL VS. SPLURGE 1:  I'm in love with these incredibly chic heels by Stuart Weitzman, worth the investment for sure!  They're much more comfortable than the original Nudist heel by Stuart Weitzman because the heel height is 4 inches instead of 5 and trust me, that makes a big difference!  I have these in 3 colors (black, pewter, and the nude as seen in this post) because they're that good!  I found THESE that are very similar that I love for only $79.95, quite a steal for such a chic pair of heels!  Which ever pair you choose having a nude heel in your shoe collection is definite must!
STEAL VS. SPLURGE 2: I just purchased this fabulous metallic Stella McCartney bag and I'm obsessed!  I love the champagne gold color because it's such a neutral tone which means it will go with everything and since the chain is darker I can wear it with silver AND gold, I love mixing metals, I wear gold and silver together all the time.  I love this bag dressed up as I did in this post, but my favorite way to carry it is more casual with ripped jeans a simple white tee, shocker I know, lol!  I'll be carrying this bag a ton all year round making it well worth the investment!  I did find this ONE by Chelsea 28 that I adore too and it's under $50 making it a definite must-have!  
2 WARDROBE STAPLES UNDER $100
Can you believe my baby blue faux suede moto jacket is under $100, me neither!  It's super soft and looks high quality in person.  The fit is impeccable, hugging you in all the right places making it super slimming.  It runs true to size, I'm wearing a size XS.  It also comes in a really pink shade which would so perfect for spring too.  This edgy moto jacket would also look amazing paired with a simple white tee and your favorite pair of jeans!
My slimming slip dress is so fabulous and the fit is perfect, I'm wearing an XS.  It hugs your curves in all the right places and the sweater like material is thick enough so it's not see through and it feels really good on, it's not itchy at all.  I love the v-neck line so you can show off your favorite necklaces and it has adjustable straps so you can make the v-neck as low or high as you want.  I love a simple slip dress paired with a jacket of some sort, try it with a blazer, a moto jacket, and even a jean jacket, the possibilities are endless proving it's versatility!  The best part, this uber chic and slimming slip dress is under $80 making it a definite must-have!
Please feel free to email me at [email protected] if you have any questions!  I'm always happy to help in anyway that I can!  Have a fabulous day!!
CHECK OUT MY INSTAGRAM SHOP HERE TO SHOP ALL OF MY INSTAGRAM LOOKS
YOU CAN ALSO DOWN LOAD THE LIKETOKNOW.IT APP TO SHOP MY LOOKS VIA SCREEN SHOT AND FOLLOW ME ON IT BY CLICKING HERE.
STAY IN THE KNOW:  Don't forget to sign up for my exclusive News Letter –  Sign up by clicking here.
Thank you so much for stopping by today, I truly appreciate all of you!  XOXO, Heather
FAUX SUEDE MOTO JACKET WEARING A SIZE XS // LEITH SLIP DRESS WEARING A SIZE XS // STUART WEITZMAN HEELS FOR LESS HERE // GUCCI SUNNIES // STELLA MCCARTNEY HANDBAG
PHOTOGRAPHS BY MARY SUMMERS OF M.A.S. PHOTOGRAPHY
Share the post "2 AMAZING STEAL VS. SPLURGES + SLIP DRESS AND MOTO JACKET UNDER $100"