HAPPY 4TH OF JULY!!  I hope all of you have an amazing 4th!!  I'm going to watch fireworks with some of my fellow tennis team mates. So hopefully I won't drink too much wine, we'll see, lol!

A few exciting things in today's post and I'll list them in order of importance for you.  First, the absolute BEST SALE OF THE YEAR is quickly approaching. So I couldn't be more excited to cover it for all of you! Of course, I'm talking about the fabulous NORDSTROM ANNIVERSARY SALE!  This is my favorite sale because it's actually new fall merchandise that goes on sale but only for a limited time.  Here is a list of important things and a few tips you need to know to make the most of this sale:
NORDSTROM ANNIVERSARY SALE 2018 SNEAK PEEK:
1.) IMPORTANT DATES:
Sale starts July 11th for level 4 Nordstrom card holders and starts July 12th for all Nordstrom card holders only. So if you don't already have a Nordstrom card, you need one. Items sell out fast so early access is key. You can apply HERE.  Also don't worry if you don't want another credit card, they have debit cards too which is what I have.  The sale is opens for non Nordstrom card holders on July 20th and ends for everyone on August 5th, meaning all the prices will go back up on August 5th.
2.)   VIEW THE CATALOG:
The Nordstrom Anniversary sale catalog is available on line and in stores now, you can view the catalog by clicking HERE.  I suggest looking through the catalog early to already get an idea of what you need and want so you're ready to shop the sale the morning it goes live because things sell out quickly!
3.)  CHECK OUT MY BLOG ON JULY 12TH AND THROUGH-OUT THE SALE:
Because I'm a blogger, I actually get to attend a fashion show featuring tons of Nordstrom Anniversary Sale items on JULY 7TH, days before early access on July 12th.  I will be posting tons of photos from this amazing fashion show on my Instastories so be sure to follow along to get a sneak peek of my top picks!  If you're not already following me on Instagram you can do so by clicking HERE.  You will be able to SHOP these items at 12 AM (MIDNIGHT) the morning of July 12th from my BLOG so make sure you are signed up for my exclusive News Letter.  Sign up by clicking HERE.
This will be the easiest and quickest ways to shop my Nordstrom Anniversary Sale looks.  You can download the app by clicking HERE, be sure and follow me on the app: @soheatherblog 
OUTFIT DETAILS:
The "IT' top for summer that's been seen on tons of celebs and models is the smocked top and I'll have to say I'm a huge fan!  Nothing portrays summer more than a feminine top with a flattering bodice and gorgeous statement sleeves.  Also this top comes in 4 gorgeous colors and the one I'm wearing in currently on crazy SALE making it under $50 and a definite summer must-have!  It runs true to size, I'm wearing an XS.
NEW DENIM REVIEW:
I'm excited to report that Nordstrom now carries Reformation, one of my favorite brands, so chic yet very reasonably priced.  My jeans are the ever so popular straight leg, high-waisted, rigid denim (meaning they don't have a ton of stretch) that's all the rage right now in the denim world.  I love the light wash and slight distressing because they literally go with all of my summer tops!  I love the ankle length too, I'm 5'4 and I didn't even have to have these hemmed, always a plus! Also one of the best things about Reformation denim is that it not only fits well, but the price point is amazing, only $128 for this amazingly cool pair of jeans!  They run true to size, I'm wearing a size 25.
SUPER EASY WAY TO SHOP MY LOOKS:
DOWN LOAD THE LIKETOKNOW.IT APP AND FOLLOW ME ON IT BY CLICKING HERE.
CHECK OUT MY INSTAGRAM SHOP TO SHOP ALL OF MY INSTAGRAM LOOKS.
STAY IN THE KNOW:  Don't forget to sign up for my exclusive News Letter – Sign up by clicking here.
Thank you so much for stopping by today, I truly appreciate all of you!  XOXO, Heather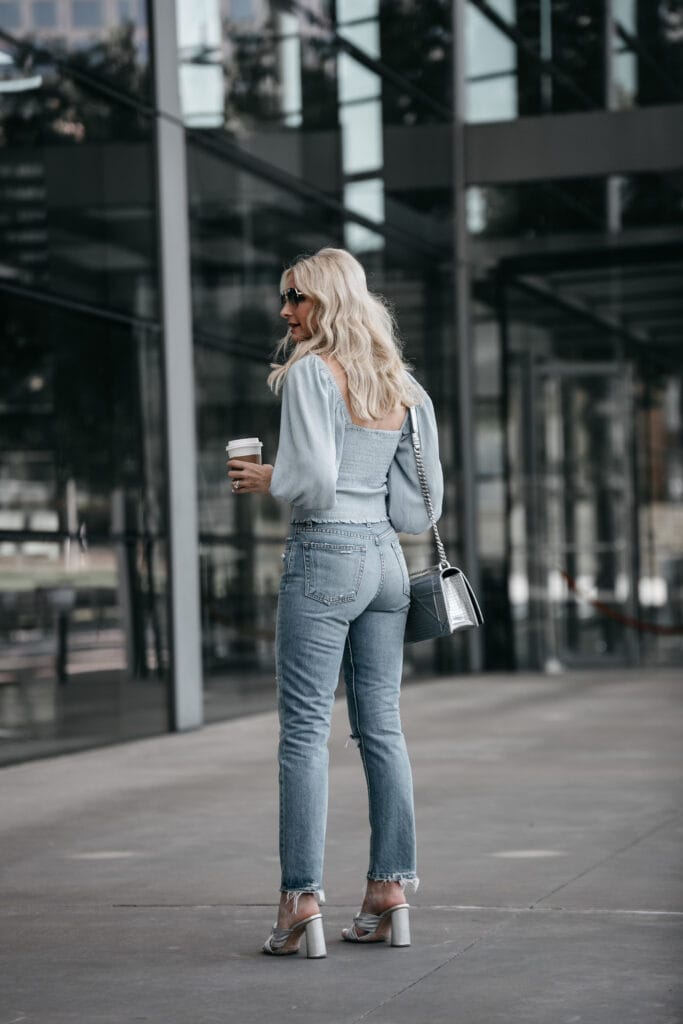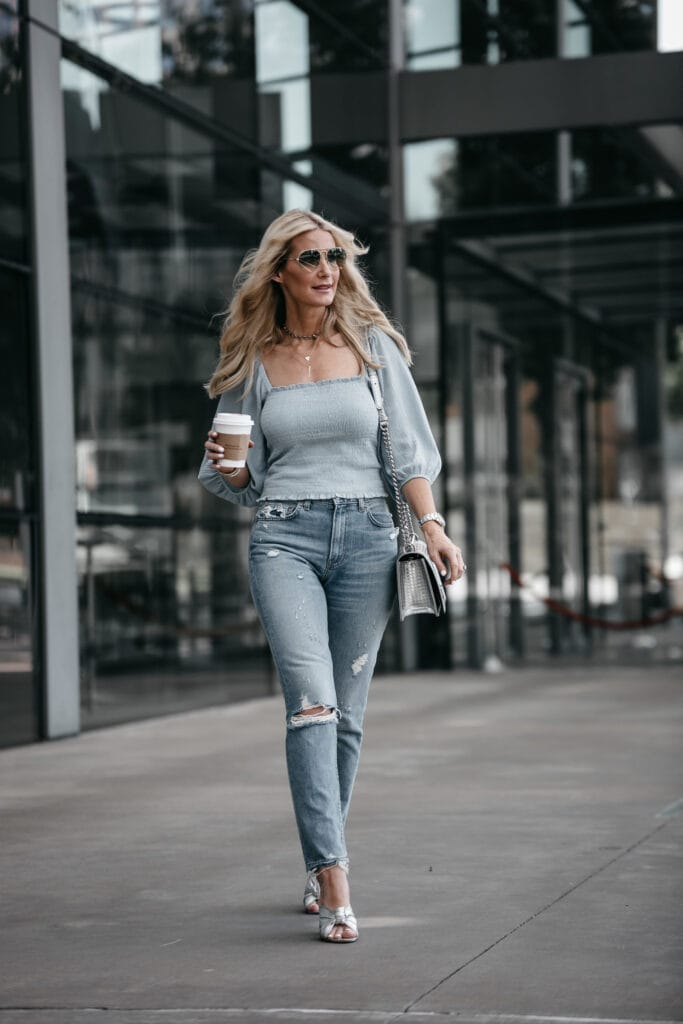 BABY BLUE SMOCKED TOP // REFORMATION JEANS // LOEFFLER RANDALL SILVER COCO MULES  // DIOR HANDBAG SIMILAR // SILVER CHOKER SIMILAR
SaveSave
SaveSave
SaveSave
Share the post "SUMMER'S "IT" TOP (UNDER $50) + A SNEAK PEEK INTO THE NORDSTROM ANNIVERSARY"