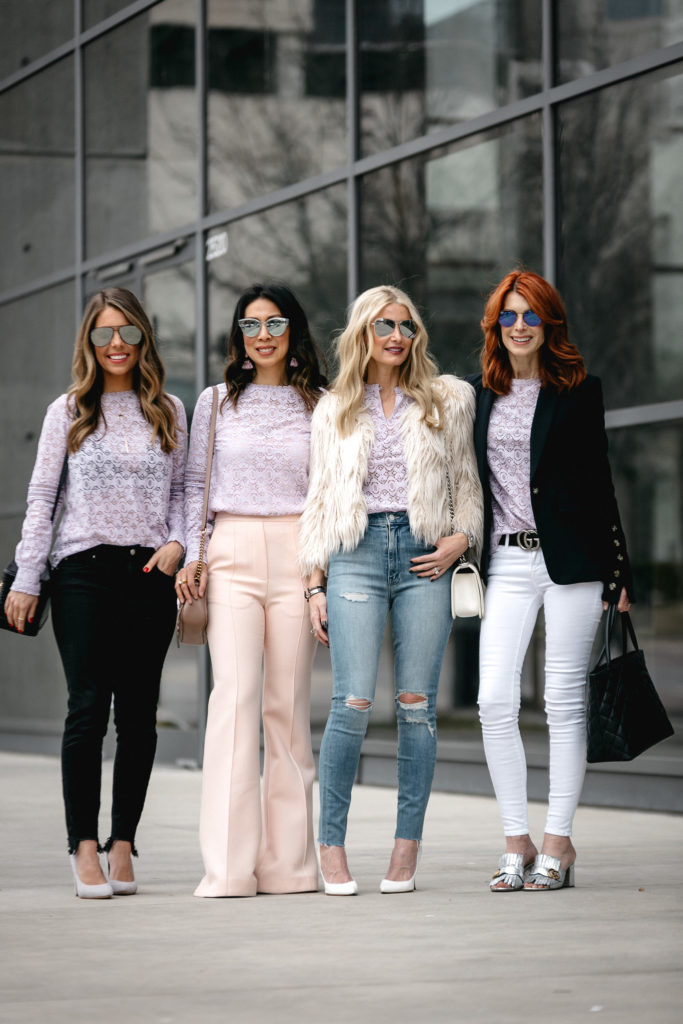 It's that time again, our CHIC AT EVERY AGE series featuring a gorgeous lace top in the "IT" color for spring – LAVENDER!
20'S – THE FASHION HOUR  – 20's  // 30'S  – STYLE OF SAM // 40'S  ME // 50'S  – THE MIDDLE PAGE
SHOP MY LOOK:

Spring is just around the corner and I'll have to admit I'm very excited!  I'm so ready to stop wearing my winter clothes and start wearing all the fun spring pieces that are so in right now.  I'm wearing 3 things that will be HUGE this spring!
1.) LOVELY LAVENDER:  The most popular color this spring hands down!  This is such a gorgeous color and looks amazing on almost all skin tones.  I personally love the color lavender paired with light colors such as white or any pastel shade, that way you keep your ensemble more monochrome which is a look I've also gravitated towards. This gorgeous lace top is stunning on and can be worn so many ways as you can see from this post.  I wore mine backwards to show the slight v-neck line, since I'm on the shorter side (5'4) I've never liked high necklines on me, it makes me look even shorter and just isn't that flattering.
FAVORITE LAVENDER TOPS:

STYLE TIP:  If your a petite person like me I suggest not wearing high-neck lines, instead opt for a v-neck line which is the most flattering neck line for almost any body type.
2.) WHITE SHOES AND HANDBAG:  If you only add one shoe or handbag to your spring wardrobe, let them both be white!  I'll be wearing these white pumps (I also love these mules) all spring long along with my chic white handbag, they'll match everything and take all of my spring looks to the next level!
FAVORITE WHITE SHOES AND HANDBAGS:

3.) LIGHT WASH DENIM:   Nothing screams spring like a pair of fresh, light washed denim.  They pair well with all of the fabulous spring colors such as lavender, blush pink and baby blue.  I'll be wearing light jeans a ton this spring, these are by Mother and they're AMAZING!  They're high-waisted which means they make your legs look long and slim and who doesn't want that?!  They have the perfect amount of distressing – not too over done, and they're super comfortable, everything you want in a good pair of jeans!  They run true to size, I'm wearing a 25.
SHOPBOP CARRIES A WIDE VARIETY OF LIGHT WASH DENIM AND MOTHER JEANS
FAVORITE LIGHT DENIM JEANS:

I also want to mention my jewelry.  I wear minimal jewelry and always have.  I like dainty pieces that don't overwhelm me or take over my outfit.  I just recently found these AMAZINGLY CHIC bracelets that my niece sells and I'm obsessed! It's the only black bracelet I'm wearing, it looks just like the Tiffany bracelets but it's a fraction of the price – only $17!  For that price you should get several, I got the black and the silver and wear them all the time!  You can purchase these bracelets by emailing Hannah at [email protected].  All of her jewelry is so chic and on trend and very reasonably priced!  You can follow her shop on Instagram here:  THE LITTLE JEWELRY BLOG.
CHECK OUT MY INSTAGRAM SHOP HERE TO SHOP ALL OF MY INSTAGRAM LOOKS.
STAY IN THE KNOW:  Don't forget to sign up for my exclusive News Letter –  Sign up by clicking here.
Thank you so much for stopping by today, I truly appreciate all of you!  XOXO, Heather
MOTHER FAUX FUR JACKET SIMILAR // LAVENDER TOP WEARING A SIZE XS // MOTHER DENIM JEANS WEARING A SIZE 25 // WHITE PUMPS SIMILAR // WHITE CHANEL BOYBAG SIMILAR
PHOTO CREDIT: BECKLEY
Share the post "CHIC at EVERY AGE FEATURING THE "IT" COLOR FOR SPRING + SHARING 3 MAJOR SPRING TRENDS"