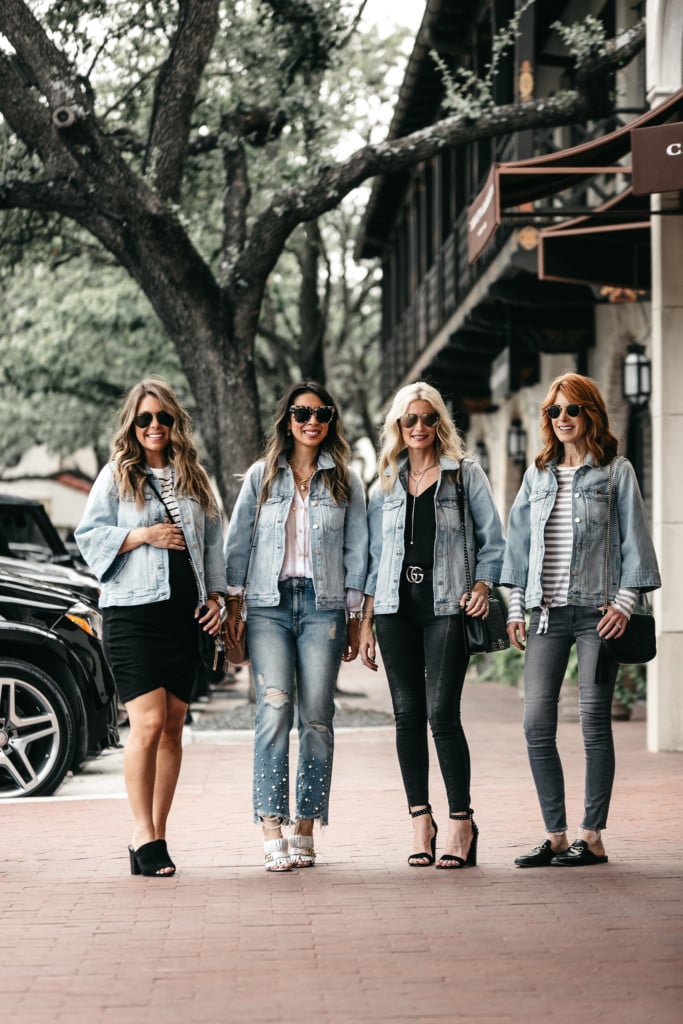 It's that time again, our CHIC AT EVERY AGE series featuring THE PERFECT JEAN JACKET.
20'S – THE FASHION HOUR  – 20's  // 30'S  – STYLE OF SAM // 40'S  ME // 50'S  – THE MIDDLE PAGE
SHOP MY LOOK:

My jean jacket is by Madewell and I love it, it's such a versatile and chic jacket!  The best part, it has just been marked down 33% making it under $80, quite a steal for such a cool jacket!! It's a bit over-sized, perfectly distressed and I love the bell sleeves!  A jean jacket is a definite fall must-have, it's the perfect casual jacket to throw on with just about anything and look cute!  I'm wearing my regular size and it still fits a tad bit big which is how it's suppose to fit, I'm wearing a size XS.  This amazing jacket would be the perfect addition to any wardrobe!
Yes, I'm wearing these black faded AG jeans AGAIN because they're that good!  This wash is so versatile so they literally match everything, I love that they're high-rise because they make you're legs look super long and so does the seam detailing down the front.  I love these jeans so much that I said this in my last post "If you only buy one pair of jeans this fall let it be these!"
YOU CAN VIEW ANOTHER POST I DID IN THESE EXACT JEANS BY CLICKING HERE AND HERE.
My 2 silver necklaces are by a really cool jewelry shop out of LA – you can shop these necklaces and anything off of their website and receive 20% off with code BLOGGER20!  I'm wearing the Eva choker in the 13 inch silver and the Margeaux lariot in the 14 inch silver.
CHECK OUT MY INSTAGRAM SHOP HERE TO SHOP ALL OF MY INSTAGRAM LOOKS
STAY IN THE KNOW:  Don't forget to sign up for my exclusive News Letter –  Sign up by clicking here.
Thank you so much for stopping by today, I truly appreciate all of you!  XOXO, Heather
MADEWELL JEAN JACKET WEARING AN XS // AG JEANS WEARING A SIZE 25 // BLACK STUDDED HEELS // GUCCI BELT // SILVER NECKLACES 20% OFF WITH CODE BLOGGER20
PHOTO CREDIT: BECKLEY