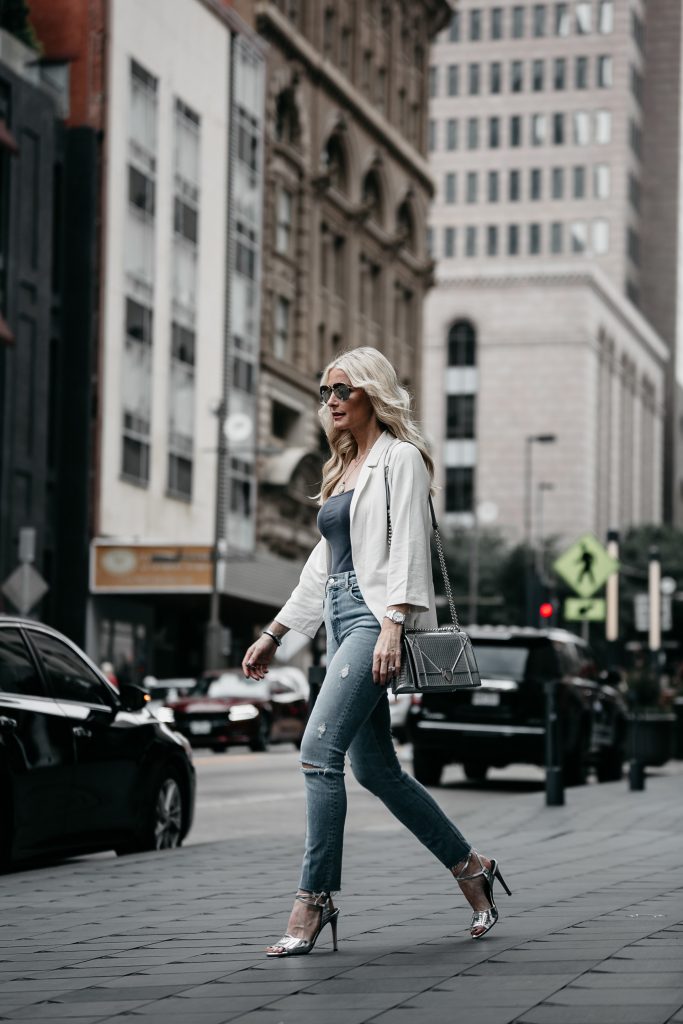 Good Morning friends!  Fall is approaching and I'll have to say I'm very excited! During this time it's hard to find pieces to wear that are fallish looking yet won't make you terribly hot since it's still over 90 degrees in Dallas!  If you live in a colder city where fall has already begun, lucky you!

HOW TO STYLE A BODYSUIT:
Try pairing a bodysuit with an over-sized leopard blazer (leopard is my favorite fall trend), leather jacket, moto jacket, or bomber jacket for a no-fail outfit formula!
This fabulously chic white jacket by Leith might just be the perfect transitional piece that will take you beautifully into fall!   It comes with a tie so you can leave it tied like the model did and I recommend doing that if you're tall, however, if you're on the shorter side I recommend wearing it open.
STYLE TIP:  If you're petite (5'4 or under) try wearing longish jackets open, this will create the illusion of longer and leaner legs and make you appear taller.  This is why I opted to leave it un-tied and wear it open.  
It's wrinkle free and the material is substantial yet light weight so it can be worn in late summer and early fall without burning up.  This chic jacket is also very versatile, it can be worn with jeans and heels for a fun date night look or you can dress it down by pairing it with a chic pair of sneakers and a fun graphic tee.  The possibilities are endless proving it's wearability, and for under $100 it's a definite must-have!

I'm excited to report that Nordstrom now carries Reformation, one of my favorite brands, so chic yet very reasonably priced.  My jeans are high-rise and super soft and comfy, always a plus!  I love the light wash and slight distressing because they literally go with everything!   I had these jeans cut off so they hit just above my ankle bone which is the most flattering length to wear denim.   One of the best things about Reformation denim is that it not only fits well, but the price point is amazing, only $98 for this amazingly cool pair of jeans!  I  found them on SALE on HERE on the Reformation website.  There is limited sizing left so I found these at Nordstrom that are the same exact cut and wash, but they have not rips so they're actually even more versatile.  They run true to size, I'm wearing a size 25.
These amazing under $100 jeans come in black too which I just got and LOVE!!!  CHECK OUT THE WAY I STYLED THEM ON LIKETOKNOW.IT BY CLICKING HERE.
YOU CAN VIEW A LIKETOKNOW.IT POST OF ME WEARING THESE EXACT JEANS WITH A BLACK TEE AND LEOPARD HEELS BY CLICKING HERE
3 REASONS BODYSUITS ARE SO GOOD:
1.) They're incredibly slimming because they're form fitting and do a great job of holding everything in.  This one by Madewell,  it's so comfortable and I love this slate blue shade, it looks so fabulous with light wash denim, but would also pair well with black denim.  It runs true to size, I'm wearing a size XS.
2.) It's the perfect way to create a seamless and sleek look because you don't have to worry about any wardrobe malfunction.  It always stays tucked in and looking effortless!
STYLE TIP:  If you have to use the restroom just pull it to the side, that way you don't have to take off your entire outfit!
3.)  It works as a multi-seasonal closet staple.  In the spring and summer it can be worn alone with a pair of high-waisted denim and some chic heels for sleek date night look and in the winter it will look fabulous worn under a leather jacket with jeans and some killer over the knee boots.
I wear my bodysuits all the time and all year round!  I highly recommend giving them a try, I think you'll find yourself wearing them a ton!
SHOP MY FAVORITE BODYSUITS:

CHECK OUT HOW I STYLED A BLACK BODYSUIT WITH A PINK BLAZER HERE
AND ON LIKETOKNOW.IT STYLING MY FAVORITE UNDER $50 BODYSUIT
SALE ALERT:  MY VERONICA BEARD SILVER HEELS ARE ON MAJOR SALE, ORIGINALLY $495 MARKED DOWN TO $149!
THE EASIEST WAY TO SHOP MY LOOKS:  DOWN LOAD THE LIKETOKNOW.IT APP AND FOLLOW ME ON IT BY CLICKING HERE.
CHECK OUT MY INSTAGRAM SHOP TO SHOP ALL OF MY INSTAGRAM LOOKS.
STAY IN THE KNOW:  Don't forget to sign up for my exclusive News Letter – Sign up by clicking here.
Thank you so much for stopping by today, I truly appreciate all of you!  XOXO, Heather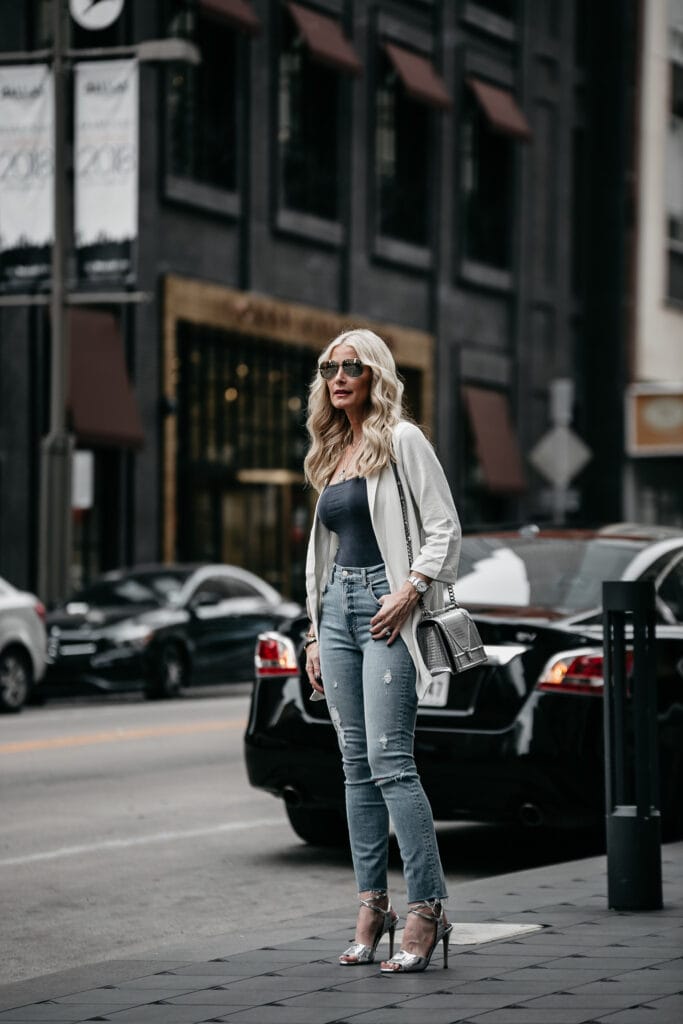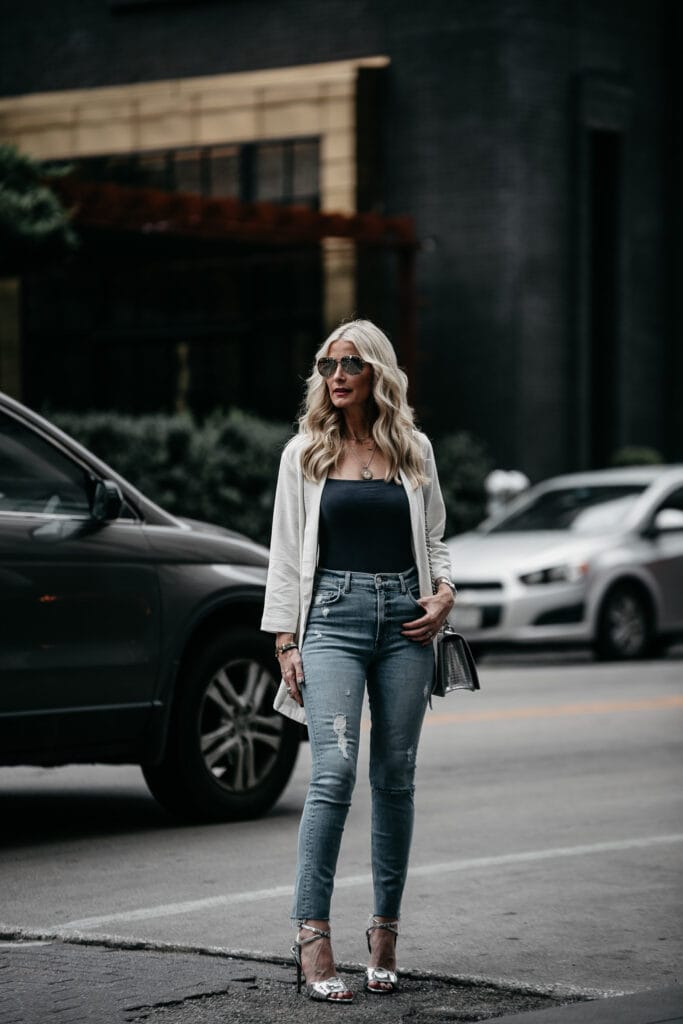 LEITH JACKET WEARING A SIZE XS // REFORMATION JEANS WEARING A SIZE 25 // MADEWELL BODYSUIT WEARING A SIZE XS // VERONICA BEARD HEELS 60% OFF // DIOR HANDBAG SIMILAR
Share the post "THE PERFECT JACKET TO TAKE YOU INTO FALL + 3 REASONS BODYSUITS ARE SO AMAZING"