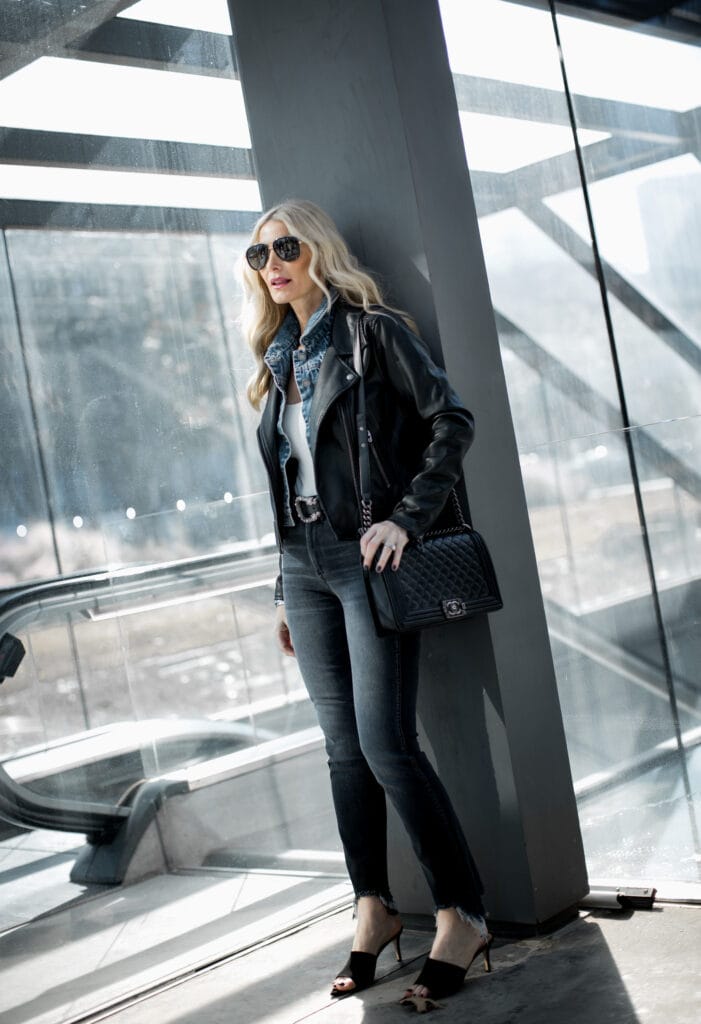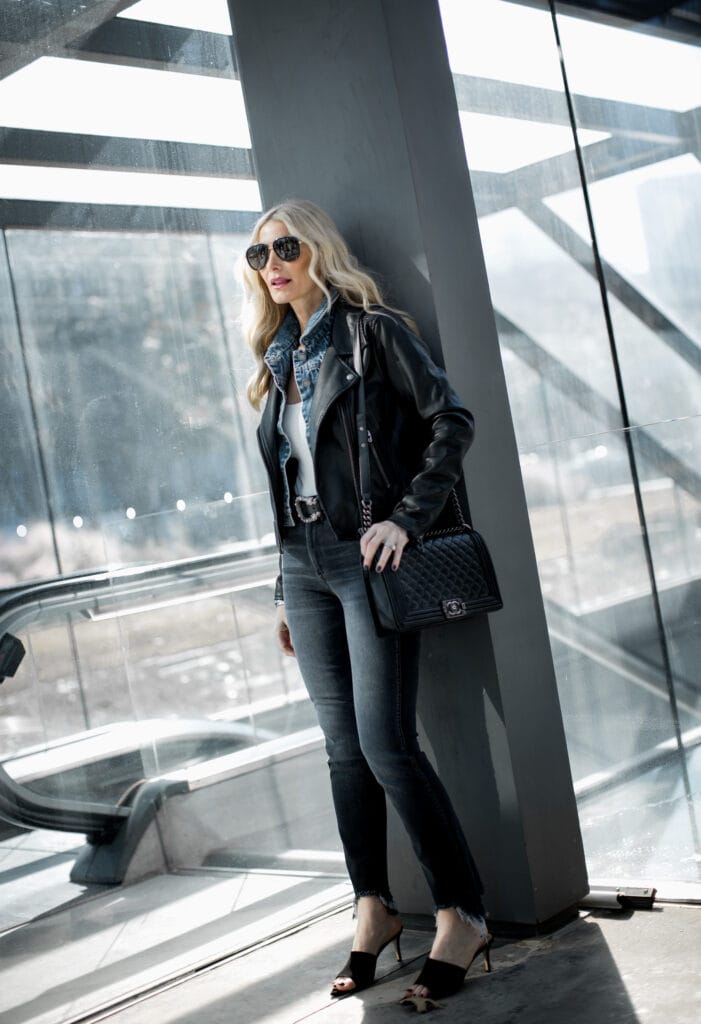 Good morning friends!
If you know me personally or have been following my blog for a while now, then you know that I'm a denim addict through and through, who's with me?  I literally wear jeans at least 6 days week and have more denim in my closet that I'm willing to admit, I wear them super casual on the weekends with sneakers,  I wear them dressy to church and every way in between.  My personal favorite way to wear jeans is semi-dressy, paired with a chic heel, a simple top, and a sleek jacket.  I would consider this my go-to uniform that I wear probably 75% of the time.
That being said I thought I would share 4 of the coolest ways to dress up distressed jeans in 2019.  Here's to another fabulous year to come filled with lots of love, laughter, and of course really good denim!
SHOP MY LOOK:

HOW TO DRESS UP DISTRESSED JEANS:
1.) PAIR WITH A CHIC PAIR OF HEELS:
One of the easiest ways to dress up your jeans is to pair them with a pair of sleek heels.  A huge trend in 2019 is wearable mules like the ones I'm featuring in today's post.  I personally love mules because they're the most comfortable heel to wear because there is no back so your foot isn't constricted.  I also love the 3-inch heel height because it's very wearable, I can wear these heels all day long and my feet never hurt!

2.) ALWAYS WEAR A BELT
When I get dressed I honestly don't feel like my look is complete without a belt.  I'm not saying you HAVE to wear a belt 100% of the time, I'm just suggesting that if you want a sure fire way to elevate any denim look, top it with a belt!  The Gucci belt I'm wearing I love and it's worth every penny when I consider the cost per wear.  The gunmetal snake buckle gives any look a chic and edgy vibe.  I always wear a size 75 in all of my Gucci belts.  I also just got this really cool silver belt from Revolve that I love, in fact, it's my favorite purchase in 2019 so far!

3.) OPT FOR A SLEEK BODYSUIT:
When you're looking to dress up your denim opt for a flattering bodysuit as opposed to a simple tee. This will not only make you look slim, but it will no doubt elevate your outfit.  I love the one I'm wearing which is by an amazing brand that Revolve carries called LPA, a definite cool-girl brand that tons of influencers love to wear including me!  It comes in black too and the price point is pretty fabulous!  It runs true to size, I'm wearing a small.

CHECK OUT ANOTHER POST I DID IN THIS EXACT BODYSUIT TITLED: THIS SIMPLE PROCEDURE WILL MAKE YOU LOOK YOUNGER
4.) TOP IT OFF WITH A SLEEK JACKET:
Like I said above, I wear jackets a ton because I feel polished and put together when I have a jacket on.  My favorite type of jacket to wear is a leather jacket, anyone else leather jacket obsessed?  A guaranteed way to dress up your denim: pair them with a sleek moto jacket.  When I stumbled up this jacket which is by Blanknyc I was blown away by the price, only $119 for this super chic faux leather jacket.  Blanknyc is my favorite affordable jacket designer, no one makes a better faux leather jacket than these folks, good quality with an insane price point!
It also comes in a really pretty off-white faux leather which I love too and would be so perfect for spring and summer!  It runs true to size, I'm wearing a size XS.  FYI- THE DENIM INSERT IS REMOVABLE making this jacket extremely versatile and a definite must-have!

DENIM REVIEW:
 Ok, I just did a post on Instagram about these amazing jeans (they're by 3×1 and available at Shopbop), they're my faves by a long shot, I own a ton of denim so that is saying a lot! They're a high-rise with a straight leg which is the hottest style in 2019 by the way!  I love the raw edge hem and the faded black wash is so versatile meaning you'll want to wear these jeans with everything because they go with so much!  I've already worn them more than I would like to admit in the last few weeks because they're that good!  Trust me, if you only add one pair of denim to your closet this year let it be these!  I went down one size in these jeans, I'm wearing a size 24.
YOU CAN VIEW ANOTHER POST I DID IN THESE EXACT JEANS TITLED: 2 MAJOR WINTER COAT STYLES EVERY GIRL SHOULD OWN
Please feel free to email me at [email protected] if you have any questions!  I'm always happy to help with styling or picking out a specific outfit for an event!   Have a fabulous day!!
CHECK OUT MY INSTAGRAM SHOP HERE TO SHOP ALL OF MY INSTAGRAM LOOKS
YOU CAN ALSO DOWNLOAD THE LIKETOKNOW.IT APP AND FOLLOW ME ON IT BY CLICKING HERE.
STAY IN THE KNOW:  Don't forget to sign up for my exclusive News Letter –  Sign up by clicking here.
Thank you so much for stopping by today, I truly appreciate all of you!
XOXO, Heather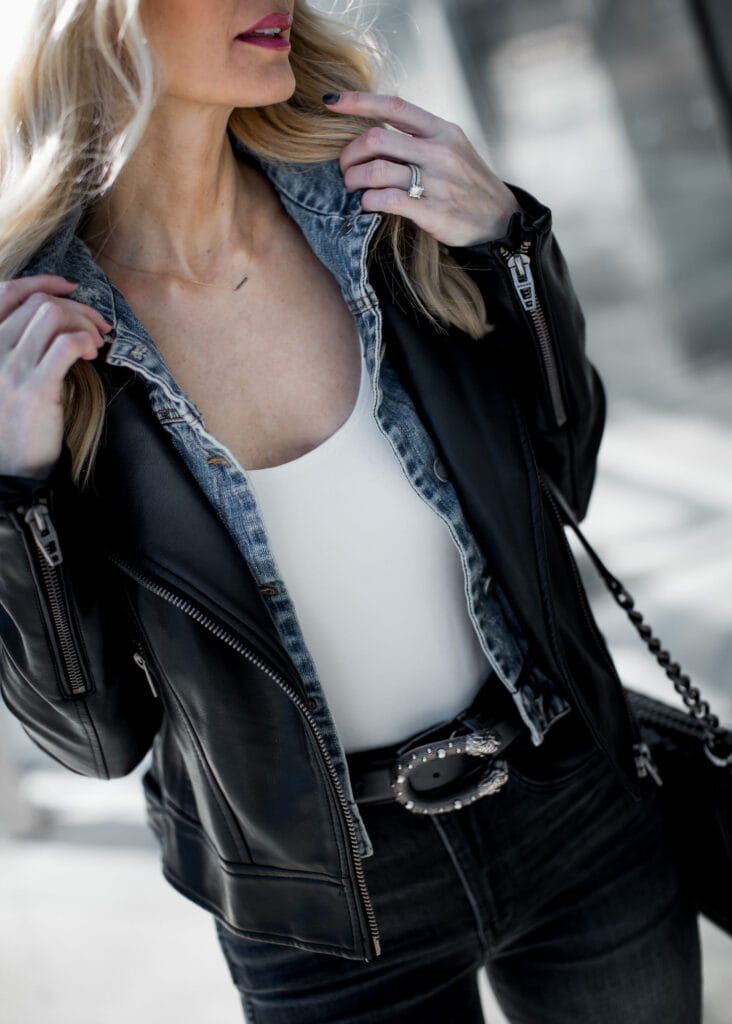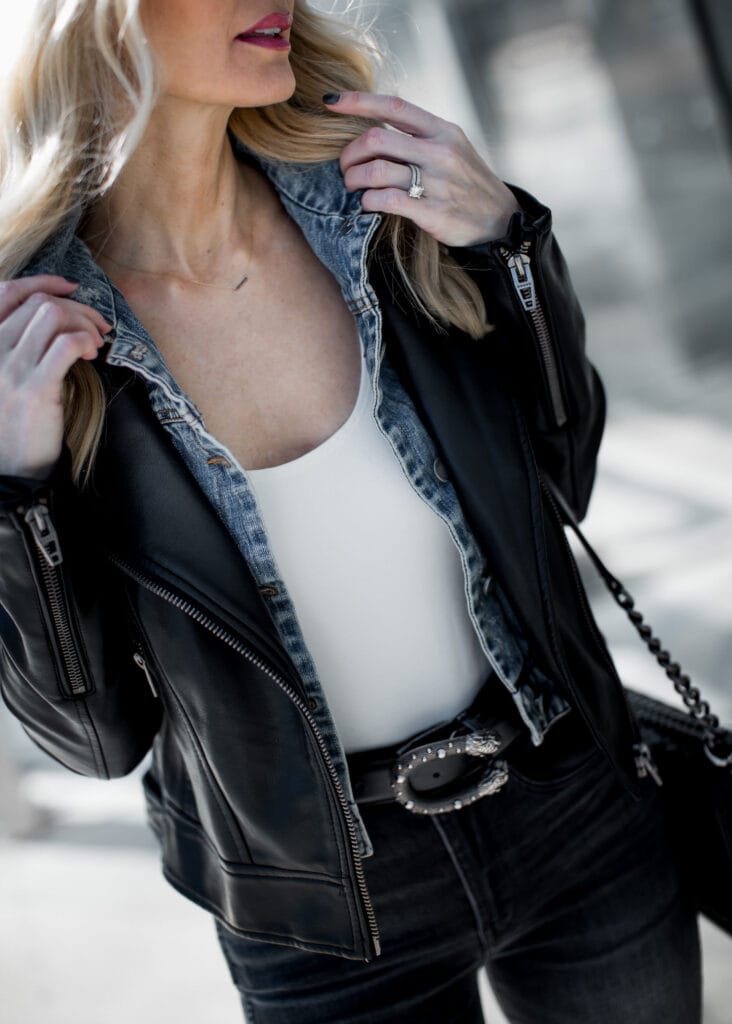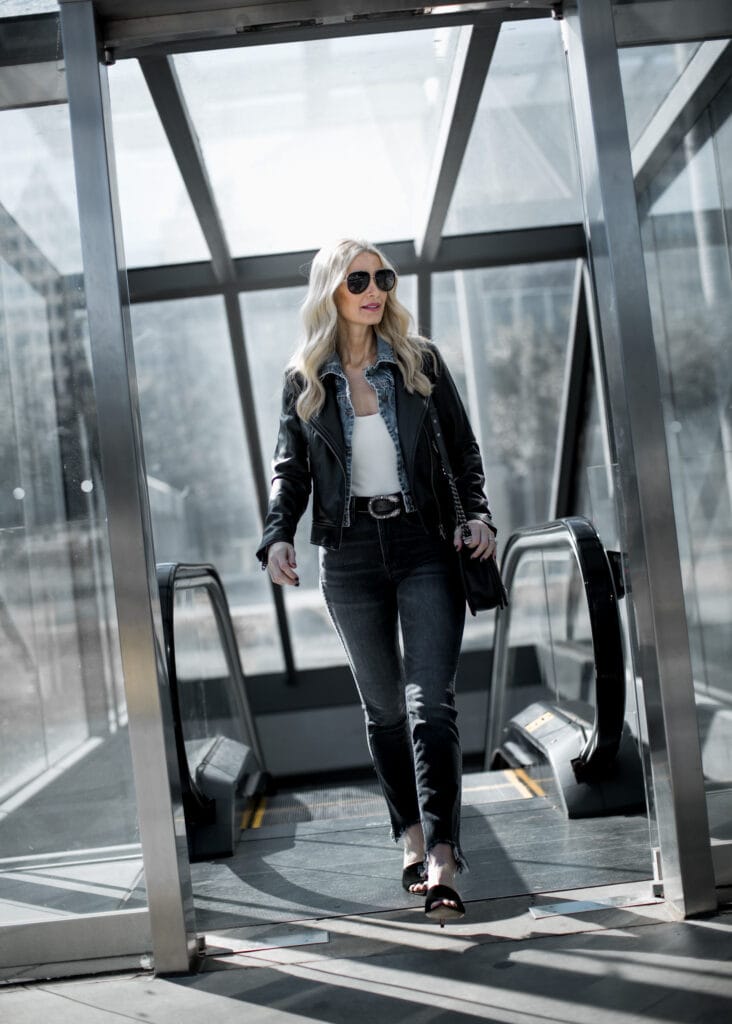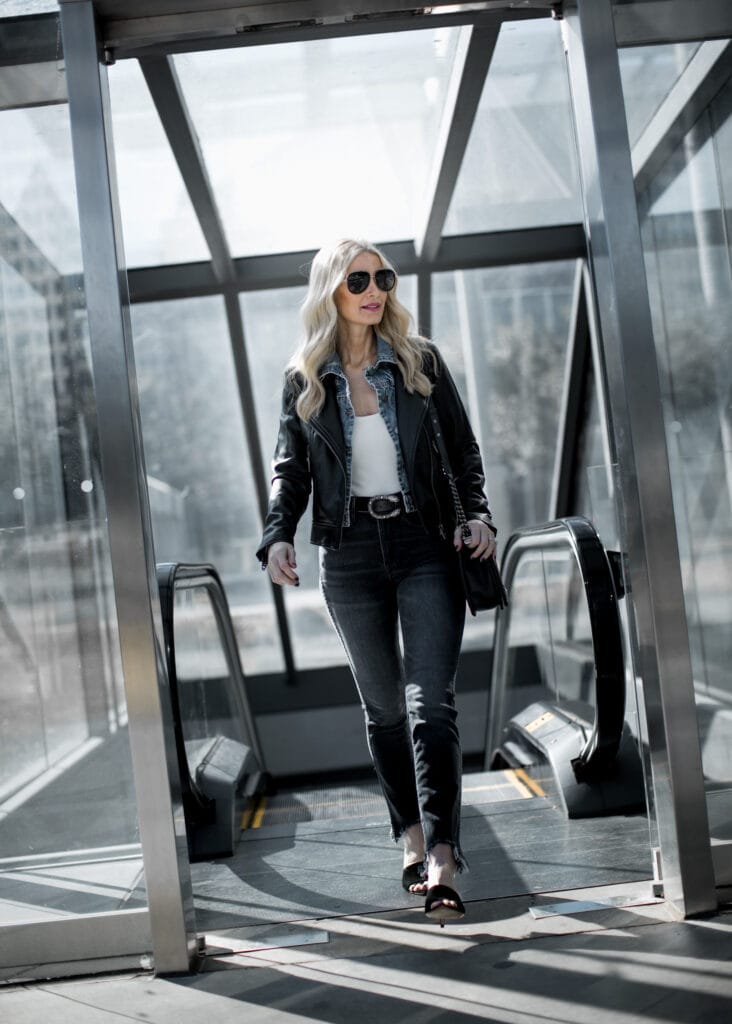 BLANKNYC JACKET WEARING A SIZE XS // 3X1 JEANS WEARING A SIZE 24 // LPA WHITE BODYSUIT WEARING A SIZE S // GUCCI BELT WEARING A SIZE 75 // GIAVANTO ROSSI MULES ON SALE FOR LESS HERE // CHANEL BOY BAG SIMILAR // GUCCI SUNGLASSES FOR LESS HERE